Product
Weight (lbs)
Dimensions (in)
Dimensions (in)
51.6 x 25.4 x 40
45 x 24.5 x 43
Capacity (lbs)
Capacity (lbs)
Up to 70
Up to 75
Brakes
Brakes
Hand-activated
Foot Brake
Maneuverability
Maneuverability
Strong Wheels and Good Suspension System
Strong Wheels and Good Suspension System
Seating
Seating
Extra Padded and Can be Reclined to a Suitable Level
Extra Padded and Can be Reclined to a Suitable Level
Bob offers two great jogging strollers; Bob Revolution SE Vs. Flex. However, they have many similar features, so it is going to be quite challenging to choose between them.
In this article, we will try to help you a bit by stating the similarities and differences between them, and by showing you some of the parents' reviews.
BOB Revolution SE Vs. Flex – Full Comparison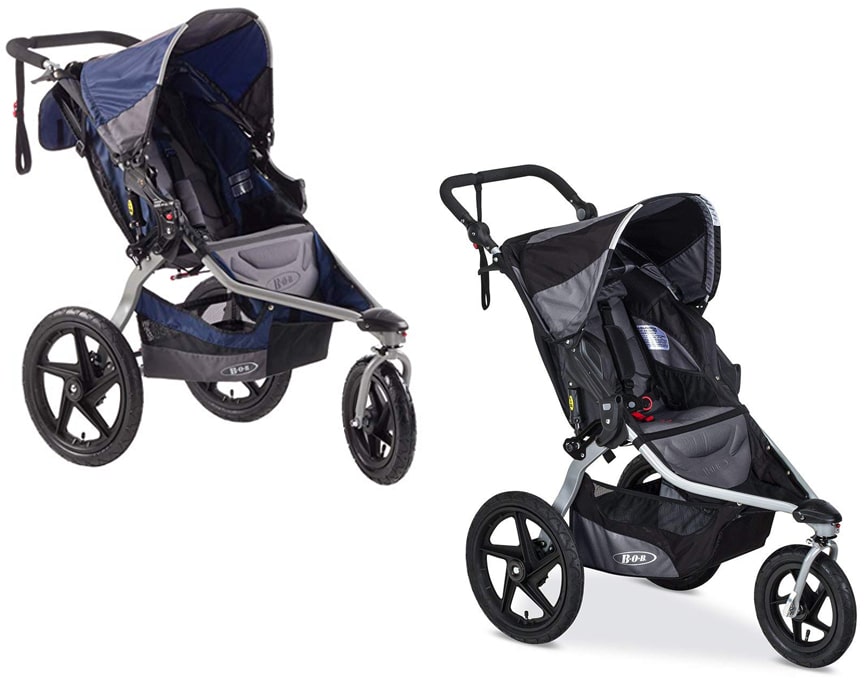 Weight:
Bob SE: 25 Pounds
Minimum weight recommendation: 8 Pounds
Maximum weight recommendation: 70 Pounds
Bob Flex: 28.5 Pounds
Minimum weight recommendation: 5 Pounds
Maximum weight recommendation 75 Pounds
Dimensions:
Bob SE: 51.6 x 25.4 x 40 inches
Bob Flex: 45 x 24.5 x 43 inches
Maneuverability:
Both models will help you enjoy comfortable walks with your child due to their strong wheels and good suspension system.
Both models have a swiveling front wheel that fully rotates. Bob SE and Bob Flex have three wheels as they have one on the front and two rear wheels. The rear wheels are sturdy and wide, which enables them to move smoothly over any type of terrain.
Moreover, the front wheel can be locked in a forward position to increase stability while jogging or when you are on rough land.
Bob SE also has a suspension system that can provide your child with an extra smooth ride. This is because the system is designed with two-position shock absorbers to add comfort and reliability.
Similarly, Bob Flex has mountain-filled tires and suspension brakes that are similar to mountain bikes, which will be of great help if you want to take your child for a hike.
Comfort:
Canopy:
Having a large canopy is an essential feature to ensure that your baby will not be sweaty and uncomfortable during Summer. Both strollers have large canopies, and they even have two-panel covers to offer greater protection from the sun.
Moreover, your baby will be able to enjoy his/her surroundings whenever the weather is good because the canopy can be reclined until mid-range or entirely off.
Folding:
Both strollers are easily folded. They can be folded with one hand in just two steps. However, once folded, Bob SE cannot stand on its own.
They are lightweight and small, so you will not find a problem with storing them.
Handles:
The handle of Bob SE is not adjustable, so you need to practically try to push the stroller before buying it to make sure you are comfortable.
On the other hand, Bob Flex has a nine-position adjustable handlebar so that people of all heights find it comfortable to push the stroller. That way, you can finally let someone else help you with pushing it. Having more than one position also allows you and your spouse to push it together.
Basket:
Parents can never go out without carrying around nearly half the house; therefore, the stroller you buy must have a large storage basket and some pockets.
Bob SE has various storage options; it has two interior pockets, a seatback pocket, and a hanging basket underneath for storing everything from bottles and snacks to wallets and keys.
Similarly, Bob Flex has one pocket to put your cell phone, three seatback pockets, two in-seat snack pockets, and one extra-large cargo basket.
Seating:
The seatings in both strollers are extra padded, so your child enjoys a comfortable ride no matter how long the journey takes, or how bumpy the terrain is. Moreover, the seats can be reclined to a suitable level.
The reclining process is straightforward because you can recline the seats using a strap that is located at the back of the seats. Bob SE tilts back to 70 degrees from vertical; whereas, that of Bob Flex can be reclined to a nearly flat level.
The Bob Flex can turn into an infant friendly stroller. Your baby can enjoy it, starting from his/her day one. Your baby can be seated in the infant car seat by Bob or Britax using the infant car seat adapter that is sold separately with the stroller.
Similarly, Bob SE has an accessory adapter-sold separately- for quick and easy attachment of the infant car seat adapter. The infant car seat adapters are available for BRITAX/BOB, Graco, Chicco, and Peg Perego infant seats.
Safety:
Both strollers have a wrist strap, so you do not miss the stroller, or so that it does not run away from you in case you forget to apply the brakes while you are on steep land. Also, to ensure your child's safety, there is a padded five-point harness that will keep your babies safe even if you are going downhill. The five-point harness is effortless to use.
Moreover, the brakes of Bob SE are extremely easy to use. They are hand-activated as they are on the handle. This option lets you have full control over the stroller even when you are pushing it downhill.
On the other hand, the brakes of the Bob Flex are not on the handles. It has a foot brake, which can be hard to access while you are on the go, or when you need to make a quick step. However, they are flip-flop friendly.
Bob Revolution SE Vs. Flex: What We Like and Do Not Like
Bob Revolution SE: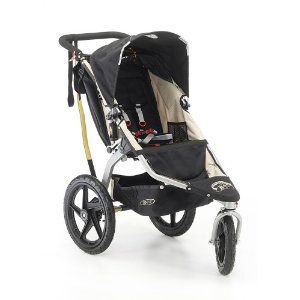 Bob Flex: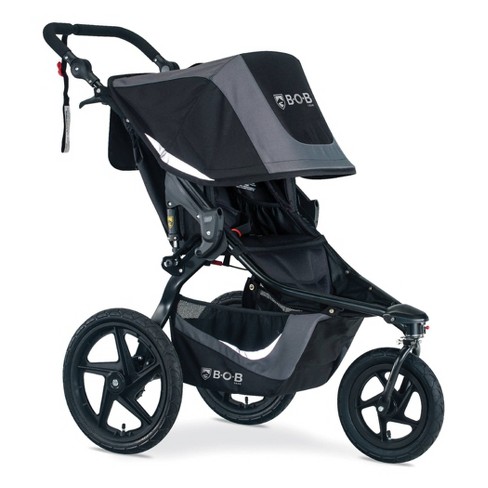 Parents' Review On Amazon:
Bob SE can be used for jogging for even 5 miles a day. It helps the baby nap with its excellent recline, so you can burn some calories while your baby is enjoying his nap time. You can also buy a snack tray to keep them occupied. It is slightly challenging getting things out of the under-basket, but it does provide a good amount of space.
The stroller's quality is better than you can imagine. It becomes very compact when folded. Its suspension system makes the ride effortless for you, and smooth for the baby. It can pretty much handle whatever terrain you put it through. However, the inner tubes in the tires are of bad quality; they may stop working within a short period -maybe one week- which is very disappointing. If this happens to you, you may go to a bicycle shop and get thorn proof inner tubes, which will solve the problem.
BOB Revolution SE Vs. Flex: Which One Is Better?
Bob Flex and Bob SE have very similar features. They have large canopies, wrist bands, large baskets, and five-point harness. However, one noticeable difference is the padded and adjustable handlebar on the Flex model. Taller parents will find this more comfortable for them.
You Can Also Check: