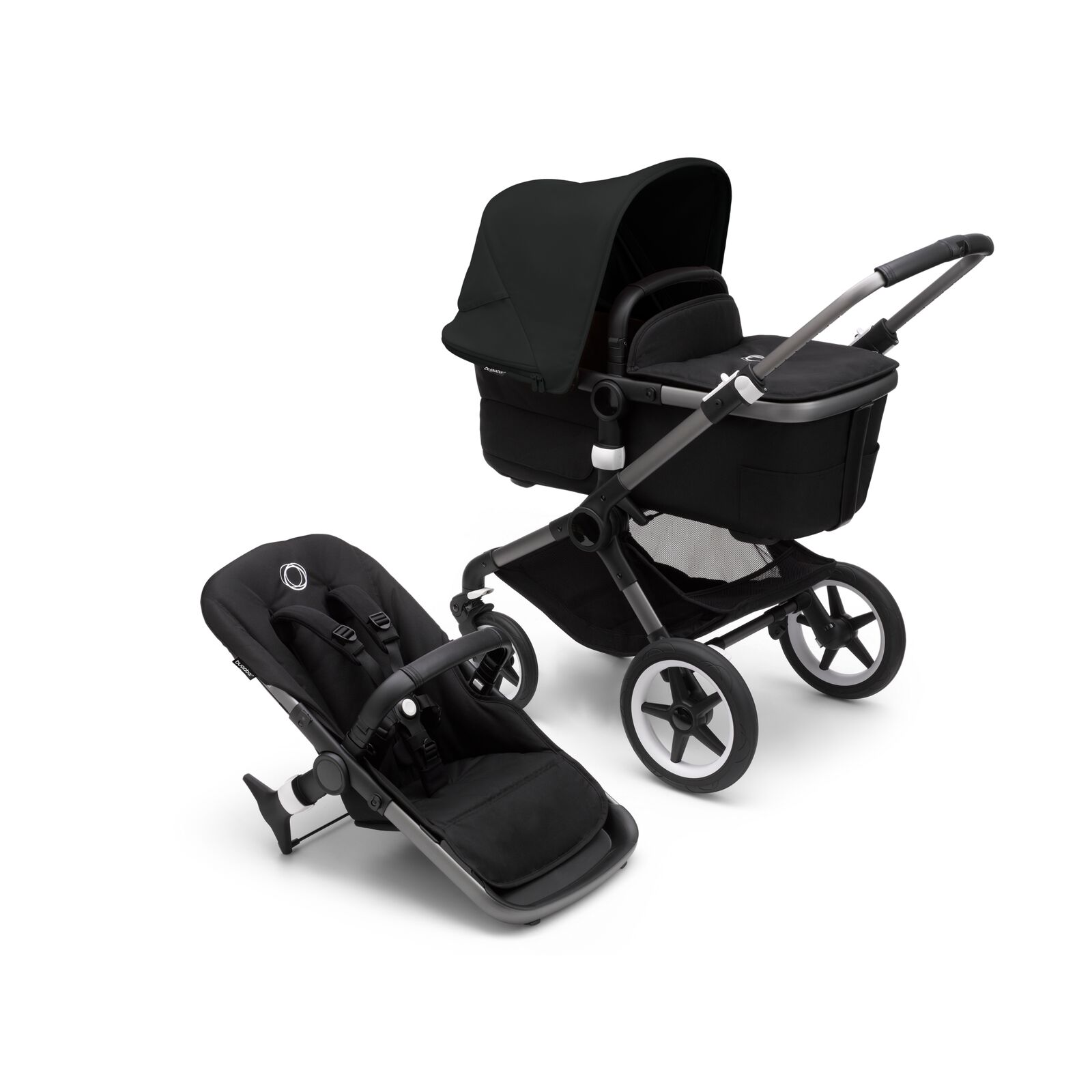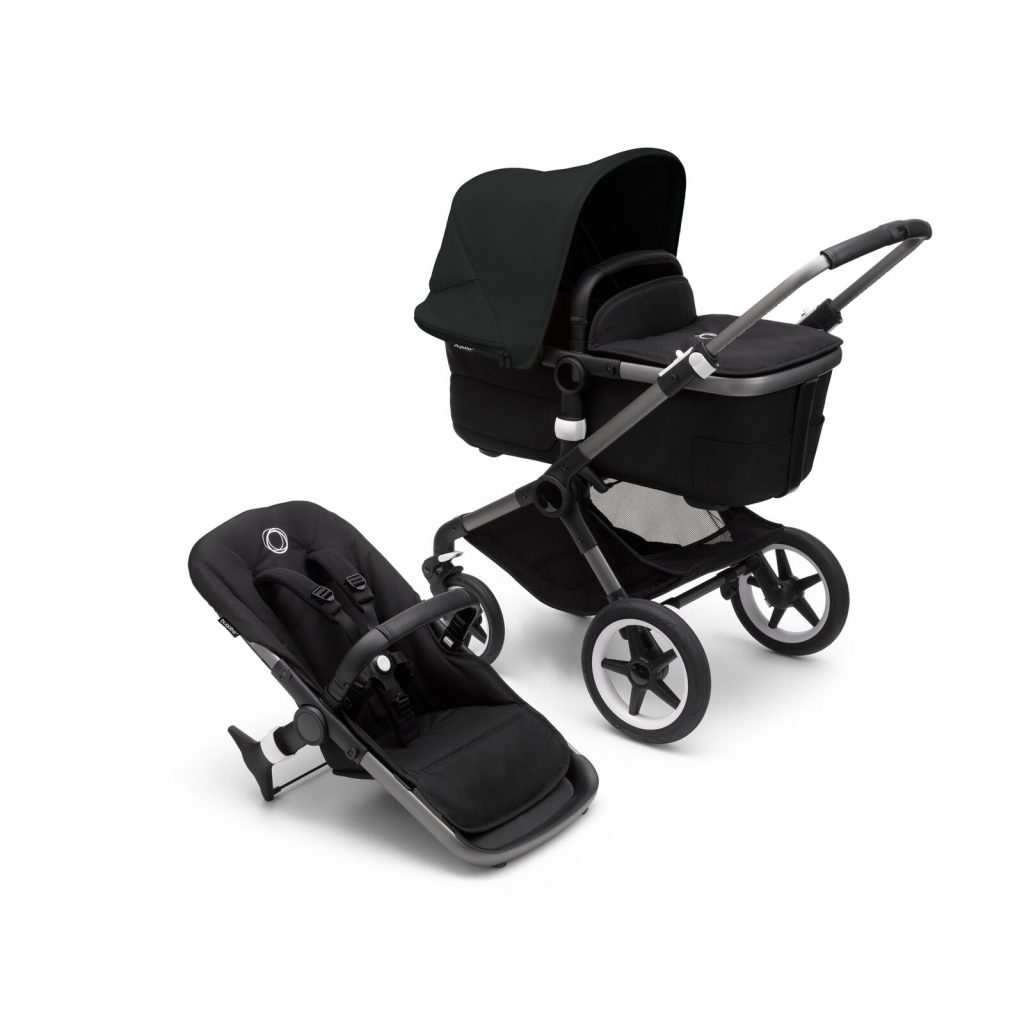 The Bugaboo Fox 3 stroller is out, finally!! We're so thrilled to share with you all the awesome new features on the extremely popular and most lightweight stroller! As everybody adores Fox 2, we promise you Fox 3 is even better. It is the most comfortable stroller for any surface. Bugaboo Fox 3 combines a sleek look with more than 20 years of unique stroller design experience. The new Bugaboo Fox 3 features advanced ergonomics. The new bassinet design comes with a breezy panel that offers airflow for the baby's comfort and enables them to discover more!!
So, What is Different About the Bugaboo Fox 3 Stroller?
Let us take a look at the new features added to the New Bugaboo Fox 3 Stroller to see for ourselves!
Design
The Bugaboo Fox 3 Stroller is even sleeker than older models! The Bugaboo Fox 3 Stroller 2021 is trendier and more fashion forward if we may say so. It comes with updated water-repellent fabrics that are plush and durable. Fabric colors for the Bugaboo Fox 3 range from the nudest of colors to the brightest so you can choose whatever suits your taste. There is also an option of a graphite-toned base to make it even trendier.
The base structure that you will need to put your stroller together, includes the chassis, seat, and frame of the bassinet, handlebar and handle grips, a rain cover, and underseat basket.
Smoothness
The New Bugaboo Fox 3 has large puncture-proof wheels, all-wheel suspension, and a central-joint suspension that makes the stroller bounce softly for a very smooth and relaxed ride for your little one. It's a durable and really strong stroller that is designed to last long. The fabric of the stroller is durable and easy to care for. As always there are replaceable parts and washable fabric.
This stroller is designed for the streets of the city in mind, for you to be able to walk worry-free in the city streets!
The Bugaboo Fox 3 is extremely safe for your little one as well. They are keen on choosing chemical free materials, and a quick lock for a safety harness.
Fabric
The New Bugaboo fox 3 features an upgraded plush fabric that gives this stroller a comfortable and luxurious feeling for your baby to indulge. As comfortable as the fabric is, it is also water repellent, so you do not have to worry about being soaked up when it suddenly rains. It is important to note that all fabrics are machine washable at 86°F. For the leather grips: you can use a damp cloth to clean. Remember to check the washing label for instructions.
Bugaboo Fox 3 Mesh Bassinet
The Bugaboo Fox 3 Breezy bassinet is genius! You can easily open it up and close it to protect your baby from any elements. This bassinet is a temperature regulating one that is perfect for all seasons of the year. It is also brilliant for moms who prefer to keep their little one snuggled comfortably.
This stroller is designed for infants up to 50 lbs. For easy strap on and off, the quick-click harness and shoulder pads are genii, as well as a height adjustment option to fit the size of your baby. The Bugaboo Fox 3 stroller comes with an easy self-standing fold, a fingertip push so that it's ready to go with one move and an extremely large canopy that has a peek-a-boo window.
Add ons
There is an exciting range of accessories that you can buy separately for your Bugaboo Fox 3 that will answer your needs.
What are the Upgrades Added to the Bugaboo Fox 3 in Comparison to Bugaboo Fox 2?
The Bugaboo Fox 3 stroller is the new and upgraded model of the Bugaboo Fox 2. The Bugaboo Fox 3 maintains the features you have loved about the Bugaboo Fox 2 and has added some updated features, such as the new breezy mesh panel on the bassinet and the new range of colors for you to choose from according to the style you are going for.
The body of the stroller (chassis) is also available in a brand new graphite color. The Bugaboo Fox 3 has sleek touches and details such as the new harness that is made from soft materials, and the labels and logo that are now embroidered rather than printed for an even more sophisticated finish to your child's ride.
| | | |
| --- | --- | --- |
| Model | Bugaboo Fox 2 | Bugaboo Fox 3 |
| Bassinet | Regular panel | Breezy mesh panel |
| Color range | Less color range | Wide range from neutrals to vibrant colors |
| Chassis | Black | New graphite color option |
| Weight (fully assembled) | 26.9 lbs. | 26.9 lbs |
| Aesthetics | Printed logo and labels | Embroidered logo and labels |
| Price | Check Price | Check Price |
How much does the Fox 3 weigh?
When it is fully assembled, with the sun canopy, underseat basket, and carry handle, the new Bugaboo Fox 3 weighs 26.9 lbs.
Why is the new Bugaboo fox 3 worth it?
It is considered the best choice for parents-to-be. It has superior suspension and features exceptional comfort.
With the stroller comes a bassinet to put in your baby from day one. You can also fit car seats with a compatible adapter — each sold separately.
Once your baby can sit in the seat, the ergonomic plush inside provides support. Bugaboo has elevated the chair a few inches. The stroller can carry your child until they weigh almost 50 pounds.
When you're a parent for the first time, you want a stroller that is as easy to handle as possible. Bugaboo is perfect as it includes a one-piece fold. The Fox 3 into a compact size, which makes it easy to store or transport.
As it comes with the stroller and bassinet, it also provides some other useful features. It comes with a rain cover, UPF 50 sun canopy, as well as a big storage basket.
Is the Bugaboo Fox 3 bassinet safe for sleeping overnight?
The Bugaboo fox 3 bassinet is sleep safe so you can use it for at home overnight sleep. The mesh panel adds to the aeration of the bassinet so it is even safer.
Can you jog while pushing the Bugaboo fox 3?
There is an adapter that will make your pram more versatile and allow you to go from strolling to jogging. You can use it to make your Bugaboo Fox seat compatible with the Bugaboo Runner and Bugaboo Stand.
Final words
Simply, the Bugaboo Fox 3 stroller is everything you need for a city stroller. It is one of the lightest strollers you will find with all these options. It is simply all the comfort you need in a full sized stroller. It is a lightweight with the powers of a heavyweight champion!