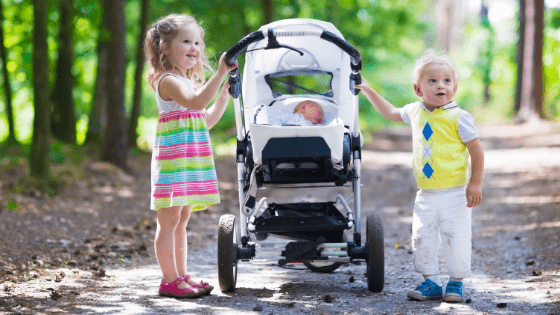 When you're buying a stroller for your baby, there are a couple of things that you should keep in mind in order to get the best one for your needs.
Especially when it's a jogging stroller whose job is a little trickier than a regular one.
What Distinguishes Jogging Strollers from Other Options?
Jogging strollers are made with sturdy tires with one positioned at the front and two in the back. Moreover, they have a lightweight frame that is great for providing a smooth ride for the toddler.
Although they don't have wide storage space like standard ones, they provide adequate space. They also have reclining seats that are compatible with car seats.
Features You Should Look For When Buying a Jogging Stroller
1. Safety
There's no doubt that your stroller should meet the basic safety requirements.
This means you should get one with a deep seat and a five-point safety harness trap that's easy for you to unbuckle and secure but not for your child to do so.
Moreover, the brakes should be reliable and solid.
Double-check that the frame doesn't have any sharp edges or any places in which your toddler's fingers could get stuck in.
On top of that, make sure that your jogging stroller's front tire doesn't swivel but is still capable of maneuvering around.
A locking front wheel is the best to let the tire move when you're just roaming around and then locking it into place to get it moving in a straight path when it's time for action.
To prevent the stroller from straying away from you, get one with a safety wrist strap and a hand brake that keeps its speed in check.
Jogging strollers can be a little dangerous without a hand brake if you're going down a hill at a pace that's hard to manage.
Furthermore, a jogging stroller is more valuable with a parking brake. This brake could be a hand or foot one, and it's important to engage whenever your stroller is parked in place. Make sure that it maintains the stroller firmly in place when it's fully engaged.
Finally, make sure your jogging stroller has the Juveline Products Manufacturers Association (JPMA) seal which certifies that the product has successfully passed rigorous safety standards.
2. Shock Absorption and Tire Quality
While this feature may not be as important on other types of strollers and not even on all jogging stroller models but it definitely is a huge plus.
The models that do have it feature a rear shock for an extra cushion which you can adjust according to the weight of the load.
Moreover, the 3 wheels of the jogging stroller should have air-filled tires to guarantee a smooth ride for both yourself and your baby.
3. Ease of Use
Think of a couple of questions: How easy is it to lift the stroller in and out of your car? Does it fit in your trunk? Is it light enough for you to carry up the stairs to your apartment? How easy it is to fold and unfold? Can you handle maneuvring it one-handedly? Is the handle height suitable or will you be needing an extension? Is its size suitable to navigate through your jogging path?
Consider all of these questions before you make a final purchase.
4. Storage
Good storage space under the seat is the ideal space to keep your diaper bags, purses, and grocery bags.
It's a great plus if you can find a place for your phone, keys, drinks, and snack.
5. Canopy
If you're going to go on a lot of sunny walks or rainy weather, make sure your canopy is adjustable enough to protect your toddler from these factors.
The canopy protects your baby from UV rays or wind carrying any dust or debris.
6. Washable fabric
With all the outdoor activities you'll be doing with your stroller, it's bound to get a little dirty or even stain.
A removable fabric cover can make the cleaning process a lot easier –especially if it's machine-washable.
7. Price
You can find jogging strollers at a price as low as 100 dollars or as high as 500. And usually, you get what you pay for.
Low-budget strollers are typically made from heavier materials such as metal instead of the lighter aluminum alloys. Consequently, they're a little harder to push and the less smooth it rolls on different terrains.
You Can Also Check: