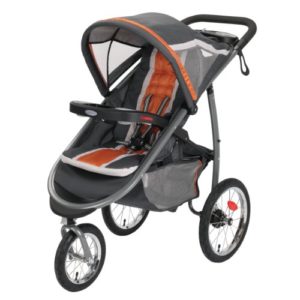 [su_button url="https://amzn.to/2WMvYVy" target="blank" background="#ffa414″ size="10″ center="yes" icon="icon: external-link" text_shadow="0px 0px 0px #cc8410″ rel="nofollow noreferrer noopener"]CHECK LATEST PRICE[/su_button]
Graco's FastAction Fold Jogger Stroller is one of several products in a similar line of baby joggers. It's quite portable and easy to fold and carry around.
Its design also makes it pretty easy to be moved by only one person.
This stroller has a system that combines elements of the traditional stroller with a jogger. So it's very convenient, comfortable, and easy to use.
It also measures 40 x 24 x 42 inches and weighs around 30 pounds.
The Graco FastAction Fold's rubber tires provide the baby with a smooth and comfortable ride and help with maneuverability for the parents during jogging speeds.
They're filled with air to offer solid suspension.
Moreover, the front wheel can be locked or unlocked depending on your needs.
The automatic foldable design gives the parents the freedom to fold the stroller using only one hand if you need to hold the baby in your other hand.
Furthermore, the Graco FastAction Fold Jogging Stroller is compatible with car seats. It also sends an audible click when it's properly connected.
For the absolute comfort of your baby, the Graco FastAction Fold's multi-position reclining seat is padded well to ensure a smooth ride.
On top of that, it comes with an expandable canopy with a peek-a-boo window as well as a convertible 3 or 5-point harness.
Finally, you get a smartphone cradle to store your phone as well as under-stroller storage where you can keep whatever you need during longer jogs and hikes.
Pros
Lightweight and compact design
Designed for one-handed use
The rubber tires make the ride comfortable for the baby
A basket to contain a lot of items you'd need during longer jogs
Cons
The lock on the wheel may loosen up sometimes
Doesn't fit in smaller cars
The tray has to be disconnected to fit in the car
Final Verdict
The Graco FastAction Fold Jogging Stroller is an affordable all terrain stroller that will provide you with a lot of ergonomics and comfort for your child.