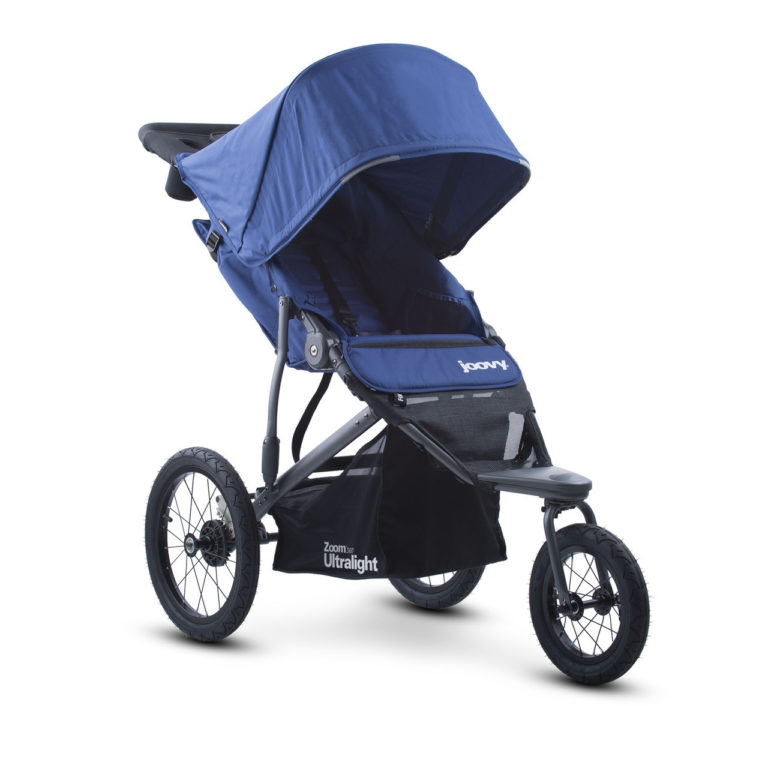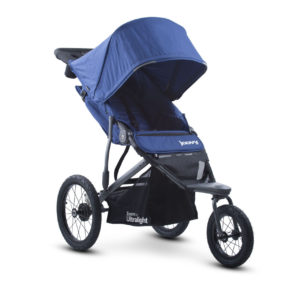 [su_button url="https://amzn.to/2UmzHHN" target="blank" background="#1480ff" size="5″ center="yes" icon="icon: external-link" text_shadow="0px 0px 0px #10aecc" rel="nofollow noreferrer noopener"]CLICK FOR PRICE[/su_button]
The Joovy Zoom 360 is quite easy to push and slides smoothly on various types of terrain.
The fixed front wheel may restrict some speed in running, but the high handlebar and absence of a rear axle enable the user to take bigger steps.
A little drawback, however, is that the Joovy can roll backward at higher speeds.
Moreover, the Joovy Zoom 360 comes with an effective shock suspension feature that makes the ride comfortable for the child in concrete, mud, and grass.
If you regularly check on the stroller's tire pressure, it will always be well-aligned and hold a straight roll perfectly.
The Joovy Zoom 360 also has quick release 16-inch rear wheels and its 12.5-inch front wheel locks straight.
Furthermore, the Joovy Zoom 360 is quite a sturdy stroller and can last around 3 years with heavy use.
Although the handle is not adjustable, it's quite high at 42 inches. Combine that with having no axle between the rear wheels and you get the maximum stride and absolute comfort for taller parents.
As for the ergonomics, the Joovy Zoom 360 comes with a foamy and well-cushioned handlebar grip.
All-in-all, it's a great choice for a stroller. Unless you're going to use it in an area with a lot of hills or downward-sloping terrain as it lacks handbrakes.
The good balance, parking brakes, and running leash are good enough for safety in mostly flat areas.
Final Verdict
The Joovy Zoom 360 is a great infant stroller of high quality for various kinds of terrain including off-road trips, woods, and beaches.
[su_button url="https://amzn.to/2UmzHHN" target="blank" background="#ffa414″ size="10″ center="yes" icon="icon: external-link" text_shadow="0px 0px 0px #cc8410″ rel="nofollow noreferrer noopener"]CHECK LATEST PRICE[/su_button]