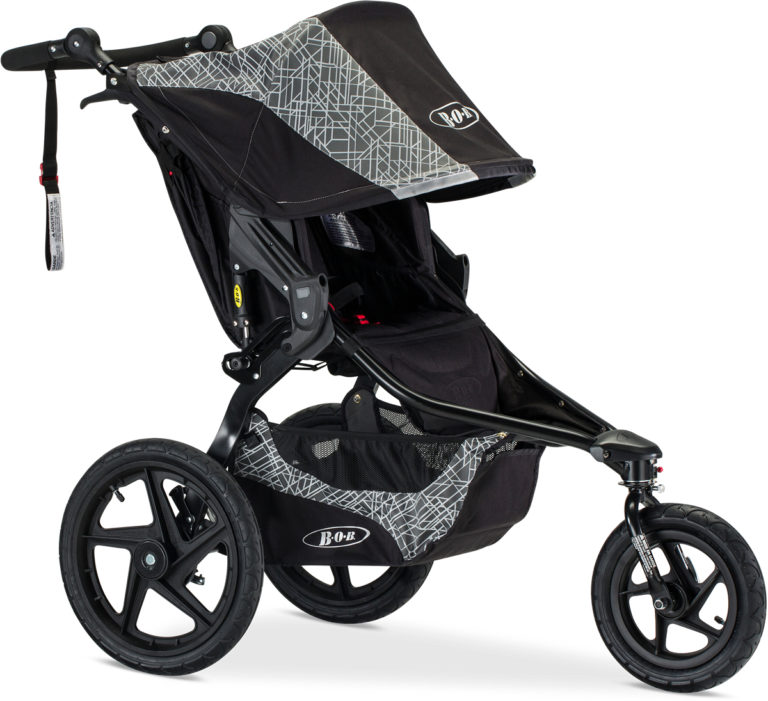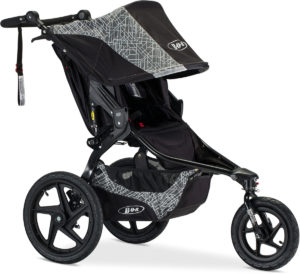 [su_button url="https://amzn.to/2Jm4eiw" target="blank" background="#1480ff" size="5″ center="yes" icon="icon: external-link" text_shadow="0px 0px 0px #10aecc" rel="nofollow noreferrer noopener"]CLICK FOR PRICE[/su_button]
The BOB Revolution Flex 2.0 jogging stroller comes with a swiveling-locking front wheel that enables the user to maneuver the tightest of turns.
It also locks forward for maximum stability on rough and uneven terrains. The high-impact, air-filled polymer wheels maximize the smoothness of the rides even more.
With a simple squeeze of a button, you can one-handedly recline the seat to provide your child with extra comfort.
On top of that, the seat is equipped with ultra padding, ventilation, and a five-point harness that keeps your child secure and cozy.
The BOB Revolution Flex 2.0 offers great ergonomics with an adjustable padded handlebar with 9 positions that suit a parent of any height.
You can easily fold it in 2 steps and easily transport it and store it.
Moreover, the state-of-art suspension system gives you 3 inches of travel and the 2-stage weight support for the smoothest rides possible.
You can store all you need in the integrated pockets and large Low Boy Cargo Basket that offers 15% more storage space than the average compartment.
Furthermore, the front and back wheels can be detached or attached to the improved quick-release design.
When you stop the stroller, it remains locked in position thanks to its foot-activated parking brake.
Finally, the wrist strap ensures safety when running and has a buckle to lock the stroller closed when you fold it.
Final Verdict
If you're looking for the best jogging stroller for runners, the BOB Revolution Flex 2.0 Jogging Stroller should suit you just fine.
With an ability to handle all kinds of terrain and its silk smooth mobility, it's the ideal stroller for fast-paced running.
[su_button url="https://amzn.to/2Jm4eiw" target="blank" background="#ffa414″ size="10″ center="yes" icon="icon: external-link" text_shadow="0px 0px 0px #cc8410″ rel="nofollow noreferrer noopener"]CHECK LATEST PRICE[/su_button]