Best Value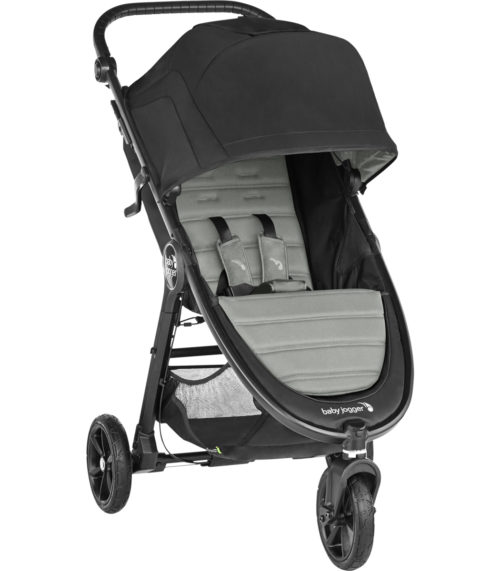 Baby Jogger City Mini GT2 Stroller
Dimensions (in): 44.88 x 21.21 x 43.5
Weight (lbs): 22.49
Capacity (lbs): 65
Our Choice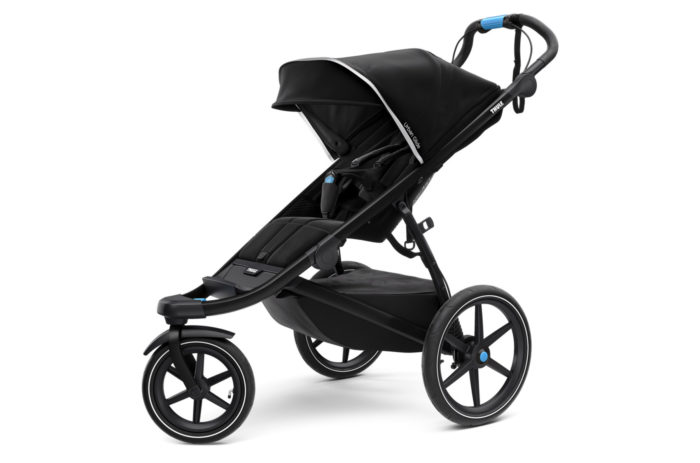 Thule Urban Glide 2 Jogging Stroller
Dimensions (in): 22.8 x 34.3 x 13.4
Weight (lbs): 25.3
Capacity (lbs): 75
Premium Choice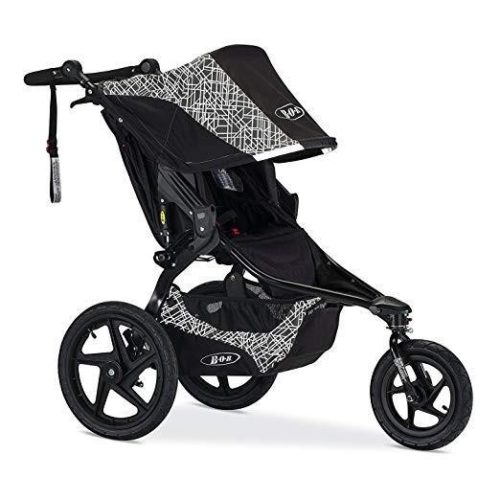 BOB Gear Revolution Flex 3.0 Jogging Stroller
Dimensions (in): 45 x 24.5 x 43
Weight (lbs): 28.5
Capacity (lbs): 75
If you're an active parent who likes to take their child or children on adventures, then you'll need a good stroller to carry your kid when they're too tired. And with all the choices available on the market, reaching a final decision can be a little too confusing. That's why I've narrowed down the choices by gathering the best all-terrain strollers on the market and reviewing them in one place.
List of The Best All-Terrain Strollers:
Comparison Table
The 8 Best All-Terrain Strollers 2022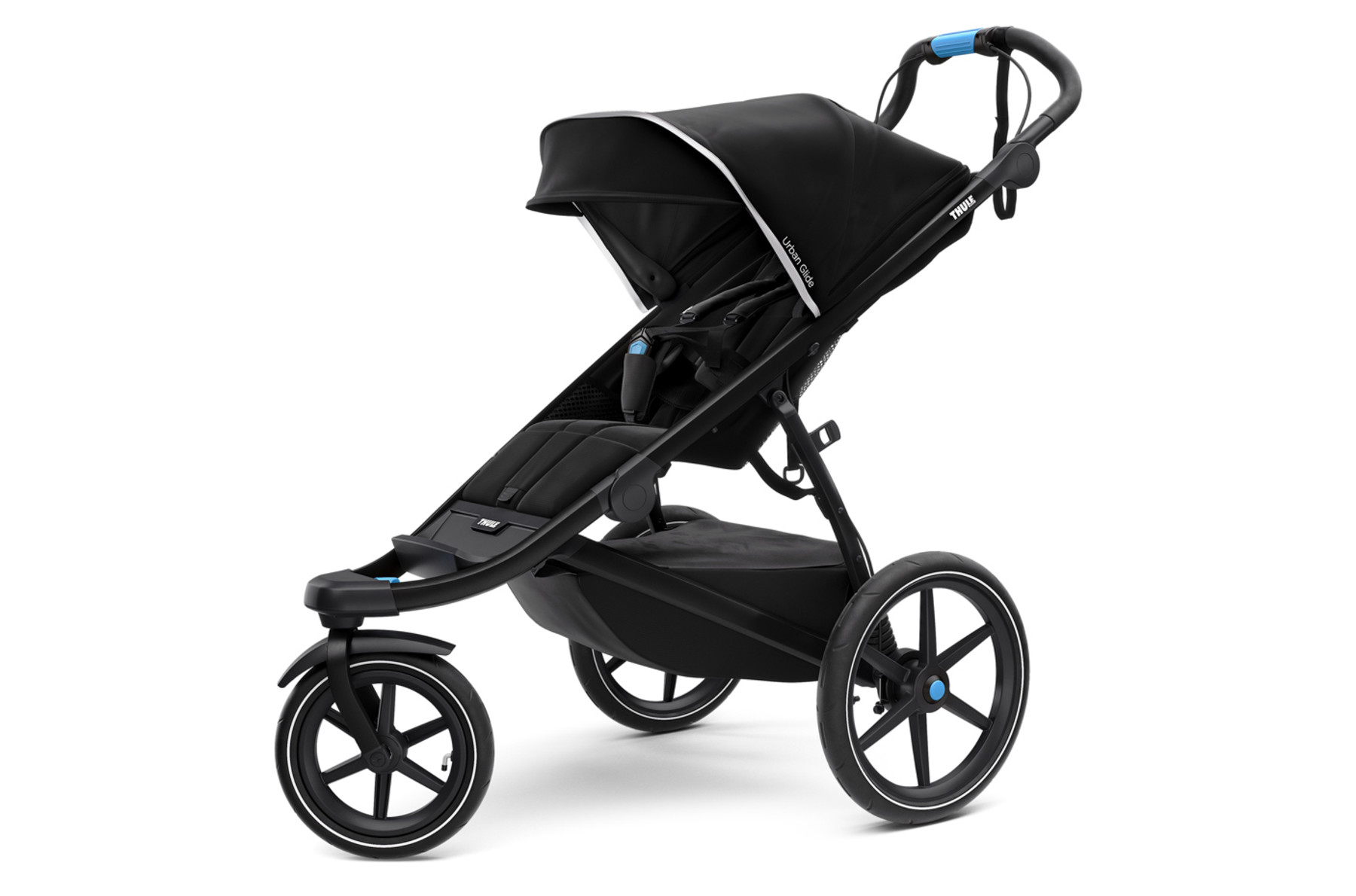 The Thule Urban Glide 2 comes with a 3-wheel design: 16-inch rear wheels and a 12-inch front one.It's easily suitable to take on all kinds of terrain, smooth or rugged, as the suspension is top-notch. Moreover, it handles cracked and uneven sidewalks or streets without any issues.
Urban Glide 2 is so versatile that it can even move well on wet and loose sand. And although the seat can't be adjusted while your kid is in the stroller, the Thule Urban Glide 2 still provides you with excellent convenience.
This includes the padded and adjustable handlebars that fit your height exactly and the ability to fold the stroller one-handedly. At only 25.3 pounds, it can handle a child up to 75 pounds.
Final Verdict:
To wrap-up, Thule Urban Glide 2 jogging stroller is the best choice for anyone who values versatility over all else. With its adjustable handlebar, handbrake, and single-handed folding mechanism, it'll have your back on all routes and at all times.
---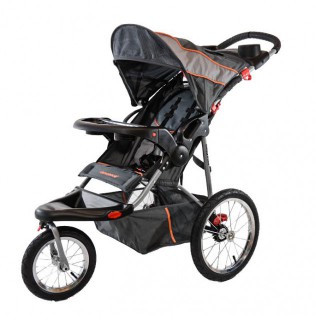 This stroller is a great choice to walk over dirt trails, roads, cracked pavements, grass, and bike trails. It can handle whatever as it has amply-sized 16-inch wheels. The swivel feature on the front wheel makes it easy to maneuver and control. On top of that, it can also lock straight to provide you with stability. This makes it an excellent all-terrain jogging stroller as well.
Although the wheel can be a little wobbly, it's still good enough for the diverse adventures you'll take it on. Weighing only 23.6 pounds makes it pretty lightweight. However, it can only accommodate a child of 50 pounds –so it's not an option your toddler can grow into.
Final Verdict:
If your baby is below six months of age, and you're in the market for an economically-friendly stroller that you can use for walking, jogging, and all types of activities, then the Baby Trend Expedition Jogger will be the perfect choice for you.
---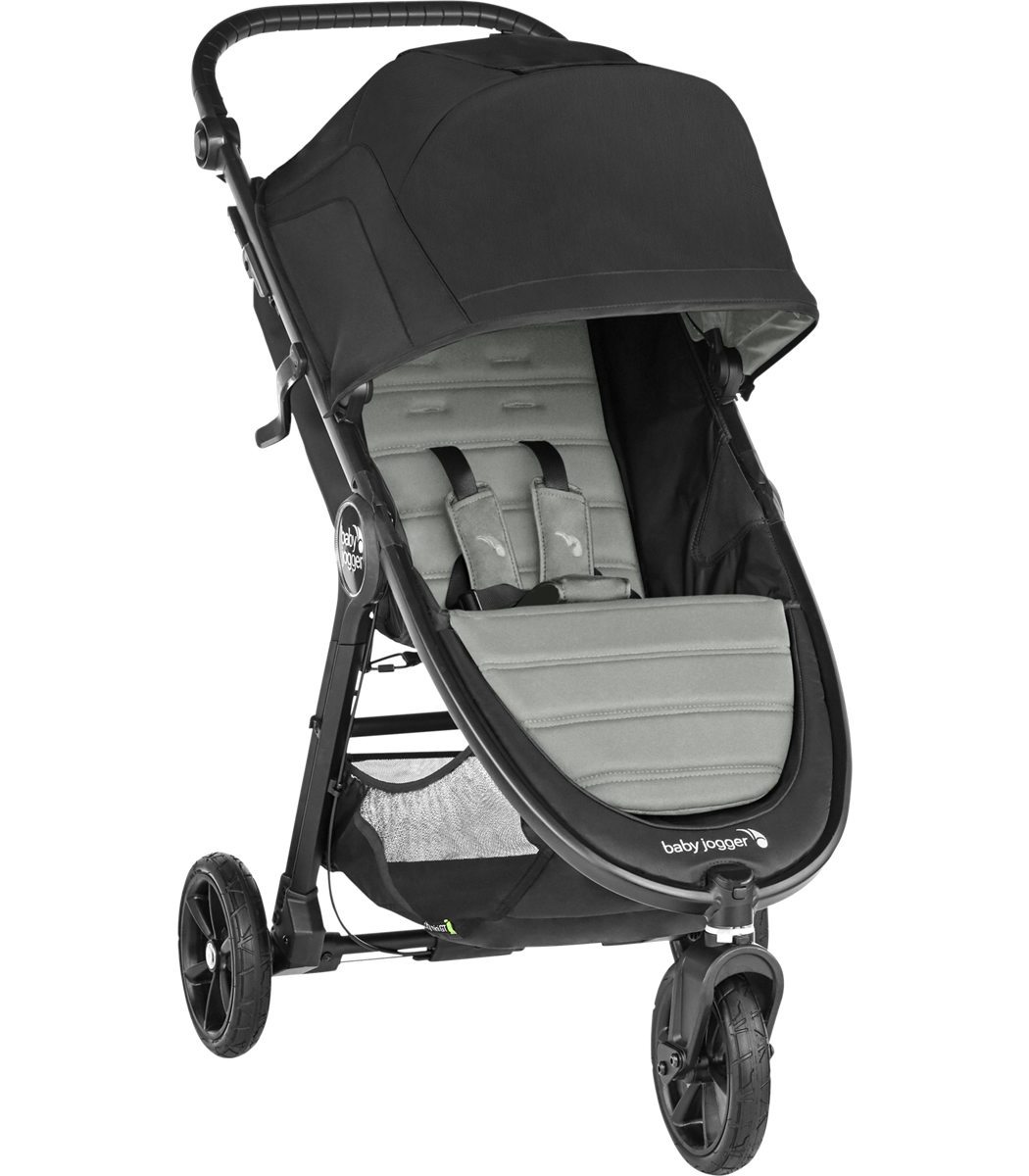 The Baby Jogger City Mini GT2 is only 22.49 pounds. How light it is combined with the 3-wheeled design makes it easy to steer and control. It's not the most versatile as it can't handle sand or terrain that's too rough. But it smoothly goes through short grass, dirt roads, and gravel paths.
And although it has "Jogger" in its name -it's only a name. I wouldn't recommend to go for a jog with it as it doesn't have the suitable pump of tires or shock absorption. So if you take the stroller on more rugged terrain, you and your baby will probably feel bumps harder than you would with a jogging stroller.
Final Verdict:
The Baby Jogger City Mini GT2 is the simplest, most straightforward stroller that you will ever see. It's lightweight and compact, so it's perfectly suitable for small, fast trips where you don't want to be faced with much trouble handling a bigger stroller.
---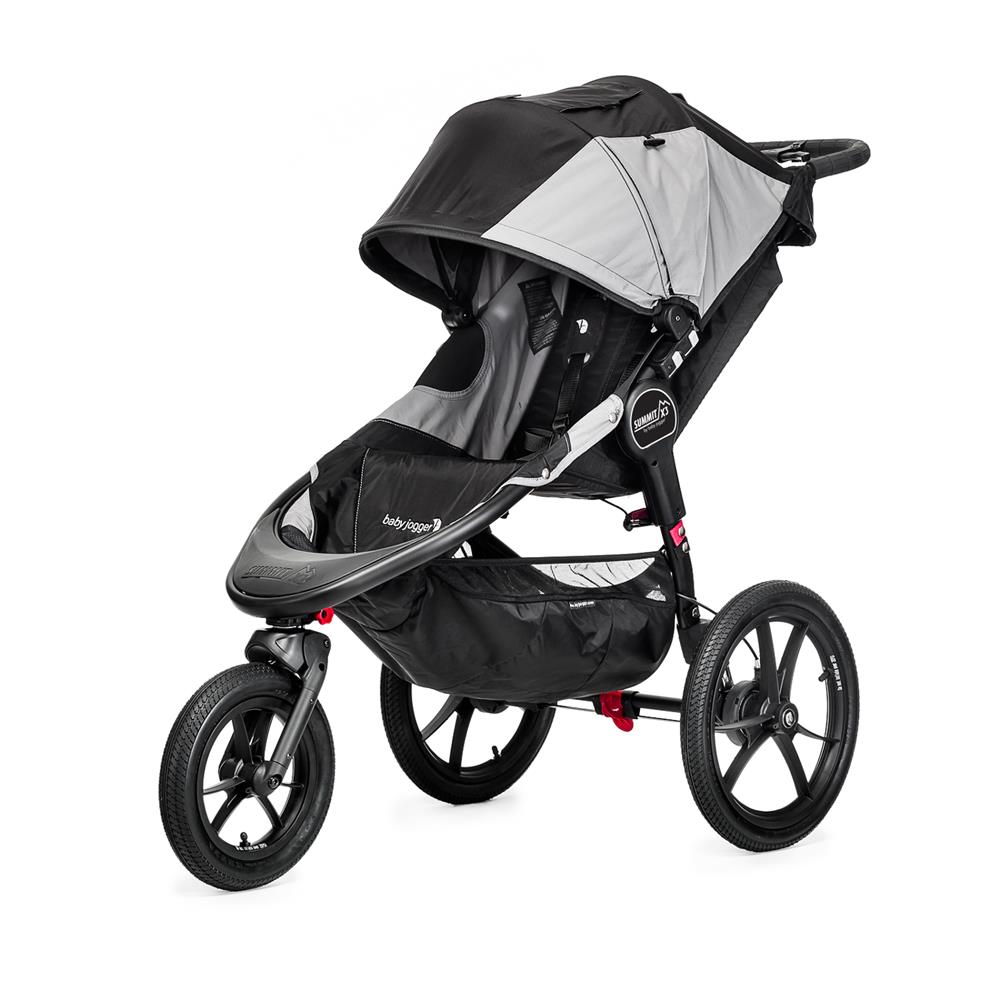 The handbrake on the Baby Jogger Summit X3 gives it a massive advantage over a lot of other models on the market. This is because it enables you to take it jogging in hilly areas or take on mountain trails with ease. Moreover, it gives you better control over the speed of the stroller.
The Summit X3 can also be pushed on sandy beaches, bumpy trails, uneven sidewalks, and even beaches. It combines between affordability and a compact design. However, it's a little on the heavy side as it weighs 28.1 pounds. I found the remote front wheel lock super helpful. It spares you the need to bend down and dirty up your hands to lock or unlock the front wheel. All you have to do is lock on the handlebar.
Final Verdict:
The Baby Jogger Summit X3 is the perfect choice for the summer. When you want to go with your entire family to the beach, and you want a stroller full of controls, for instance, relieving you of the burden of locking and unlocking the front wheel, in addition to having ventilation panels for extra airflow.
---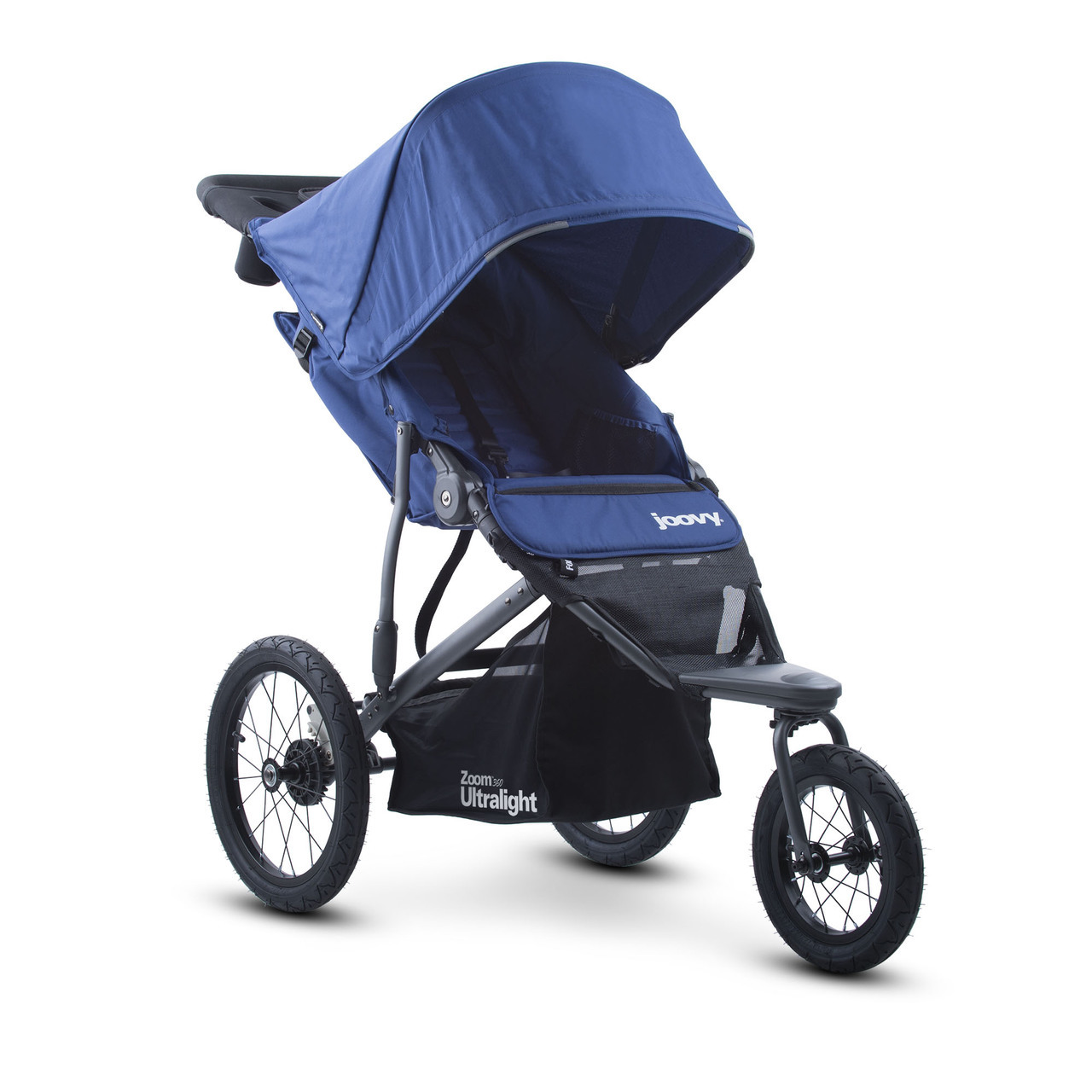 The Joovy Zoom 360 is a great mid-range stroller that combines several things perfectly. It's affordable, light at 25.9 pounds, and compact. It can carry a 75-pound child easily. You'll quickly get smooth rides on uneven terrains, grass, bumpy sidewalks, or even sandy beaches as the stroller comes with a fantastic rear-wheel suspension system.
However, it's not suitable to handle too rugged terrain such as other models available on the market. Moreover, its construction is quite robust as it's made of aircraft-grade aluminium and durable 600D polyester fabrics.
Final Verdict:
The Joovy Zoom 360 Ultralight is undoubtedly a great way to go if your mindset is all about durability and a few years of service before giving up on a stroller. This one has plenty of legroom and storage for you and your little one.
---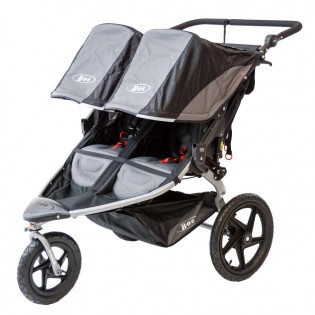 The BOB Revolution Flex Duallie 2.0 is the best double stroller. It's the perfect choice for you if you have two children whose ages are close to each other. And although it's heavier, more expensive, and occupies more space than most models on this list, its numbers break records for a double stroller.
Its padded handlebar is comfortable to hold and can be adjusted to 9 different positions to provide the user with absolute ease. Moreover, the front wheel can be left to swivel if you're going to take a lot of turns or locked on moving in a straight path. I loved the state-of-the-art suspension system on the BOB Revolution Flex Duallie 2.0 as it enables it to move over any terrain with ease.
Furthermore, the angle of the seat can be lowered or raised using one hand, and the whole thing is collapsible in a matter of seconds. To fully accommodate two children, the storage underneath the seats is more than sufficient for the necessary items two children may need.
Final Verdict:
The BOB Revolution Flex Duallie 3.0 is the epitome of flexibility. Starting with the fact that it's a double stroller, hence immediately providing double the value, next to the handlebar with its nine different positions, and ending with its ability to collapse in the blink of an eye.
---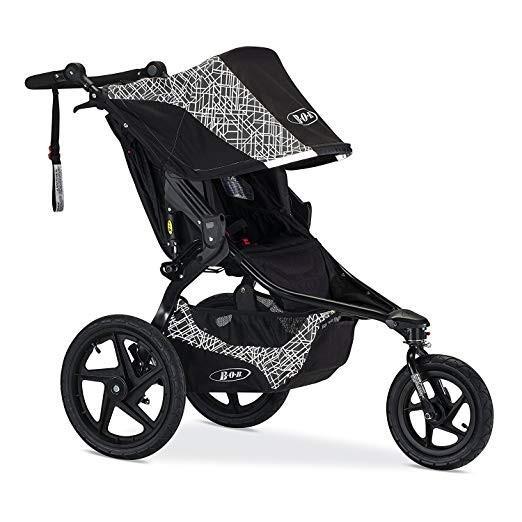 The BOB Gear Revolution Flex 3.0 will fit your child from birth and up to 75 pounds. With an infant car seat, you can quickly turn it into a handy travel system. Moreover, it provides you with a lot of convenience with its one-handed seat-recline adjustments. You can choose to let the front wheel swivel or lock it depending on the kind of terrain you're walking on and how much stability you need.
Furthermore, the handlebar comes with a wrist strap and is adjustable to 9 positions. With a cell phone pocket, three seatback pockets, two in-seat snack pockets, and an extra-large cargo basket, you'll have more than enough room to put all of your needed items.
Final Verdict:
The BOB Revolution Flex Duallie 3.0 is a solid stroller that can support up to 75 pounds of weight with a high-quality front wheel that can either swivel or be locked straight. Additionally, it boasts plenty of storage for the comfort of the parents, which is always a welcomed plus!
---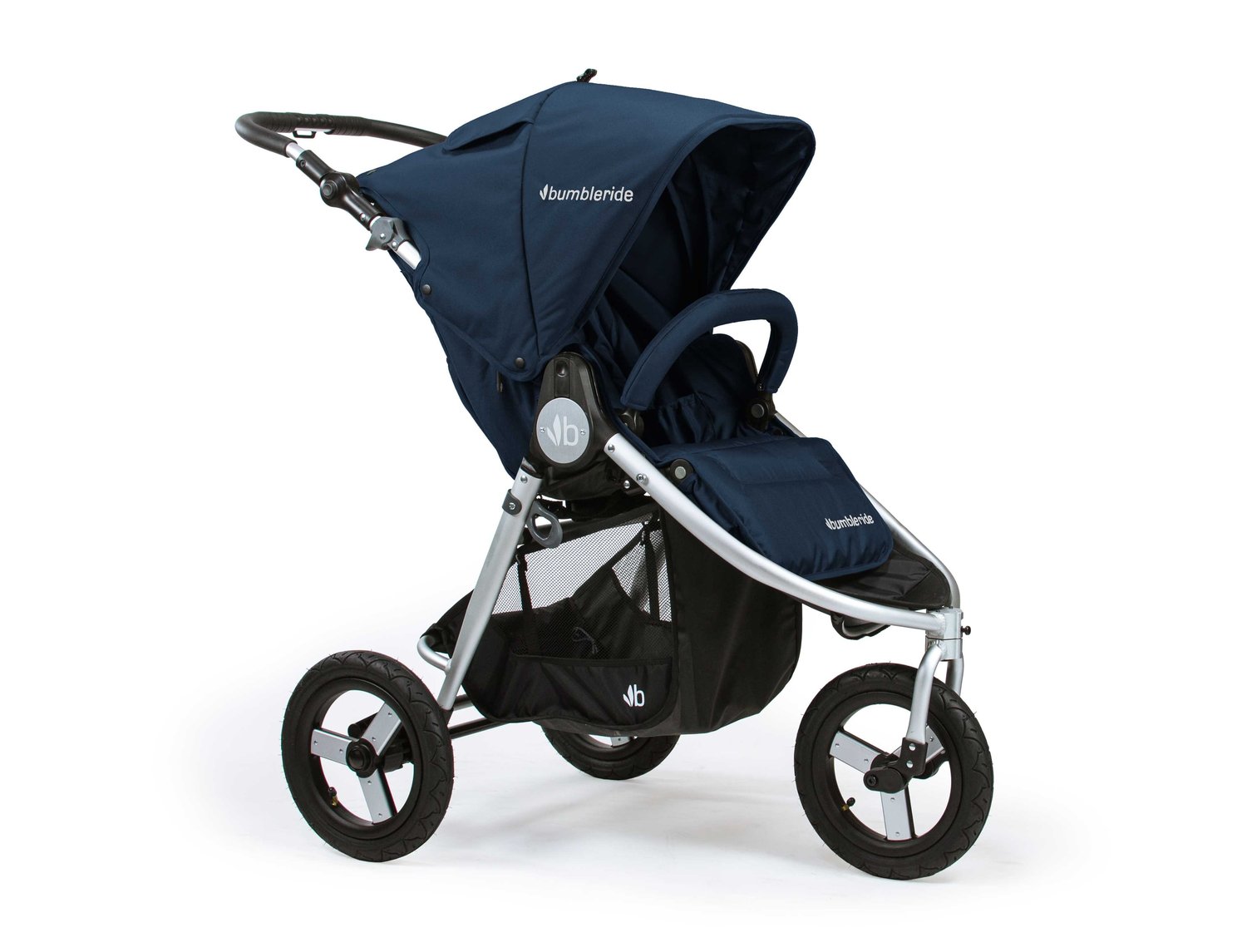 This high-end all-terrain stroller provides you with the smoothest rides without all the bulkiness. It's not particularly compact, but it's so lightweight that you won't have any trouble moving it around. The 24-pound stroller can hold more than twice its weight, fitting your toddler until they're 50 pounds.
Moreover, the seat has a flat recline ability with the footrest forming an enclosure. You can even turn it into a travel system thanks to the included universal car seat adapter that's compatible with almost all of the famous brands. The Bumbleride Indie has a padded 5-point safety harness that keeps your child secure in their place.
Final Verdict:
This stroller is all about safety with its five-point safety harness, and ability to carry almost twice its own weight, up to 50 pounds. Thus it's an excellent choice for anyone who is in the market for a complete travel system.
---
What Is an All-Terrain Stroller? And Why Would Someone Need It?
It's usually a three-wheeled stroller or a traditional one with large, air-filled tires. They're designed to be capable of traverse various surfaces such as grass, pavements, mall floors, and even off-road paths. If you take your child with you on various adventures and in different areas, you might need an all-terrain stroller for the flexibility it has to offer.
How to Pick an All-Terrain Stroller?
When you're looking for a stroller, you have to make sure that it comes with specific features that enable it to accomplish its mission.
Ease of Use
There has to be a high degree of flexibility to any stroller, and that includes ease of folding and unfolding, adjusting backrest and harness, the accessibility to the basket, reliable brakes, and smooth insertion and removing of the infant seat if it is removable.
Maneuverability
This includes pushing your stroller uphill and downhill and on different terrains such as blacktop, mulch, dirt, and grass. Your stroller should also be easily pushed in a series of S curves through traffic cones as well as through narrow spaces beside parked vans, for example.
Not only is this limited to paved paths, but maneuverability also includes off-road navigation. Your stroller should easily be pushed through rough terrain sections, downhill asphalt, and turns on uneven terrain.
Safety
How safe your child is on his or her all-terrain stroller is an essential thing to make sure of. Double-check that the five-point harness secures your child firmly and cannot be unlocked by the toddler himself. The addition of one-touch or linked brakes is a huge plus for safety as they're more convenient than standard brakes.
Suits 6-month Old Babies and Younger
If your stroller suits 6-month babies and younger, this means that the seat reclines back to an angle that's higher than 150 degrees. Moreover, it means that your stroller has a safety flap at the child's feet to prevent them from slipping out.
Stands Folded
If you want the maximum flexibility and convenience out of your all-terrain stroller, you should get one that can stand folded. This is a great feature when you're in a restaurant or busy café. It also makes storing it at home a little easier.
Car-Seat Compatibility
If your stroller is car-seat compatible, it'll allow you to mount a car seat directly onto the stroller. This is especially useful if you're moving your sleeping child from your car as it wouldn't wake them up.
Adequate Storage
If you're going to go to many different places with your stroller, it probably means you'll need to pack for various occasions as well. So make sure that it comes with enough trays for both you and your child to hold snacks, drinks, and toys.
Moreover, a spacious basket below the seat, saddlebags, and pockets are great ways to avoid hanging any items on the handlebar and disrupting the balance of the stroller.
Final Thoughts
While it's true that the products in this article are the best all-terrain strollers on the market, some of them do a better job at combining critical features.
For example, I'd recommend the Baby Trend Expedition Jogger Stroller for someone who's looking for a light and friendly-budget choice and who isn't too concerned with compactness.
The Thule Urban Glide 2 Stroller, on the other hand, combines being compact, lightweight, and accommodating. However, it's a bit of a pricey option.
If your primary concern is the weight of the stroller, the Baby Jogger City Mini GT2 Stroller is your best bet.
Finally, the Joovy Zoom 360 Ultralight Stroller is an excellent choice for the ultimate convenience and handy extras.
You Can Also Check: