If you ever feel the need to reward your toddler but still want them to move and go outside more, instead of playing with a toy or watching cartoons, then, the optimal reward will be a push car.
Being at the wheels of a push car transcends your child into another place as we all know that there is nothing more vivid or creational than a toddler's imagination. A simple ride in their push car might seem like a simple walk around the lawn or around the block for you, but for them, they are chasing bad guys or are in the shoes of their favourite superheroes/superheroines.
There are multiple elements that go into making a good push car for toddlers. From being comfortable and safe, having gadgets, and many other benefits, there's a lot that these cars have to offer. So without further ado, let's get to the 4 best push cars for toddlers today.
List of the Best Push Cars for Toddlers:
Comparison Table:
The 4 Best Push Cars for Toddlers in 2021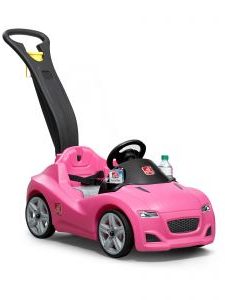 We begin with its maximum weight capacity; the Step2 can hold up to 50 pounds, which is quite impressive. It also has a safety belt and two children cupholders, along with an extra one for parents in the middle of the handle.Speaking of the handle it is easy to fold, and can be folded downwards, which makes storing and carrying the car easy to do.
Furthermore, the "whisper ride" wheels are known to be extremely smooth and capable of traversing all terrains. Controlling this push car is a breeze for both parents and children alike.
Moreover, the Step2 comes with a car horn and sticker headlights. These fantastic gadgets will definitely excite your child and make them feel ecstatic when riding their push car.
You can pop the hood to store all your and your child's precious belongings. Finally, this outstanding push car for toddlers comes in two different colors, blue and pink, to suit different tastes.
However, the Whisper Ride II does not have a canopy, which means that your child will be exposed to sunlight all the time. But you can purchase a separate one and easily install it into the push car. Another downside is the fact that the bottom is not removable.
Bottom Line
The Step2 Whisper Ride II Ride On Push Car is the best push car for toddlers for many reasons. It is amazingly durable, has a lot of storage capacity, and its handle is easy to fold. When it comes to usability by children, the seat belt provides them with safety, and the wheels are easy to stir.
---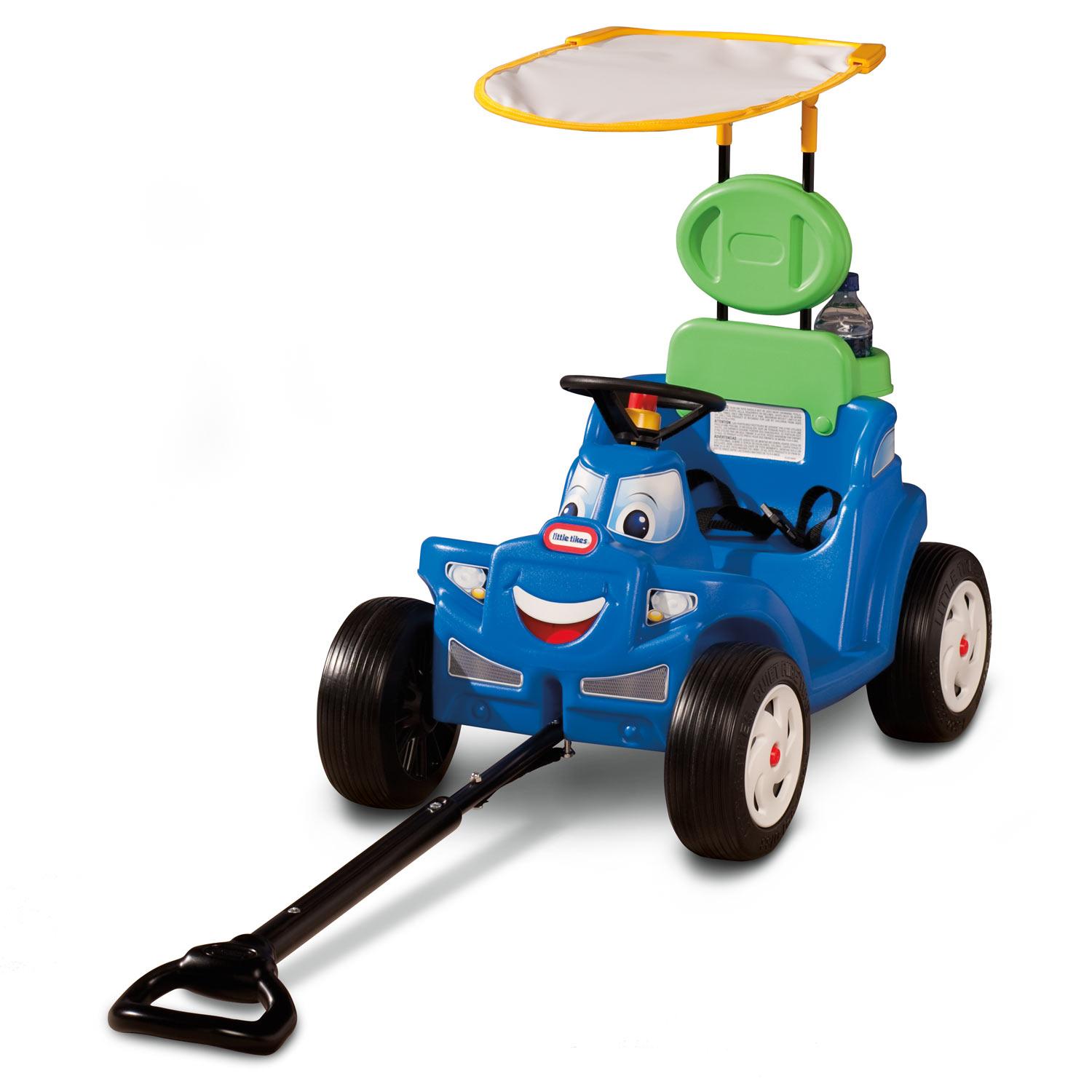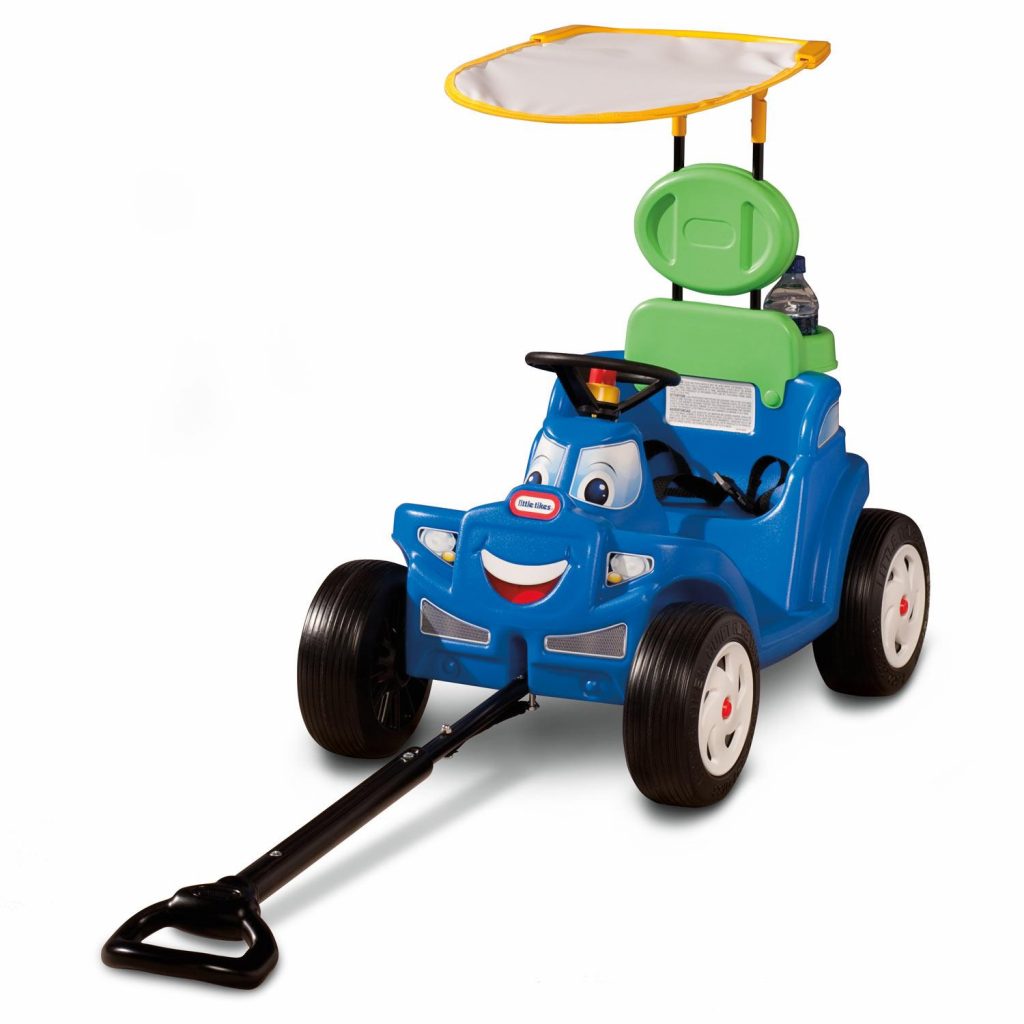 It is jam-packed with amazing features, such as the fact that it has a sun canopy that will always protect your child from the harmful UV rays. Additionally, it has a car horn that your child will be constantly abusing. Moreover, it has two cup-holders and a zippered storage area for all your valuables.
Our favorite thing about the Little Tikes Deluxe is the handlebar. First of all, it can be attached to either the front or the back, meaning that you can use the push car normally or use it as a wagon. Also, the handlebar's height can be fully adjusted to suit any parent or siblings playing with each other.
The design and look of this push car are very child-friendly. It has a cartoony looking character gracing the front, and the colors are very vibrant. Furthermore, the materials used to create it make it very durable.
The wheels, however, only go backward or forward, which is a significant downside. However, it is still perfect for walking on the lawn or inside the house. But using them in a grocery store or while shopping will be quite the hassle.
Bottom Line
The Little Tikes Deluxe 2-in-1 Cozy Roadster is a versatile push car for toddlers. The adjustable handlebar means that any parent can use it, and it can be attached to either the front or the back, so you can use it as a wagon.
---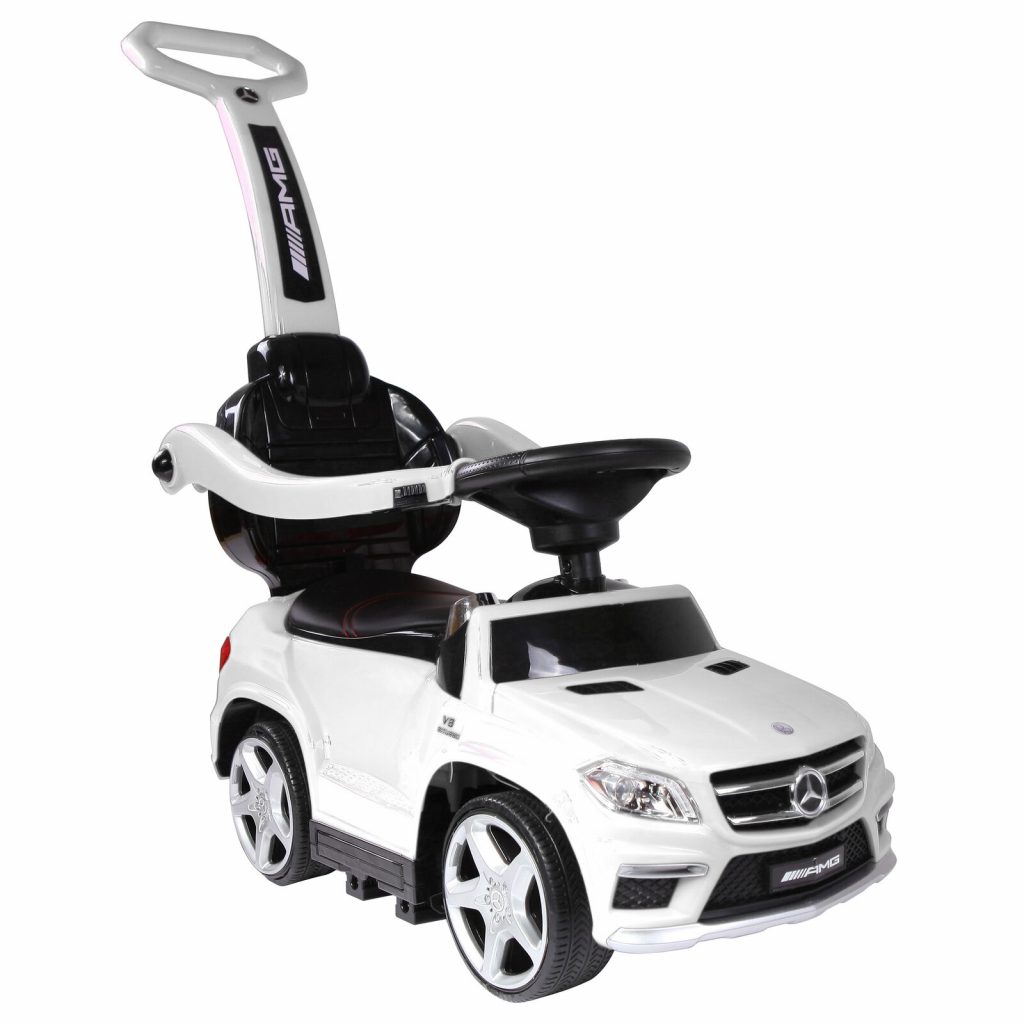 Being manufactured by Mercedes means that you could not ask for better quality and durability. Their reputation is unprecedented as they are one of the world's largest manufacturing companies, and they struck the chord with the 4-in-1 Mercedes Push Car Stroller.
The 4-in-1 Mercedes Push Car Stroller has a sleek design that resembles the real AMG-line in, and it comes in three different colors: black, white, and red. Your child will get a real driving experience when driving it. It has a high back that will definitely keep your child sitting upright, alongside an amazing and easy to stir steering wheel and a fully functional car horn.
Your toddlers must use their legs to move the push car, which is helpful in developing his bones, and strengthening his muscles.
Moreover, there is an amazing storage place located under the seat, where you can put all your toddler's toys and belongings inside.
Unfortunately, the 4-in-1 Mercedes Push Car Stroller lacks a sun canopy or cup holders. Plus, the horn needs 6 AA batteries to operate (the batteries are not included and must be purchased separately).
Bottom Line
The Best Ride-On Cars Baby Toddler 4-in-1 Mercedes Push Car Stroller w/ Led Lights for Ages 1-3, White is an exquisite push car for any toddler. Mercedes manufactures it, so you have your quality and durability guaranteed. The foot-to-floor design ensures that your child will get enough exercise to build his bones, and finally the storage place under the seat is more than enough.
---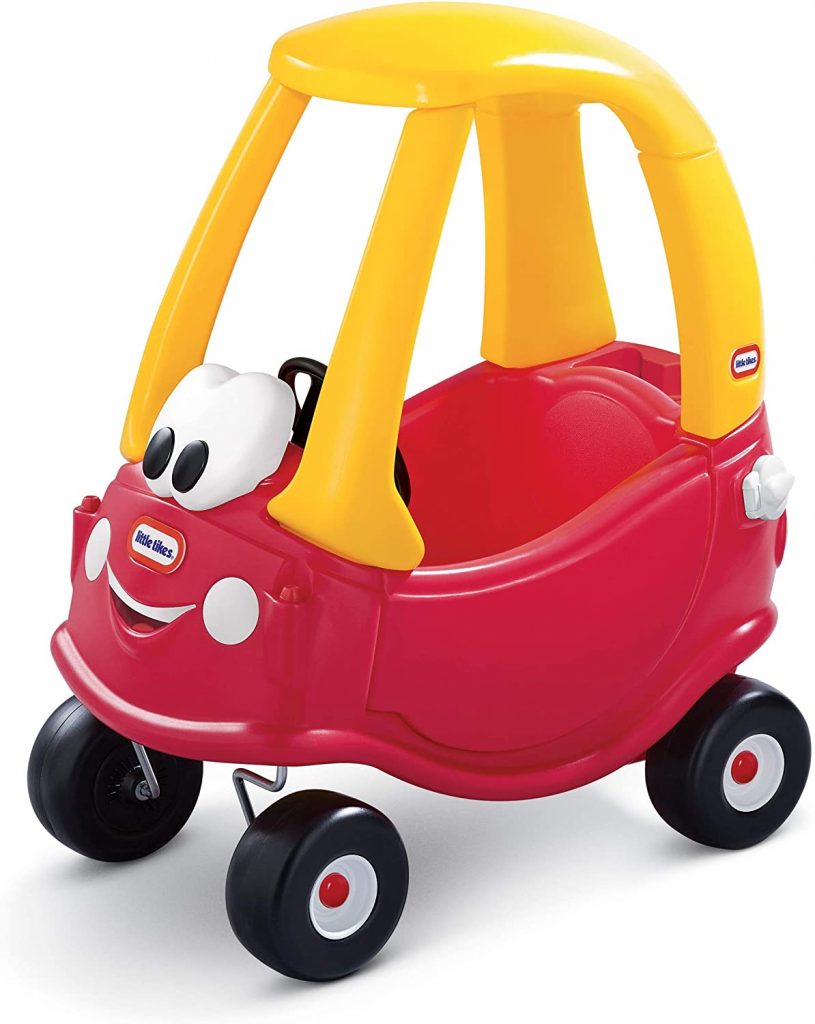 If you think that you have seen this car before or it seems familiar, then you are definitely right. Little Tikes celebrated the lush car's 30th anniversary by releasing a new and revamped edition of the red and yellow foot-to-floor car.
This unique push car is available for both toddlers and younger children. It starts off with a traditional foot-to-floor design, however, if you have a second younger child that wants to enjoy this ride, you can easily install the removable floor. Moreover, there is a, small easy to find handle on the back part of the push car.
The tires are soft and durable and they also enable you and your child to fully control the push car. Plus, the wheels are capable of traversing almost any terrain. Also, the wheels are raised (their height is higher than the usual), which increases the car's stability on the ground.
Finally, the overall look of this push car emits enjoyment and content. The combination of yellow and red are perfect for an energetic joyous child. Also, there is an ignition switch and an open/close fuel gap, so your child can have that authentic driving experience.
However, there are no additional features whatsoever, like no sun canopy, storage place, or cupholder.
Bottom Line
The Little Tikes Cozy Coupe 30th Anniversary Car, Non-Assembled is a fantastic push car for your toddler and younger child. It has that retro look that will make you feel nostalgic. It is very stable due to the raised wheels, and it can also traverse any terrain without facing any problems.
---
How to Pick a Push Car for Toddlers
Now that we have analyzed the 4 best push cars for toddlers, It's time to introduce you to the elements and factors that you need to consider before buying a push car for your precious toddler.
1. Safety
We can't stress the importance of your toddler's safety enough, not only when purchasing a push car, but when buying anything for your precious one. You might be wondering how a push car can be safe. That's why we have included different safety elements that you need to make sure that your toddler's push car contains.
Stability
The first thing is stability. Stability is vital, you do not want your child to fall off and get injured. You should make sure that the push car is made from top-notch material and is durable.
Also, when choosing a push car for your toddler, make sure the wheels are large enough; the larger the wheels, the more stability your push car will have. Furthermore, you need to check the balance and symmetry of the push car and make sure it's perfectly balanced before using it.
Maneuverability
One of the best things about a push car for toddlers is the fact that you can control the push car's direction and speed at any time using the handle. It provides you with full control and supervision over your toddler's movements.
Seatbelt
Furthermore, some push cars include seatbelts, while in others, it needs to be attached separately. It is always advised that you look for an included seat belt, especially if your child is energetic and moves around a lot.
Adhere the Weight Capacities
Finally, you should always adhere to the minimum and maximum weight capacity. If your child is below the minimum weight capacity or above the maximum weight capacity, it will be perilous for him/her to ride in the push car as they might become destabilized.
2. Gadgets
Gadgets vary from a horn to a cup holder, buttons that play out music, and even storage places for your toddler's toys and belongings. Additionally, a canopy is considered an additional gadget, and it really goes the extra mile as it protects your toddler from the harmful UV light.
Therefore, you need to match the gadgets on the push car with your toddler's personality and needs. And, this is definitely the most fun part when it comes to picking a push car.
3. Wheels
As we have mentioned before, larger wheels mean larger stability and control for both you and the child. Moreover, you need to make sure that the wheels are capable of traversing different types of terrain from carpets, to your lawn or even the mall.
Plus, you need to make sure that the front wheels have proper steering, So that that your child can easily turn the car around. Having a 360-degree wheel movement is a massive bonus as it will save both you and your child a lot of time and effort when trying to move in a specific direction.
4. Longevity
Longevity is divided into parts, the first of them is durability. You need to make sure that the push car is made from top-notch material, is well, balanced and durable, so that it can live with your child for the longest time possible.
The second part of longevity is a grow-with-me feature. This feature allows you to customize the push car whenever your child starts to grow, through features like removing the push handle to add even more stability to the push car and enabling your toddler to be freer and in control. Plus, having a removable floor is a much-needed addition, as you can remove it to add more leg space and enable your child to drive the push car without any assistance.
Final Thoughts
If you've reached here and still have not made your mind up, no need to worry, we have further narrowed down the best push car for toddlers.
If you are looking for an overall excellent push car for toddlers that has everything and anything, then you must buy the Step2 Whisper Ride II Ride On Push Car. At the same time, the Best Ride-On Cars Baby Toddler 4-in-1 Mercedes Push Car Stroller w/ Led Lights for Ages 1-3, White is an excellent high-end choice that has astonishing features and exceptional durability.
Finally, the Little Tikes Deluxe 2-in-1 Cozy Roadster is a great versatile choice.