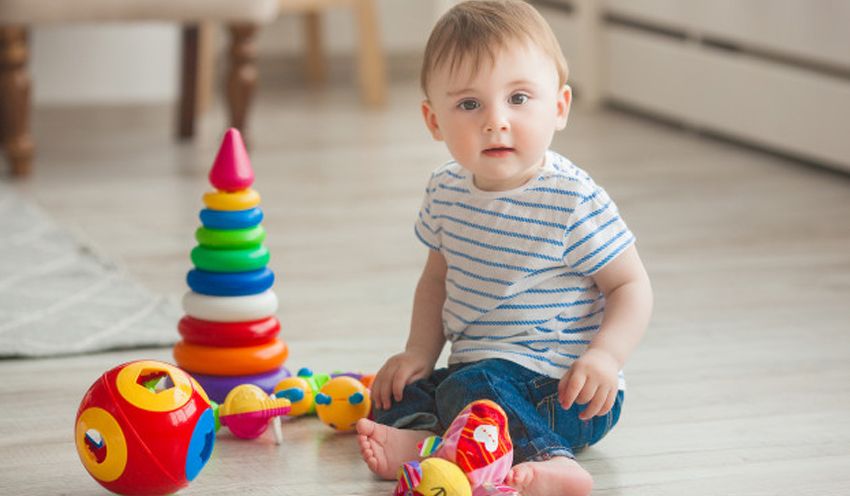 We don't really think that parents can get enough tips for choosing toys for toddlers. It's a transitioning age when your baby is trying to get into everything and discover everything as you wish to keep them occupied and contained as much as possible.
Hence, you opt for toys that, of course, need to follow specific criteria in order to be completely safe and beneficial for your children. Some toys can be a little bit educational, some can be completely educational, and others can be just for fun.
The most important thing for parents is to establish the balance between these three pillars and to spend enough time with their children every single day.
Safety
First of all, let's start with the most important criteria that you can think about, and those are the criteria regarding the safety of your child as they play with their toy.
1. Measurements
If your child is a toddler, then their toy should be 1-1/4 inches in diameter and 2-1/4 inches in length in order to prevent your child from getting it stuck in their windpipe. As long as the toy is at the said length and width that we have mentioned, or bigger, it's way too big for your child's windpipe.
You can either measure the toys at the store or measure them at home and return any that don't fit the criteria. Another option is to keep an emptied toilet paper roll tube, which fits the specifications that we have mentioned, so you don't have to return anything.
2. Choking Hazard
Try to steer clear from any marbles, small puzzles, and any game; even if it's a board game, that has small swallowable parts.
3. CPSC
When searching for a proper toy for your toddler, you must check for its CPSC approval, and that is the Consumer Product Safety Commission. This organization makes sure that there no harmful materials used to make your toy and that prolonged use can't hurt your toddler.
4. Hand-Me-Downs
Although hand-me-downs are a great way to keep reusing and getting the most benefit out of an object, it might not be the best choice for your child. Since the toy might be torn at the seams, so, it's not exactly 100% safe anymore.
Also, if the toy is way too old, it might not carry the approval of CPSC.
General Tips
Keep an eye on your child. Watch them, and know their habits and tastes. According to that, you can purchase toys that will suit their moods. If your child is short with toys, then don't get them toys that are way too complicated.
Another thing is to not underestimate children and always keep getting them toys that will help them develop their coordination, analytical thinking, and even fine movement.
We know how addicting buying stuff for your child, even before they're born, can be, especially for first-time parents. However, excessiveness is not the right choice for anything, and toys are no different. Consequently, don't fill your child's room with toys, they will end up rather confused, and it'll be hard for them to determine what they prefer.
Additionally, don't let anyone else decide what you should be buying for your child. Times, fashions, and trends come and go. So, try to stick with the stables that are bound to bring your child a lot of joy, in addition to some of the newer things that you can see your child benefiting from. Don't follow the flock of mamas going into a toy store to buy a specific toy.
Before you purchase a toy, make sure to carefully read its label in order for you to know the proper care needed to sustain this toy, and if it's too much work for you, then don't get it. Dirty toys are the perfect medium for germs and mold to grow on; hence it can be dangerous for your child to touch and aspirate.
The age milestones specified on each toy are there for a reason. Don't go ahead skipping them just to feel that your child is smarter or more developed than their age.
Try to steer clear from toys that produce way too much noise, and can be very annoying. It might make your child anxious and way too energetic most of the time.
Try to go for a toy that will get your child to get up and be active and productive. So, something that they might chase or need to move around the house for will give them plenty of much-needed exercise for the building of the bone structure.
Don't be afraid to let your children play with normal household items. A card box, plastic spoons, and plates can all be rather interesting from your child's point of view, and they literally cost you absolutely nothing.
Always try to encourage and promote your child's imagination. Hence, try to go for toys that allow them to be rather creative such as drawing stuff, dress up, and anything where they can freely express themselves.
Another thing is to look for toys that can be utilized in more than one way, which is useful for you as it'll save you a lot of money, and it's useful for your child as it'll keep them engaged much much longer than the norm. We're talking years of enjoyment here as these toys hardly ever get old, they might still be playing with them when they come to visit from college. These things include Legos, which can be used to build a ton of different structures, and they're truly exciting and pleasing for all ages as long as you don't end up stepping on one of the small guys.
Final Thoughts
This was our take on tips for choosing toys for toddlers. If you want to stress on something, it'll be the fact that toddlers are there to explore and try out everything; hence, you must keep a clean safe environment for them to do that inside your home or even outside of it.
That is the age where they will start to understand that this clean environment doesn't happen by itself, which is why that is the time when you should start showing them how to clean up after themselves and how to put back their toys in the toybox.
Plus, setting an example of picking up the living room where you have been sitting all day so that they understand how everything works. Another thing that parents should know is that toys are not a replacement for their one-on-one quality time with their children.
Yes, of course, it's a great way to keep your child engaged for a while while you finish a few chores around the house; but, nothing compares to parents sitting down with their child, teaching them, waiting for them, or just playing.