Best Value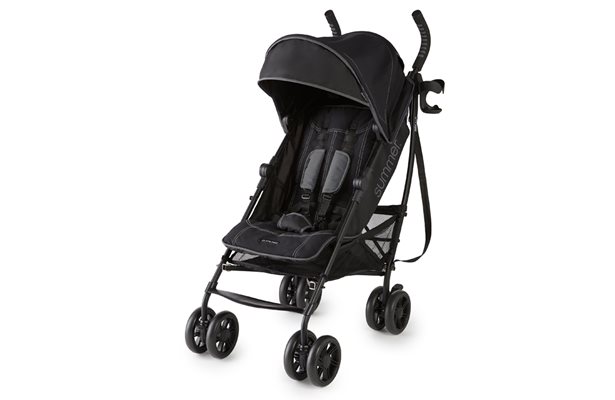 Summer 3Dlite+ Convenience Stroller
Weight (lbs): 13
Dimensions (in): 18 x 17 x 43
Capacity (lbs): 50
Premium Choice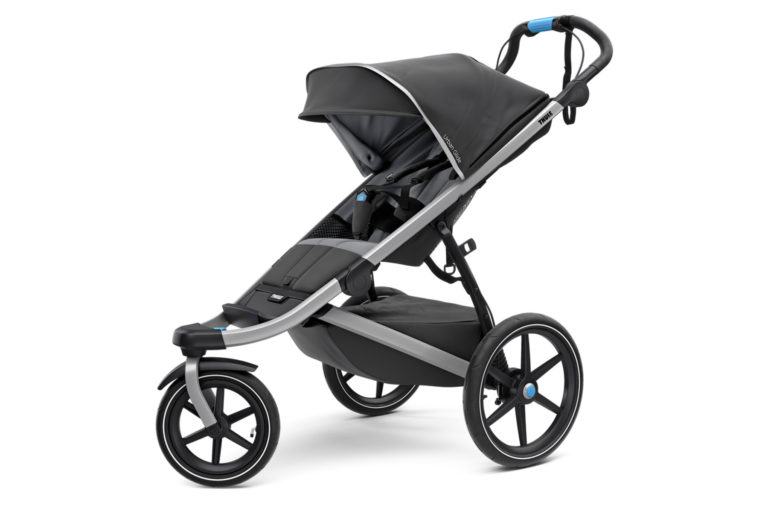 Thule Urban Glide 2 Jogging Stroller
Weight (lbs): 32.6
Dimensions (in): 41.1 x 27.2 x 40
Capacity (lbs): 75
Best Compact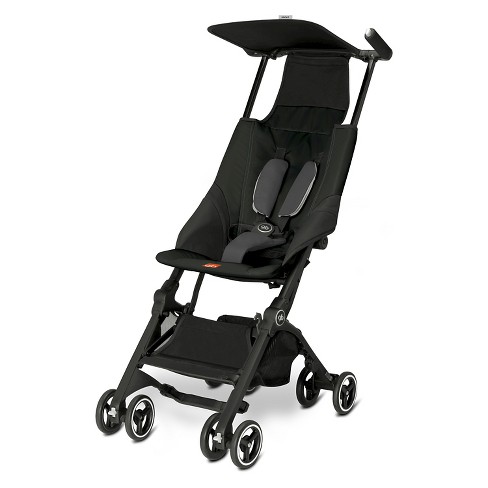 gb Pockit Air All Terrain Ultra Compact Stroller
Weight (lbs): 9.5
Dimensions (in): 22.8 x 16.5 x 39.8
Capacity (lbs): 55
New York City is one of the busiest cities in the world and taking a baby out with you on the streets might sound like an impossible mission, but it is not. Also, we assume that you can't help but go on shopping trips, and we won't only make that possible, but also easier with babies! (and we know it sounds crazy).
Having a stroller in NYC will help you do a lot of stuff, among which is getting on the subway and on public transportation. Moreover, a good jogging stroller will help you keep running while having your cute baby with you. (How fun is that?)
The most important thing is to determine why you need the stroller and then go searching from this point. For example, you might need an umbrella stroller, a double stroller, a jogging stroller, or just any good lightweight stroller.
We have made you a list of the best strollers for NYC, hoping that you will find what you are looking for in here.
List of The Best Strollers For NYC:
Our Top Picks
The 4 Best Strollers For NYC in 2022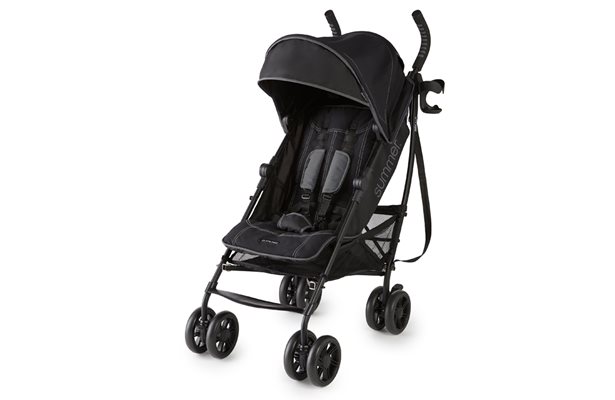 Whether you are running some errands or going on a relaxing walk, you will appreciate a lightweight stroller. At just 13 pounds of durable aluminum frame, this toddler stroller will make your everyday life a lot easier. It accommodates babies up to 50 pounds and 43 inches.
Its anti-shock front wheels will shield your baby from suffering from any bumps on the road; however, they only work on smooth roads or roads with dirt. You should not use it on rough terrains. Moreover, its five-point safety harness boosts your kid's safety.
Regarding comfort, Summer 3Dlite Convenience Stroller is comfortable for babies as well as their parents. Baby-wise, it reclines at four positions, so that your baby can enjoy a nice nap. As for the parents, there is a large storage basket (maximum weight: 10 lbs), rear storage pocket, and (most importantly) a cup holder.
You can easily fold the stroller with one hand in three steps. It also comes with a carry strap so that it is easier to carry. Moreover, there is an auto-lock feature to prevent it from being unfolded while you're carrying it. `
Would you be able to take your baby with you if it is sunny? Yes, you can thanks to its adjustable canopy that can also be removed whenever you want and its pop-out visor. However, it does not provide full coverage. Also, you must press both pedals to stop the stroller. The brakes are not flip-flop friendly.
Bottom Line
Summer 3Dlite Convenience Stroller is one of the best umbrella strollers on the market, given its price and quality. It has a huge storage basket and reclines to 4 positions.
---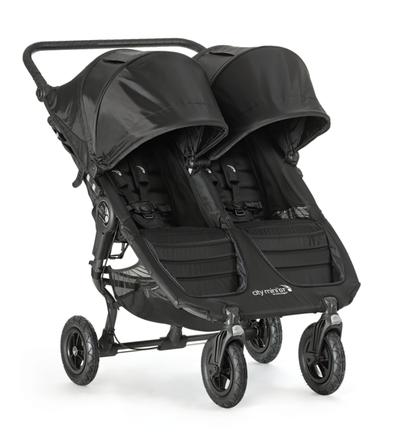 Do you have twins or two babies at different ages and want to put them in one comfy stroller? The lightweight Baby Jogger City Mini GT2 Double Stroller, with its durable aluminum frame, has got you.
It comes with two padded seats that recline to an almost flat position (150-degree recline angle) so that your kiddos can enjoy a very comfortable nap whenever they feel like it. Moreover, the front wheel suspension prevents your babies from being awakened if you hit any road bumps.
There are also big canopies so that the sun does not annoy the babies. Because the City Mini always goes the extra mile, this model features a peek-a-boo window so you can always check on your little ones.
As for your comfort, the stroller features a patented quick fold technology that enables you to fold the stroller in one step. This is excellent, given that you will most probably be busy with your kids and the things you are carrying. It also has an under-seat basket and seat back storage compartments.
You can lock the rear wheels by pulling the brake lever that is located at the right hand side of the frame into an upright position until it clicks. There is also a five-point safety harness.
Be aware that the maximum head height it accommodates is 23″ and the maximum weight is 100 pounds.
Sadly, it is a bit wide, so it might be a bit of a problem when you are in NYC's malls.
Bottom Line
If you need a perfect double stroller, Baby Jogger City Mini GT2 is your one. It has various excellent features at an okay-ish price.
---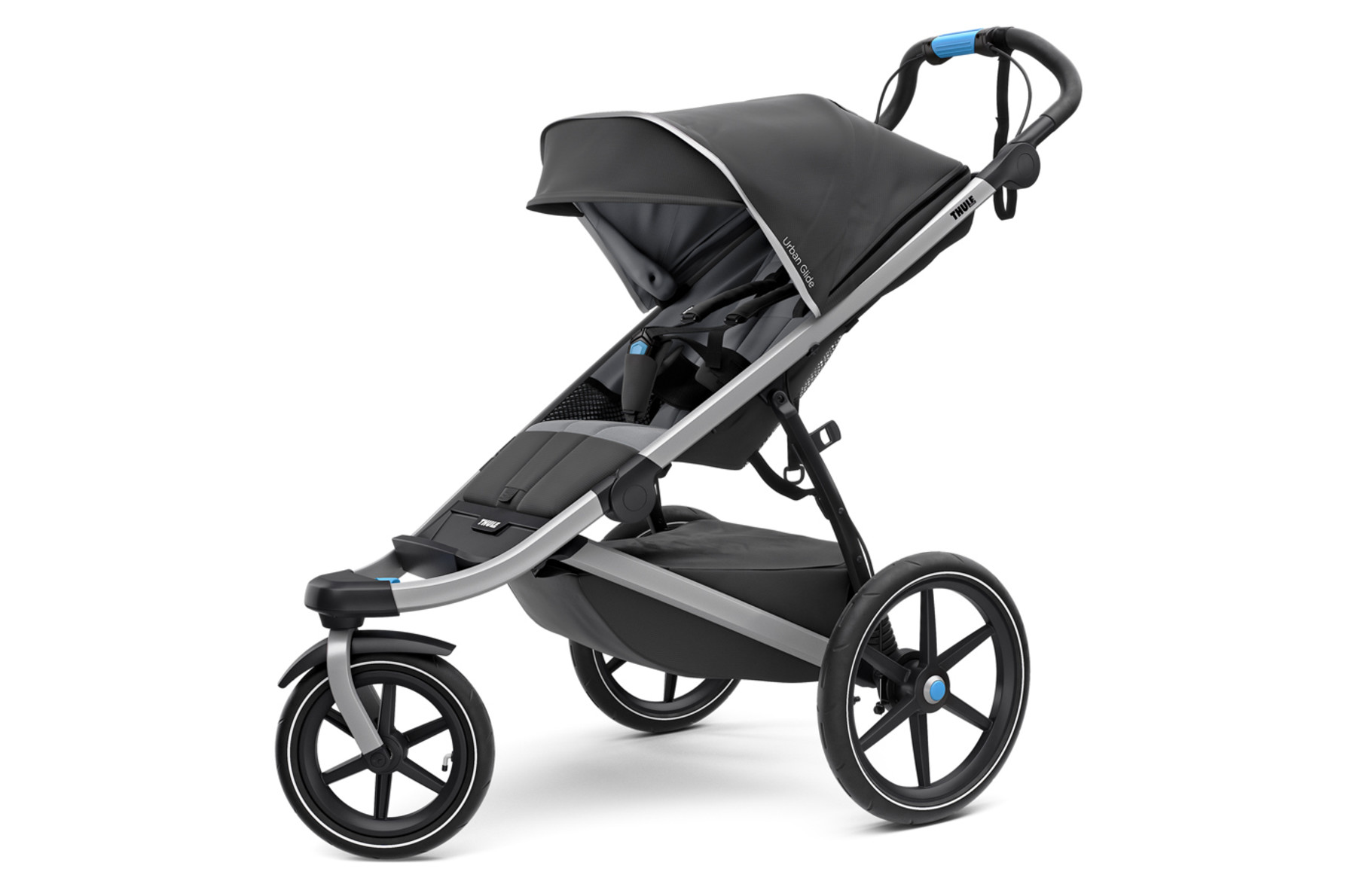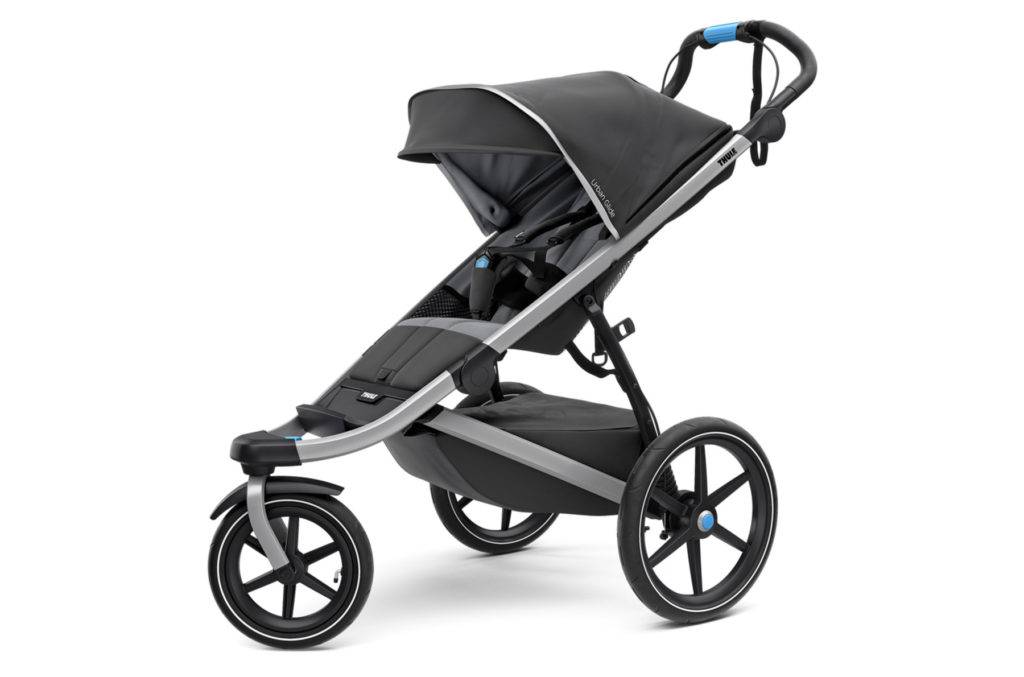 Having a kid does not entail that you should stop running. You can still enjoy going on runs with a perfect jogging stroller. Thule Urban Glide 2 is an excellent jogging stroller (for babies under 75 pounds) thanks to its swivel front wheels that lock into place. Also, its large 16″ rear wheels plus suspension help your babies have an extra smooth ride.
You can easily fold this stroller single-handedly, which is a great plus if you get on NYC's bus, given that you will have to fold it when you are on board. This also makes storing it a piece of cake.
Because the manufacturer knows that parents must take a lot of things with them and since you can't hold such stuff in your hands while you are running, the stroller has a large storage basket with zip-top cover, a rear mesh pocket, and two mesh compartments.
Regarding comfort, your kid will be entirely comfortable thanks to the existence of a padded reclining seat with a five-point harness and a large multi-position canopy with side-ventilation windows. Moreover, you will enjoy a comfortable run because of the integrated hand brake that allows you to immediately stop the stroller and control the speed on hilly terrains.
The only downside is that it does not self-stand when folded.
Bottom Line
If you need a jogging stroller, Thule Urban Glide 2 will not disappoint you with its string wheels and comfy handlebar.
---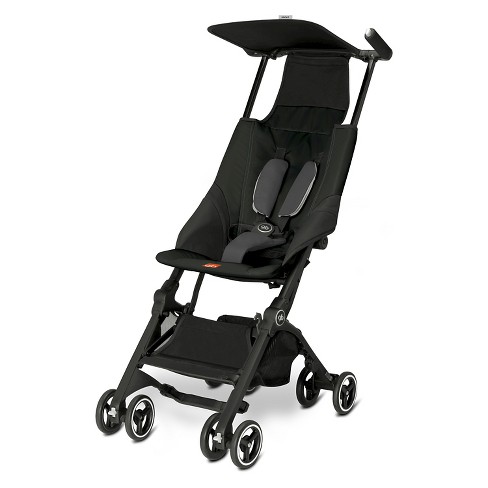 If you are looking for the lightest stroller on the market, here is your stroller. GB Pockit Lightweight Stroller is only 9.5 pounds, so you will easily carry it around whether you are on the subway or a bus. Despite it being so lightweight, it is made of a durable aluminum frame so that it can take babies from 6 months up to 55 pounds. Moreover, its basket is pretty strong, for it can hold up to 11 pounds.
It is also the most compact ( 11.8" x 7" x 13.8") stroller, and you can fold it in two easy steps. This makes it travel-friendly because you can put it in your car and it fits in the overhead compartments of planes.
As for comfort, its padded handlebar will make you comfortable. Moreover, the front swivel wheels that can lock on a bumpy ride give you a feeling of control that you wouldn't trade for anything. Your baby will also be safe and comfortable because of the harness system that has soft padding and the adjustable safety belt that will grow with your little one. However, the seat does not recline.
There are parking brakes on the rear wheel that you can easily access with your foot. It also has a canopy so your baby enjoys walks on sunny mornings.
Bottom Line
You should get the GB Pockit Lightweight Stroller if lightweight is your priority. It offers a lot of appealing features; however, the seat doesn't recline, and that might be an issue to some parents.
---
What to Look for When Buying a Stroller For NYC
Maneuverability
Since you will be using the stroller in the crowded NYC, you must have a stroller that you can easily maneuver. You will most likely be pushing it between crowds, and you would not love bumping into people all the time.
Easily Folded
You will most probably ride your car or public transportation, so you will appreciate having a stroller that you can easily fold. Some strollers can even be folded with one hand, which is excellent given that you will most likely be holding your baby with the other hand. It is also helpful to have an easily folded stroller in malls.
Durable
NYC has a lot of parks, and you will love to show this fantastic nature to your baby. To do that, the stroller must be strong enough to handle the bumps.
Lightweight
Take care that you will probably need to carry the stroller a lot, so it must be light enough for you. For example, if you will take it to the subway, on public transportation, or even in your car, you must fold it and carry it.
Canopy
To keep your baby safe from the harmful sun rays, you got to get a stroller with a big canopy. That way, your cutie will enjoy the ride without any irritation.
Frequently Asked Questions:
Can You Take a Stroller on The NYC Subway?
Yes. However, if the subway is crowded (when is it not?), you must fold it. I should also give you a heads up by telling you that some subways do not have elevators, so you will have to carry it. Make sure you get one that is not heavy.
Are Strollers Allowed on NYC Buses?
This is a bit of an issue. The Metropolitan Transportation Authority allows them on the condition that they are folded before getting on the bus and shall remain so as long as you are on the bus. This is such a difficult thing to do, given that you will be holding a baby or even twins! That's why most parents do not get on busses with their strollers.
Should I Have a Stroller in NYC?
I would say it is better if you have one because it will allow you to enjoy walks without having to carry your child.
Final Thoughts
Finding the best stroller for NYC is not a hard task anymore. We hope that our review narrowed down your options. If you are still confused, here are our recommendations.
Want a lightweight umbrella stroller? Our best choice is Summer 3Dlite Convenience Stroller.
If you are a runner, Thule Urban Glide 2 Jogging Stroller will help you enjoy running with your baby.
If you have twins or more than one baby, go for our very best Baby Jogger City Mini Double Stroller.
In case you just need a lightweight one, get GB Pockit Lightweight Stroller.
You Can Also Check: