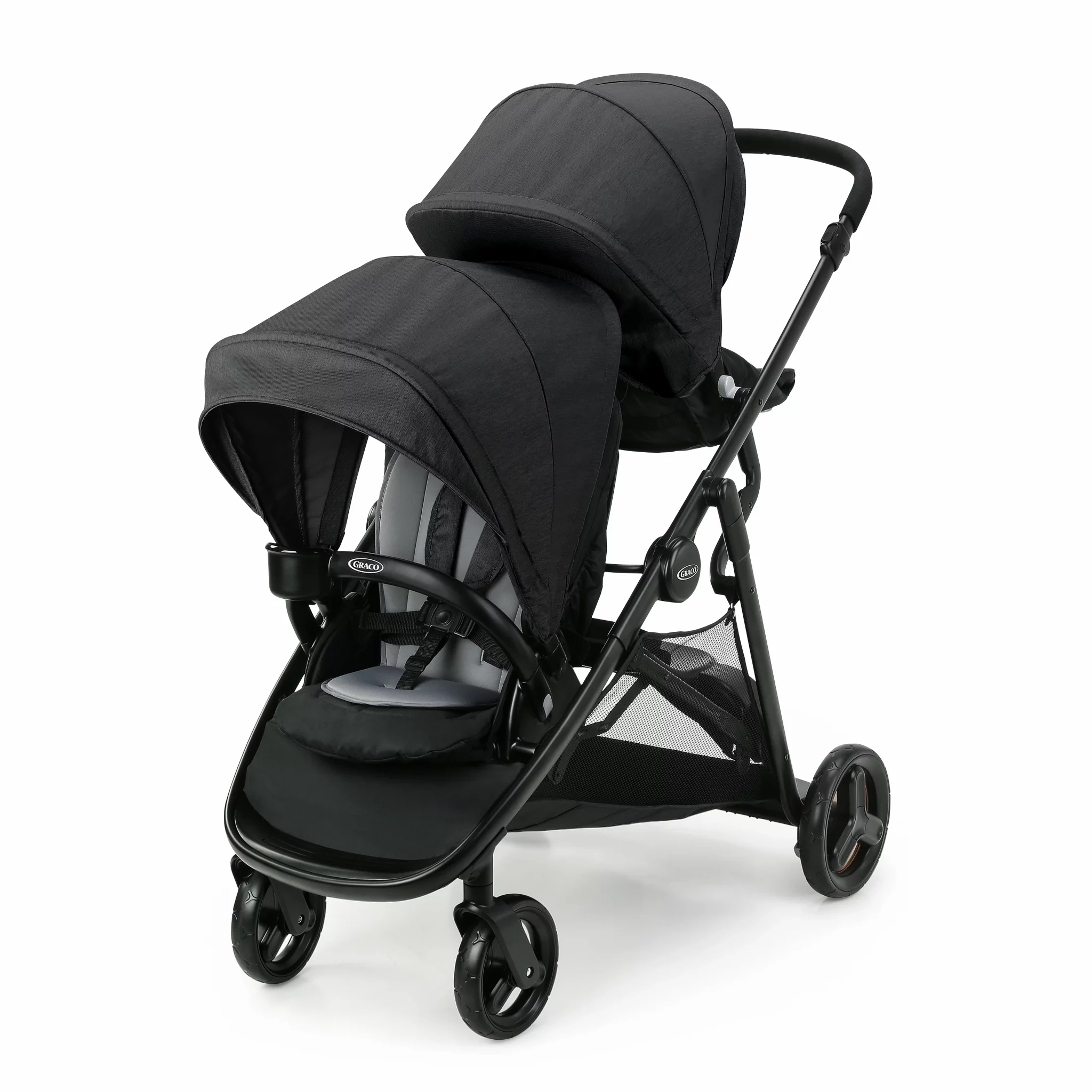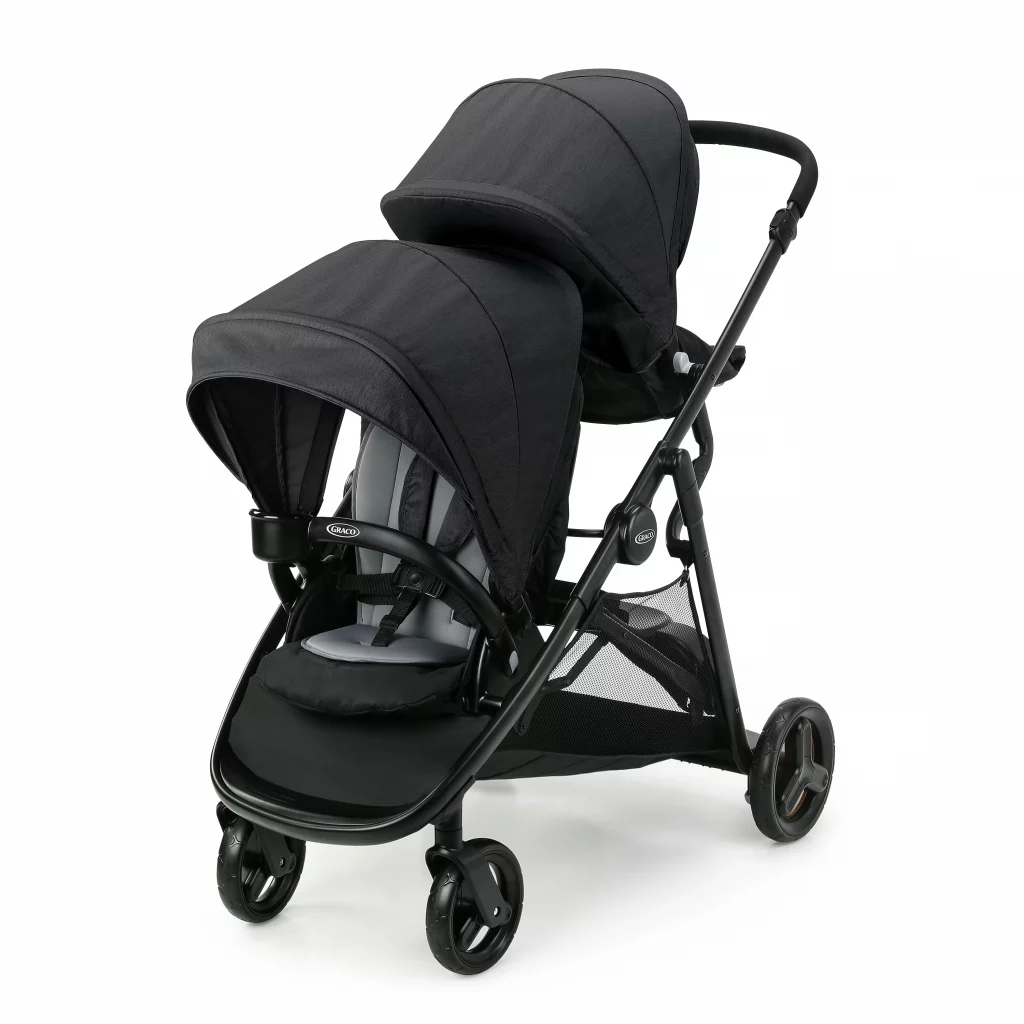 [su_button url="https://amzn.to/3HknBEQ" target="blank" background="#1480ff" size="5″ center="yes" icon="icon: external-link" text_shadow="0px 0px 0px #10aecc" rel="nofollow noreferrer noopener"]CLICK FOR PRICE[/su_button]
The Graco Ready2Grow LX 2.0 is one of those strollers designed to try and give every comfort possible to both parent and child. It's unquestionably directed more towards growing families that need to accommodate more than one child when going out.
The design here is different as rather than having the two children seated next to each other, like a twin stroller, the Graco Ready2Grow LX 2.0 has decided to have them back to back.
That way, one of them can have face time with the parent, while the other one is chilling at the front. The thing is, this stroller offers 12 different configurations, which is highly impressive. That, along with a bunch of other fantastic attractions, is why we've decided to look into this stroller today and discuss it bit by bit.
The Graco Ready2Grow LX 2.0 Full Review 2021:
1. Technicalities (Weight, Design, and Dimensions)
Let's start by getting the boring stuff out of the way. The Graco Ready2Grow LX 2.0 weighs 33 lbs, which is slightly more than its peers, but that is due to the fact that it comes with a lot of accessories; seats and four wheels rather than three.
The dimensions that we have here are 44L x 24W x 41H, which allow for a lot of space on the inside for the seats and a lot of storage, as we're going to see later on. Nevertheless, it does affect the manageability a bit negatively.
The frame is mostly robust plastic, and it comes in three different, rather dashing, colors. The first one is Clark, which is light gray. We also have Glossier, which is dark gray, and Gotham, which is jet black, personally our favorite!
2. Configurations
Now, we're getting to the juicy parts; the configurations you can apply to the Graco Ready2Grow LX 2.0 are definitely its most lustrous selling point. The thing is, we have 12 of them. So this stroller can fit two stroller seats, two infant car seats, or two bench seats; plus, it has a standing platform.
Consequently, as you mix and match between different types of seats, according to the ages and weights of your children and your preferences, you'll find that you have 12 configurations at the end of the day. That can help you solve a lot of fights, diffuse countless tantrums, and keep a vigil on one child as you enjoy your face-to-face time with them.
Plus, thanks to the back seats, the rear stroller seats, and the rear infant car seat. While the parent enjoys some calmness, they can eliminate boredom by having one child in the standing platform, so they're not sitting down like their younger sibling. But, they're still in front of you, harnessed, buckled in, and completely safe.
3. Weight Capacity
The weight capacity of the Graco Ready2Grow LX 2.0 is quite impressive, as the front seats can take 50 lbs, while the backseats can handle 40 lbs, adding up to a total of 90 lbs.
4. Folding
The folding and unfolding processes of the Graco Ready2Grow LX 2.0 are advertised to be single-handed. The thing is, parents, know that is hardly ever entirely true. The majority of strollers need some help to fold and unfold.
Nevertheless, the process is still simple, and doesn't take up much of your time or your effort. You might just need to give it a little push to fold on itself, and a little push to separate, but that's about it. As a matter of fact, the folded size of the Graco Ready2Grow LX 2.0 is 25,625 in.³, which is entirely adequate.
5. Storage and Cup Holders
Storage is definitely a great attribute of the Graco Ready2Grow LX 2.0; it's undoubtedly the star of the show here. We have a storage bin, completely accessible from the backside and placed strategically at the bottom of the stroller. This actually has a weight limit of 10 lbs.
Let's continue. We also have two trays; one for the child and one for the parent. So, naturally, the child's tray is in the front, while the parent's is in the back.
Nonetheless, you've to be careful to use only smaller sippy cups in the child's tray, as the cup holders aren't super deep. So, in order to protect your little one from having anything spill on them, resort to the shorter sippy cups.
6. Canopy
Although the canopy used here isn't the largest, it's strategically placed to protect the head of every child. Moreover, there are no pick-a-boo windows because you hardly need them; you have the back child right in front of you, while the front one has no use for it. They'll either be sleeping or too distracted with the roads ahead.
Lastly, they're made out of a lightweight mesh fabric, which eliminates the chance of overheating, and allows a constant flow of air around both your children.
7. Wheels and Brakes System
The Graco Ready2Grow LX 2.0 comes with a four-wheel system, which provides stability; yet, adds a lot of bulk and dimension to the stroller. In other words, if you need to make a turn, you'll have to think carefully about that in order to get through the tough spot with minimal injuries.
The frame is made out of robust plastic, and can go through most terrains without any problem. Of course, that's all courtesy of the suspension system, which manages to save the day any time you hit a rough patch of road. 
That, along with the brake system made for the Graco Ready2Grow LX 2.0, which is highly ergonomic. The pedal is right in the middle on the rear side of the stroller, perfectly accessible to the parent, and is shoe and barefoot friendly.
8. Harness System
The Harness system installed on the Graco Ready2Grow LX 2.0 is a 5-point one that normally goes over the shoulders, stomach, and crotch. The one downside here is that it does take a lot of pressure to be put in place and to become unraveled.
When the parent and the child reach their destination, and if you have a fussy child, this can become quite a nightmare as you buckle them in and unbuckle them every day.
While we're still on that note, when a child moves to the standing position in the back of the Graco Ready2Grow LX 2.0, the harness system changes from a 5-point one to a 3-point one in order to accommodate them appropriately.
9. Seats
Here, your little ones might end up having a little bit of a dispute because the front seat is designed to recline all the way back, while the backseat doesn't have the same luxury.
Subsequently, our advice to parents with children close in age is not to recline the front seat to avoid having World War III happening in your stroller.
10. Handlebar
Thankfully, the handlebars are all covered with a thick layer of foam to protect the parents' hands from constant friction. However, they aren't height-adjustable, which can be a problem for parents who are extra short or extra tall.
In essence, the Graco Ready2Grow LX 2.0 is designed to fit average heights, so if you're not amongst that, maybe this won't be the perfect match for you.
11. Maintenance
Maintenance is incredibly straightforward when it comes to any fabric on the Graco Ready2Grow LX 2.0. They can be removed, washed, "machine washable," or you can just wipe it down. Furthermore, the rest of the stroller is made out of plastic; hence, some dish soap and water will definitely do the trick for any stains.
12. Assembly
Probably the most draining part when it comes to the Graco Ready2Grow LX 2.0, as it takes 14 minutes or even more. That is due to the many parts included in this package. Yet, we do think that manufacturers can work on the assembly process and make it a little bit easier for busy parents.
Now, it's time to try and summarize everything that we've said into a few points.
What We Like:
12 seating positions
90 lbs maximum weight capacity
5-point harness system
Cupholders
Massive storage
Large lightweight canopies
What We Don't like:
Back Seat doesn't recline
Plastic construction
Hard to maneuver
Shallow cup holders
Lengthy assembly
[su_button url="https://amzn.to/3HknBEQ" target="blank" background="#ffa414″ size="10″ center="yes" icon="icon: external-link" text_shadow="0px 0px 0px #cc8410″ rel="nofollow noreferrer noopener"]CHECK LATEST PRICE[/su_button]
Conclusion
At the end of the day, the question remains; should you, as a loving parent, go for the Graco Ready2Grow LX 2.0? If you have a constantly growing family, or if you have children who have significant gaps in age, like two, three, and four years, and you're left alone to deal with them, then, Yes!
This stroller is created to carry both your children safely, and all of your stuff in an accessible storage bag. All of that happens while protecting your child from the sun, the rain and keeping them harnessed in safely.