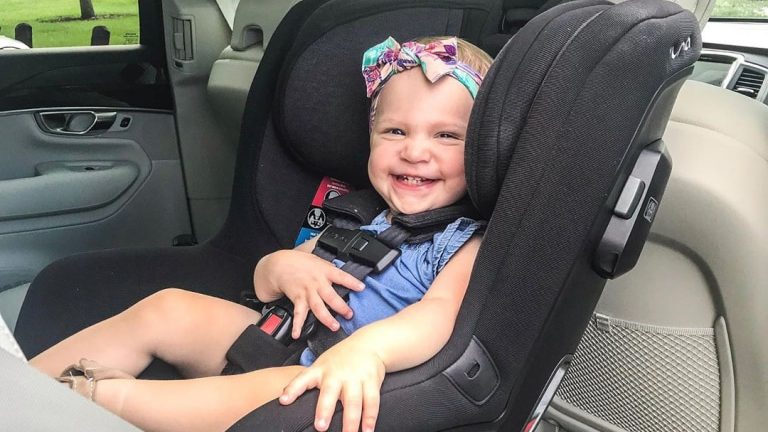 The top priority for every parent is the safety and comfort of their child, especially inside a car. You need to be 100% sure that your child is always secure when you are on the road. Therefore, choosing a car seat to fulfill all your needs from safety to ease of cleaning and installing to comfortability is a real dilemma. Let alone picking a convertible car seat for a tall baby.
A good convertible car seat for a tall baby must be higher than the norm and provide the baby with that much-needed space for him/her to be comfortable. It must also include all the different features that the child will need at any givebn time. Hence, we have done extensive research and gathered the 5 best convertible car seats for tall children on the market. So, without further ado, let's dive into these products.
List of the Best Convertible Car Seats for Tall Babies:
Comparison Table:
| | | | | | | |
| --- | --- | --- | --- | --- | --- | --- |
| Car Seat | Price | Height | Weight | Dimensions | Max. Rear-Weight | Max. Front-Weight |
| Chicco NextFit Zip | CHECK PRICE | 49-in. | 25.1 lbs. | 21 x 19 x 29.2-in. | 40 lbs. | 65 lbs. |
| Evenflo SureRide DLX | CHECK PRICE | 54-in. | 9.8lbs. | 29 x 20 x 20-in. | 40 lbs. | 65lbs. |
| Graco Extend2Fit | CHECK PRICE | 41-in. | 19.84 lbs. | 29.7 x 20.8 x 19-in. | 50 lbs. | 65 lbs. |
| Maxi-Cosi Pria 85 | CHECK PRICE | 52-in. | 25.8 lbs. | 16 x 17 x 28.5-in. | 40 lbs. | 85 lbs. |
| Britax Marathon ClickTight | CHECK PRICE | 49-in. | 27 lbs. | 23 x 18.5 x 23.5-in. | 40lbs. | 65lbs. |
The 5 Best Convertible Car Seats for Tall Babies in 2022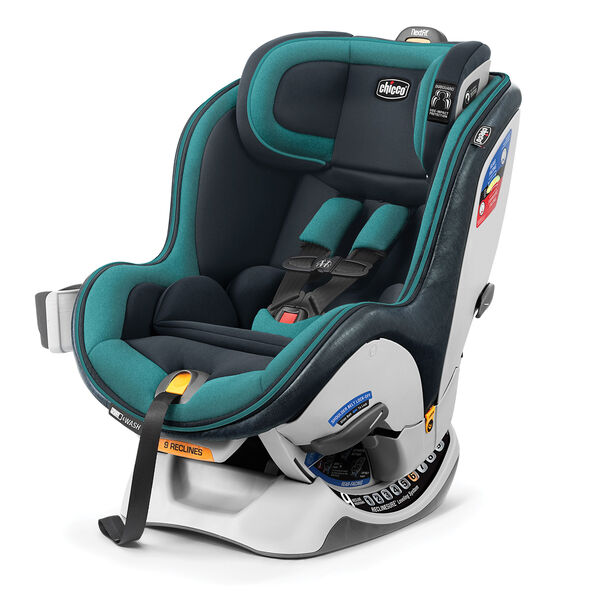 An outstanding convertible car seat that has everything that a parent could possibly need. The Chicco Next Zip is our top pick for multiple reasons.
It is a perfect fit for tall babies as it is 49-inches high. The rear-facing position can hold up to 40 pounds while the front-facing position can support up to 65 pounds, maybe, even, till their preschool years.
The NextFit has impressive safety features as it boasts a steel-reinforced frame, plus a Superior DuoGuard protection with a deep rigid shell. Also, the sides of the seat are lined with EPS energy-absorbing foam.
It has a headrest adjustment that is very smooth and can be arranged into nine positions. If your child dozes off at any time, the headrest will give his precious little head an amazing sleep experience.
The NextFit has a nine-position levelling system that will make installing it into your car a breeze. In addition, the LockSure seat belt-tightening system and the SuperCinch LATCH Tightener allow you the freedom to install the seat into your car either by using the latch system or the seatbelt.
Another fantastic feature is the easy zip-off seat pad. It is entirely machine washable. So whenever your child makes a mess of his/her seat, you can easily take the seat off, throw it into the washing machine and it will come out brand new.
Unfortunately, this seat's drawbacks include its size and weight. It weighs 25.1 pounds, making it the second heaviest seat on our list, and is also quite bulky. Consequently, if you ever think about changing cars, you need to first make sure that your baby's seat will fit into your new car.
Bottom Line
The Chicco NextFit Zip Convertible Car Seat is a terrific convertible car seat for tall babies. It has many amazing features and specifications that make it an outstanding purchase. Those amazing features include its total height, nine position levelling system, washable seat pad and many more. However, it is bulky, so if you have a smaller car, it might not fit into it.
---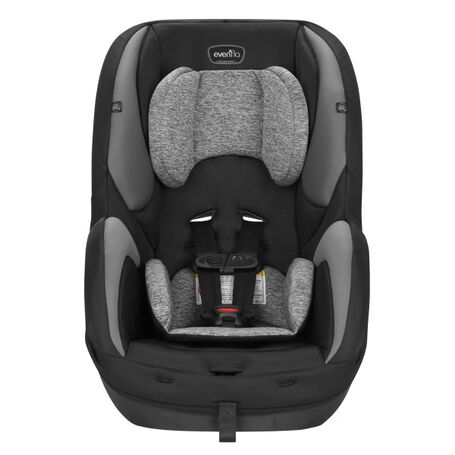 An excellent choice for parents on a budget. The SureRide DLX is our best convertible car seat budget option.
Starting off with its weight and height capacities. When in a rear-facing position it has a maximum weight capacity of 40 pounds and a maximum height of 41-inch. While in a front-facing position, its maximum height is 54-inch -which is the highest on this list- and it can hold up to 65 pounds.
Despite it being much cheaper than the other models on this list, this doesn't take away from the fantastic value and features that you will be getting if you buy the SureRide DLX.
Furthermore, the removable body pillow will always give your child a cosy and comfortable ride no matter how bumpy. Also, the shoulder strap has 6 different positions to ensure your child's maximum comfortability and safety all the time.
It is pleasant for the child to sit in and easy for the parent to clean as any plastic or metal part can be wiped using a soft cloth that has been dipped in warm water and some soap on it, so everything will be spotless. However, the seat's padding cannot be removed and washed.
Moreover, it comes equipped with a cup holder that can be removed and installed to your liking. This is an excellent addition as if your child is old enough and capable of drinking on his/her own, having the cup holder will prevent them from spilling their drink whenever you hit any road bump.
Bottom Line
The Evenflo SureRide DLX Convertible Car Seat is a fantastic convertible baby's car seat for tall babies and for parents who want to get amazing features without hurting their pockets too much. It will provide them with everything they need and more.
---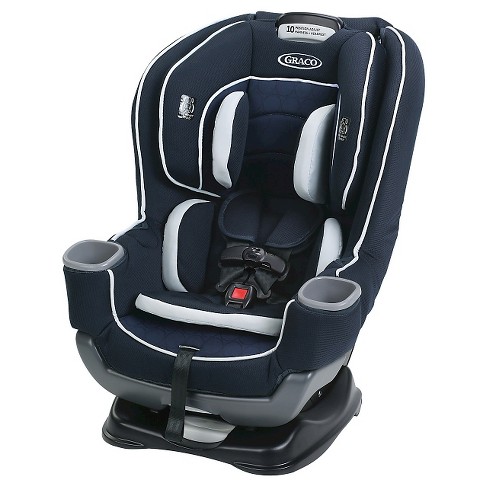 A great convertible car seat that provides you with the best value for your money. Its price and features complement each other perfectly.
Beginning with the height and weight it can withstand, the rear-facing position can withstand up to 50 pounds while the front-facing position can withstand up to 65 pounds. It has a height of 41-inches, which means that it is suitable for all children no matter tall or short. yet it is the one with the shortest maximum height on this list.
One of this model's best selling points is the 4 position extension panel. This panel can be adjusted to provide your child with a much-need 5-inch additional legroom in the rear-facing position.
Also, the Extend2Fit has been certified and tested in various crash situations and has always shown its capabilities. Hence, a lot of thick padding is added to it to make your child as comfortable as possible.
The seat can be adjusted into 6 different positions according to your liking. Additionally, there are two cup holders on each side. Which is always a nice extra.
On the downside, the extra padding is not as breathable as we would have liked it to be. Therefore always remember to keep your A/C on.
Bottom Line
The Graco Extend2Fit is a tremendous convertible car seat for your baby. It is exceptionally safe, will grow with your child, and he/she will enjoy their time in them. However, the thick padding will make your child sweat so always keep your A/C on.
---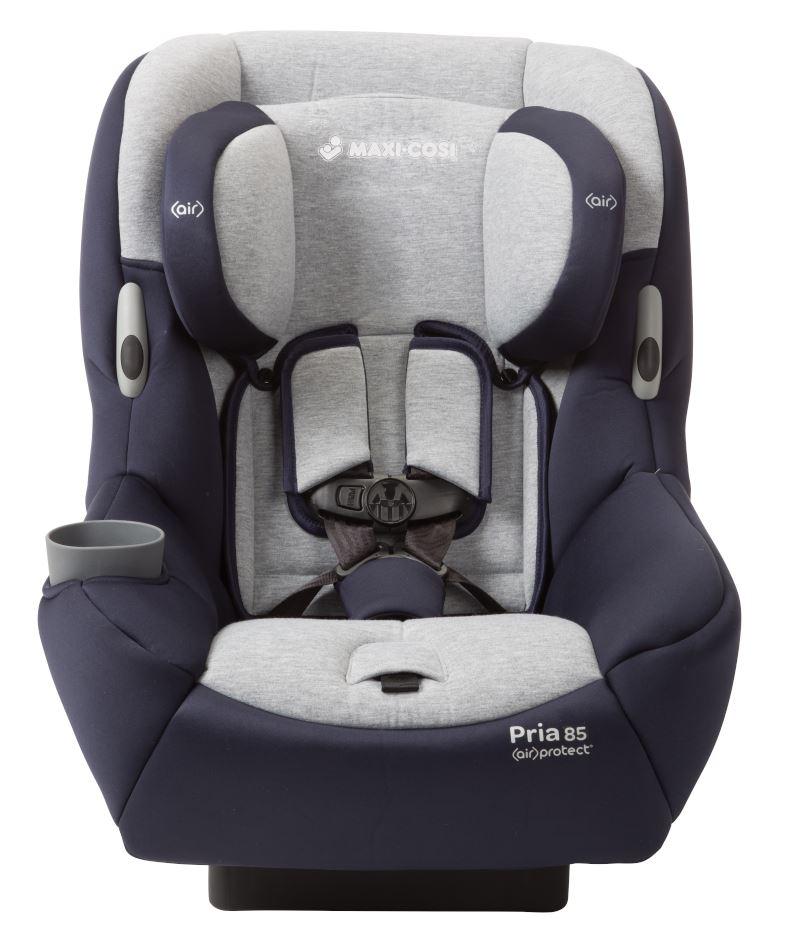 The Pria 85 is a perfect fit for older children. Your child needs to be at least 14 pounds to be able to sit in this chair as it is not made for lighter children. However, when your child reaches that weight, every ride in that seat will be the best of his lifetime.
Regarding the basics, this convertible car seat boasts some impressive numbers. The rear-facing position can withstand from 14 to 40 pounds, while the front-facing position can tolerate 22-85 pounds. Plus, it sports a maximum height of 52-inches which is more than enough for any child.
When it comes to practicality, the Pria 85 is a pioneer amongst its peers, where the covers can be removed and are machine washable as well. It also comes with a cupholder.
Moreover, it comes with a patented Air Protect advanced cushioning system that will always protect the child's head. Plus, The sides of the seat have enhanced impact protection which is designed by car safety experts.
Finally, the harness system on this seat is extremely easy to adjust, as the whole harness can be fully adjusted using only one hand.
However, as we stated before this seat is not suitable for any child that is below 14 pounds. So in order to buy it, you will have to wait until your child hits the required weight.
Bottom Line
The Maxi-Cosi Pria 85 Convertible Car Seat is a car seat suited for older and taller children. However, once they start riding it, they will be extremely delighted with the experience, and it will definitely grow old with them.
---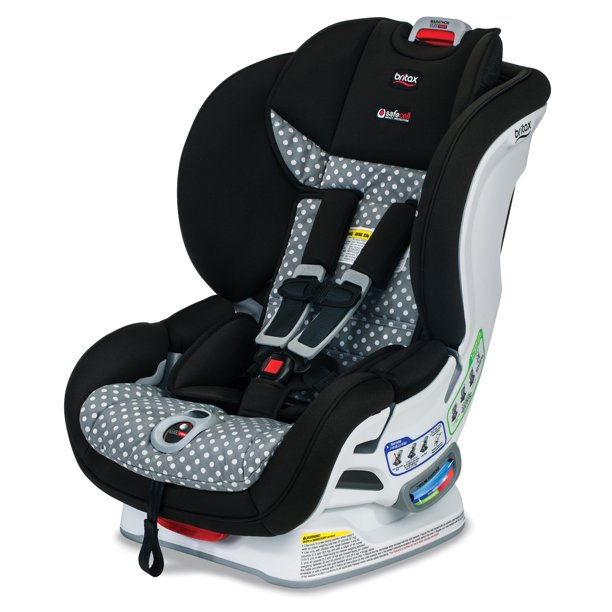 Do not let the numbering on the list fool you, it may be number five and the last convertible car seat on our list. However, it stays one of the best ones on the market.
First of all, let's discuss its mesmerizing weight capacities. In a rear-facing position, it can withstand up to 40 pounds, while the front-facing position can hold up to 65 pounds. Plus it has a maximum height of 49-inches.
It comes in a unique color scheme which will always excite your child and keep him on the edge of his/her seat.
Moving to safety, it is equipped with deep-energy absorbing shell shields and a steel frame, these two re-enforce the seat's side and protect your precious one from any impact or force.
The Britax Marathon is equipped with a ClickTight Installation system that allows you to install the seat with a simple click. Plus, the seat can be reclined into seven different positions that will ensure your child's comfortability. The tether is also V-shaped, which helps in minimizing any seat rotation, while the harness can be easily adjusted using a single button.
Unfortunately in order for this seat to be washed, it must be fully disassembled which can be quite a hassle.
Bottom Line
The Britax Marathon ClickTight Convertible Car Seat is an excellent pick for any parent and child no matter their weight or height. It is easy to install and can be reclined to seven different positions.
---
How to Pick a Convertible Car Seat for Tall Babies
As we have stated before that picking tall babies' convertible car seats is not an easy thing to do. There are many factors to consider from comfortability to safety and a lot more. We will now talk about the most important factors to consider to help you make a better purchase.
1. Height
This is the most important factor that you need to consider before buying a car seat. Your child is a tall one and to make him/her feel comfortable, you need to pick a car seat that has more height than the others. It definitely goes without saying that your child must be underneath the seat's height limit by at least one inch in order to fully protect his precious little head.
2. Rear-Facing vs. Front-facing
Throughout the past years, there has been a long and tiresome debate amongst parents regarding whether your child's seat should be rear-facing or front-facing. And finally, we have an answer, multiple pieces of research have proved that making your child's car seat rear-facing decreases the chance of injuries.
Having your child in a rear-facing position will gravely decrease the amount of force he or she will encounter if any accident or collision -God forbid- happens. So we strongly recommend that you keep your child in a rear-facing position until they are at least three or four years old.
3. Ease of Use and Installation
You need a baby's car seat that is straightforward to install and remove. You should always read your car's instruction manual before buying your baby's car seat, so you can identify the types and models that will be compatible with your car.
There are two ways of installing a baby's car seat, the first one that works with newer cars is using a latch while the second and older method is using the seat belt. You should never use the two methods as they will be struggling with each other and might harm your baby.
Nonetheless, the car seat ought to be easy to use, adjust and clean.
4. Safety
We cannot stress the importance of your child's safety. You must choose a seat that has enough padding, and a harness that is at least 5-point, as anything less than that might endanger your child's well being.
Final Thoughts
All in all, after this extensive research and these 5 best convertible car seats for tall babies, we can solidly recommend you each of the following products.
If you need the overall best, then look no further than the Chicco NextFit Zip Convertible Car Seat, while the Evenflo SureRide DLX Convertible Car Seat is a great budget option.
Finally, the Maxi-Cosi Pria 85 Convertible Car Seat is the one you should opt for if you have older children.