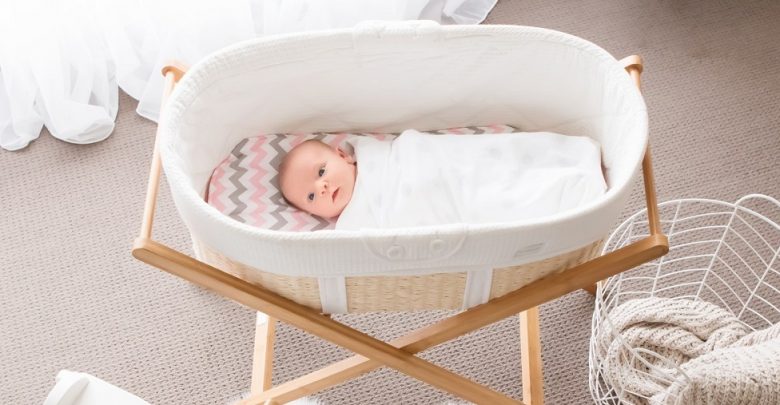 Being a parent is one of the most joyous experiences that anyone can go through, even though it comes with a load of problems and dilemmas. Nonetheless, you will be creating memories that you will cherish forever while watching your precious ones grow.
One of these dilemmas is where to put your newborn child while they sleep. Putting them in the same bed as you is wrong, and can be fatal for your newborn, while carrying them around the clock is tedious, to say the least. The solution lies in bassinets, they are smaller than cribs and made especially for newborn babies from the age of a single day till they are five or six months old, and capable of turning on their own.
However, we are here today to talk about a different type of bassinets, not regular stationary ones, but portable bassinets. A fantastic variation of the standard bassinet, portable bassinets can be easily moved from one place to another. You can carry them and take them to gatherings or even to the park to enjoy a picnic with your precious one.
So, what goes into making a good portable bassinet? It has to be lightweight, foldable, easy to carry, sturdy, and completely safe. That's why we have gone on ahead, done extensive research, and chosen the 7 best portable bassinets for you. Without further ado, let's start reviewing them.
List of the Best Portable Bassinets:
Comparison Table:
[table id=8 responsive=flip responsive_breakpoint="phone" /]
The 7 Best Portable Bassinets in 2022
1. Chicco LullaGo Primo Portable Bassinet, Nottingham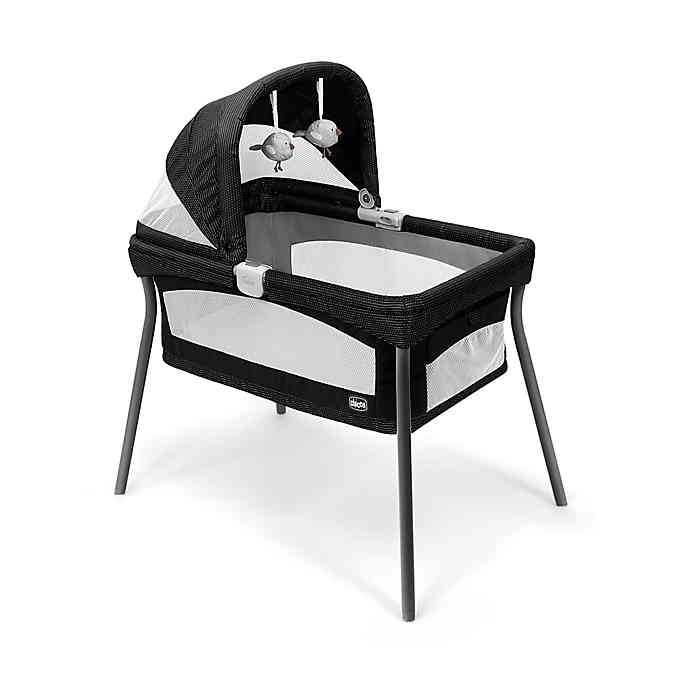 We begin our list with the Chicco LullaGo Primo Portable Bassinet, which is suitable for home or for a sleepover at grandma's. The Chicco LullaGo Primo Portable Bassinet has got you covered so do not worry.
Standing at 44.25-inches -second heights on our list- and weighing only 17 pounds, it is an outstanding portable bassinet.
The four sides are made from mesh as well as a large portion of the sun canopy, which is an excellent addition for use on picnics. Also, the canopy has an overhead toy that will definitely keep your baby entertained and distracted for most of the time. The mesh is entirely breathable, as well as see-through granting you a clear view of your child.
The legs can be easily snapped on and off, for easy storage and folding. Moreover, there is a flat fold carry bag included, it makes carrying the bassinet around quite easy and effortless.
The mattress is made from memory foam, it also has a zip-and-wash pad alongside a bonus fitted sheet. Furthermore, there are additional storage pockets, perfect for pacifiers, or any of your baby's belongings.
Finally, any of the Chicco LullaGo Primo fabrics can be easily removed and is machine washable.
What We Like:
Machine washable fabrics
Carry bad
Sun canopy
Snap off legs
Extra pockets
What We Don't Like:
Final Verdict
The Chicco LullaGo Primo Portable Bassinet is our top pick for the best portable bassinet for many reasons. It sets the bar in many elements from its lightweight to its height, the four mesh sides, sun canopy, and many other aspects. It is definitely an amazing portable bassinet for every parent and baby out there.
2. HALO BassiNest Swivel Sleeper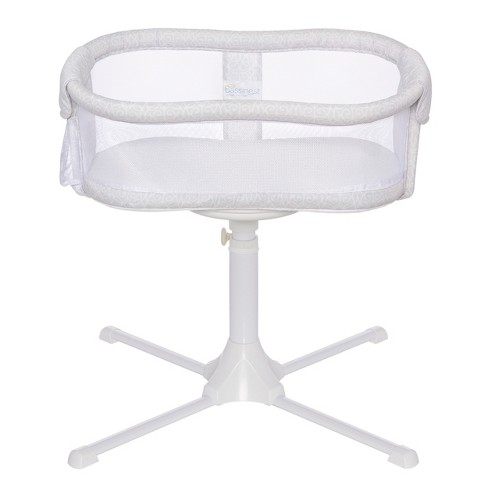 The HALO BassiNest Swivel Sleeper that has an adjustable height of 22 to 34-inches but rocks a 42.5 pounds weight.
This bassinet is easily one of the best on our list, even though it is the heaviest one and with a margin to spare, which makes moving around a bit troublesome. It excelled in many other aspects.
Starting with the fact that you can freely adjust its height and set it to what fits you best. Parents always feel safer when their children are without their sight. Some want their child's bassinet to be at a higher level than their bed, while others would like it to be lower. The HALO BassiNest Swivel Sleeper offers you a multitude of options in order to comfort both you and your baby.
The base has a fantastic design that allows you to stow the whole thing right under your bed. Thus, the bassinet will be ultra-close to you, granting both you and your child relief for those late-night sessions, when you are still recovering from birth.
The sides are made out of pure mesh, this makes them increasingly breathable, while boosting visibility as well. This means that both the parent and the child will be happy and relieved, as the parent will clearly see their baby at any given time, and the baby will be comfortable in seeing their moms, and will easily breathe through the mesh.
Moreover, one of the two walls will retract for easy access, this is a huge plus, as reaching for and grabbing your baby has never been so easy.
Finally, the only downside to this bassinet is its sheer weight, it is the heaviest on this list and by a few miles as well. Fortunately, that doesn't take away from all its outstanding and marvelous features.
What We Like:
Adjustable height
Stand can be put under the bed
Mesh sides
What We Don't Like:
Final Verdict
In the end, the HALO BassiNest Swivel Sleeper is our runner-up best portable bassinet for many reasons. It is durable, and grants you a 360-degree view of your baby alongside the breathable side mesh. However, its weight is off the charts.
3. Chicco LullaGo Portable Bassinet, Sand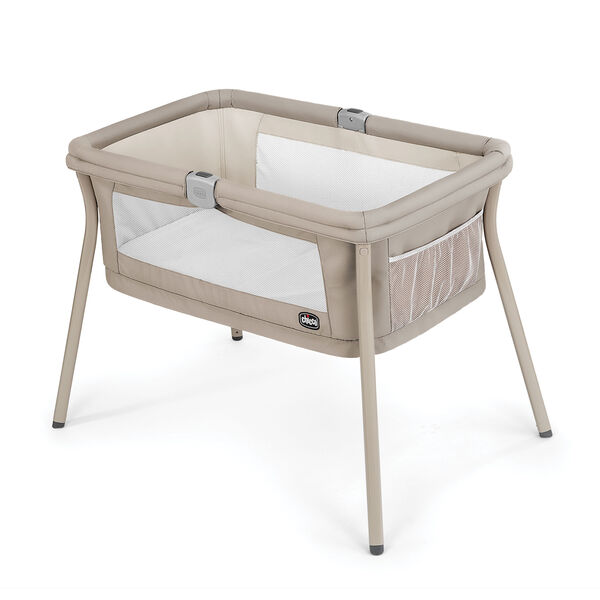 A simple bassinet that is perfect for old and first-time parents alike.
The Chicco LullaGo Portable Bassinet is 27-inches high and weighs only 14.5 pounds, its lightweight makes moving it around from one place to another a breath of fresh air.
It comes with an included tote that you carry on your shoulders. It is easy to carry, since it can be easily folded by snapping the legs and folding the mattress in half.
The sides are made out of breathable and see-through mesh. Plus, on the side near your baby's legs; there is an extra mesh pocket for small pacifiers or burping cloths.
On the downside, the tote is large and can be a hassle when carrying it, there is a small ridge in the mattress-resulting from the place of its folding-, your baby might not even notice this ridge, but some parents worry about it. Finally, there is no sun canopy.
What We Like:
Lightweight
Easy to fold
Easy to set up
What We Don't Like:
Ridge in the mattress
Large tote
Final Verdict
The Chicco LullaGo Portable Bassinet is an excellent portable bassinet. It is lightweight, easy to set up and to fold, has breathable mesh, and doesn't take up a lot of space. However, the ridge in the mattress is somehow troublesome, and the tote is too large.
4. SNOO Smart Sleeper by Happiest Baby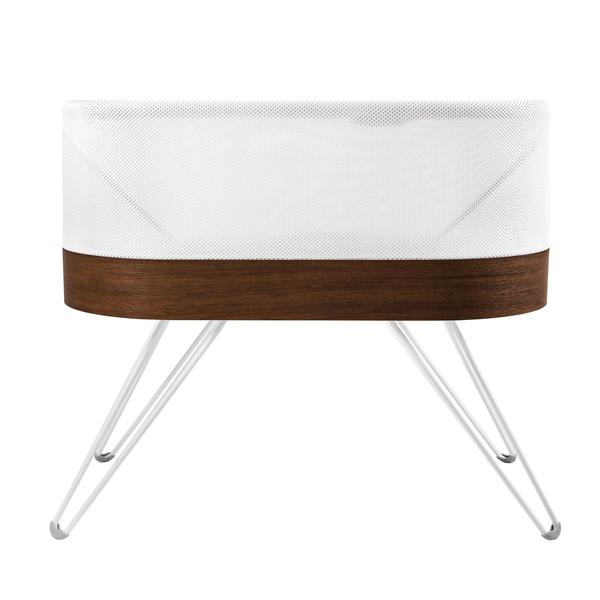 Parents are the superheroes/heroines of our real everyday world. But, even the best superheroes/superheroes need help from their sidekicks on many occasions. And a sidekick bassinet does not get any better than the SNOO Smart Sleeper.
It is all about technology, being high-end and luxury-oriented. From the sleek design to the remarkable technologies, this is a pretty expensive bassinet. We'll show you now why we think that its price is justified.
Starting with its all mesh sides -not really sides as it's oval shaped-, the mesh is fully breathable and see-through granting you a full and clear 360-degree view of your child.
Moving on to the highlights and selling points of the SNOO Smart Sleeper, we begin with the fact that it generates white music. What is white music? It is a particular type of music with a masking effect. Most lightheaded sleepers use white music to block out anything that might interrupt their sleep, so it is a perfect fit for newborn babies.
Since Dr. Harbey Karp -a world-renowned pediatrician- developed it, he incorporated a swindle/rocking mechanism that takes effect whenever it detects your baby's cries. It immediately starts to rock gently trying to put your baby back to sleep as gently as possible.
The SNOO Smart Sleeper adds one or two hours of sleep to your baby's sleeping pattern as well. Additionally, there is a great application that you can install on your smartphone. It allows you to customize the bassinet's settings to your likings, use your smartphone as a remote control and finally turn off the swindle and rocking mechanism with the click of a button.
The only downside to it is its price. It sports a back-breaking price tag, where it is in a league of its own. However, a solution lies in the rental process, where you can rent with only a one-month minimum rental commitment.
What We Like:
Creates white noise
Rocking mechanism
360-mesh for 360-view of your child
Renting option
What We Don't Like:
Final Verdict
The SNOO Smart Sleeper is the best option for parents who are willing to break the bank for their baby's bassinet; however, it is an excellent option for the long run. Its ability to create white noise as the rocking mechanism works towards making your baby's sleep as gentle as possible is a godsend. The rental option is a great pro as well.
5. Delta Children Deluxe Sweet Beginnings Bedside Bassinet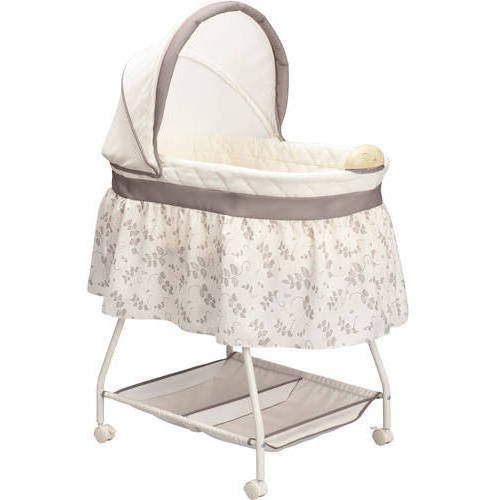 A budget-friendly portable bassinet, the Delta Children Deluxe Sweet Beginnings, is a perfect fit for parents who want a basic bassinet.
We start with the locking wheels, which are the selling point of this bassinet. They enable you to move it anywhere within your house freely, and without facing any hurdles. Additionally, since they are locking wheels, you can set them in a place, lock them, and the bassinet will not move an inch.
The canopy is great for protecting your baby from those harmful UV lights, even though it might not fully cover your child. Plus, there is additional storage underneath the bassinet, where you can put most of your baby's belongings like diapers or a clean change of clothes.
Furthermore, even though it is still considered a basic bassinet, it can play soothing melodies and sounds that will help your child sleep better.
Finally, there are some downsides to the Delta Children Deluxe Sweet Beginnings, like the fact that the canopy might not fully cover your baby, or that its height is not adjustable.
What We Like:
Budget-friendly
Locking wheels
Storage space underneath the bassinet
Plays soothing sounds
What We Don't Like:
Canopy might not cover your child
Final Verdict
In the end, the Delta Children Deluxe Sweet Beginnings is a cost-effective and budget-friendly portable bassinet. It is optimal for parents who have to keep an eye on their budget. Its sleek design, lockable wheels, and ability to play soothing and relaxing noise make it a fantastic portable bassinet.
6. BABYBJORN Cradle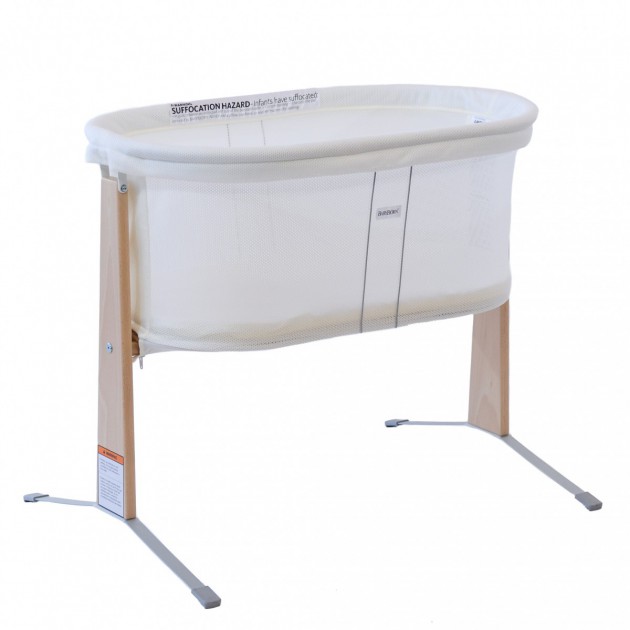 This incredibly elegant bassinet by BABYBJORN has a manageable weight of 13 lbs and an incredible weight capacity of 17 lbs. It is designed with metal-wood legs that make it modernly minimalistic while still giving you everything you need in a bassinet.
One of the most important aspects regarding this product is its oval-shaped mesh coverage, which allows for perfect air circulation and flow. Moreover, everything from the fabric down to the mattress is machine washable, making stains a thing of the past.
Honestly, you cannot speak enough about the design of this bassinet as it is the core of all of its advantages. It has a height of 5 ins and dimensions of 23 x 31 x 26 ins, which makes it optimal for the comfort and safety of your baby.
How? There are no loose sides or parts, where your little one can get their tiny hands and feet stuck. Furthermore, the product is highly adaptable to your and your baby's movement. It can move; however, your little one is moving currently to soothe him/her, or you can just rock your baby manually; however, you see fit.
Lastly, this bassinet is not just non-toxic; it is certified non-toxic in addition to it being JPMA certified.
Unfortunately, like any other product, it has its downsides, which include the hefty price tag making it not within budget for a lot of new parents who are still starting their family-life. Its height of 5 ins makes it ill-suited to be used as a co-sleeper, so you will have to purchase that separately.
Additionally, it does not offer soothing sounds to help your fussy baby go down for his/her naps easily.
What We Like:
Highly durable
Lightweight
Sleek design
Rock and bounce features
Certified non-toxic
What We Don't Like:
Expensive
Can't be used as a co-sleeper
No soothing sounds
Final Verdict
This minimalistic, stylish bassinet gives you a ton of options. It is safe, secure, adaptable, and easily cleaned. So, if you have no problem spending this amount of money on a bassinet, then you should definitely go for it.
7. Munchkin Brica Fold N' Go Travel Bassinet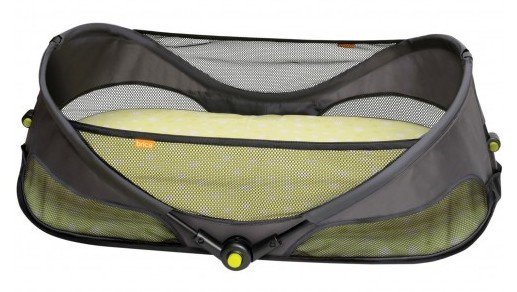 This Brica travel bassinet by Munchkin is the epitome of practicality and efficiency as it weighs only 2.45 lbs and can hold baby weight up to 15 lbs.
It is highly durable and versatile, you can use it anywhere: in the park, at home, as a co-sleeper, in the car, or on an airplane. So, it does check many boxes for anyone looking for the ultimate travel bassinet.
Plus, all of these features, and a lot more that we are going to break down momentarily, come at an affordable price within the budget of new parents.
No one can argue that safety is paramount when it comes to anything relating to one's children. Apparently, Munchkin agrees. What they've done with this bassinet is that they have designed it with a four-point Safe-T-lock system that keeps your baby safe and sound, along with the double locking tubular steel frame.
Furthermore, this bassinet has a height of 10 ins and dimensions of 30 x 11.8 x 21.2 ins making it perfectly roomy for the comfort of your baby.
With a baby, you're always juggling 100 things per minute, so practicality is a must. The mesh panels that go into the design of this travel bassinet do not only provide perfect airflow, but they are also entirely machine washable relieving you of any extra workload.
The downsides to this product revolve around limitations of the baby's age. It cannot support a child that's older than four months or taller than 25-26 ins. Also, the mattress could be a little thicker for extra comfort.
What We Like:
Steel frame
Can be used as co-sleeper
Affordable
Versatile
Folds easy and flat
Cover
What We Don't Like:
Thin mattress
Maximum baby height is 25-26-in.
Maximum 4 months old baby
Final Verdict
A travel bassinet is a great addition to your baby arsenal, and this one provides you with safety versatility, and the ability to be converted to a cool sleeper. Consequently, it's definitely a significant investment.
How to Pick a Portable Bassinet
1. Weight, Size, and Folding
These three come hand in hand, a portable bassinet has to be lightweight, small, and easily folded.
The most important thing about a portable bassinet is its weight. If it's not lightweight, then moving it around will not be easy, and thus it will fail its task of being portable.
While if its dimensions are too big, moving it around will be a hassle, and it will not be easy to carry it and move from one place to another.
Finally, in terms of folding, the bassinet needs to fold easily. Most of the time, you will be holding your baby with one hand and trying to fold the bassinet with the other hand. Therefore, a bassinet that folds easily or single-handedly really does walk the extra mile.
2. Weight Capacity
Most bassinets are suitable for babies from one-day-old until they are five or six months old. However, we cannot stress the importance of adhering to the maximum and minimum weight capacities of a bassinet, to prevent any harm from befalling your little one.
If you do not follow the weight capacity instruction, especially if your baby is above the maximum weight capacity, the results will be catastrophic. They might very well end up breaking the bassinet and falling. Other than the obvious injuries that a fall can cause, them developing growth issues is by no means far-fetched. Also, if they are constricted due to weighing more than the maximum weight capacity, abnormalities may develop stealthily.
3. Stability
The stability of a portable bassinet is vital, the children inside the bassinet are a few inches above the ground, so the bassinet must be stable enough not to tip over. A pet could pull the bassinet, or even your child might be fussy and turning a lot, the bassinet must maintain its structure and remain stable through it all.
4. Height
All bassinets should be at the same height as your bed, and portable bassinets are no different. However, many models provide you with height adjustability, which is done by adjusting the bassinet's legs.
Being able to see your child in their bassinet while sleeping in your bed is a blessing, especially for new moms, who are still coping with postpartum pains.
5. Fabric
Not only the mesh on the sides but the mattress and the whole bassinet, need to be made from breathable fabrics that are soft for the baby since he/she will be spending a lot of time in the bassinet.
Plus, the mesh on both sides has to be see-through, so you can easily see your baby from either side and get a clear view of your baby. Being able to see your baby at any angle will give both of you a sensation of reassurance and safety that both of you need.
Concerning the mattress, it is always best to resort to a firm mattress, as soft mattress might invoke your child to develop Flat-Head Syndrome. Flat-Head Syndrome occurs to babies who lay down on their backs for long times, it happens as the babies' heads are too soft and can change their shape through consistent pressure. The best way to avoid it is by putting your child in carriers that are designed with stiff mattresses.
6. Extras
Since we are reviewing portable bassinets, some extras would be great to have. Portable bassinets are mostly used when you have to go out, either to a party or on a picnic, they are your go-to with a newborn.
A sun canopy would be a great addition for the times when you are out, or even if you place the bassinet in a place with some sun. The canopy will filter those sun rays providing your baby with that much-needed vitamin D while protecting him/her from the harmful UV rays.
Also, having space or zippers to put your keys, phone, and even your child's toys and diapers is always favorable. No longer will you need to carry multiple bags for your stuff, the baby's belongings, and the bassinet as well. You can put everything into the bassinet itself.
Frequently Asked Questions:
What is the Optimal Age for Using a Bassinet?
From a single day's age till six months old, however, always be on the lookout for the maximum and minimum weight capacities of the bassinet.
How to Clean a Bassinet?
Cleaning a bassinet is relatively easy; all you need is warm cloth, and you can make the bassinet spotless. However, some bassinets have gone the extra mile through being machine washable. You can easily fold the entire bassinet, put it in the washing machine, and it will come out brand new.
Should We Put any Pillows, Blankets, or Anything with the Baby inside the Bassinet?
The short answer is No. You must refrain from putting anything with the child inside the bassinet, like pillows, bumpers, or even blankets, as they can be quite dangerous for a newborn baby.
Final Thoughts
Choosing a portable bassinet for your baby is no easy task, there are multiple factors that you need to consider before making up your mind. However, we hope that our article has narrowed down your search for the best portable bassinet.
Our number one pick has to be the Chicco LullaGo Primo Portable Bassinet, Nottingham, for its sheer quality, adjustable height, and breathable mesh.
If you are willing to spend the extra buck, then go for the SNOO Smart Sleeper by Happiest Baby, it has an application that you can download on your smartphone, plays white music to soothe your baby when he/she is fussy and is created by a world-renowned pediatrician.
Finally, the Delta Children Deluxe Sweet Beginnings Bedside Bassinet is a great option for parents on a budget; it has locking wheels that increase its portability, a canopy for sun protection, and storage space underneath the bassinet to store all of your baby's needs.