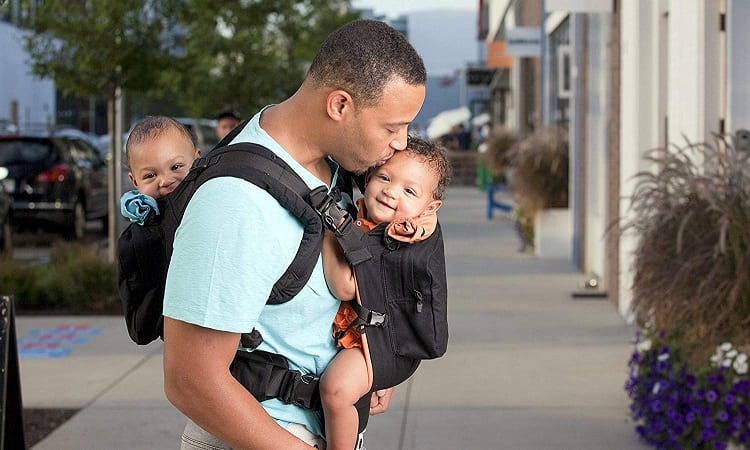 Being a parent for a single child is not easy, even though it is definitely the best thing ever. Let alone having twins, you get double the reward, but with more problems. You will always feel like you need an extra pair of hands or wish that you can grow eyes in the back of your head.
If you've ever wished that you could carry both your twins at the same time, you are in luck because we have here a list of the 4 best twin carriers for your babies that will make your life a breath of fresh air. You can, at any given time, put the carrier on, put your precious twins inside them, and have free hands to do all you ever wanted to do. From cooking to cleaning, going on walks, and everything else, you can now do everything.
Picking a good twin carrier is no easy task, there are multiple elements and factors that you need to consider; from the weight capacity to safety features and many more. We will be discussing all of these elements and more later on, so do not worry. Now without further ado, let's get to the 4 best twin carriers currently on the market.
See Also:
Comparison Table:
| | | | |
| --- | --- | --- | --- |
| Carrier | Maximum Weight Capacity | Weight | Dimensions |
| TwinGo Original Baby Carrier | 45 lbs. For each Child, 70 lbs. For twins | 2.65 lbs. | 10 x 8 x 10-in. |
| Boba Wrap Baby Carrier | 35 lbs. | 1.76 lbs. | 6 x 6 x 11.5-in. |
| TwinGo Carrier Air Model | 10-45 lbs. | 3.34 lbs. | 15.5 x 11.5 x 5.8-in. |
| Baby K'tan Original Baby Wrap Carrier | 20 lbs. | 15.2 lbs. | 15.5 x 11.5 x 5.8-in. |
The 4 Best Twin Carriers in 2022
1. TwinGo Original Baby Carrier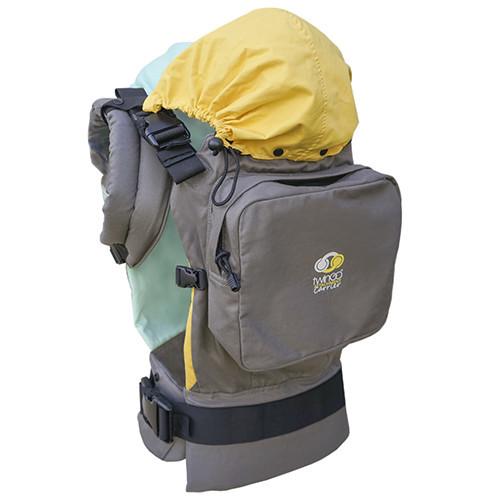 Our top pick for the top twin carrier, the TwinGo Original, is quite versatile and has everything a parent would need.
We start with its maximum weight capacity, it can hold up to 70 pounds as a combined weight or 45 pounds per child. This is quite a lot actually as even most 5-year-olds do not weigh 45 pounds. This means that the TwinGo Original grows with your children and will last for a long time.
It is versatile due to the straps and waistbands being adjustable and reinforced. This means that you are not constricted to a single parent using it, as it can be shared between tall and petite parents alike. The recommended height bracket is from 4 feet 11 to 6 feet 5 inches, which further proves its versatility.
You can carry your twin by placing one in the back and one in the front, it has also been classified as "hip-healthy" meaning that it is excellent for supporting your babies' hip growth. Plus, there are large pockets for you to store your valuables in, hoods to cover your babies' heads from the harmful UV lights, and finally, it comes in two colors.
Unfortunately, you have to purchase the newborn inserts separately.
What We Like:
70lbs. Maximum weight capacity
Comfortable to use
Hip-healthy
Comes in two colors
What We Don't Like:
Newborn inserts have to be purchased separately
Final Verdict
This is a fantastic twin carrier, it is very sturdy, provides excellent support for you and the babies, and can be used by multiple parents. However, in the case of newborn babies, you will have to buy their inserts separately.
2. Boba Wrap Baby Carrier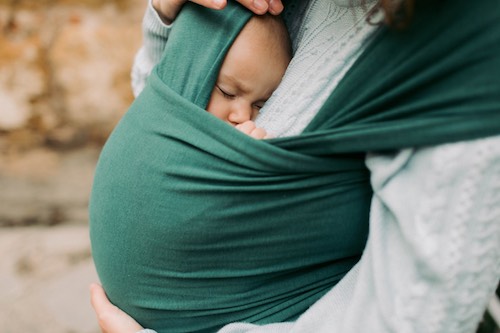 The Boba Wrap baby carrier is amongst one of the most famous baby carriers on the market and rightly so. Even though it is not a twin baby carrier, it can easily be transformed into one, due to the fabric's stretch.
The best thing about this baby carrier is its sheer length, it is approximately 16.5 feet which is quite overwhelming. Just think about all the different carrying positions that you can try with your twins.
It is made from spandex French Terry material and 95% cotton, which explains the fantastic stretch and flexibility that this fabric possesses. Moreover, it has a 4-way stretch so that it can suit any parent no matter their height.
Finally, the Boba Wrap is also hip-healthy and completely machine washable.
However, it can only accommodate babies whose weight is 10 to 15 pounds each.
What We Like:
Flexible and stretchy fabric
Roughly 16.5 feet long
What We Don't Like:
Can accommodate babies from 10 to 15 pounds each only
Final Verdict
The Boba Wrap is perfect for newborn twins and new parents. It has an elastic fiber that allows you to carry your twin in multiple positions. However, your twins must only weigh from 10 to 15 pounds each.
3. TwinGo Carrier Air Model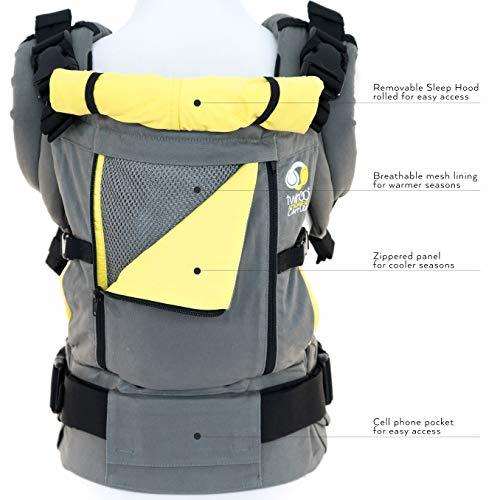 Created for any and all circumstances that you face. The TwinGo Air is definitely a fantastic twin carrier.
The best thing about it is the fact that it can be split into two different carriers. It is suitable for toddlers and older children as well. Moreover, its ergonomic design distributes the weight over your shoulder, back, and spine adequately relieving any stress or strain.
It has padded straps that make both you and the child feel comfortable. As well as included pockets for you to store anything in them from your twins' items to your valuables.
Finally, however, the TwinGo Air Model is the most expensive carrier on this list, and it also does not support newborns, as your twins will have to be at least 4 months old to ride this baby.
What We Like:
Amazing weight distribution
Can be split into two carriers
What We Don't Like:
Expensive
Twins have to be at least 4 months old
Final Verdict
Another entry from TwinGo, the Air Model, is a worthy addition to your twins' equipment. It will not leave you asking for more, from its fabulous breathable material to its durability and the fact that you can split it into two separate carriers. However, you will have to pay a bit extra to buy it.
4. Baby K'tan Original Baby Wrap Carrier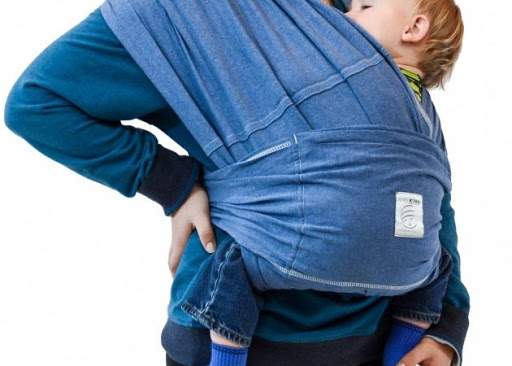 A fantastic wrap carrier for beginner parents.
The K'tan Original Baby Wrap is made from unique stretchable fabric, it is also very breathable.
One of the best things about it is its size. When you want to buy you have to choose your pre-pregnancy size, and it will fit you like a glove.
It has a double loop design that supports your twins perfectly while also keeping their hips aligned perfectly. Moreover, there is an additional carrying bag that you will surely use.
Finally, the Baby K'tan Original Baby Wrap Carrier is an excellent choice for parents on a budget. You will not have to break an arm and a leg to buy it, and it is very cost-effective.
However, its official website does not list it as a twin carrier, but many parents have safely and successfully used it as one. Also, if you want your other half to use it, then you will have to buy them one that fits their size.
What We Like:
Comfortable to use
Fits like a glove
Breathable fabric
What We Don't Like:
Not listed as twin carrier on the official website
Have to purchase an additional one for the other parent
Final Verdict
The Baby K'tan Original Baby Wrap Carrier is an excellent choice for new parents as it is easy to put on, sturdy to use, has breathable fabric and is also budget-friendly. However, if the two of you will be using it, then you will have to purchase two different sizes, as it is not a one-size-fits-all.
How to Pick a Twin Carrier
Picking a twin carrier is no easy task, since you will be putting all your eggs into one basket, the basket -in this case, the twin carrier- must be safe and comfortable for both you and your twin.
There are also other factors besides safety and comfort that you must consider, so let's get down to these elements that will make choosing a twin carrier much more manageable.
1. Type
There are multiple types of twin baby carriers on the market, and now we will show you the most famous and sought after ones.
Soft-Structured Twin Carriers
These are the most prominent types of baby carriers, and most parents use them. They allow you to carry your twins with one in the front and one in the back, some models even provide you with the ability to carry one baby on each side or hip.
Soft-structured carriers have padded shoulders that will ensure your comfort, alongside multiple straps for your children's safety.
Ring Slings
Ring slings are a cotton or linen based fabric -usually two meters long- that has two rings at the end. Fastening it is easy, all you have to do is to thread the free end through one ring and then tuck it under the other one. This means that you will have much-needed versatility. You can choose who you want to carry your twin based on their weight and the positions that you and they feel most comfortable in.
However, a ring sling is not suitable for parents with upper or shoulder pain, as you will be carrying your children on one shoulder only, which means double the strain and double the pain.
Wraps
Wraps are similar to strings in the sense of tying them around yourself and your child. But, there is a significant difference between them. While baby slings are made from cotton or linen, many wraps are made from a stretchy fabric.
These wraps are called stretch wraps, they are the optimal solution for beginner parents and newborn babies, as you tie the wrap around yourself first and then around the baby.
Some wraps are created from linen, cotton, hemp, or even wool, we call them woven wraps. This type of wraps is a lot stronger than stretch wraps, and is recommended for older kids.
Putting on a wrap is easy but will require a lot of practice, and as the saying goes, practice makes perfect. You will have to try a multitude of carrying positions until you find the one that will make you and your child most comfortable and secure.
2. Safety
Since you will be carrying your twin for a long time, you will need to make sure that the twin carrier is safe for both of you. Concerning the parent, safety lies in comfort, meaning that the shoulder straps should be padded, and your children's weight should be adequately distributed along your shoulders and your back. To prevent any strain or injury from occurring to your back and shoulders.
While for your twins, their safety is key, as they will be inside the carrier for long times. They have to be placed in the correct position to encourage their physical growth. Their hips, pelvis, and spine must be entirely supported. Plus, having your twins in a twin carrier reduces the risk of them having hip dysplasia, which compromises the formation of their hips and might lead to dislocations.
3. Weight Capacity
We cannot stress the importance of adhering to both the minimum and maximum weight capacities. If your children's weight is either below the minimum or above the maximum, the result could be catastrophic. A child whose weight is less than the minimum capacity could be too young or too small and might fall out of the carrier, while a child whose weight is above the maximum might break to the carrier and fall to the ground.
Therefore, we again stress the importance of adhering to the weight capacities provided by the manufacturer.
4. Budget
You should also be mindful of your budget. While twin carriers might seem to be an expensive option. Their benefits outweigh their costs, and they will be extremely beneficial in the long run, so do not be afraid to spend a little extra a bit, as you will be getting a ton of features and benefits in return.
Frequently Asked Questions:
Are Twin Carriers Safe?
The answer is definitely YES, twin carriers, and baby carriers, in general, are incredibly safe. They are designed with the child's safety as the number one priority. However, with twin carriers, you have to be doubly cautious, and make sure that you can see both your babies at any time, that their heads are facing up and adequately supported, and finally that their airways are always clear.
What are the Different Carrying Positions?
The carrying position depends on the type of carrier that you have. As we said before, there are three main types of twin carriers, soft-structured (tandem) carriers, sling, carriers, and wrap carriers.
Tandem carriers allow you to carry your twins with one in the back and one in the front only. While wrap and sling carriers provide you with different carrying positions like both babies in front or one in each hip.
Final Thoughts
Noe, we have come to the end of our article. After we have thoroughly talked about the best twin carriers, let's see some recommendations.
If you need the absolute best, then go for the TwinGo Original Baby Carrier, it has everything a parent would ever want from a carrier. At the same time, the Baby K'tan Original Baby Wrap Carrier is a great budget option.
Finally, the TwinGo Carrier Air Model can be used as two separate carriers instead of one and is extremely durable as well.