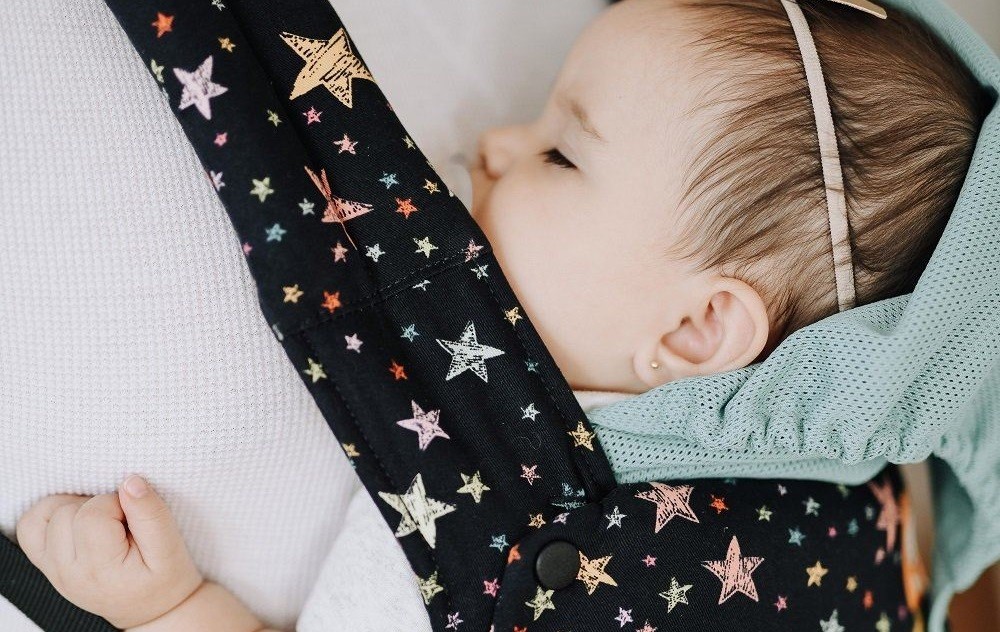 Every parent enjoys carrying his/her child, it creates a special bond between both of them and having your precious one so close to you is an inexplicable feeling. However, your child has now grown into a full-fledged toddler, and you cannot use a stroller in some places as they are either too small or too crowded. That's where a toddler carrier comes into play.
A good baby carrier for toddlers is truly a marvelous hack, it will enable you to carry your child at any given time while having your hands free. Plus, a good toddler carrier must be comfortable for both you and the child, providing the child with safety and comfort and while keeping your back and shoulders from becoming injured.
So we have scoured the world wide web in search of the best toddler carriers in the market.
Now, without further ado, let's dissect these 5 marvelous models together.
List of the Best Toddler Carriers:
Comparison Table:
[table id=11 responsive=flip responsive_breakpoint="phone" /]
The 5 Best Toddler Carriers in 2022
1. LÍLLÉbaby Complete All Seasons SIX-Position 360° Ergonomic Toddler Carrier
Even though LÍLLÉbaby is a relatively new company, the Complete All Seasons has managed to top this list. It is an excellent pick for every parent as it is packed with amazing features.
Starting off with its ability to be used in six different positions. It provides you with much-needed versatility. The six positions are: fetal tuck, legs out tuck, third is front-facing, fourth is rear-facing, fifth is a hip sling and finally the sixth is a back carrier.
There are three other models from LÍLLÉbaby, they are: the Airflow, the Original and finally the Embossed Luxe. However, we are talking about the All Seasons. It is jam-packed with amazing features for the parent and the child. It has a zip-down front section for warmer environments and conditions, a highly breathable 3D air mesh lining and finally a cotton exterior fabric. This makes the All Seasons really live up to its name as it can adapt to any weather.
When it comes to the parent, it is extremely comfortable to use. It has two straps on the front and four on the back, these straps distribute the weight and pressure so that you do not hurt your back or shoulders while carrying your toddler. Also, you can adjust the side panels and narrow the seat according to your liking.
Furthermore, what makes this toddler carrier an outstanding baby carrier for toddlers is the fact that it allows you to adjust the insulation to allow more air to reach your baby. So you no longer have to worry about your precious one being smothered or feeling too hot as at any time you can decide how much air will reach him/her.
Pros:
6 Positions
Adjustable insulation
Cons:
Bottom Line
The LÍLLÉbaby Complete All Seasons SIX-Position 360° Ergonomic Toddler Carrier
is our number pick for the best baby carrier for toddlers for a reason, it is outstanding in every single aspect and does not disappoint in any way. It is actually a fantastic purchase for any parent with a toddler.
2. Ergobaby Carrier, 360 All Carry Positions Toddler Carrier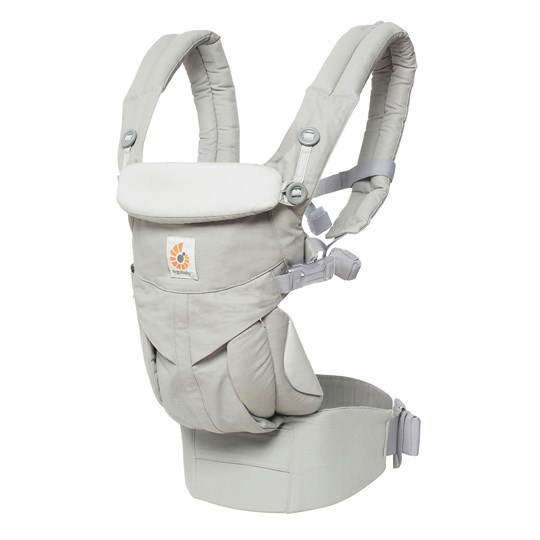 The Ergobaby is an astonishing toddler carrier that is suitable for all toddlers. It offers them comfort, safety and a lot more.
Unlike the LÍLLÉbaby which has 6 positions, the Ergobaby has 4 positions. This, however, does not take away from its amazing features and great potential. The positions are: front-carry facing out, front-carry facing the parent, back carry and finally hip carry. The front-carry facing out position is this carrier's strong and selling point. Since we are talking about carriers for toddlers, this means that your child has grown and should start to experience the world, and that's where that position comes into play. It allows both you and your little one to experience the world together whether, on walks or doing chores, your toddler will always get a kick out of it.
It also contains multiple accessories from a lumbar support belt to cushy straps and even breathable mesh options. It also comes in multiple joyous colors for you to choose from to make your child's experience even more exciting and entertaining.
However, there is a certain downside to this carrier and that is that the shoulder straps are bulky which seems to bother a few parents. Also, there are not any storage pockets.
Pros:
Multiple accessories
Front-facing position
Cons:
Bottom Line
The Ergobaby Carrier, 360 All Carry Positions Toddler Carrier is a wonderful experience for both the parent and the child. It is very comfy and the front-facing child position is a real treat for all the children.
3. BABYBJORN Baby Carrier One 2019 Edition Toddler Carrier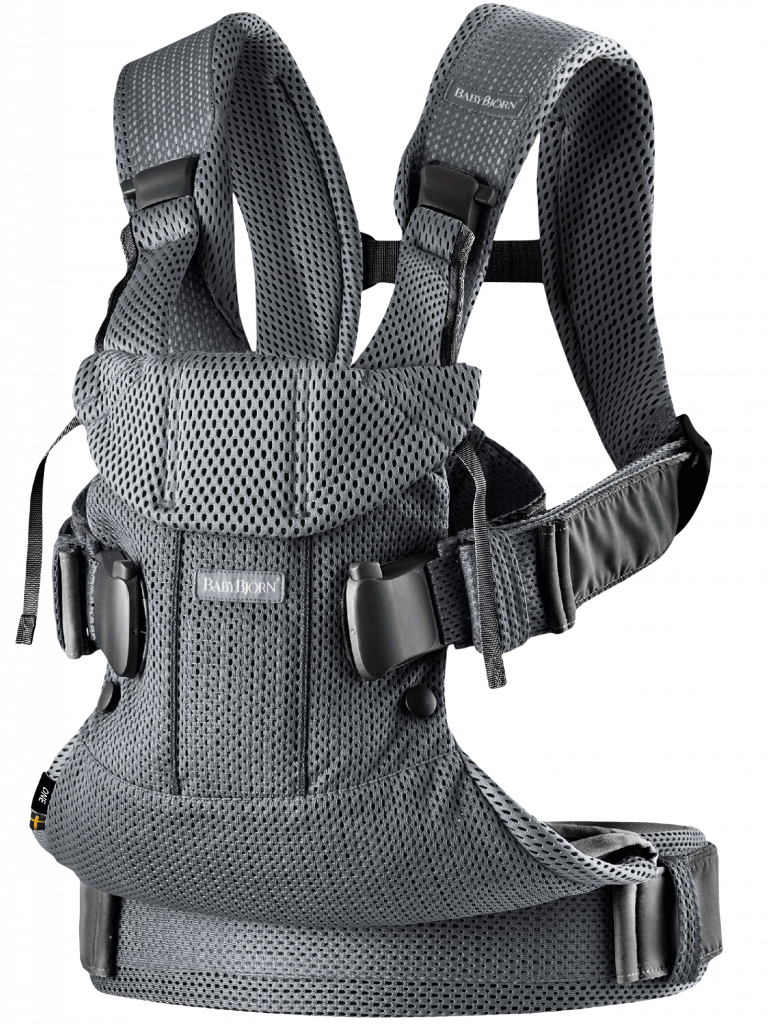 An amazing option for newborn babies as well as toddlers, the BABYBJORN Baby Car grows alongside your children who can keep using it until they are three years old.
This astonishing baby carrier for toddlers is designed with longevity in mind, it has 4 different positions. They are: baby facing-in, facing out, back carrying, and its selling point newborn. Unlike the other carriers which are only suitable for older children (toddlers). The BABYBJORN is suitable for babies from their birth up till they reach three years and that is why it has the unique newborn position, that will keep your tiny precious one secure and comfy.
Concerning the parent, the BABYBJORN has a washable cotton fabric. No more, will you have to endure wiping down the stains that your child made, you can now toss the whole carrier into the washing machine. Moreover, the shoulder straps are padded to provide the parent with the utmost comfort during long walks.
Finally, the BABYBJORN is an International Hip Dysplasia Institute certified baby carrier for toddlers. This means that no other product on the market provides better support to your child's spine, hips and legs.
Finally, however, the maximum weight capacity of this carrier is the least on this list as it can only carry a child with a maximum weight of 33 pounds.
Pros:
International Hip Dysplasia Institute certified
Machine washable
Up to three-year-olds
Cons:
Can only carry up to 33 pounds
Bottom Line
The BABYBJORN Baby Carrier One 2019 Edition Toddler Carrier is an exquisite toddler
Carrier, it will live with your children and grow with them, you will be getting mesmerizing value for your money with this one.
4. Tula Ergonomic Carrier, Cityscape-Toddler Carrier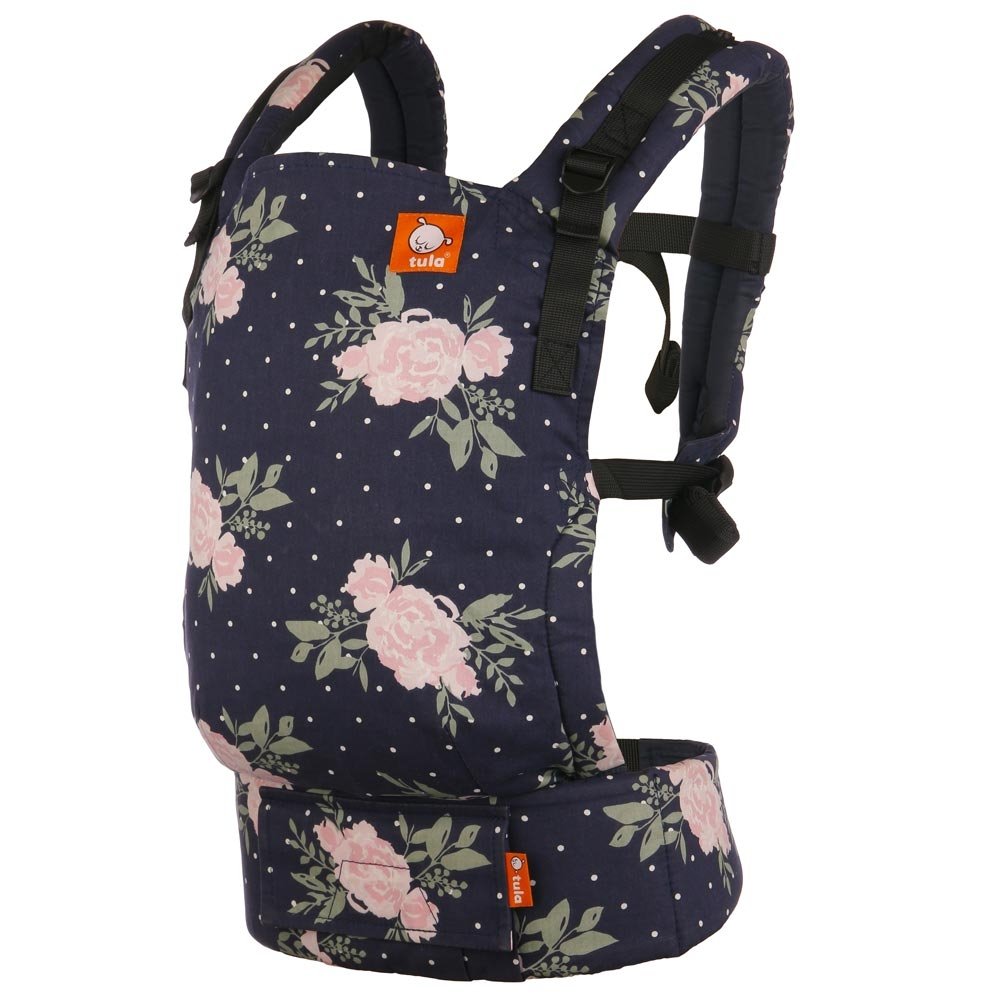 A hip and unique design make the Tula Cityscape stand out among its peers.
The first thing that you will notice about this toddler carrier is the wide array of colors available. It comes in 18 different color patterns that will surely lighten your child's day. It can be carried on either your back or your front and you and the child will definitely be comfortable during either experience.
The carrier is made from 100% Oeko-tex standard 100 certified canvas which is lightweight and extremely breathable. You really could not find a better material for your baby carrier for toddlers. Plus, there is a removable hood that you can use to protect your child's head from the harmful UV rays.
The front panel is a wide adjustable one which means that it provides all-around support for the parent, while the band distributes the child's weight evenly. Moreover, the Tula Cityscape has dual adjustable padded shoulders that provide your neck and shoulders with support and help in making you feel comfortable when carrying your child.
Unfortunately, this carrier is hard to put on by yourself and the color patterns are not suited for a dad.
Pros:
Removable hood
Padded shoulders
Cons:
Bottom Line
The Tula Ergonomic Carrier, Cityscape-Toddler Carrier is a unique baby carrier for toddlers that caters to the needs of both parent and child. It is comfortable for the parent to use due to the padded shoulders, while the multitude of colors will always keep your child happy and joyous. However, the colors are not suitable for a dad to wear.
5. Beco Toddler Carrier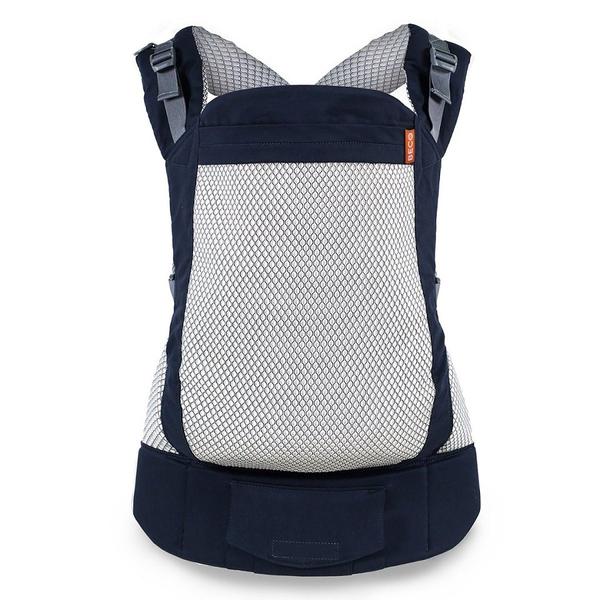 Designed for babies up to 60 pounds, the Beco Toddler Carrier is also suitable for dads as it comes in black as well.
One of the best things about the Beco is that it can fit parents of all sizes from extra small and petite to the biggest ones. The same thing goes for the children it supports from a minimum of 20 pounds up to a maximum of 60 pounds.
When it comes to toddler related features, the Beco lives up to its name. It has a detachable hood, as well as 3D mesh vented panels for increased airflow and finally a built-in headrest in case your toddler decides to doze off.
Also as we stated before it can be easily worn by dads as one of its colors is black. However, if you need another color, there are nebulae, and geo -white and teal-, for all the parents who want to spice their toddler's carrier.
Finally, one of the worst things about Beco is its price tag. If you need to buy them you will have to spend quite a bit.
Pros:
Built-in Headrest
Suitable for dads
Cons:
Bottom Line
The Beco Toddler Carrier is an excellent toddler carrier that is suitable for every parent and child no matter their gender or size. It is very comfy and can fit children up to 60 pounds, while it also fits petite and large parents.
How to Pick a Baby Carrier for Toddlers
Picking anything for your child is always a hassle, and picking a toddler carrier for your toddler is no different. There are many factors that you must consider from safety to comfort, versatility and a lot more. We will now know how you should pick your toddler's carries and the elements that you should be building your purchase upon.
1. Safety
The safety of your toddler is your number one priority and especially when carrying him/her in a baby carrier. Everything must be perfect and up to standards from the stitching to the zipper to the seams and the buckles. If anything malfunctions, the results will be catastrophic.
In addition, you must be wary of the head and neck support, you do not need it to be too much or too little, as too much will smother your child, while too little will make their head wobble while moving. You can never be too safe when it comes to toddler carriers, so you always need to make sure that your child will be 100% safe whenever he/she is inside the carrier.
2. Carrying Positions
This is the first thing that you need to consider whether you want to carry your child with him/her facing you or with them at your back. Now many baby carriers for toddlers are becoming universal meaning that they can support different positions, and suit different age groups, so it has become much easier to choose one. The most basic of carriers include only two positions: the fetal tuck and the forward-facing positions. However high-end carriers can include up to 6 or 7 different positions.
3. Ease of Use
You will have to consider the amount of time and effort that you invest in the baby carrier. Putting them on, putting your toddler in then taking them off should not be a daunting task. And even though baby carriers for toddlers have really come a long way, they still require a lot of effort to put. Hence, you need to know how easy it will be to put them on and take them off.
4. Comfort
Both of you and your child need to be comfortable as you might be wearing a baby carrier for hours. And a baby carrier's comfort lies in one point "padding". For the child, there needs to be enough padding almost everywhere except the head. Any part of the child's body that comes into contact with a harness or an adjustment component of the carrier needs to be padded.
However, you cannot put a lot of padding around the head, and here minimal is considered the best option, as the area around the head needs to be breathable and has a good airflow for the child.
When it comes to the parents, the most important parts that need to be comfortable are their backs and shoulders. They do most of the lifting and are always weighed down by the harness and the baby. Therefore, the carrier must ensure their maximum comfortability by adding enough padding around the shoulders and back and by being extremely soft.
Final Thoughts
Not satisfied yet? Still, searching for some recommendations for the best carriers for toddlers? Well, let's get down to them.
If you want the absolute best then go for the LÍLLÉbaby Complete All Seasons SIX-Position 360° Ergonomic Toddler Carrier, while if you need a stroller that grows with your child the BAYBJORN Baby Carrier One 2019 Edition Toddler Carrier is your dream baby carrier for toddlers.
While the Beco Toddler Carrier is a perfect premium picks for parents who can afford it.