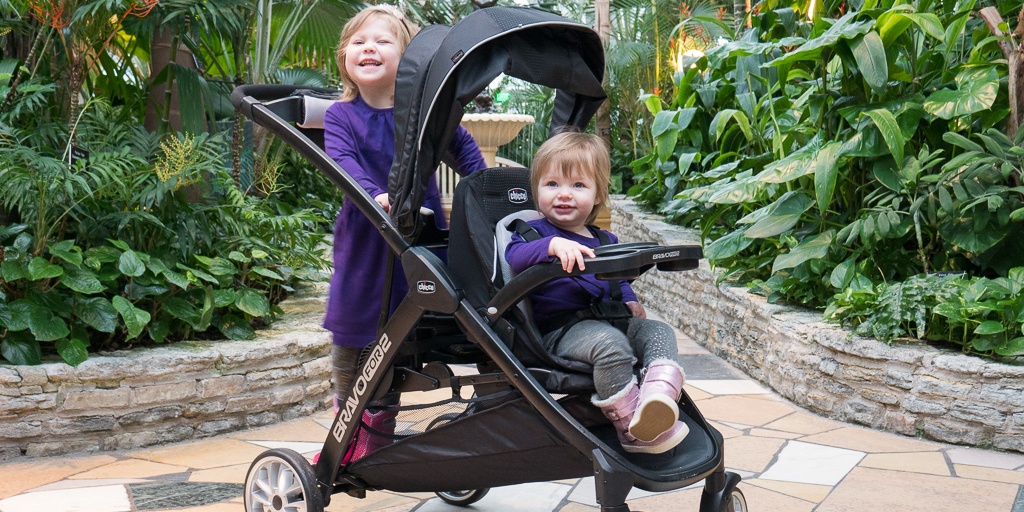 If you have two children with an age gap, then going out on a walk is starting to take a heavy toll. A double stroller won't just cut it anymore as your older child will not fit into the seat. The solution to these problems will be a sit and stand stroller.
What are sit and stand strollers you might ask. They are strollers designed with your comfort in mind. They are a different and unique type of double strollers which have a regular stroller seat for the smaller child and a standing platform or bench for the older one. No longer will you have to push a stroller with one hand and carry your older child with the other as he gets tired of walking or is trailing behind you.
So, an exemplary sit and stand stroller must be comfortable for both the parent and the children, must have safety harnesses for the children as well as many other things that we will know later on. So without further ado, let's get down to the 6 best sit and strollers that will make your life a lot easier.
List of the Best Sit and Stand Strollers:
Our Top Picks:
[table id=12 responsive=flip responsive_breakpoint="phone" /]
The 6 Best Sit and Stand Strollers in 2022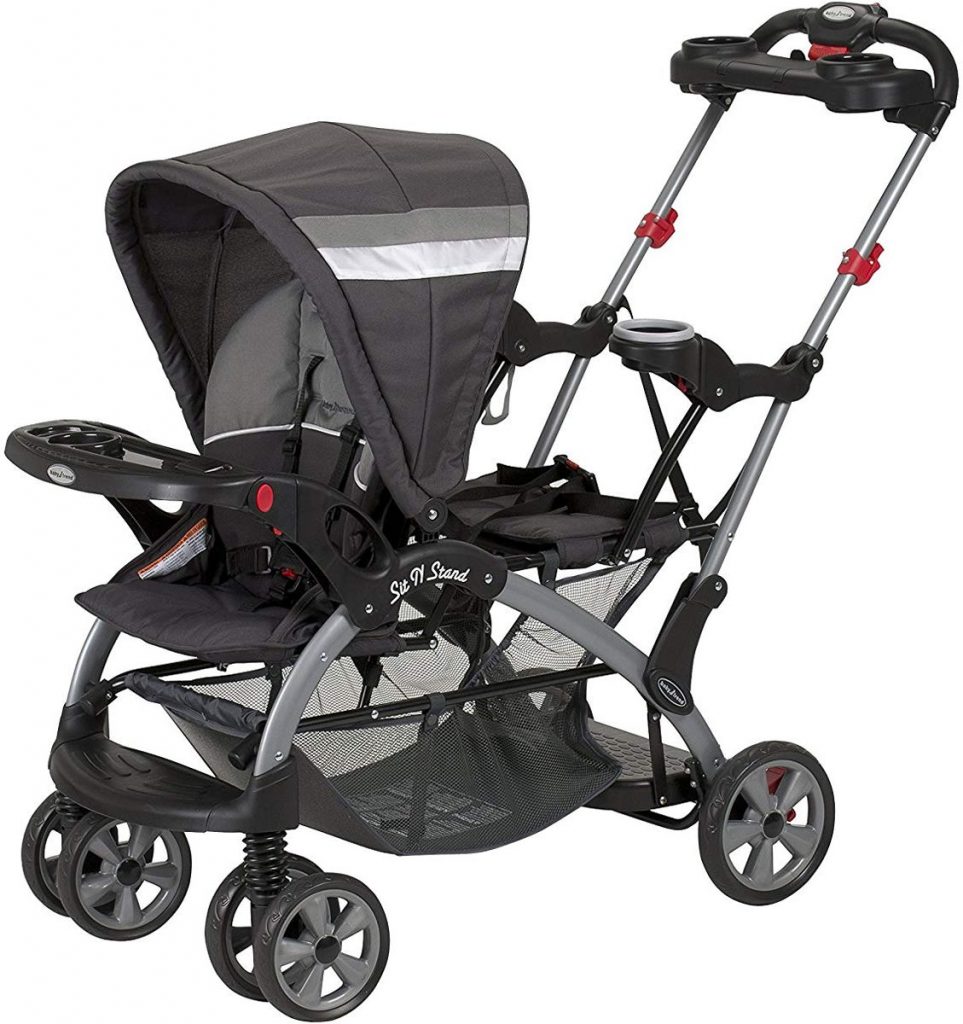 The ultimate sit and stand stroller and the number one option for many parents. The Baby Trend has everything that you might wish for with absolutely no drawbacks.
Baby Trend was the first company that created sit and stand strollers, and they have been tweaking and adjusting their strollers ever since. We really believe that they have reached perfection with this one. The Ultra Tandem is an all-rounder sit and stand stroller.
One of its most prominent features is the fact that you can seat any one of your two children, whether the older or, the smaller one in the back or the front. Having your small one in front of you is favorable, especially when they are very young, as you will need to keep your eyes on them. However, you can change the seating when your two children grow up by making the smaller one sit in front so he can experience the world from his point of view. While the older one rides at the back.
When it comes to safety, there is not much that is safer than this one with its two harnesses; one in the back and one in the front. The rear harness is a 3-point while the front one is a 5-point.
It is also jam-packed with amazing features for the parent and the child. Starting with the spacious storage capacity beneath the seat which allows you to store almost anything from diapers to toys, snacks, and even your shopping. Plus, there are 5 cup holders throughout the whole stroller, which is more than enough. And finally, there is a storage compartment on the handlebar where you can store all your precious items like your keys or your phone within your reach and sight.. The sun canopy is, of course, there to protect your child from the harmful UV lights.
Folding this stroller cannot be easier as you can do it single-handedly without having to apply too much pressure. Also, its dimensions when folded are small as they are 21.5″W x 37″L x 15″H. This means that it can easily fit into your car's trunk, and it will not bother you with its storage.
Finally, this stroller is perfect for parents on a budget. It doesn't cost much as it is one of the cheapest on this list. However, you will be getting massive value for your money with our number one sit and stand stroller.
What We Like:
Versatile
Durable
Spacious storage
What We Do not Like:
Bottom Line
The Baby Trend Sit N Stand Ultra Tandem Stroller is a fantastic sit and stand stroller for all parents. It is durable, lightweight, has spacious storage capacity, and a perfect fit for parents on a budget. You will not go wrong with this one.
2. Joovy Caboose Graphite Stand-On Tandem Stroller – Best Value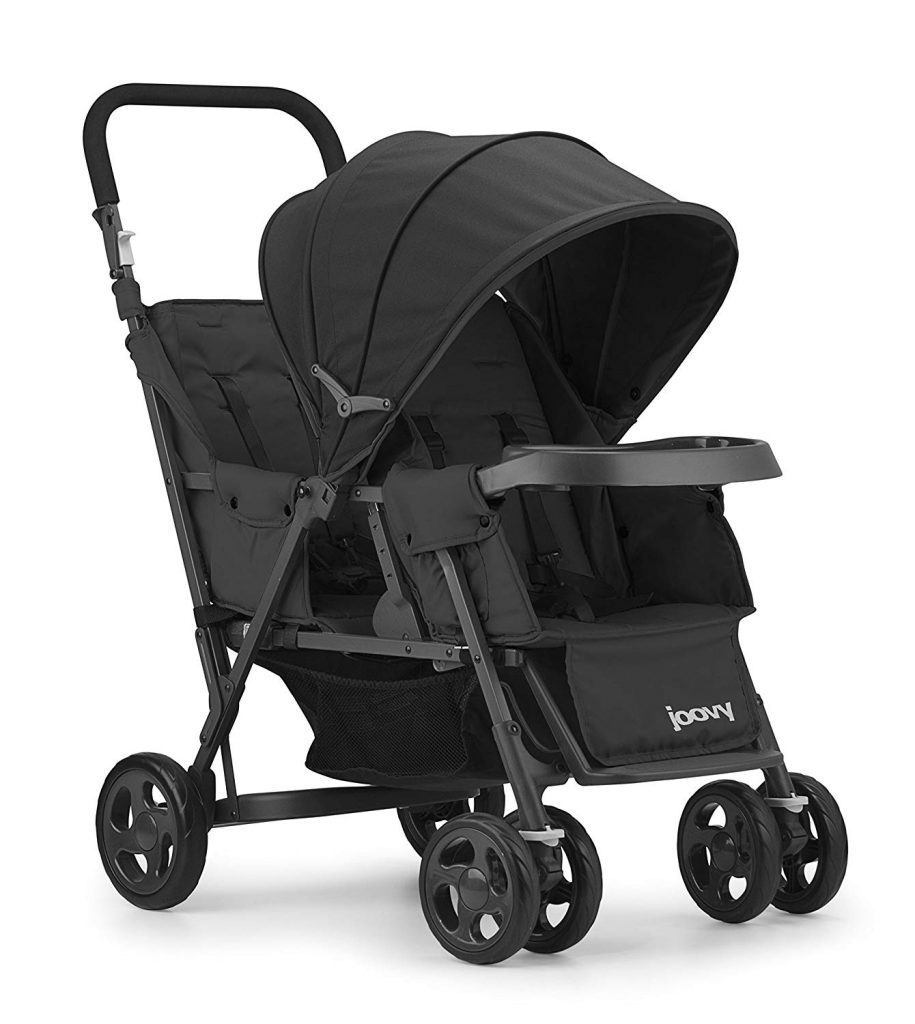 A close second and a fantastic sit and stand stroller. The Joovy Caboose Graphite Stand-On Tandem Stroller is an extraordinary sit and stand stroller which will provide you with incredible value for your money when you buy it.
It comes with a stand-on platform for your older child and a rear bench seat for the younger one. You cannot move the seat from the back to the front like in the Baby Trend Sit N Stand Ultra Tandem. However, when your small child grows and can adequately sit on his own, you can recline the seat to three different positions. But reclining the seat has its side effect, as if your older child likes to sit on the bench seat, he or she will have to lean forward to sit if you want to recline the seat.
The Joovy Caboose has a large storage capacity to store all your belongings as well as a sun canopy to shield your child, and a tray for the front seat.
One of the best things about the Joovy Caboose is its durability. Its frame is made from slimline aluminum. That makes it very sturdy and capable of withstanding long years of usage without any signs of wear and tear.
Also, one of its best selling points is that it comes with a universal car seat. That car seat is compatible with almost all of the major car seat brands. This is an amazing feature as no longer will you have to worry about looking for and buying a compatible car seat. The Joovy Caboose's universal car seat solves this dilemma for you.
The Joovy Caboose is extremely easy to maneuver as it is lightweight. Each wheel has ball bearings and a built-in suspension system that allows you to steer and turn the stroller very smoothly.
Another excellent feature is the presence of a linked braking system that will enable you to effortlessly stop the stroller no matter if your children are sitting or standing.
However, there are some drawbacks to it, like the fact that there is not enough padding, which makes it not suitable for long walks or outings. Plus that it is a bit hard to fold despite being lightweight and compact, you will need to apply a lot of pressure and force to fold it.
What We Like:
Slimline Aluminum Frame
Easy to maneuver
Linked Braking System
What We Do not Like:
Bottom Line
All in all, we now think that you know why the Joovy Caboose provides you with fantastic value. It has everything that a parent with two children might ever dream of having without costing you an arm and a leg.
3. Graco Uno2Duo – Best for Children with Large Age Gaps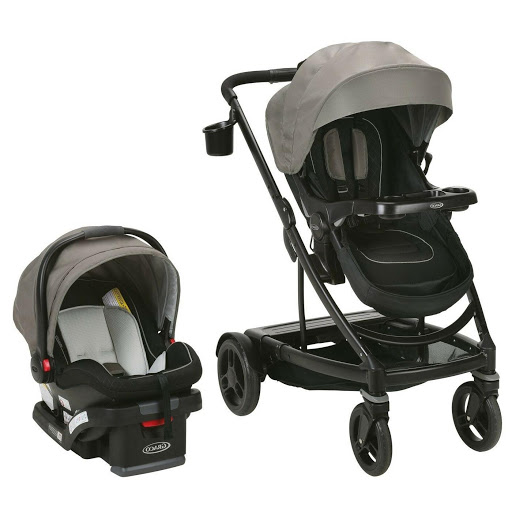 Designed perfectly for growing families. The Graco Uno2Duo will literally grow with your kids.
It is suitable for children with a significant age gap between them because it starts as a single stroller and evolves into a sit and stand stroller whenever you need it to be.
There are 8 different ways of riding this stroller as a sit and stand stroller and 10 as a regular one. This means that it is an extremely versatile stroller that will definitely be useful and efficient.
You can change the position of the infant's seat to be either in the front or the rear according to your liking. This is always considered a great feature.
This stroller is designed with durability in mind. It is made from the strongest of materials to make it last for extensive periods. Plus, its design is excellent and plays a role in its extended life span.
It moves perfectly and has a fantastic wheel lock system that will lock and unlock the wheels effortlessly.
Finally, the Uno2Duo is equipped with all the extra features that you will need, like a storage place, a sun canopy, and a cup holder as well as a holder for your phone.
However, folding it is not the easiest thing to do as it will require some force to do it. Plus, assembling it is tiresome and will take a lot of time and effort to do.
What We Like:
Durable
Amazing wheel lock system
Changeable infant seat's position
What We Do not Like:
Hard to assemble
Hard to fold
Bottom Line
If you are thinking of having kids down the line and want to save up on a sit and stand stroller. The Graco Uno2Duo will be your best option. It is a fantastic stroller that is built to last and will grow with your kid. You will start by using it as a single stroller, and then when you are blessed with your second child, it can easily be turned into a sit and stand stroller for your two children.
4. Baby Jogger City Select Lux – Premium Pick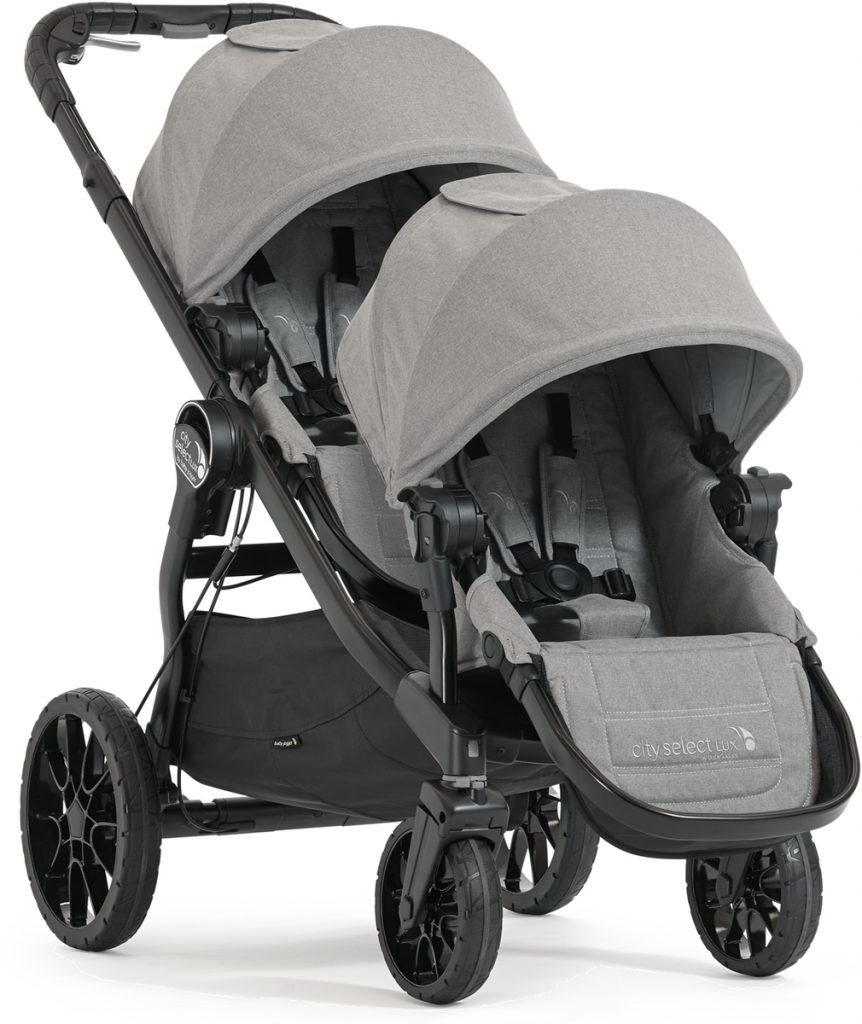 The Baby Jogger City Select Lux is the Lamborghini or Porsche of baby strollers. It looks like a dream and handles like one. A high-end choice for those willing to break the bank to buy a sit and stand stroller.
There are many features that make the City Lix an excellent sit and stand stroller. One of them is the fact that you can decide the sitting place for each child. Want the older child to be sitting up front while the young one is at the rear, you got it. Want the young one to be in the front looking at the world while the older one is safely strapped in front of you , then the City Lix has got you covered. You even have the option of buying a glider board for a third child. Moreover, every single seat on this stroller has harnesses that will protect your child and keep him in his place without too much wobbling.
The Select Lux's original design and concept is for it to be a single stroller that can be converted to a sit and stand stroller. This is one of the reasons behind its fantastic maneuverability.
Besides, it has a fantastic suspension system and hand brake that is hard to use but useful to have.
Finally, it comes with most of the accessories that you will need, like a sun canopy and a storage place. However, you have to buy the bench seat separately.
Unfortunately, there are drawbacks to this stroller. The first of them is its weight, it is the heaviest one on this list. Finally, it's instructions manual states that the stroller's seat should not be used for children below the age of six months.
What We Like:
Multiple seating options
Maneuverable
What We Do not Like:
Heavy
Stroller seat not suitable for children below 6 months
Bottom Line
The Baby Jogger City Select Lux is an excellent pick for parents ready to splurge on a sit and stand stroller as it will have everything they might need. From a unique design to incredible handling and a lot more.
5. Chicco BravoFor2 – Best Maneuverability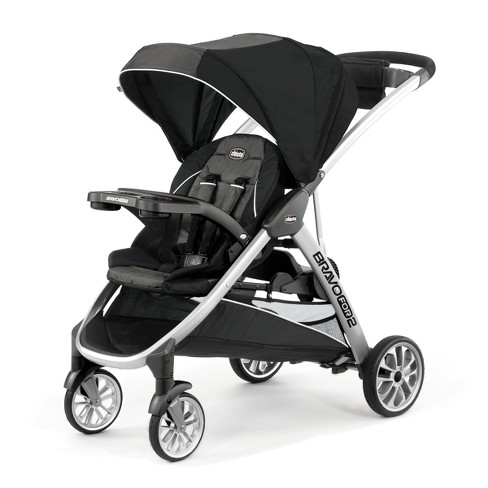 The most comfortable stroller to maneuver and control on this list.
Most double strollers ,which sit and stand strollers stem from, have a terrible reputation when it comes to handling. The BravoFor2 breaks this rule. It is easy to maneuver and comfortable to handle, many parents shared their experiences with handling it, and they couldn't be more satisfied with it.
This stroller has plenty of space for both your children to enjoy. The infant seat will not bother the older child one bit as he can either sit or stand all he/she wants. This makes it perfect for long days where you will need to be outside for most of the time.
It has spacious storage underneath the seat, and there is an amazing addition, where you can fold the bench seat to reach the storage more easily. Of course, there is a sun canopy, cup holders, a pocket for your phone, and even a small back pocket for the toys.
The seat is very secure as it has a 5-point harness that will protect your child and keep him safe all the time. The bench seat has a 3-point harness to protect your older child from falling if you hit a bump in the road.
Plus, it can be folded using one hand only, and although folding it may be a hassle at first, but once you get it, folding the Chicco BravoFor2 will be easy to do.
However, there are still some downsides that you need to know. For example, this is an expensive stroller that will cost you more than the average. Plus, it only accepts Chicco car seats, and finally, its front seat is relatively small, it will perfectly fit a two or three-year-old. However, older children might have a hard time feeling comfortable inside it.
What We Like:
Amazing handling
Safety harnesses
What We Do not Like:
Bottom Line
The Chicco BravoFor2 is a fantastic high-line stroller that has everything a parent might need. However, you will have to pay a bit extra for it, and the front seat will only suit a two or three-year-old.
6. Graco Ready2Grow Click Connect Stand and Ride Stroller – Most Customizable Stroller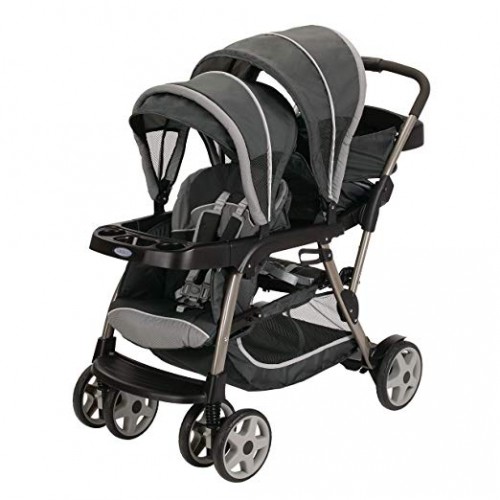 Another entry by Graco, shows their incredible showmanship and outstanding products.
The Ready2Grow by Graco has many seating options; up to 12 of them. You can choose from 2 toddler seats, 2 car seats, a standing seat, or a combination of all the previous. This makes it a fantastic all-around sit and stand stroller.
Talking about the front seat, it has many features. The most prominent one is that it can fully recline into a flat position making it perfect for sleeping babies. Plus, it has its own snack tray and canopy.
While the other seat is probably this stroller's selling point. It is a rear-facing seat. This means that you'll have much-needed facetime with your baby where he will always be looking directly at you.
Also, it has lockable front swivel wheels and an outstanding suspension system. These two make maneuvering it piece of cake.
And of course, it has a spacious storage basket that you can access easily via removing the back bench seat. Moreover, it boasts all the other extras like a removable front child snack tray, a canopy, and a parent snack tray.
Folding it is extremely easy; all you have to do is pull the lever on the handle single-handedly, and it will fold and stand on its own.
Finally, however, there are some drawbacks to it. Like its weight, the Graco Ready2Gro stands at 32.98 pounds, making it the second heaviest sit and stand stroller on this list. This weight makes it hard to carry around, especially when folded.
What We Like:
12 Seating Positions
Lockable front swivel wheels
Rear-facing seat
What We Do not Like:
Bottom Line
The Graco Ready2Grow is a fantastic all-round sit and stand stroller. It is a perfect fit for parents who want to maintain constant contact with their children as the front-facing rear seat provides you with all the face time that you'll need.
How to Pick a Sit and Stand Stroller
Picking a good sit and stand stroller is a daunting task for parents. Especially if it is their first one. However, there is no need to fret as we have gathered some elements and factors for you to consider before buying in the hope of helping you make a better purchase.
1. Safety
This is the first thing that any parent must consider when buying any kind of stroller, let alone a sit and stand stroller, which has all your eggs in one basket. You, as a parent, have to be sure of your children's safety.
Both your children must be strapped snuggly with efficient harnesses. The older kid must be protected from flying out upon hitting a road pump while your younger one ought to be stabilized and protected from constant wobbling as such violent continuous movement can't be good for their health and growth.
When choosing a sit and stand stroller, you must always look for a large number of points in a harness as the more, the merrier. Most sit and stand strollers are equipped with 5-point safety harnesses, while the minimum which you should not settle for anything less than is 3.
2. Design and Quality
These two should always go hand in hand, and you should not compromise one for the other. Sit and stand strollers are mostly designed to be lightweight strollers that possess fantastic quality and durability. This means that some sit and stand strollers can even be passed to other children. That is how durable they are.
Plus, you should always look for a single stroller that is designed to transform into a sit and stand one. They are very convenient as there will definitely come a time when you have to use them as a single stroller and times where you will need them as a sit and stand one. Some strollers provide you with the ability to add a jump seat for your older child to sit in.
Nevertheless, you should always look for a sit and stand stroller that has a high weight capacity, which means that you should not buy a stroller that supports less than 60-70 pounds of weight. Because even if your small child weighs practically nothing at first, the weight of infants tends to at least double in the first few months.
3. Comfort
Comfort for you and your child. You should always look for strollers that are comfortable for both children as well. Comfort for the parent means that you can easily handle the stroller using one hand. Single-handle strollers are much easier to control than double-handles ones. 
Plus, having large storage capacities means practicality for you as no longer will you have to juggle all your and your child's belongings. With large storage capacity, you can store your child's diapers, toys, and even their food in your stroller. Also, having zippered storage places will go a long way for storing all your precious things like car keys and phone.
Moreover, it is always a plus when the stroller has footrests. And it definitely wouldn't hurt if your stroller has cup holders for your and your child's drinks alongside a snack tray.
Ensuring the comfort of both your children while they are in the sit and stand stroller includes different aspects for each one of them. For instance, your younger kid will need. Starting with the younger child, his comfortability lies in the stroller's fabric and its breathability. So when picking a sit and stand stroller, you need to choose a fabric that is very breathable and light and has the right amount of padding. While for the older child, you must be sure that he will have a decent amount of space around him or her while either standing or sitting. However, do not forget to make sure that your child will not only be comfortable but safe as well.
An extra point will be that your stroller must have a sun canopy. A sun canopy shades your children from the sun. Some sun canopies have a peek-a-boo window that allows you to check on your child without having to close the canopy.
4. Cleaning
Children are a mess no matter their age, and when it comes to strollers, they are no different. So you need to pick a stroller that has an easy to clean fabric. As your infants might throw up and your older child will definitely smudge the fabric with their snacks. Some strollers even go the extra mile with having removable fabric that you can just throw into your washing machine, and they will come out brand new.
5. Foldability
Having a foldable stroller is really important. As most of the time, with children, your hands are always busy, so you need a stroller that has an efficient and straightforward folding mechanism.
For example, many strollers can be folded by one hand only and can stand on their own when folded. While some of them have a latch that you can use to carry the stroller in your shoulder after it's folded.
All in all, you need to decide on the type that suits you best, and you also need to know the stroller's dimensions pre and after folding to determine when, and how you will store and whether it will fit into your car trunk or not.
Frequently Asked Questions:
Do Sit and Stand Strollers Recline?
Yes, they do have reclining seats. Yet they do not recline all the way, which makes them unsuitable for newborn babies who cannot sit unassisted. Hence, your best solution will be to wear a baby sling for a short time until your baby can sit up without assistance.
Can You Put a Carseat on a Sit and Stand Stroller?
The answer to that question is yes, however, is it worth it? The answer to that is also yes, as since we've stated before, sit and stand stroller seats don't recline fully. Having a car seat is a must for your child.
What will Your Older Child Hold On to?
This is crucial to the safety of your older child as there needs to be something for them to hold on to while riding the stroller to prevent them from flying off if you hit a bump in the road. Therefore, some sit and stand strollers have designated handles for your child to hold while standing. In all sit and stand strollers, the older child can always hold on to the side of the handlebar, while it is safe, it is not as safe as the designated handles. So finding a sit and stand stroller with designated child handles is always favorable.
Final Thoughts
After all, is said and done, these are the 6 best sit and stand strollers in the market and now that we have known everything about them, let's get down to some recommendations.
If you want the overall best sit and stand stroller, opt for the Baby Trend Sit N Stand Ultra Tandem Stroller, which will give you everything you need and more. The Graco Ready2Grow Click Connect Stand and Ride Stroller is an excellent option for some much needed versatility.
The Graco Uno2Duo, on the other hand, is created for children with a large gap between their ages as it will suit the difference in their sizes.