It's quite tough to find a stroller that's well-equipped, strong, and secure enough to handle two kids. At least without being very massive and heavy. So if you already have two kids or only one but waiting for the second, here are the best cheap double strollers you can get from the options available on the market.
At A Glance:
Comparison Table
As an Amazon Associate I earn from qualifying purchases.
The 6 Best Cheap Double Strollers for 2022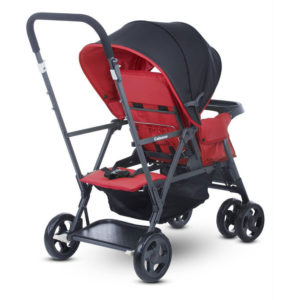 If you have kids of different ages, the Joovy Caboose is an excellent choice for you as it's a top-notch stroller. Rather than a conventional tandem or inline design, the Joovy Caboose is a full-size seat, a bench seat, and foot-board at the back. The younger child sits in the front seat while the older one can sit or stand at the back. This design gives the older child the freedom to hop off and walk along if they get bored of riding in the stroller.
In fact, the Joovy Caboose can be looked at as a single stroller that has enough room for an older child when necessary. The best part is that it's as compact and maneuverable as a single stroller but can hold two. You can even transform it into an inline double stroller for toddlers by adding the rear seat accessory which you can purchase separately.
---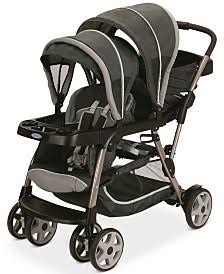 The Graco Modes Duo Double Stroller was designed as a jogging stroller. It's easy to maneuver and employs lockable front swivel wheels with full suspension. Moreover, the safety of your child is a sure thing with the 5-point safety harness on the front seat and a 3-point one on the backbench.
Both seats have a 50-pound weight capacity which is superior to most options on the market. It's also pretty lightweight at 27.18 pounds. The standing child would have extra stability thanks to the riding handles. They can either stay up to enjoy the view or sit comfortably on the padded bench.
On top of that, the canopy stretched over the rear seat to provide shade to both kids as needed. On the other hand, the front seat boasts multiple recline positions, including a completely flat one to allow your baby to sleep. Finally, the Graco Roomfor2 has plenty of convenience features such as one-handed folding. It's also compatible with Click Connect infant car seats.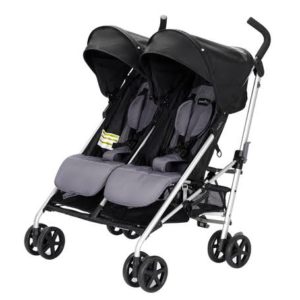 The Evenflo Minno Twin is an excellent stroller. It combines between being lightweight at only 25.4 pounds, compact, and versatile. However, as its name implies, it's best used when your kids are twins or if the age difference, and consequently the weight difference, isn't that noticeable.
Furthermore, the Evenflo Minno Twin comes with two spacious seats that can accommodate kids up to 45 pounds. It's effortless to push and maneuver as the front wheel has suspension for smoother rides. On top of that, you can leave it to swivel if you're moving through tighter spaces. Contrarily, you can also lock it in place to keep a stable pace as you move straight.
---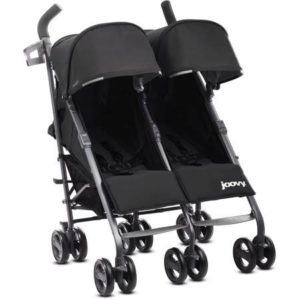 If you're looking for a good stroller, the Joovy Twin Groove can easily be a candidate. From its 50-pound capacity to the two fully-reclining seats and a newborn bassinet mode, it's one of the most versatile choices, and it comes at a suitable price. While it's true that it's the most expensive on the list, it's still pretty cheap compared to many other choices.It can be considered affordable relative to the features it has to offer as well.
The Joovy Twin Groove has padded seats with lateral mesh pockets and reliable 5-point harnesses that keep babies cozy and secure. Moreover, the UPF 50+ canopies provide your kids with enough sun protection while the peek-a-boo windows keep them visible. With its 26-pound lightweight and its compact design, you can easily maneuver it around any crowded area.
It also has a shoulder strap that allows you to carry it when you're relocating or storing it. My favorite convenience features were the auto-fold lock and that it stands upright when it's folded. Finally, with three cup holders, two zippered pockets, and a spacious storage basket beneath the seats, there's plenty of room to carry everything you need with you.
---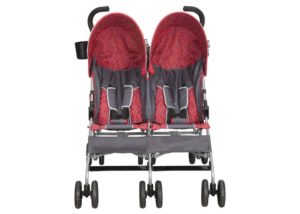 The Delta Children City Street LX is a great stroller. Being an umbrella stroller, it weighs only 18.3 pounds thanks to its lightweight aluminum frame. Moreover, it also has a collapsible design that makes it easy to fold, transport, and store. Both seats offer the same riding experience to the two kids, so no rivalry rises over who gets the better seat. Furthermore, the two seats recline at various angles to meet each kid's needs.
The convenient 360° shock-absorbing front wheels provide a very smooth ride and extended maneuverability on various types of terrain. The Delta Children City Street LX focuses on the parents' convenience as well. It comes with a cup-holder and two large hanging storage backs at the back of each seat. However, it's not compatible with any of the infant seats on the market.
---
---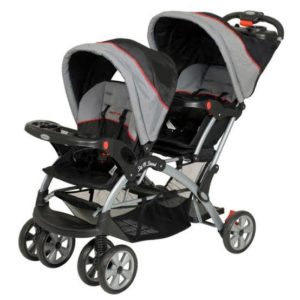 For two siblings close in age, the Baby Trend Sit N Stand Double is a great stroller. It can fit two infant car seats and boasts multiple configurations to provide the parents with flexibility. Moreover, the rear seat is removable to give parents the freedom to use it as a sit and stand stroller or an inline one.
As for the convenience, the Baby Trend Sit N Stand Double is easy to stroll around with, fold, and store. The foot-activated rear brake helps keep the stroller parked securely in place. While it's a rather heavy stroller at 32.5 pounds, its seat capacity stops at 40 pounds. I found that a quite disappointing number.
---
What to Look for in a Cheap Double Stroller?
Just like regular strollers, double ones differ in terms of optional convenience features, safety features, and design. And all of these things can affect your experience with the stroller, so you should know what you need and what you can do without.
Age Difference between Your Children
If your children are twins, there wouldn't be much of a difference in height and weight between the two kids. However, once it gets to a three-year difference, you may be faced with a couple of issues.
You'd need to pay attention to the weight limits and find a stroller that accommodates highly varying weights. Moreover, you can choose a sit and stand stroller if your first child is at an age where sitting in a stroller isn't an option anymore.
The Type of Double Stroller
Double strollers come in three designs to serve various purposes. Consider the place you'll go to with your stroller, your needs, and your children's ages to determine the best style for you.
Tandem (Inline) Double Strollers
This type resembles a bicycle built for two. It's only as wide as a single stroller but is longer as its seats are placed behind each other.
A smart design is the "stadium seating" in which the back seat is elevated above the front one. These are also more likely to have appropriately-sized seats with matching weight limits for toddlers of different ages.
They're easier to push through doors and tighter spaces. However, they're more challenging to fit into compact trunks.
It's also worth mentioning that their seats can have different features which might cause your kids to fight over the better seat.
Side by Side Strollers
These strollers come with two seats right next to each other. Both seats offer the same features, but the stroller itself may be harder to fit through hallways and doorways.
They're a good pick if you want a double jogging stroller but stick with choices whose wheels can handle terrain changes safely.
Modular Strollers
Modular strollers are the ideal choice for growing families. They're more versatile as you can start with a single-seat and then expand to a tandem stroller when you need it.
If you have twins or one child but planning to have more in the future, modular strollers are your best bet.
Wheels
The wheels on your stroller are what will determine the type of terrain you'll be able to traverse. The rougher the ground, the more texture, and heft your wheels should have.
Plastic Tires
If you're going to be hanging indoors on smooth floors such as those of malls, these tires will do the job.
Rubber Tires
Rubber tires are also the right choice for smoother terrains, but the added benefit is that they'll never go flat as they are more durable.
Air-filled (Pneumatic) Tires
These tires are like bike ones. Although there's a little bit of a risk factor when it comes to getting a flat tire, they can handle uneven surfaces well.
Air Wheel with Sealed Ball Bearings
These are the most durable type and are designed to handle all kinds of terrains, including hiking in the mountains.
Note: Remember that the size of the wheels affect the smoothness of your ride. The larger the wheels, the smoother the pushing experience will be.
Safety
Safety features are essential as they determine how securely your child rests in their seat.
So make sure you get a comfortable three or five-point harness that holds your child snuggly but can't be unbuckled by them.
Moreover, get a stroller with reliable brakes. Apart from the standard ones, the addition of one-touch or linked (hand and foot) brakes makes the stroller more convenient.
A locking front wheel that allows you to move in a straight line with stability is another thing you should seek. Furthermore, it should have enough suspension to reduce bumpiness and keep balance.
Convenience and Ease of Use
Some features like one-handed or easy folding can considerably enhance your experience with your stroller.
Additionally, you should get a stroller with a big canopy to protect your child from various weather circumstances such as rain or intense sun. A peek-a-boo to keep your kid visible would be a massive addition to a reliable canopy.
Storage Space
This feature is vital as it's where you'll keep all the essentials –whether yours or your kids'.
Make sure you have enough space to carry diaper bags and purses.
Moreover, cup-holders make it easier to carry drinks and water to keep you and your kids hydrated and refreshed.
Final Thoughts
While the strollers mentioned are all perfect cheap double stroller candidates, I'd recommend certain ones for being better able to combine many features.
For example, the Joovy Caboose Graphite Stand-On Tandem Stroller comes at a very affordable price, adequate capacity, and a compact design, although it's not the lightest.
If you're looking for a lighter model, go for the Evenflo Minno Twin Double Stroller as it's also compact and has the same capacity but a slightly higher price.
While the Joovy Twin Groove Ultralight Umbrella Stroller is the most expensive, it's also the most versatile, durable, has the highest capacity and offers amazing convenience features.
You Can Also Check: