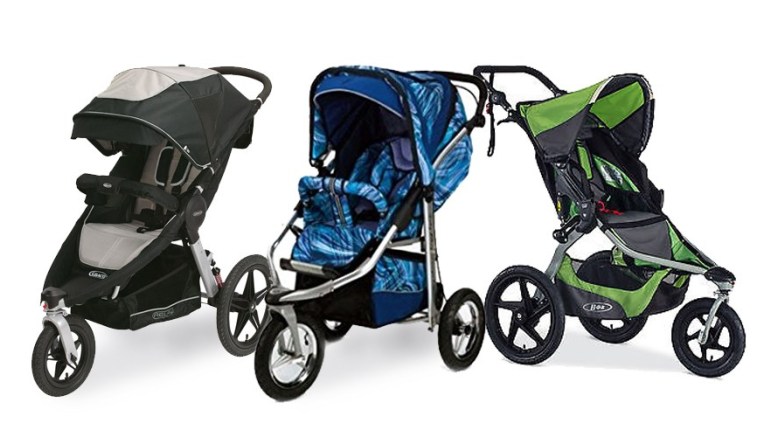 Whether you want to lose some weight after pregnancy and delivery, already had jogging as a hobby before giving birth, or got interested in the idea of jogging with your baby, a good stroller is what you're looking for.
There are numerous options on the market and you may feel like you're not sure which one suits you better. In this article, we'll give you a list of all the best jogging strollers and tell you how to decide on which one to get yourself.
List of The Best Jogging Strollers:
Comparison Table
| Stroller | Price | Dimensions (in) | Weight (lbs) | Capacity (lbs) |
| --- | --- | --- | --- | --- |
| Graco FastAction Fold | CHECK PRICE | 40 x 24 x 42 | 30 | 50 |
| Joovy Zoom 360 Ultralight | CHECK PRICE | 54 x 25 x 46 | 25.9 | 75 |
| BOB Revolution Flex 2.0 | CHECK PRICE | 25.4 x 43 x 44 | 28.5 | 75 |
| Baby Trend Expedition | CHECK PRICE | 47 x 21 x 41 | 23.6 | 50 |
| Baby Jogger 2016 Summit X3 | CHECK PRICE | 15.35 x 25.7 x 34.6 | 28.1 | 75 |
| Thule Urban Glide 2 | CHECK PRICE | 22.8 x 34.3 x 13.4 | 25.3 | 75 |
| BOB Rambler Stroller | CHECK PRICE | 38 x 24.5 x 14 | 25.2 | 75 |
The 7 Best Jogging Strollers in 2021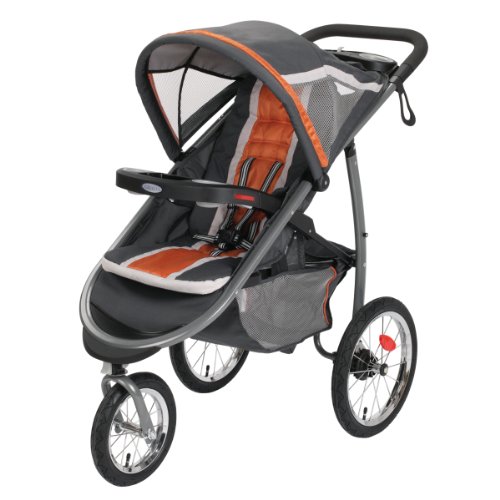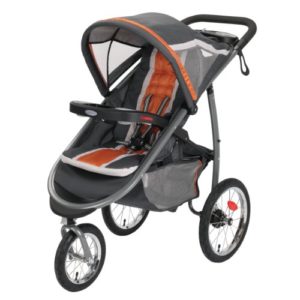 Graco's FastAction Fold Jogger is one of several products in a similar line of baby joggers. It's quite portable and easy to fold and carry around.
Its design also makes it pretty easy to be moved by only one person.
This stroller has a system that combines elements of the traditional stroller with a jogger. So it's very convenient, comfortable, and easy to use.
It also measures 40 x 24 x 42 inches and weighs around 30 pounds.
The Graco FastAction Fold's rubber tires provide the baby with a smooth and comfortable ride and help with maneuverability for the parents during jogging speeds.
They're filled with air to offer solid suspension.
Moreover, the front wheel can be locked or unlocked depending on your needs.
The automatic foldable design gives the parents the freedom to fold the stroller using only one hand if you need to hold the baby in your other hand.
Furthermore, the Graco FastAction Fold is compatible with car seats. It also sends an audible click when it's properly connected.
For the absolute comfort of your baby, the Graco FastAction Fold's multi-position reclining seat is padded well to ensure a smooth ride.
On top of that, it comes with an expandable canopy with a peek-a-boo window as well as a convertible 3 or 5-point harness.
Finally, you get a smartphone cradle to store your phone as well as under-stroller storage where you can keep whatever you need during longer jogs and hikes.
Final Verdict
The Graco FastAction Fold is an affordable all terrain stroller that will provide you with a lot of ergonomics and comfort for your child.
---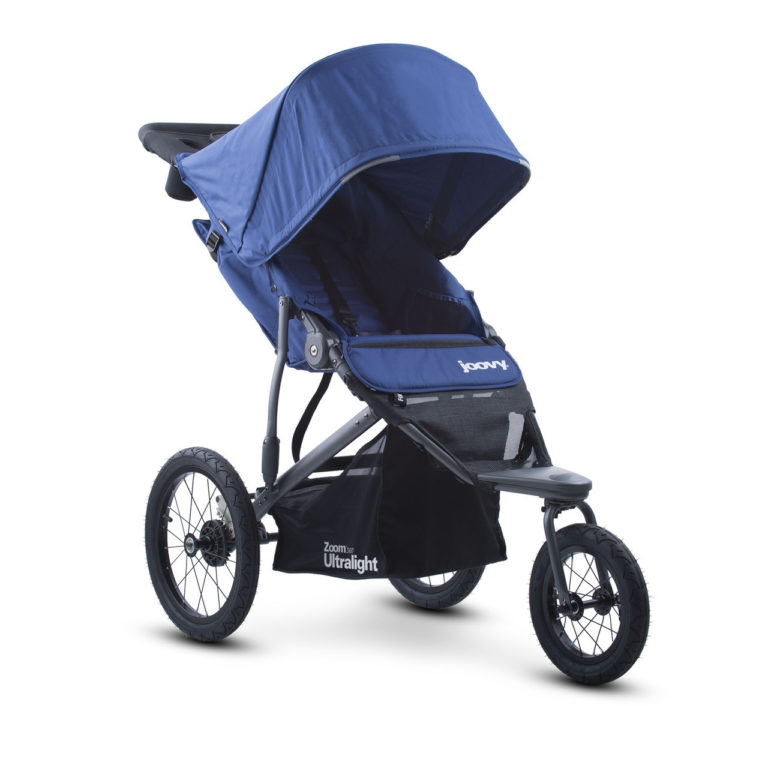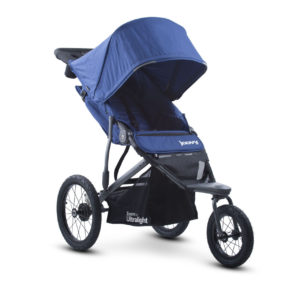 The Joovy Zoom 360 is quite easy to push and slides smoothly on various types of terrain.
The fixed front wheel may restrict some speed in running, but the high handlebar and absence of a rear axle enable the user to take bigger steps.
A little drawback, however, is that the Joovy can roll backward at higher speeds.
Moreover, the Joovy Zoom 360 comes with an effective shock suspension feature that makes the ride comfortable for the child in concrete, mud, and grass.
If you regularly check on the stroller's tire pressure, it will always be well-aligned and hold a straight roll perfectly.
The Joovy Zoom 360 also has quick release 16-inch rear wheels and its 12.5-inch front wheel locks straight.
Furthermore, the Joovy Zoom 360 is quite a sturdy stroller and can last around 3 years with heavy use.
Although the handle is not adjustable, it's quite high at 42 inches. Combine that with having no axle between the rear wheels and you get the maximum stride and absolute comfort for taller parents.
As for the ergonomics, the Joovy Zoom 360 comes with a foamy and well-cushioned handlebar grip.
All-in-all, it's a great choice for a stroller. Unless you're going to use it in an area with a lot of hills or downward-sloping terrain as it lacks handbrakes.
The good balance, parking brakes, and running leash are good enough for safety in mostly flat areas.
Final Verdict
The Joovy Zoom 360 is a great infant stroller of high quality for various kinds of terrain including off-road trips, woods, and beaches.
---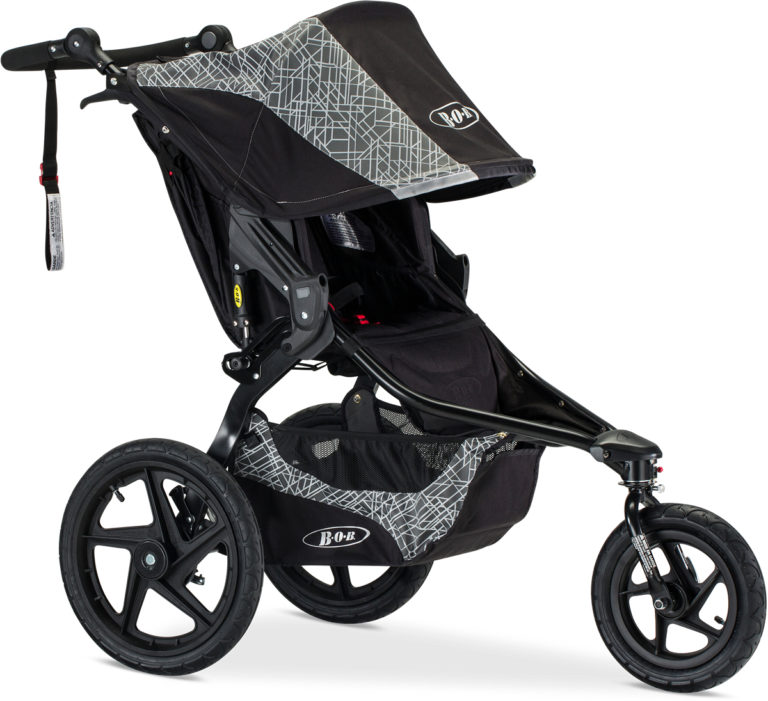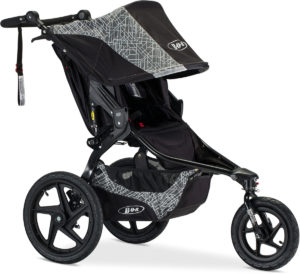 The BOB Revolution Flex 2.0 comes with a swiveling-locking front wheel that enables the user to maneuver the tightest of turns.
It also locks forward for maximum stability on rough and uneven terrains. The high-impact, air-filled polymer wheels maximize the smoothness of the rides even more.
With a simple squeeze of a button, you can one-handedly recline the seat to provide your child with extra comfort.
On top of that, the seat is equipped with ultra padding, ventilation, and a five-point harness that keeps your child secure and cozy.
The BOB Revolution Flex 2.0 offers great ergonomics with an adjustable padded handlebar with 9 positions that suit a parent of any height.
You can easily fold it in 2 steps and easily transport it and store it.
Moreover, the state-of-art suspension system gives you 3 inches of travel and the 2-stage weight support for the smoothest rides possible.
You can store all you need in the integrated pockets and large Low Boy Cargo Basket that offers 15% more storage space than the average compartment.
Furthermore, the front and back wheels can be detached or attached to the improved quick-release design.
When you stop the stroller, it remains locked in position thanks to its foot-activated parking brake.
Finally, the wrist strap ensures safety when running and has a buckle to lock the stroller closed when you fold it.
Final Verdict
If you're looking for a stroller for runners, the BOB Revolution Flex 2.0 Jogging Stroller should suit you just fine.
With an ability to handle all kinds of terrain and its silk smooth mobility, it's the ideal stroller for fast-paced running.
---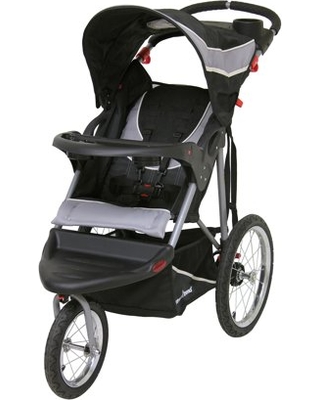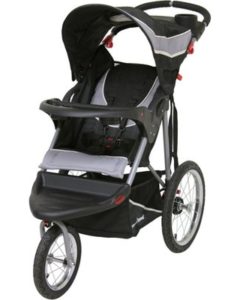 The reliable Baby Trend Expedition comes with a steel frame, flex at the hinge point, and plastic connectors at the folds.
And although it's quite durable, its fabric is a little rough and it doesn't have shock absorption. So it may not be as comfortable and smooth of a ride for your child as other options on the market.
Moreover, the metal-based wheels, the rubber bands with smooth treads, and the swiveling front wheel are great for navigation and making tight turns.
The front wheel can also be locked in place to keep the stroller moving in a straight line during long marathons and runs.
Although the handlebar is not adjustable, it's quite solid and makes the stroller responsive to pushing and turning.
At only 23.6 pounds, the Baby Trend Expedition is lighter than the average stroller on the market but can still fit a 50-pound child.
Its lightweight design allows you to store it easily. The folding system consists of the two-handed fold design and manual fold lock.
Your child's safety is ensured with the 5-point safety harness while your comfort is ensured with the cup-holders and storage compartment that can fit items up to 5 pounds.
The fact that the stroller fits a Baby Trend car seat means that your child can grow into it and consequently, you get extended durability and usability.
Final Verdict
The Baby Trend Expedition is a budget-friendly stroller that will give you a great bang for your buck. However, it may not be the best-suited option for high-speed runners.
---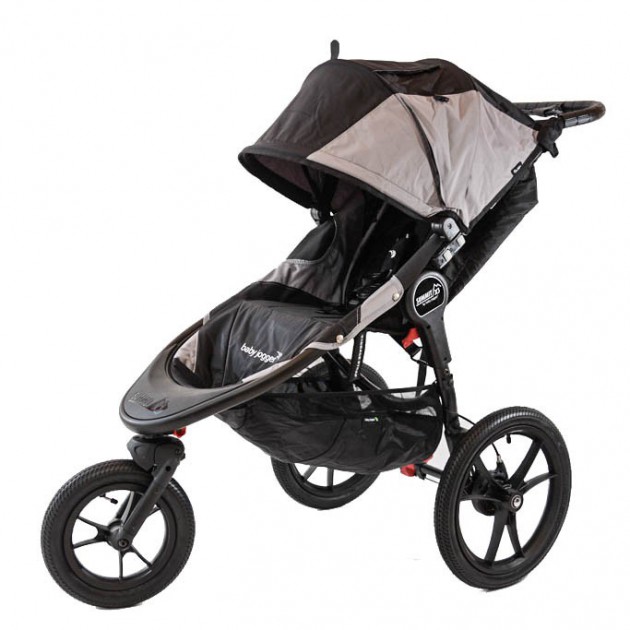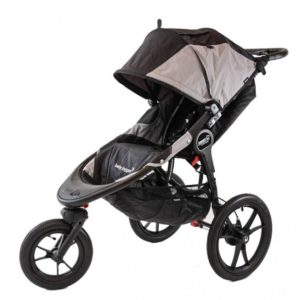 Easy to assemble and requires no tools, the Baby Jogger Summit X3 provides you with comfort from the moment you get your hands on it.
There wouldn't be a need for you to stop and bend to lock or unlock the swivel wheel as the lock is conveniently located on the handlebar. Although holding down the handbrakes one-handedly may take some practice.
Moreover, the large canopy is adjustable and comes with airflow vents on both sides to maximize the airflow.
The seat also has a high degree of breathability and can be set to an almost flat position to provide your child with more comfort during longer jogs or runs.
On top of that, the folds almost completely flat with the quick fold technology that makes it easy to carry around and store.
The incredible aspect about the Baby Jogger Summit X3 is that it's easy to push even on stairs thanks to its lightweight design, its shock-resistant, and suspension features.
You can use it with a compatible car seat adapter (separately purchased) to extend the usability of the jogger.
Final Verdict
With a huge canopy, a roomy seat, adjustable tracking, spacious basket, and all-wheel suspension, the Baby Jogger Summit X3 is an ideal stroller with a car seat to take your child on all your outdoor adventures.
---
6. Thule Urban Glide 2 – Best Lightweight Jogging Stroller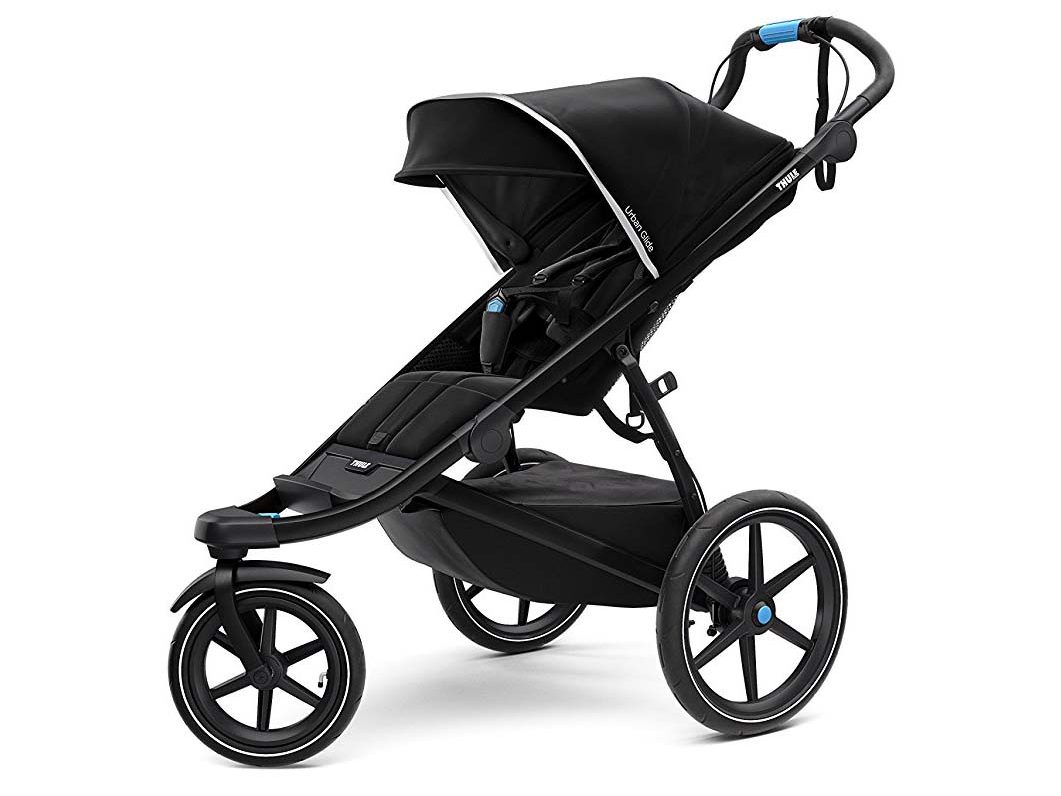 This stroller weighs only 25 pounds and can carry children of up to 75 pounds –a superior combination that you won't find on any of the competition.
One of the most impressive features on the Thule Urban Glide 2 Stroller is its canopy.
It provides your kid with protection from the sun, has two large panels, and a pop-out sun visor that you can store away when not needed.
The zipped-in mesh panel gives the canopy more expandability and provides enhanced air circulation.
Moreover, the peek-a-boo window lets you keep an eye on your child and has a magnetic close instead of the noisy velcro one.
From the ground up, the handlebar can be adjusted from 39 inches and up to 45 inches so it suits parents of all heights.
Handling the Thule Urban Glide 2 Stroller is quite easy with the twist hand brakes that you can use to slow down or stop the stroller. This feature makes it the ideal choice for those who jog downhills and sloping surfaces.
Moreover, the Thule Urban Glide 2 Stroller comes with an adjustable 5-point harness with two small release buttons that make buckling your child up quite easy.
Furthermore, there are a lot of places where you and your child can store whatever items you need during your walks or jogs including a large basket, a parent storage pocket, and seat pockets.
Final Verdict
Although the Thule Urban Glide 2 Jogging Stroller is more expensive than most options that you'll find on the market, its price is justified with its top-quality build material and durability.
If you're looking for a jogging stroller that'll last, it will definitely live up to your expectations.
---
7. BOB Gear Rambler – Best Compact Jogging Stroller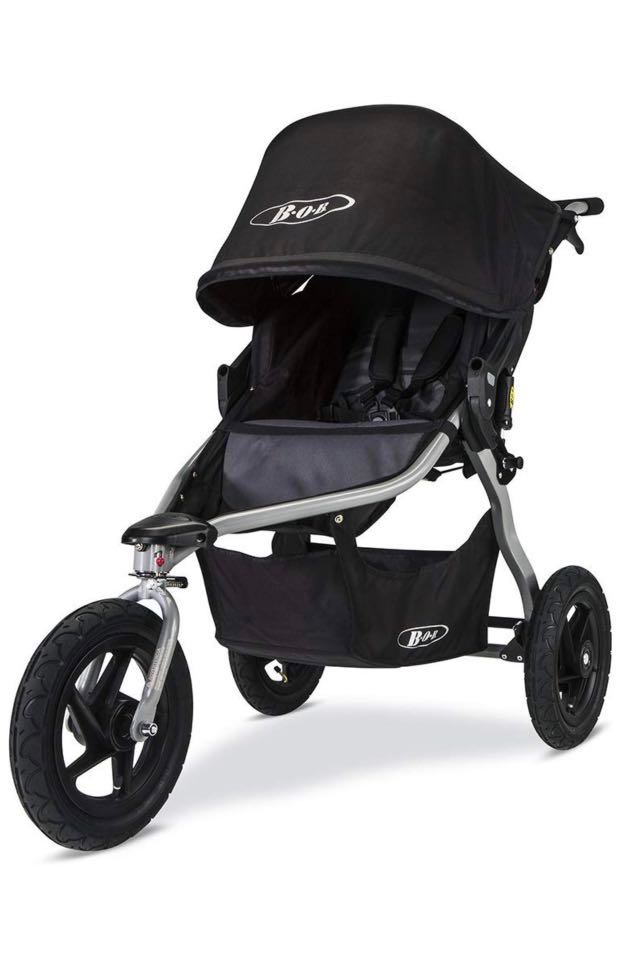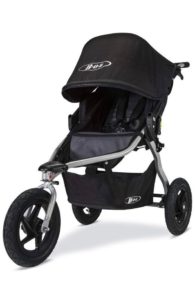 The two sizeable SPF 50+ panels on the large canopy provide your child with enough shade and protection from harmful UV rays.
There's also a plastic peek-a-boo window that provides you with visibility and your child with air ventilation and breathability.
The BOB Rambler Stroller has a spacious seat with a deep recline feature.
You can easily adjust it one-handedly with the strap.
Moreover, it can accommodate children up until they're 75 pounds. It also has a large mesh window that provides your child with additional air-flow.
Moreover, its high-quality padding is thick and easy to wash.
With large 12-inch high-impact polymer wheels, your child is guaranteed a smooth ride no matter the terrain you're jogging or walking on. It'll take on gravel, dirt trails, sandy beaches, and even snow.
On top of that, they swivel but can also be locked for more stability on tough terrain.
As for the storage spaces, you'll get an easily-accessible under-seat basket and a big zipper pocket in the bag. This is convenient for storing both large items such as diaper bags or smaller items like keys and snacks.
Final Verdict
The BOB Gear Rambler is a great stroller that will serve you well during moving around and traveling.
It provides you with great value for its price as it's reasonably priced and has many great features.
---
What is a jogging stroller?
The main difference between a traditional stroller and a jogging one is that the latter is safer for taking on more terrains at a high speed.
This is because jogging strollers come with shock-absorption features and more solid suspension.
Where a traditional stroller will lack the ability to navigate smoothly, a jogging one will glide and provide your child with security. This includes road bumps, curbs, uneven sidewalks, and non-paved areas.
What features to look for in a jogging stroller?
Different models on the market offer varying degrees of stability, portability, and versatility. However, there are some minimum requirements that you shouldn't overlook.
· Locking Front Wheel
To keep your stroller on a straight path on rougher terrain, you should find one with a front-wheel lock.
It's also a huge bonus if this lock can be adjusted to allow the wheel to swivel for further maneuverability on smoother ground.
· Safety Leash
This leash wraps around your wrist from one end and is attached to the stroller from the other.
It guarantees that even if your hand slips from the handlebar, your stroller won't stray away.
· Parking Brakes
While there could be different braking systems on a jogging stroller, you should never settle for one that doesn't have parking brakes.
These brakes help you bring your stroller to a smooth stop and are very important for the safety of your child.
· Five-point harness
Most strollers will have this feature which works on keeping your child secure and buckled tight in place.
· Canopy
The bigger the canopy on your stroller, the better your child will be protected from the sun and its harmful UV rays.
A nice addition is the built-in peek-a-boo window that enables you to keep an eye on your kid at all times.
· Reclining Seat
A reclining seat that gives your child comfort will also help them sleep with the motion accompanying your jogs.
To keep your kid feeling good and positive about your jogs and runs, make sure the stroller comes with this feature.
At what age can you sit your kids on a jogging stroller?
It depends on the size of the stroller's seat and how the buckle is secured.
Some can fit 3-month babies, but waiting until your child is at least 6 months old is the safer choice.
This is because, at 6 months, the child will have more control over their head and neck positions.
Final Thoughts
The strollers we've mentioned are the best jogging strollers you'll find on the market as they meet the minimum requirements and even more.
While the Thule Urban Glide 2 Jogging Stroller is a rather expensive choice, it provides you with durability that is superior to any of the others as it's made of high-quality parts and materials.
If you're looking for something more affordable but still of high-quality, the BOB Rambler Jogging Stroller and the Baby Jogger 2016 Summit X3 Single Jogging Stroller are great choices.
The most affordable ones are the Baby Trend Expedition Jogger Stroller and the Graco FastAction Fold Jogger Stroller. Although the former is a lot more portable than the latter. In fact, it's the most portable on the list.
The Joovy Zoom 360 Ultralight Jogging Stroller is one of the most compact and lightweight options which comes at a very reasonable price.