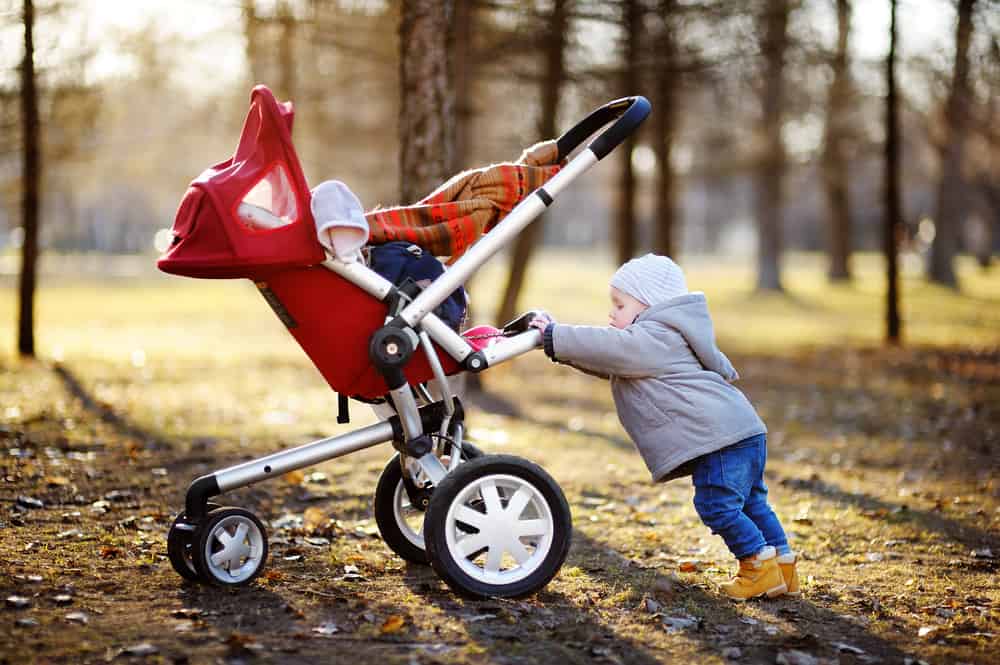 As the earth grows older, the life of its inhabitants becomes busier and busier by the minute. Multitasking is a must, and having a baby around is no easy task. That's why a baby stroller is one of the most significant decisions/investments parents need to make.
Just like any product in the market, strollers have evolved over the years. The market today offers six different types of strollers. Each one is designed to fit a part of your day.
See Also:
General Benefits Offered by Any Stroller
Transportation
Trying to deal with the chaos of our everyday life is tedious enough. Imagine having to run through all your daily tasks with a baby on your arm.
Strollers allow you to travel around while both your arms are free. Rather than being exhausted by the weight of your baby, a baby stroller turns this time into quality time spent with your baby outside.
A walk in the park, in the fresh air, can do wonders for your and your baby's health. Also, the stability of a stroller allows for calmness and tranquillity for your baby, in contrast to the constant rocking that your arms allow. Everybody knows that fussy babies are no fun.
Greater Comfort
As your baby gets heavier, carrying him around becomes harder and harder. Still, as a mother, you'll always want your child near you and under your scrutinizing gaze. This versatile product can be easily folded, locked, and stored anywhere.
Also, as your baby grows, their posture and alignment will change. At first, they need to lie down, then sit semi-reclined, and by the age of three, they will fully sit up. Throughout these developments, they need to be comfortably supported. The padding of strollers is specifically designed to fit their growth curve.
Another thought is that strollers are fairly easy to use. You don't need training or any sort of preparation to drive your baby around.
Many modern features are added to advanced baby strollers to make them more comfortable for kids and their parents. They typically involve the trouble-free and efficient locking systems that enable you to lock and unlock the stroller's wheel quickly and effortlessly.
A Long-Lasting Investment
Strollers, along with the majority of other baby products, are designed to last. They continuously undergo strict safety exams to make sure that they are safe for your baby. Some can even go from parents to children.
A moderately-priced stroller can comfortably house all your kids throughout different years/ages. Some types are even designed to carry more than one baby at a time, all for your convenience.
Storage
The size of your baby is inversely proportional to the number of things that he needs. Diapers, blankets, swaddles, bottles, etc…. Walking around with a billion bags to carry all of this is simply irrational. Strollers allow you to house all of your baby's needs in a compact space.
Safety
The number one feature that every parent must look for when purchasing a stroller is the safety measures offered with it. With a comfortable seat, a canopy, seat adjustment, quality wheels, etc.
Depending on the model and type, your stroller can come with various options. Still, some are quite essential and must prioritize every parent's search for a stroller.
Footrests
When checking this feature, its best to go for single/connected footrest. This will eliminate the risk of trapped little feet. Such an accident can cause extreme pinching and can be dangerous if gone unnoticed for a long time.
Although this feature is designed for older kids, you might as well invest in it from the very beginning to save yourself the trouble in the future. A few more things to check while we are on this topic are the arm and hand areas to ensure their safety.
Stroller brakes
The braking system in the child's stroller for any given age is also crucial. It determines the stability of the stroller, whether it's parked or moving. Although strollers are easy to maneuver to any parent, the locking/unlocking system must be impossible to toggle to the baby, whether by accident or by design.
Safety harnesses
Keeping your child stable while moving around is a must. That's the job of safety harnesses. There are different types with different configurations and outlines; choose what works best for you and your baby.
Your baby shouldn't be able to free himself from the harness; still, he should be allowed a little movement to prevent soreness. As your baby grows, you should always alter the harnesses to fit his body.
Storage pockets, under-seat baskets, straps, latch connectors, mesh ventilation windows, and several other features, make great additions to the efficiency and usability of baby strollers. Many baby strollers feature side impact protection systems that offer protection to your young ones from every possible side. They also protect them from harsh ultraviolet rays and other environmental factors.
Type/Benefit Relation
Full-Sized Stroller
This one will efficiently carry your baby through all his stroller years. It's very well padded for extreme comfort and riddled with options of recline.
It's expandable with vast space for storage both for you and the baby as it mostly has a snack/cup holder. It comes with very sturdy tires that are perfect for bumpy rides, and it has the option of being converted into a travel system by latching a car seat on it.
Light-weight/Umbrella Stroller.
Although designed for slightly older kids, this one comes with a multitude of gains. It's very light-weight, sometimes it even comes with a shoulder strap. It's effortless to fold and maneuver in tight places like buses and airplanes. It also comes with options of recline and a snack/cup holder.
Jogging Stroller.
The three key features of this stroller are a handbrake, a wrist strap, and a five-point harness. Also, it comes with a single wheel at the front, which can be fixed for stability at higher speeds or left to swivel for flexibility. This one also provides different levels of recline and has the ability to house a car seat.
This one is a lifesaver in case of consecutive kids or twins. There are also triple and quadruple strollers in the market, allowing you to travel with all kids and your free arms. Children can be placed side by side or one behind the other.
Car-Seat Carrier.
Very lightweight and very well padded to ensure your baby's comfort in the car. They are specifically designed for each and every stage that your child goes through.
Travel System.
First of all, this choice is on point economically; buying the whole system is much cheaper than buying a stroller individually and a car seat individually. It helps you move your baby to and from the stroller without waking him up, which means less fuss.