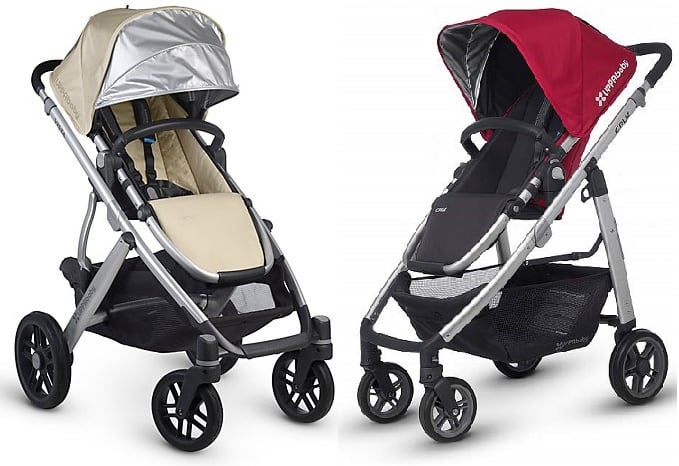 If you're shopping for top-notch strollers, UPPAbaby Cruz and Vista strollers will definitely catch your eye.
And these two options are hard to choose from as they're both quite fantastic. But you can use the subtle differences in features and uses to decide which one of them will suit your needs better.
See Also:
UPPAbaby Cruz vs. Vista – Comparison Table
| Stroller | UPPAbaby Cruz | UPPAbaby Vista |
| --- | --- | --- |
| Price | CHECK PRICE | CHECK PRICE |
| Wheels (in) | Front 6.4, Back 8.5 | Front 8, Back 11.5 |
| Dimensions | 37″L x 22.3″W x 40.5″H | 36″L x 25.7″W x 39.5″H |
| Weight (lbs) | 21.5 | 26.6 |
| Basket weight limit (lbs) | 25 | 30 |
| PiggyBack Option | Yes | Yes |
| Mesa Car Seat Option | Yes | Yes |
| Rumble Seat Option | No | Yes |
| Bassinet Option | Yes (all model years) | Yes (2015 – LATER) |
| Seating | Up to 2 Children | Up to 3 Children |
Price
One of the most remarkable differences between the Cruz and Vista is the price. The Vista is a few hundred dollars more expensive as it comes with a lot of extra features, including a bassinet.
However, for someone who's not looking for a stroller that fits two children, the Cruz would be the better option.
Seating Options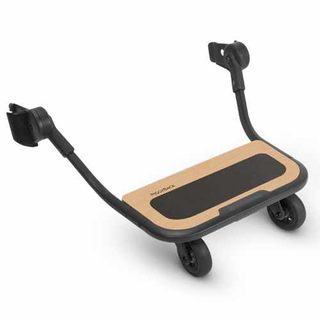 The Vista comes with various seating options as it accommodates two babies to fit larger families. You can also add a toddler if you grab the UPPAbaby Vista PiggyBack Ride-Along Board.
It also allows you to use the compatible UPPAbaby Mesa Car Seat if you choose to delay using the toddler seat until your child is older.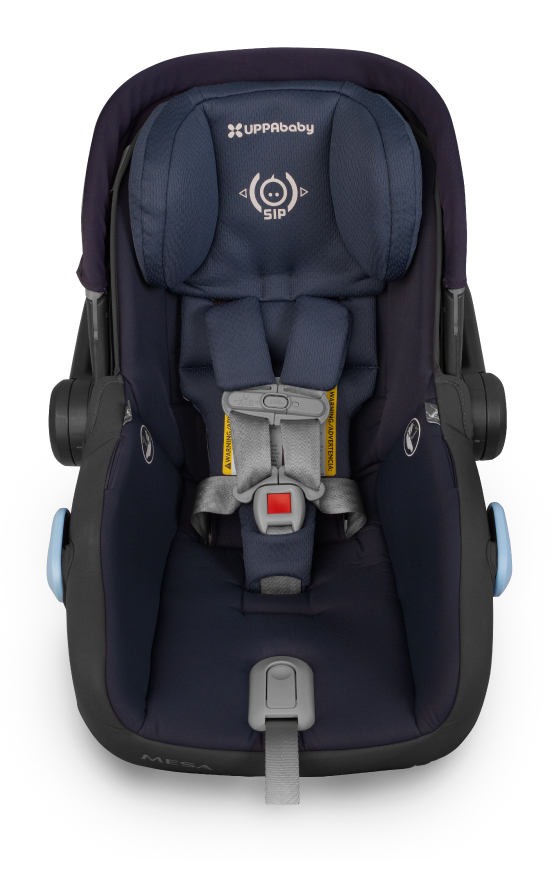 ---
What's more, it can be used in various ways to suit each family's needs.
However, it does become even more costly if you decide to add another child as you'll have to use an adapter and a rumble seat.
But other than that, the seating plan can be very flexible with the mixture of rumble seats, car seats, and bassinets.
The Cruz, on the other hand, has practical configuration. It allows you to position the seat facing forward or toward the parent -according to the child's preference. It also comes with adjustable recline options, footrest options, and can be paired with an infant car seat or bassinet.
Moreover, its bassinet is approved for overnight sleeping and provides safety and comfort for your baby.
Tires and Wheels
Another huge difference between the UPPAbaby Cruz and Vista is the tires on either stroller.
The Vista is equipped with larger 8-inch polyurethane front tires and 11.5-inch back ones. All the wheels have suspension for better maneuverability.
On the other hand, the Cruz comes with smaller 6.4-inch polyurethane front tires and 8.5-inch back ones. Also, only the front wheel have suspension, so bumpy roads would probably bother your little one.
If you're going to traverse smooth terrains such as shopping malls or well-paved paths in parks, the Cruz would be a good option.
However, if you go onto rougher terrain and need to have better control over your stroller's directions, go for the Vista.
Size and Weight
The size of the stroller makes a world's difference in how easy it is to handle and deal with. From storing it in your garage and fitting it in your trunk to managing to walk through crowds, stores, or smaller places.
Stroller Dimensions:
Vista – 36″L x 25.7″W x 39.5″H.
Cruz – 37″L x 22.3″W x 40.5″H.
Folded Dimensions:
Vista – 17.3″L x 25.7″W x 33″H.
Cruz – 17″L x 22.3″W x 36″H.
Weight:
Vista – 26.6 pounds.
Cruz – 21.5 pounds.
It's quite obvious that the Cruz is a lot more compact and lightweight than the Vista.
And while UPPAbaby Cruz and Vista strollers come with ample storage baskets, the Vista's is considerably bigger. You can fit the diaper bag and some shopping bags in either basket, but the Vista's can also hold a boot-size shoebox or an equivalently bulky item.
Vista basket – 30 lb limit
Cruz basket – 25 lb limit
As for how much weight the car seat can handle, both strollers can accommodate a baby or a toddler up to 50 pounds (per seat). However, the Vista does have an advantage with its bassinet that holds up to 30 pounds.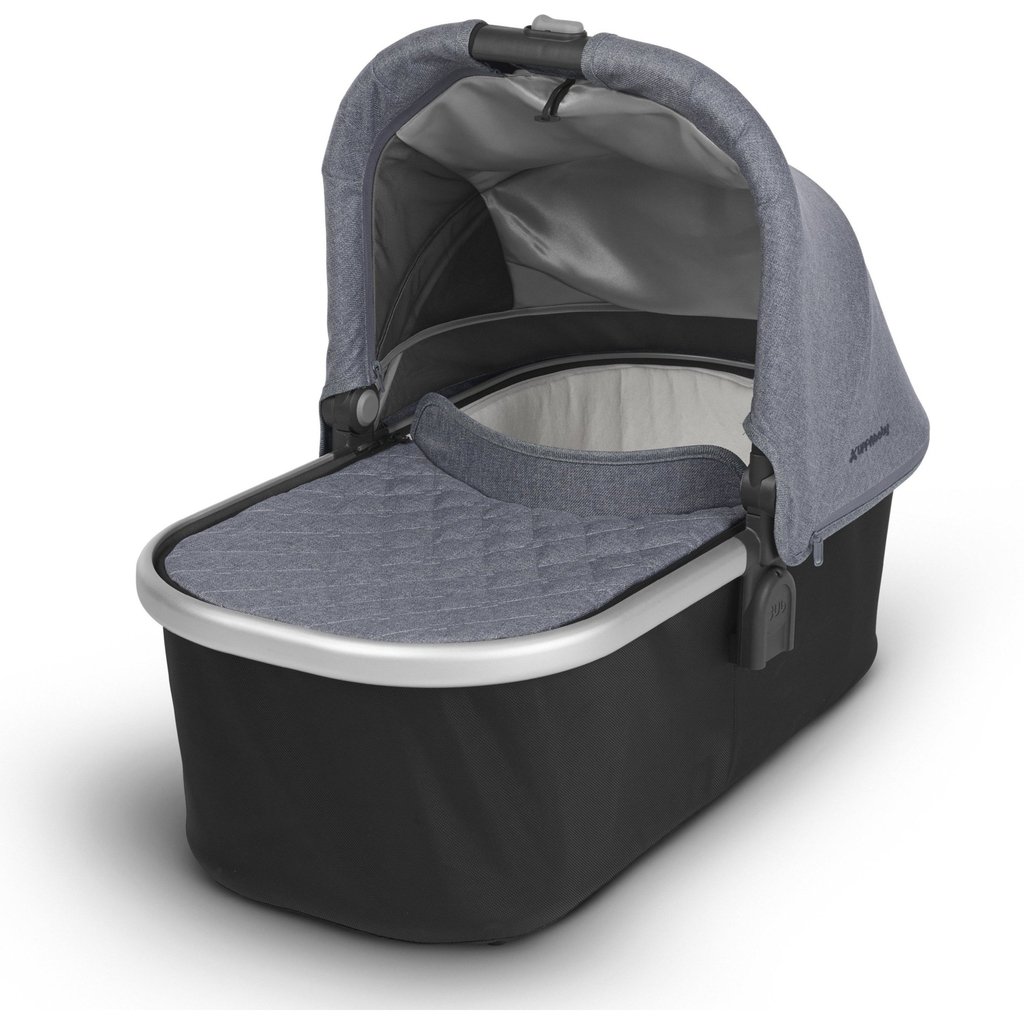 ---
Advantages that Both Strollers Have
Foldability
Both the Cruz and Vista are easy to fold and can even stand unsupported in the folded mode.
You simply have to lock the wheels, pull up the handlebar, and then pull the two side triggers. The footrest also folds down.
As for the Vista, the second seat has to be removed before folding. Moreover, if you have the bassinet, the Vista will not fold down and will take up more storage space.
To unfold, push in the side trigger and pull up on the handlebars.
Car Seat Compatibility
If you're using the UPPAbaby Mesa car seat, you wouldn't need to use an adapter.
But you can use other compatible car seats such as the Chicco KeyFit, KeyFit 30, Maxi-Cosi seats, Peg-Perego, Cybex, and Pippa.
However, you'd need to use an adapter with any of these options.
Seat Function and Safety
You can switch the seat on either stroller to face you –the parent- or to face forward.
Both car seats can recline to a full 180-degree position and anywhere in-between using only one hand –a convenient addition to both you and your child.
The canopy works on protecting your kid from UV rays and can telescope down for easy sun protection.
What's more, there's an inner grey sunshade that you can pull down for extra protection on sunny days.
But that doesn't mean you'll lose visibility of your baby as there's a peek-a-boo window that you can look through to check on them.
Finally, the 5-point adjustable harness on both strollers keeps your baby secure in their seat. It keeps comfort in mind with the padded shoulder straps.
Handlebars and Brakes
The adjustable handlebars make the strollers suitable for both short and tall parents alike.
Some of the handlebar colors also come with leather covers to extend durability and comfort.
Moreover, both Cruz and Vista strollers come with back foot brakes to give you better control over the stopping and going of the stroller.
What's Included with the Purchase?
With the UPPAbaby Vista, you'll get the following: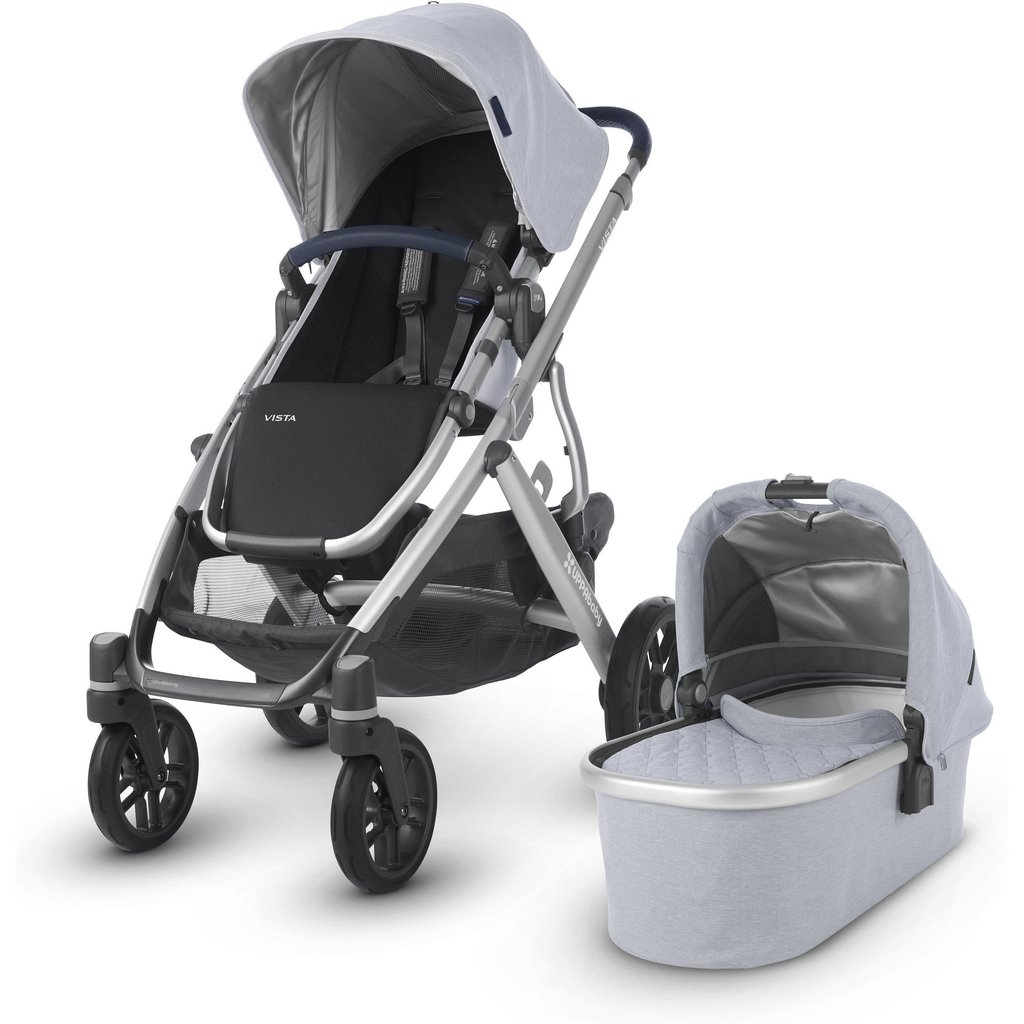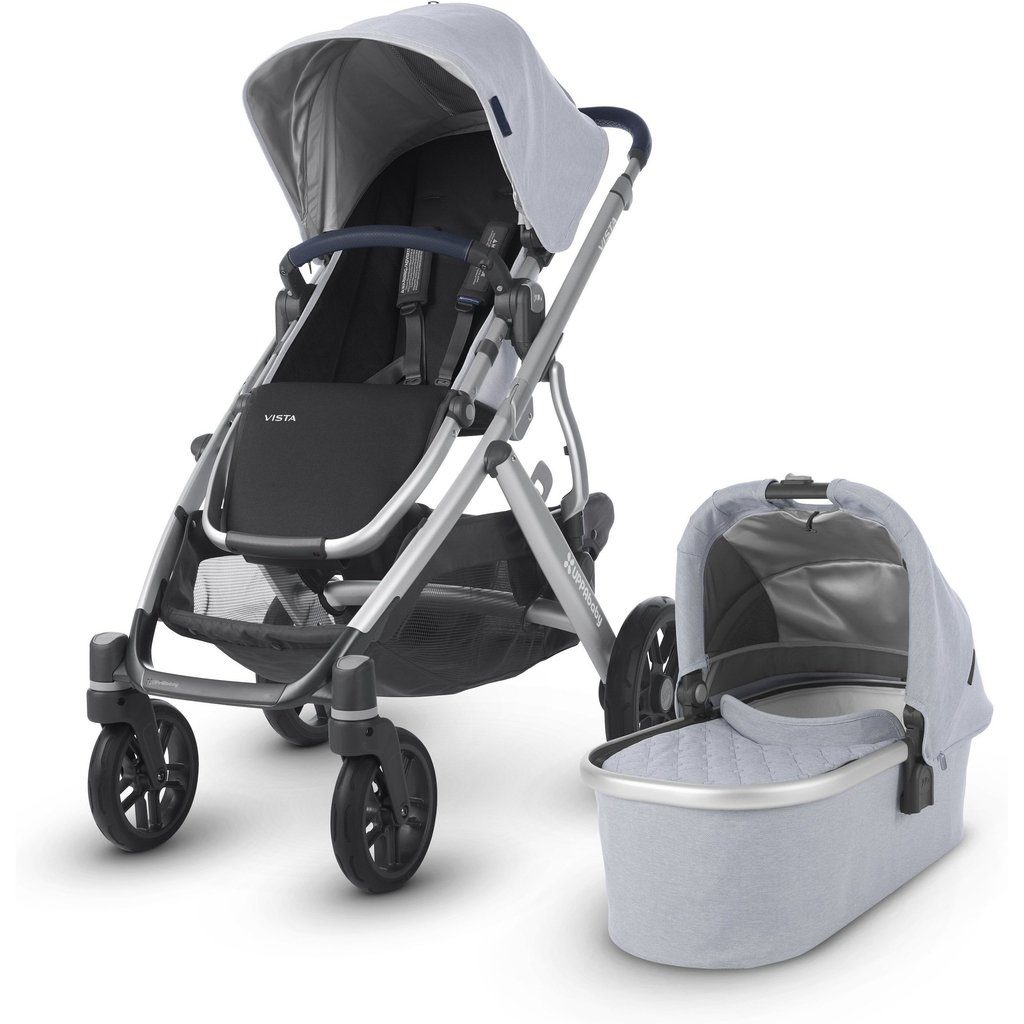 Bassinet with a storage bag
Bassinet bug shield
Toddler seat and canopy
Frame, wheels, and basket
Bumper bar
Toddler seat rain shield and bug shield
---
With the UPPAbaby Cruz, you'll get the following: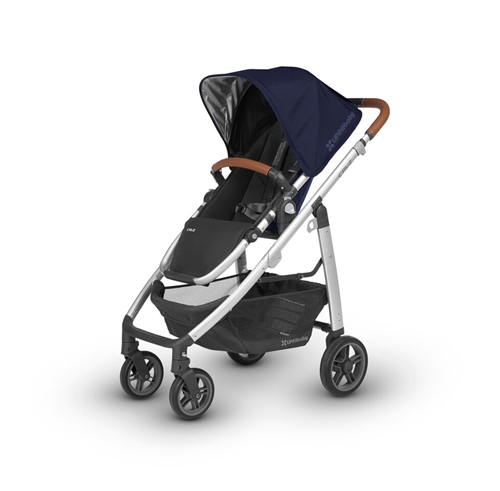 Frame, wheels, and basket
Toddler seat and canopy
Toddler seat rain shield and bug shield
Bumper bar
---
Colors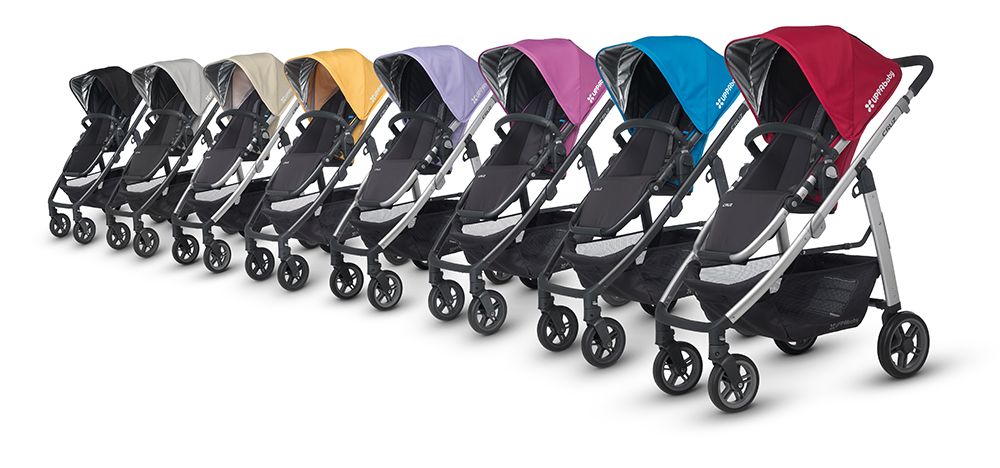 Both the UPPAbaby strollers come in nine colors that will suit everyone's preferences. These include:
Jake – Black
Denny – Red
Emmett – Green
Jordan – Gray
Gregory – Sky Blue
Henry – Slate Blue
Loic – White
Taylor – Dark Blue
Sabrina – Pink
UPPAbaby Cruz Vs. Vista: Which One is Better?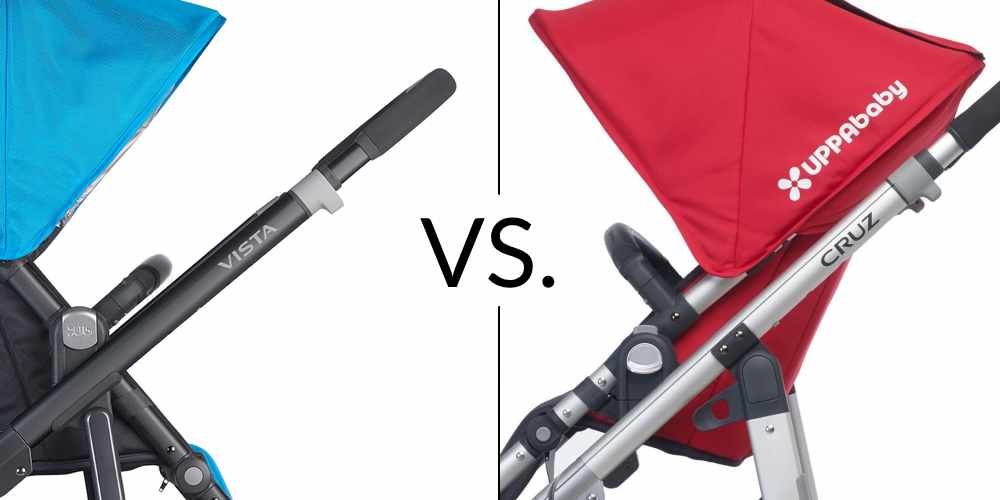 To really be able to make a final decision, put these things in mind: the Vista is made to fit larger families while the Cruz is better suitable for a single baby or a toddler.
Moreover, the Vista comes with a bassinet that provides a safe and good night's sleep. Contrarily, the Cruz has no bassinet.
Finally, the Vista is bulkier and heavier than the Cruz, so it's a little harder to move around and store.
So if you're looking for more versatile option, go for the Vista. On the other hand, if you're looking for a more affordable and practical option that's easily moved and maneuvered, go for the Cruz.