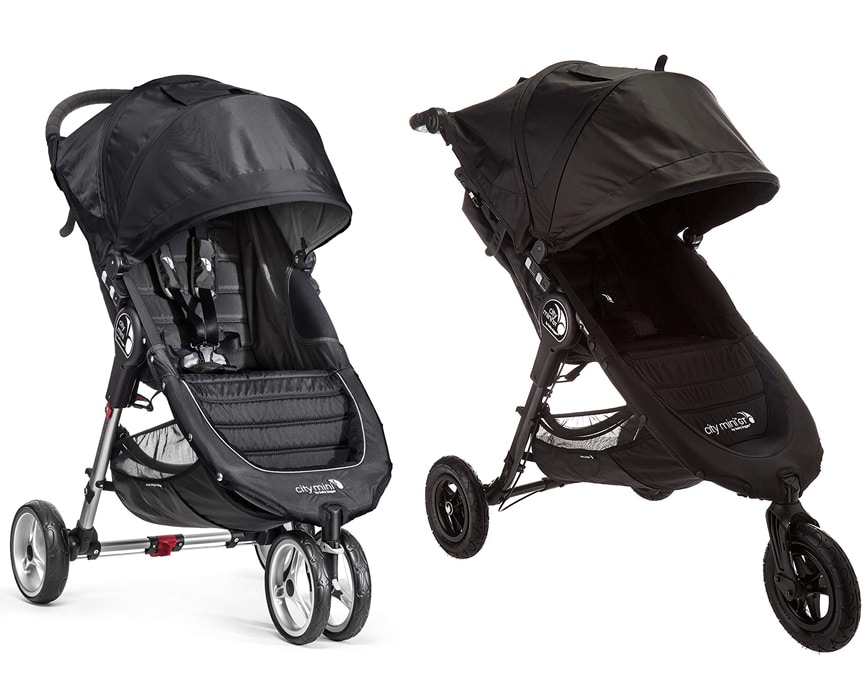 Both the Baby Jogger City Mini vs. City Mini GT are great strollers, whether you're a first-time buyer or upgrading.
And while both strollers have a lot in common, some stark differences could help you decide which one to pick over the other.
Read more:
City Mini vs. City Mini GT – Full Comparison
| | | |
| --- | --- | --- |
| Item | City Mini | City Mini GT |
| Dimensions (in) | 46.8 x 43.5 x 24.2 | 21.1 x 6.9 x 33.1 |
| Weight (lbs) | 18.4 | 22 |
| Seat Capacity (lbs) | 50 | 65 |
| Headroom (in) | 23 | 26 |
| Wheels (in) | 8.5, Rubber | 8.5, Foam |
| Safety Brakes | Foot Brakes | Hand Brakes |
| Price | CHECK PRICE | CHECK PRICE |
Size and Weight
The size of the stroller makes a world's difference in how easy it is to handle and deal with. From storing it in your garage and fitting it in your trunk to managing to walk through crowds, stores, or smaller places.
Stroller Dimensions:
City Mini – 46.8 x 43.5 x 24.2 inches
City Mini GT – 21.1 x 6.9 x 33.1 inches
Folded Dimensions:
City Mini – 33 x 24 x 12 inches
City Mini GT – 29 x 24 x 10 inches
Weight:
City Mini – 18.4 pounds
City Mini GT – 22 pounds
The City Mini is more compact and lightweight than the Mini GT, which makes it a little easier to maneuver, store, and transport.
However, the Mini GT gives you more space to carry on everything you need when you go strolling with your kid.
But generally, both strollers are quite lightweight compared to the average. This means they'll be travel-friendly and easier to push around.
Seat Capacity
While the City Mini stops at 50 pounds, the Mini GT can handle weights up to 65 pounds, so it's more suitable for bigger toddlers.
It's always better to have the extra capacity capability than to have to buy another stroller if your child quickly outgrows the smaller option.
Ease of Use and Folding
Both strollers are very convenient as they can be folded using only one hand.
Simply lift the strap, and an auto-lock automatically does the job for you.
The City Mini's headroom can be stretched up to 23 inches while the Mini GT's goes up to 26 inches. This helps provide more space for your kid to make them as comfortable as they can be.
Both strollers are compatible with car seats, so you can turn them into travel systems. Moreover, they can be converted into a double stroller in case you have a growing family.
As for the handlebar adjustability, you can only find that on the City Mini GT. So in terms of comfort, I'd say the Mini GT takes the cake.
Moreover, the material of your City Mini's seat can be washed in cold water or even machine-washed, which is very convenient when it comes to keeping your stroller in good condition.
Wheels and Tires
Perhaps the tires are the most distinctive difference that separates these two strollers. Although they're similar in that they're 8.5-inch wheels that make the strollers stable.
The City Mini's tires are made from rubber, which makes it easier to push on sidewalks and similar routes. The front-wheel has suspension to absorb shocks when traversing bumpy roads.
On the other hand, the Mini GT's are filled with foam, so they're more suitable for traversing all kinds of terrain.
It also has a single-wheel design to make it more maneuverable through crowds and tighter spaces.
Safety
Safety features are essential things to look for when you're shopping for a baby stroller.
And brakes are one of the most important safety features. The City Mini has foot brakes that are effective and firm but a little awkward to use.
On the other hand, the Mini GT has hand brakes that work like those on a bicycle. This makes them more convenient and suitable for fast-paced action. It also still has a foot brake to guarantee safety.
Canopy and Comfort
The seat of both strollers is adjustable and can recline to a near 180-degree position to provide absolute comfort to your child.
Both seats are also well-padded to make the ride as smooth as it can be for your child.
Moreover, the strollers have vents that keep a constant airflow coming into the stroller.
The adjustable canopy can be opened entirely or at different angles, according to how exposed you want your child to be. It also has a peek-a-boo window that allows you to check on your little one whenever you want.
City Mini Vs. City Mini GT: Which is Better the ?
The bottom line is, both the City Mini and City Mini GT are made to be durable and reliable.
But if you're looking for the stronger, more flexible, and maneuverable option, I'd recommend the City Mini GT. Not only for the swiveling front wheel that makes it easy to push around but also because of the rubber tires that make it versatile and stable on all kinds of terrain.
On the other hand, if you're looking for a compact and lightweight design that facilitates transportation and storage, go for the City Mini. Its usability is generally a bit easier and straightforward, so it's also great for new parents.
And while both strollers are excellent choices for everyday use, the GT can be considered a bit of an upgrade that offers more use and withstand more wear and tear.