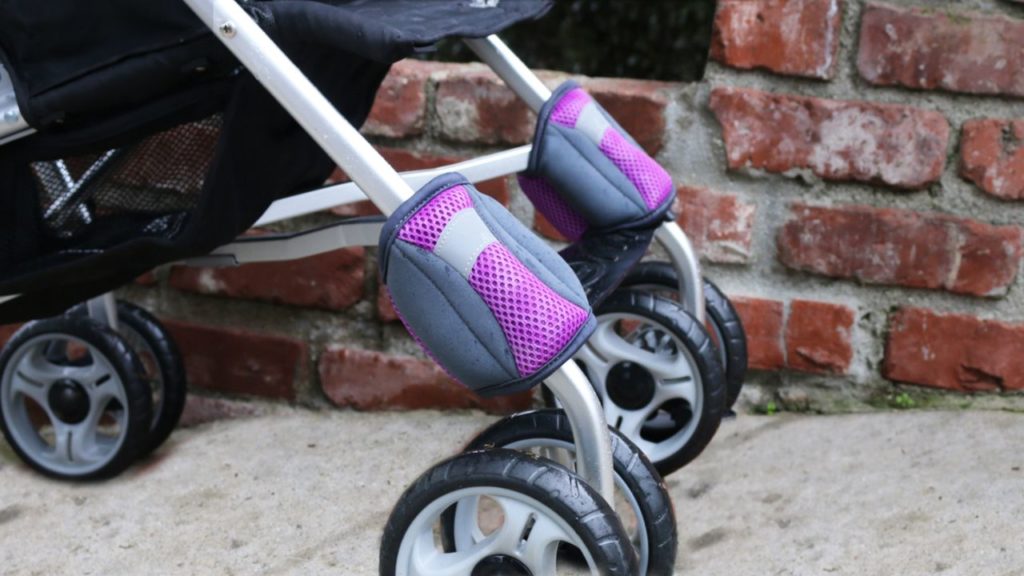 The best way to get your child around is with a stroller. And with these tips, trick, and hacks, you'll get a lot more convenience from your stroller.
1. Use stickers to label the stroller
To label the levers and button your stroller, you can use colored stickers. This way you, or anyone that takes your child on a walk, can easily discern between the push, pull, and more on the stroller.
2. Make use of shoe organizers
Use one or two sections of a hanging shoe organizer to keep your cups and bottles in.
By using adhesive velcro on the back and sticking it to the inside part of your undercarriage storage basket on the side closest to you.
3. Apply grip tape to the handles
The tennis racket grip tape is made for people to have a comfortable and solid grip and can easily be wrapped around the handles of your stroller.
4. Use carabiners
Using large, heavy-duty carabiners on the handlebar can give you the freedom to hang multiple bags or even bags to keep your hands free.
5. Keep your stroller upright with ankle weights
This tip is especially useful if you use the previous one as well.
Wrapping ankle weights to the front of your stroller's legs around the bottom would give it balance and prevent it from tipping over backward under the effect of too much weight.
6. Add a battery-operated fan and cooling pads
During the summer months, attach a small, battery-operated fan to keep your child cool on hotter days.
You can even find some cooling pads on Amazon to keep your toddler refreshed.
7. Use zip ties in the cold
Putting zip ties around the wheels and cutting off any excess will help you control the stroller on slippery surfaces.
It's the perfect hack for walkers, joggers, and runners during the icy and snowy winter months.
8. Use a head support band
When your child falls asleep, you can use a head support band to keep their head from tilting forward.
9. Get extra sunshade
Whether the sun canopy isn't long enough or your child doesn't prefer too much sunlight, you can place a thin, breathable blanket over the canopy and front of the stroller.
Use binder clips to keep the blanket in place.
10. Bungee your way to safety
You can use a bungee cord to wrap it around the backseat headrest and keep your stroller packed upright.
This helps save space and therefore fit more stuff into your trunk.
11. Use an umbrella to fight the sun
A portable, swiveling umbrella that you can clamp onto the stroller would help you on your long walks or runs under the sun. It's the ideal shade that you can get anywhere you are with your baby in the stroller.
12. Use a bike lock
A flexible bike lock would keep your stroller safe when you leave it unattended in a public place. Make sure you carry one around so that you don't have to keep your eyes all over the place.
13. Reflective tape for visibility
Add pieces of reflective tape to your stroller in order to make it more visible at night. The extra safety precaution is always recommended.
14. Get snacks more easily
A cup strap and a stroller snack tray will make your goodies more accessible to you during your walks.
Moreover, it keeps your child's cups from rolling away or landing in the dirt.
15. Use dish soap to clean your stroller
Using dish soap in some warm water and a sponge to wash and rinse your stroller would keep it clean and shiny.
16. Extend your handles
If the stroller handles are too short for you, you can make your own using PVC pipe and other supplies.
If you're not the DIY type, you can just buy handle extenders.
17. Get a skateboard or a handle for older siblings
If you have two children but don't want to walk with a double stroller, you can get a skateboard attachment so that the older one can be with all day without having to walk
There are also stroller straps that provide handles for the older child to remind them to stay nearby.
You Can Also Check: