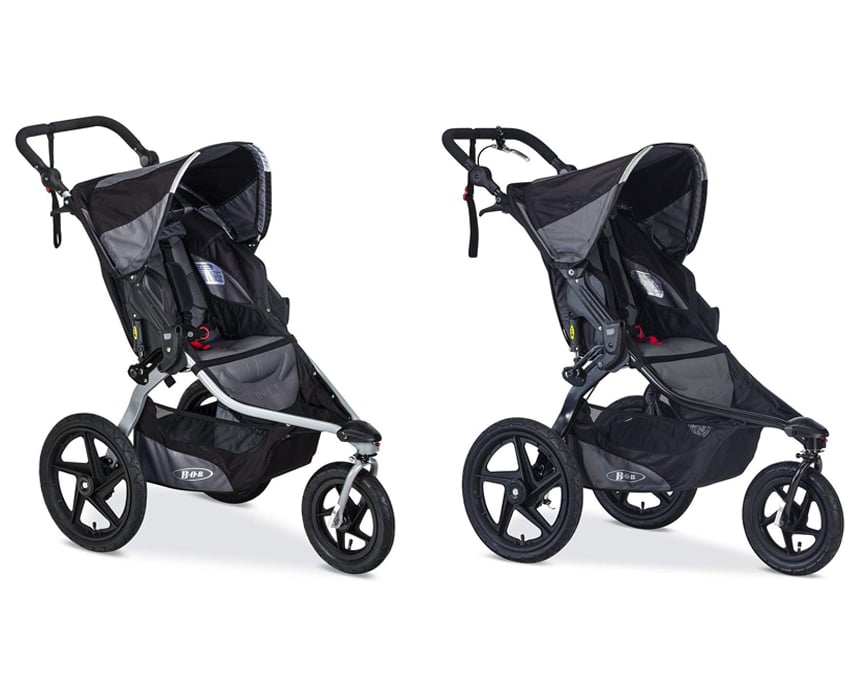 Most new parents go into a bad phase of feeling that their personal life has ended as if they can no longer enjoy their runs. Getting one of Bob strollers is an excellent choice, but choosing between Bob Revolution Pro Vs. Flex might give you a headache.
It may be confusing because they have various similarities ranging from their ability to be double strollers to their lightweight and safety.
The following information will help make your choice a little bit easier.
Bob Revolution Pro Vs. Flex – Full Comparison
| | | |
| --- | --- | --- |
| | BOB Pro | BOB Flex |
| Maneuverability | Strong wheels and good suspension | Strong wheels and good suspension |
| Brakes | Hand-activated | Foot Brake |
| Canopy | Poor material | Excellent material |
| Basket | Small | Large |
| Folding | Easy to fold | Easy to fold |
| Handles | Adjustable handlebar | Adjustable handlebar |
| Seating | Does not recline very far down | Recline to a nearly flat level |
| Weight (lbs) | 30.5 | 28.5 |
| Dimensions (in) | 44 x 25.4 x 43 | 45 x 24.5 x 43 |
| Price | CHECK PRICE | CHECK PRICE |
Maneuverability:
Both models will help you enjoy comfortable walks with your child due to their strong wheels and good suspension system.
The front wheel in the Bob Revolution Pro and Bob Flex is swivel, which is great for stability when jogging, during tight turns, or while walking on uneven terrain. You can direct the front wheel to the direction you need and enjoy an effortless trip. It has mountain-filled tires and suspension brakes that are similar to mountain bikes, which will be of great help if you want to take your child for a hike.
The brakes of Bob Revolution Pro are extremely easy to use. They are hand-activated as they are on the handle. This option lets you have full control over the stroller even when you are pushing it downhill. The brakes are enough to make Bob revolution Pro stand out as a jogging stroller.
On the other hand, the brakes of the Bob Flex are not on the handles. It has a foot brake, which can be hard to access while you are on the go, or when you need to make a quick step. However, they are flip-flop friendly.
Comfort:
Canopy:
Both models have UPF 50+ large-sized canopies, but those of Bob Flex are way better. The canopy of Bob Pro has a poor material that does not allow for ventilation flow. Moreover, it has no window through which you can check on your baby. However, it is water-resistant so that you and your baby can still enjoy a peaceful walk in the rain.
On the other hand, that of Bob Flex has an excellent material that allows for proper ventilation. Moreover, the canopy is extra-large, can be expanded, and has a magnetic peek and a chat window through which you can monitor your baby. Another similarity between both models is that they both have a five-point harness that ensures your child's safety even when you are going downhill.
Basket:
The basket of the Bob pro is relatively small with respect to other strollers; however, that of Bob Flex has one pocket to put your cell phone, three seatback pockets, two in-seat snack pockets, and one extra-large cargo basket.
Folding:
Both strollers are easy to fold as they have a two-step folding feature. They are also too small when folded, so you will not find any difficulty with their storage. They are lightweight so you'll find no problem moving them from one place to another.
Handles:
Both strollers have a nine-position adjustable handlebar so that people of all heights find it comfortable to push the stroller. That way, you can finally let someone else help you with pushing it. Having more than one position also allows you and your spouse to push it together.
Moreover, they come with a wrist strap, so you do not miss the stroller, or so that it does not run away from you in case you forget to apply the brakes while you are on steep land. They are also padded so that your hands do not hurt you if you are going to be pushing for a long time.
Seating:
The recline of Bob Flex is considerably better than that of Bob Pro. The Bob Flex's seat can recline to a nearly flat level; whereas, Bob Pro does not recline very far down. Moreover, both strollers have a seat that is comfortably padded, so your little one can enjoy any long journey with next to none irritation.
The Bob Flex can turn into an infant friendly stroller. Your baby can enjoy it starting from his/her day one. Your baby can be seated in the infant car seat by Bob or Britax using the infant car seat adapter that is sold separately with the stroller. Bob Pro slightly differs in regards to this since the baby can enjoy it starting from  4 months old provided that you get the car seat extension.
Weight:
Bob Pro: 30.5 pounds
Minimum weight recommendation 5 Pounds
Maximum weight recommendation 75 Pounds
Bob Flex: 28.5 pounds
Minimum weight recommendation: 5 Pounds
Maximum weight recommendation 75 Pounds
Dimensions:
Bob Pro: 44 x 25.4 x 43 inches
Bob Flex: 45 x 24.5 x 43 inches
Price:
Bob Pro: CHECK CURRENT PRICE ON AMAZON
Bob Flex: CHECK CURRENT PRICE ON AMAZON
What We Like and Do Not Like About BOB Revolution PRO Vs. Flex:
BOB Pro: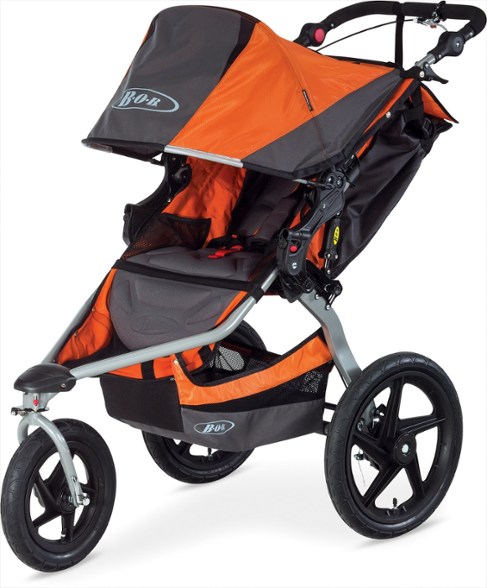 BOB Flex: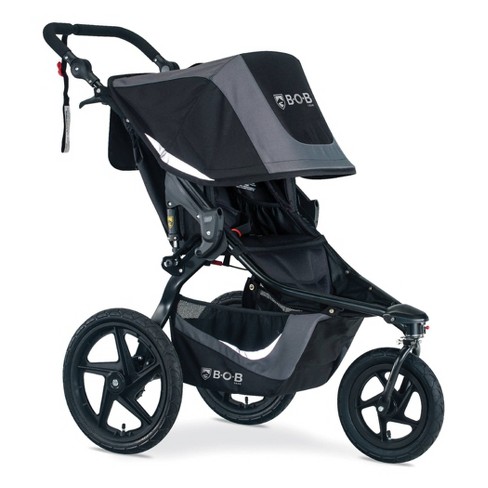 Parents' Review On Amazon:
Although expensive, Bob Pro is worth every penny. It helps parents run for long distances while having their babies with them. You do not need to worry about causing back pain problems to your baby because their ride will be extra smooth with Bob Pro no matter how bumpy the terrain is. The down side of it is that it does not fold up very flat, so you might have a problem with storing it if you do not have enough storage space.
The stroller's quality is better than you can imagine. It becomes very compact when folded. Its suspension system makes the ride effortless for you, and smooth for the baby. It can pretty much handle whatever terrain you put it through. However, the inner tubes in the tires are of bad quality, they may stop working within a very short span of time -maybe one week- which is very disappointing. If this happens to you, you may go to a bicycle shop and get thorn proof inner tubes, which will solve the problem.
Bob Revolution Flex Vs. Pro: Which Is Better Overall?
Your choice of a certain stroller depends on your needs and your place of residence.
If you live in a place that has good weather where it is not humid and hardly rains, go for Bob Pro, where you would not realize the absence of a ventilated and waterproof canopy.
Bob Pro will also be the suitable choice if you have lots of downhill areas or if you are planning on going on runs with your little one.
However, consider Bob Flex if you will need the ventilated canopy that is water-resistant if the weather is hot or if it rains a lot. Moreover, if your child loves talking to you or seeing you so that he feels safe, this canopy has a window so that you can enjoy cute conversations with your baby during the whole trip.
Bob Flex is more suitable if your trips are usually going to be in malls and well-paved terrains.