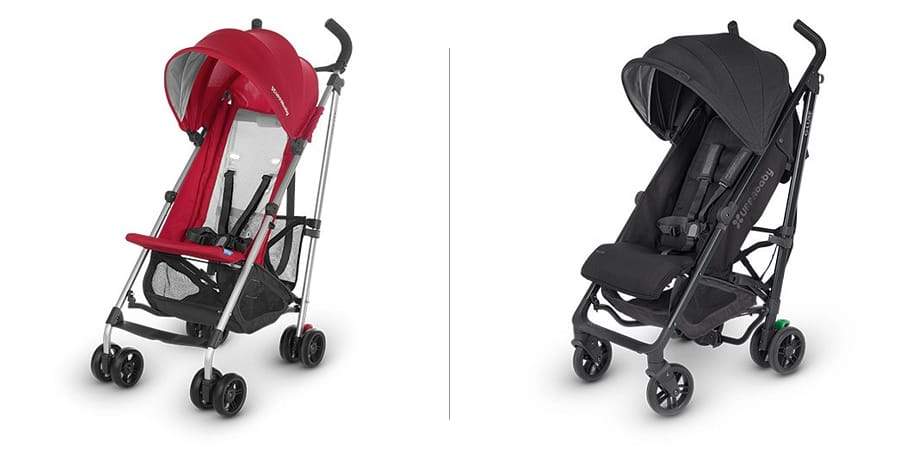 If you are a new parent, you are probably feeling lost and confused, and that is entirely normal. You probably also feel like your personal life is over, but this is not true!
You can still go out for a walk, run some errands and do whatever you feel like doing while still attending to your baby. You can only do this if you have a suitable stroller.
See Also:
In this article, we are going to discuss the differences and similarities between the two types of strollers: Uppababy G-Lite Vs. G-Luxe.
UPPAbaby G-LITE Vs. G-LUXE – Full Comparison
| | | |
| --- | --- | --- |
| | G-LITE | G-LUXE |
| Weight (lbs) | 15.2 | 9.68 |
| Age | 6 Months | 3 Months |
| Folded Dimensions (in) | 12.5″L x 10.7″W x 42″H | 19.2″L x 12″W x 41.8″H |
| Unfolded Dimensions (in) | 31.2″L x 18.2″W x 42.3"H | 28.7″L x 18.7″W x 43″H |
| Wheels | 4.5'' diameter | 5.75″ diameter |
| Price | CHECK PRICE | CHECK PRICE |
Dimensions, Weight, Age Recommendations:
G-Lite: 15.2 pounds
Minimum: 10 Pounds
Maximum: 55 Pounds
Age: 6 months
G-Luxe: 9.68 pounds
Minimum: 4 Pounds
Maximum: 55 Pounds
Age: 3 months
Wheel Size:
G-Lite: 4.5'' diameter wheels.
Shock-absorbing, 4-wheel suspension
G-Luxe: 5.75″ diameter wheels
Shock absorbing, 4-wheel suspension
Price:
G-Lite: Check Price on Amazon
G-Luxe: Check Price on Amazon
The price difference between them is quite reasonable since the G-Luxe is bigger, easier to use, has better brakes, and a larger basket.
Fold and Unfold:
This is not G-Lite's best feature since you cannot fold it with one hand. For example, you need to use both hands because you need to push a button on each side and pull the loop simultaneously (above left.) Take care that if you engage the loop first, you won't be able to push the button or continue the fold.
The way of folding G-Luxe is effortless, though. There are hand-level triggers that make it easy to fold with just your fingers. Both models do not demand any foot action, so you do not need to worry about wearing a certain kind of shoes.
The good thing is that they both can stand on their own once they are folded, so whenever you are on a steep floor or have your hands full by carrying the baby or whatever, you do not need to worry about carrying the stroller too.
Brakes:
The G-Lite brakes are average. They are mildly easy to set and release, but they require some pressure to ensure that they are engaged. They are sandals-friendly and double action. They can be a little bit stiff, though.
Regarding the G-Luxe, it has only one brake, unlike most of the lightweight strollers who usually have breaks on both back wheels, which can be annoying. Another great thing is that the brakes are very easy to use; all it takes is just one click.
Maneuverability:
The plastic wheels of the G-Lite and its dual front wheel design makes the stroller harder to push over uneven terrain. Sometimes, it veers off course when a wheel hits a bump on the road.
The wheels are more comfortable to push on flat roads but still are not as responsive as you would love them to be due to some rubbing in the wheels that increases their resistance.
The G-Luxe has four double hard-rubber wheels. The front wheels are swivel but can be locked for more stability or during running. G-Luxe may be a bit smooth while pushing it over slightly uneven terrains thanks to its all-wheel suspension will help to smooth out the bumps. You can take it for a walk in the city or to parks.
Sunshade:
Both models can let you enjoy sunny mornings with your child as they have multi-panel knit canopies.
The canopies will protect your child from harmful sun rays. Each model has a canopy of SPF 50+ and covers the child till its knees.
However, the downside of this is that the canopies do not have a window through which you can check on your baby. So whenever the canopy is on, your baby is out of your sight. However, they look beautiful, and they are easy to use.
Seating:
Both models could only hold one baby and have a five-point harness, which means that your baby will be very safe in the bassinet even if you are maneuvering over a land with many bumps. However, they are quite different regarding other aspects.
The G-Lite has a zipper recline so that your baby can enjoy his/her nap time. The mesh seat is sturdy enough even to hold a four-year-old baby, and it is very suitable during the summer months since it is breathable and will not let your baby's back get all sweaty.
However, since the seat is all fabric, the baby will find it hard to sit with a straight back. The material of the seat is convenient for it is removable and machine washable. You or your child might spill juice or food in the bassinet, so this option is beneficial in such cases.
Moreover, the fabric is stain-and-water-resistant, so you don't need to worry about your baby getting all soaked up after spilling his juice on the seating. The seating does not have pads, so the baby might get uncomfortable if the journey is long.
On the other hand, the G-luxe can be one-handedly reclined, but it does not lay flat, and it has an adjustable footrest that can let you run errands while your child is comfortably asleep. It has a 3-position recline that is adjusted with a lever in the back of the seat.
The downside may be that the seat is too reclined to the extent that your child might struggle to hold herself/himself upright, which could be harmful to the baby's back. Like the G-Lite, the fabric and seat pads are washable and can be removed, and you can still use the stroller while the seat pad is being washed.
Storage:
The basket of the G-Lite has easy access and can hold up to 10 Ibs, so it is convenient.
Similarly, the basket of G-Luxe is suitable for putting a one medium-sized diaper bag in it along with other baby-related stuff: food, napkins, and so on. However, it does not have small pockets for carrying your wallet or keys and things like that.
What is included:
G-Lite:
Large basket with easy access that holds up to 10 lbs.
Tall ergonomic handles for more comfortable pushing
Removable cup holder that allows you to be hydrated on the go
Lightweight aluminum frame
Convenient carry strap
G-Luxe:
Seat pad
Convenient cup holder
Spacious Storage
Lightweight aluminum frame with new robust profile design
Tall ergonomic handles for easier pushing
Removable cup holder
Tall Handlebars that ensure a comfortable ride for parents of all heights
Convenient carry strap
What We Like And Don't Like About G-Lite And G-Luxe:
G-Lite: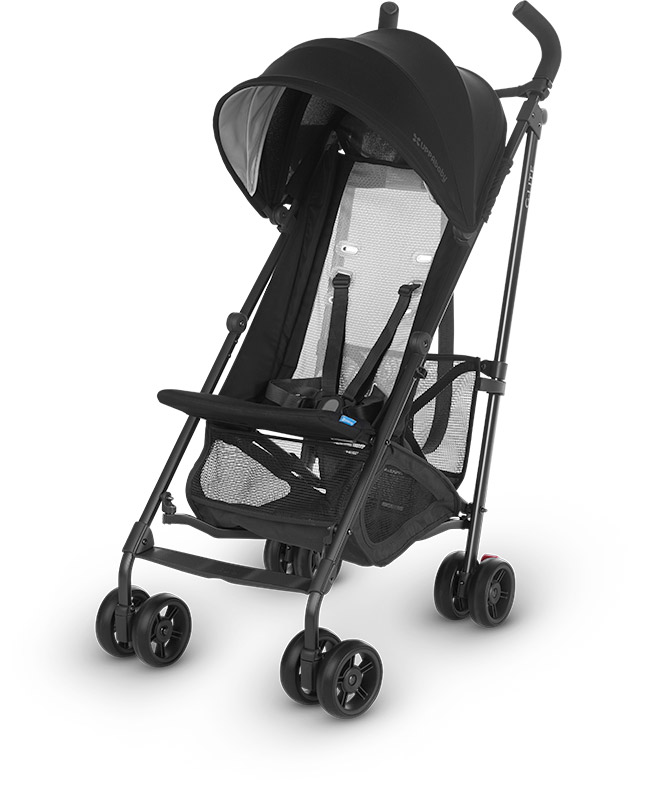 | | |
| --- | --- |
| Pros | Cons |
| It has a mesh seat which is very suitable in Summer. | It can be hard to push and can weer off course when pushed over rough terrains |
| The baby is safe due to the five-point harness | Canopy does not have a window through which you can spy in your baby |
| | The seating does not have pads so it can be a little uncomfortable when used for a long time |
| | It cannot be folded with one hand |
G-Luxe: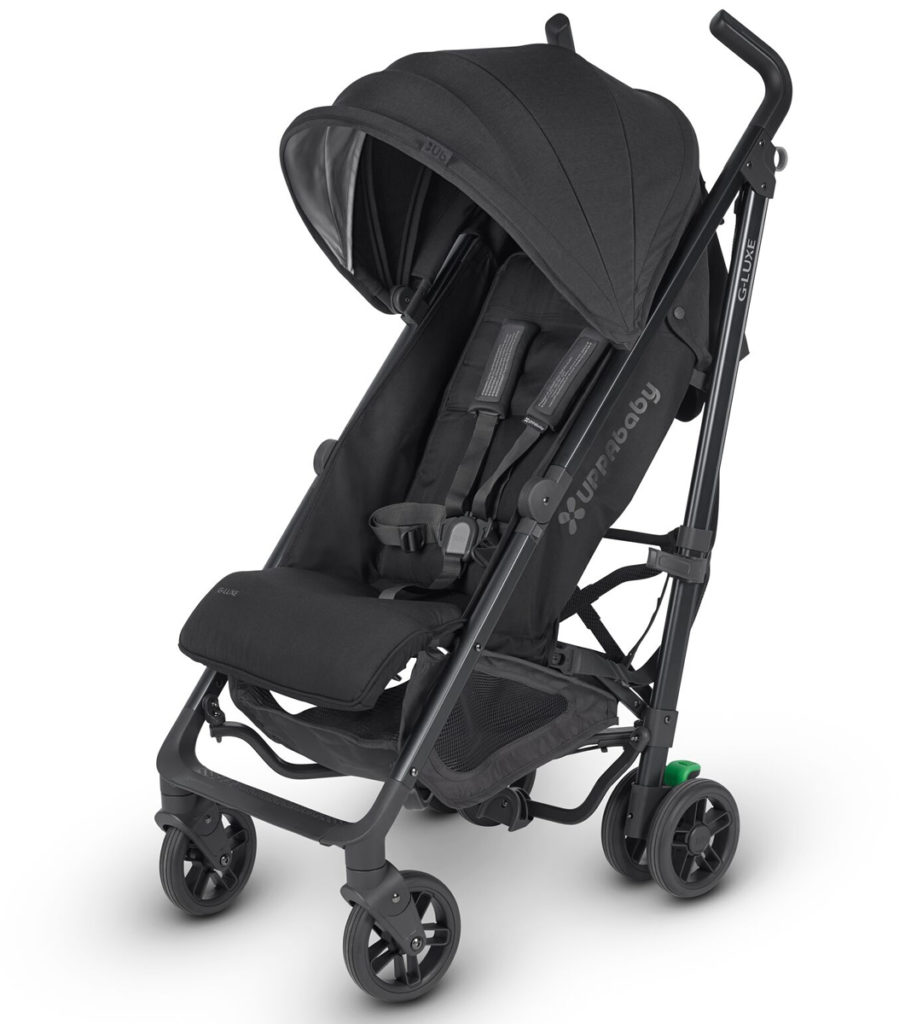 | | |
| --- | --- |
| Pros | Cons |
| It is robust and sturdy which will make it last for several years | Hard-to-access storage basket – The carry strap is directly in front of the basket, which makes it super hard to access. |
| The canopy is adjustable and has the option to extend for better coverage | It is difficult to push with one hand if you are having a phone call or drinking your juice, for example. |
| Has a parent cup holder that can be removed whenever you do not need it | No side barriers. Your child will not find anything to lean on when the seat is in its upright position. If the baby is old, this will not be an issue; however, for a 9-month baby, this will still be an issue. The baby will look like he/she is going to fall out if he/she leans to the side. |
| It can stand on its own, so you do not need to worry about carrying one more thing | It takes up a large place in the car when it is folded because it becomes bulky. |
| It has sturdy wheels | |
Uppababy G-lite Vs. G-luxe: Which One Is Better To Choose?
After you have read this article, you now have some information on the options, differences, and similarities between the G-Lite and G-Luxe models. To know which one you need to buy, you have to focus on what exactly you need the stroller for.
If you need a stroller that is small enough to be easily stored, yet has enough space for your baby to be comfortably seated in and has a basket that can carry your baby's accessories, go for the G-Lite.
However, if you need a stroller that is easier to use, can be managed with one hand, and is not hard to push over uneven terrains, then G-Luxe should be your choice.