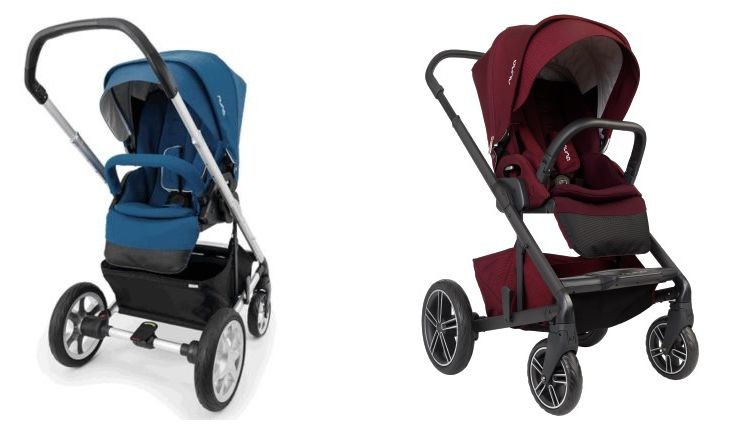 Nuna Mixx and Nuna Mixx2 are quite similar in some aspects, so it is confusing to choose between them.
Nuna Mixx is an upgraded version of Nuna Mixx2 and not vice versa, as the name might suggest.
In this comparison, we'll review the differences between the 2019 Nuna MIXX and the 2018 Nuna MIXX2.
Nuna Mixx Vs. Mixx2 – Full Comparison
| | | |
| --- | --- | --- |
| | Nuna Mixx | Nuna Mixx2 |
| Weight (lbs) | 26.8 | 26.8 |
| Weight Limit (lbs) | 50 | 50 |
| Folded Dimensions | 16″H x 23.6″W x 35.8″L | 16″H x 23.6″W x 35.8″L |
| Unfolded Dimensions | 44.3″H x 23.4″W x 33.5″L | 44.3″H x 23.4″W x 33.5″L |
| Price | CHECK PRICE | CHECK PRICE |
Seat
Bassinet:
Mixx:

Mixx has a seat that is suitable for all seasons. If your child gets annoyed from getting sweaty on hot days, you can -easily and quickly- remove the seat liner to reveal a mesh seat back. This eliminates one of the serious parents' concerns: having an irritated baby who does not want to stay in his/her stroller and wants to be -God forbid- held.
Moreover, the seat includes a Bamboo insert; such natural fiber absorbs moisture away from your child to help keep her/him cool. It also has a bumper bar, and a leather handlebar, which makes long trips easier on the hands of whoever is pushing. To provide your baby with full comfort, it comes with leg support.
The oversized canopy of Mixx is made of mesh, which helps with ventilation; and it is UPF 50+, so your baby is safe from harmful sun rays.
If you usually have trouble with moving your child from his car seat to his stroller, go for Mixx as it comes with a ring adapter. The ring adapter enables parents to attach and reattach car seat with one hand.
The bassinet of the stroller can be positioned to face you or the world; this is especially handy if your baby always gets scared if you go out of his/her sight. Once he gets a little bit older and is ready to explore the world, let him face it!
Your baby is going to want to sleep during any of your trips; that is why Mixx has a seat that can be reclined to 5 positions, one of which is very flat.
Mixx2:
The seat of Mixx2 is made of premium cotton fabric and leather belly bar that ensure the comfortability of your baby. Moreover, there is an adjustable handlebar and leg support so that you won't have to deal with an irritated child. The seat's fabric can be easily removed to be machine-washed, and you can easily put it back on.
The oversized canopy of Mixx2 is, like that of Mixx, made of mesh, which helps with ventilation, and it is UPF 50+, so your baby is safe from harmful sun rays.
One of its significant features, like Mixx, is it can be reclined in five positions with using just one hand thanks to a handle at the back of the seat. Your baby can enjoy sleeping in the bassinet due to its ability to be reclined to a flat position. When in an upright position, the seat is fully up so your baby can comfortably see the world.
Like Mixx, the seat of Mixx2 can be reversed to face you or face forward so that your child can enjoy sightseeing.
Safety Harness:
Mixx does not have a rethread harness, which will make the adjustments easier and faster as your child grows. The rethread harness means that you need to insert the harness through slots to adjust it.
The seat of Mixx2 is equipped with a 5-/3-point harness with easy to use release button. Luckily, babies will not be able to unlock it by themselves because it takes some practice.
Seat Height:
The seat height of Mixx is 45.6 inches, which means that your child can grow without having you worried about him outgrowing the stroller. This is better than Mixx2 whose size is 44.3″
Seat Pocket:
The absence of seat pockets due to the mesh back of the seat is a definite drawback of Mixx. Strollers with seat pockets are extra handy as you can put your baby's diapers, food, your mobile, a book, or whatever you need with you without having to carry any extra bags.
However, it has a roomy storage basket that makes up for the non-existent pockets.
On the other hand, Mixx2 has a pocket at the back of the seat and a huge basket that comes with a compartment divider. The divider helps separate your stuff so that you do not spend a lot of time trying to find something.
Maneuverability:
The tough, foam-filled tires of Mixx with all-wheel suspension enable you to maneuver Mixx effortlessly over all kinds of terrains. Moreover, its front wheels can swivel for better maneuverability, and lock to ensure safety.
Front and rear-wheel progressive suspension absorbs shock for a smooth ride.
Mixx2 can be pulled as a trolley when it is folded, which means that you do not need to worry about having to carry it around. It also gets locked automatically, so it does not get unfolded out of the blue.
Travel System:
In both strollers, you can create a travel system by attaching a Nuna PIPA, PIPA Lite, or PIPA Lite LX infant car seat with the help of the adaptors that come with the stroller.
What Is Included With Both Strollers?
Ring adapter for infant car seats
Nuna Mixx stroller with frame and seat
Nuna MIXX2 stroller with seat
Rain cover
PIPA car seat adapters
Compatible Car Seats With Mixx and Mixx2:
Nuna Mixx Vs. Mixx2: Which One Is Better?
Being a parent is confusing enough, and we do not want you to stress over not knowing which stroller is better for you and your baby. Nuna Mixx and Nuna Mixx2 do not have many differences; however, let me help you spot them.
Buy Nuna Mixx if you are not the kind of person who hates carrying extra bags around since it does not have any pockets. If your baby hates being hot, go for its mesh back. Also, if you feel like you need the ring adapter, Nuna Mixx should be your choice. A crucial thing to consider too is your baby's height because this stroller is a few inches taller than Nuna Mixx2.
Consider buying Nuna Mixx2 if you need a broad storage basket with compartments and pockets. It can be pulled as a trolley, so this is an attractive feature that you might want to buy it for.
You Can Also Check: