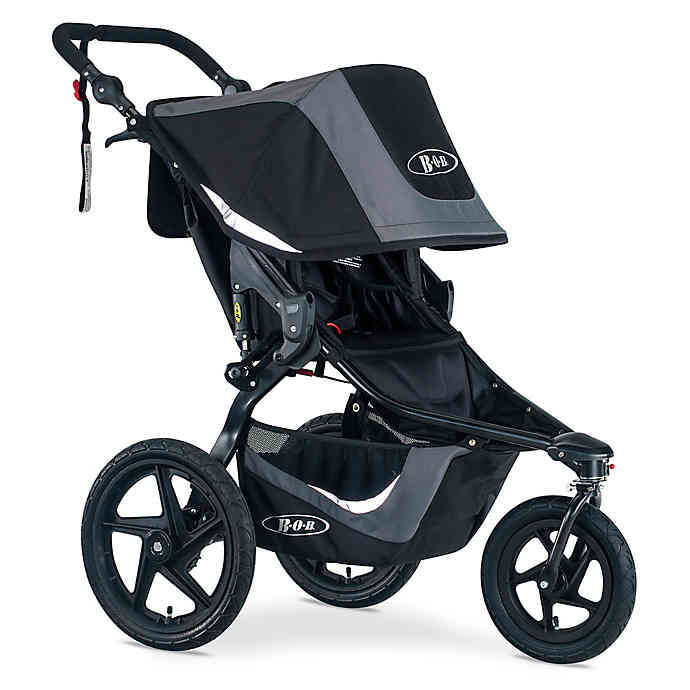 After the first few months of parenthood, getting out, introducing your child to the world, and reacquainting yourself with it is a must. Not that parenthood isn't enough exercise on its own, but getting those steps in as often as possible always feels good. This takes us to our stroller of choice for the day; the BOB Revolution Flex 3.0, a jogger of the finest kind.
BOB Revolution Flex 3.0: At A Glance
All in all, the BOB Revolution Flex 3.0 is a jogger/stroller for all terrains and all environments. It works in parks, malls, and even shores, all alike. The security of the five-point harness system along with the pneumatic wheels give it accessibility everywhere.
Pros:
All-terrain
Adjustable tracking suspension
Huge canopy
Inside storage pockets
Aluminum build
Swivel-lock front wheel
Cons:
Heavy
Bulky
Weight
Requires adapter for car seat
Build
First of all, we'll speak about the construction of the BOB Revolution Flex 3.0, which is mainly aluminum. This aluminum frame provides for strength, durability, stability while maintaining the needed flexibility.
When dealing with a structure holding a child, you don't want something that will snap under pressure, which is why aluminum is a perfect choice. Nevertheless, BOB didn't stop there, as they added another coat of BOB black coating for further protection against collisions, abrasions, and weather conditions, in addition to giving it a sleek modern look.
Storage
Storage is essential when it comes to strollers. Parents need all kinds of things when they're out and about with their children, specifically if they're jogging. That is why the BOB Revolution Flex 3.0 comes with plenty of storage.
First of all, there is the bin located under the seat, which is relatively spacious, as it can take a diaper bag along with a few other accessories.
Additionally, the stroller provides you with six mesh storage pockets diligently divided around it. You'll have one cell phone pocket, two mesh pockets inside of the seat, and three back pockets within your reach at all times, making them quite useful for snacks and water.
Seat Design
There's hardly anything more important than the seat where your precious bundle of joy will stay. We'd like to add that we don't advise taking your child out in a stroller like this one before they can sit up and hold their necks.
You see, the incline here can reach 70°, which isn't the safest for a child that can't hold their heads up. Plus, to fix the incline, you'll need to use both hands. So, always consult with your pediatrician before going jogging with your little one.
Now, let's get back to business. The width of the seat is around 14.5 in, which is perfect for housing your child comfortably. Some might argue that the seat could be bigger, but the reason behind that size is the almost luxurious padding it enjoys.
Furthermore, this padding is designed with the open-cell technique so that any pumps or collisions are translated into slight movements to your child without causing any extra undue action or heat buildup.
As for the harness, the BOB Revolution Flex 3.0 enjoys a five-point no-rethread harness, which is ideally spread out to hold your child using all of their strong points; back, hips, and shoulders.
Besides, with the five straps available, there's hardly any chance of your child slipping from where they're supposed to be, even if you're jogging at higher speeds.
Maneuverability
Although the BOB Revolution Flex 3.0 is quite large and could be bulky at times, maneuvering it is as easy as possible. That is thanks to the design of the brakes, suspension system, and wheels.
Brakes
The brakes here are easily accessible and can be activated with a push of your foot. They're textured in a way as to allow any type of footwear to activate them without you having to struggle with anything else.
Wheels
As for the wheels, you've three of them. The back wheels are 16 in, and one front wheel is 12.5 in. They're all made out of high-impact polymer, which provides them with the strength and shock absorbance needed to deal with any kind of route.
The thing about the front wheel is that it enjoys the swivel-lock option. This allows the stroller to remain in a straight path no matter the terrain or the speed that it's going at. Just take it easy, and practice a few times beforehand.
Moreover, the rims alone are made out of polymer composite, which further increases the robustness of the wheel.
Folding and Unfolding
The most important part about the whole folding and unfolding procedure of the BOB Revolution Flex 3.0 is making sure that you've the suspension system activated.
That is either at position one or position two according to the weight of your child. If they're smaller than 40 lbs, then it'll be option one and option two if they're 40 lbs or more.
Next, you'll locate the two levers underneath the handlebar and pull them so that you can lay the handlebar forward to reach the front wheel. The second step is to find a handle placed below the seat and pull it upwards.
This will have the stroller go down into a flat position. Afterward, all you need to do is lock the buckle of the wrist strap for security. Furthermore, if you need to store it in a tight spot, you can remove the front wheel. Just remember to deactivate the brakes first!
Car Seat Application
Fortunately, the BOB Revolution Flex 3.0 is compatible with plenty of different car seats, in case you wish to use the stroller from the very beginning for purposes other than jogging. The thing is, you'll have to purchase the correct adapter, which can be quite expensive.
Sun Protection
Sun protection is the canopy of the stroller, and truly, it's one of the best features of not just this model but the Flex 2.0 as well.
This canopy is enormous. It extends to protect your child all the way down to their chest and even knees. Plus, it's wholly vented; hence, provides protection without overheating the stroller.
Besides, this vented structure is made out of UP 50+ fabric which manages to protect against the harmful UV rays, even with the window placed strategically for you to check on your kid every now and then.
Additionally, it has a magnetic closure mechanism, which means that it's quiet at all times. Therefore, you can easily take the canopy down, even if your child is sleeping, without disturbing them.
Accessories
Last but certainly not least is the vast array of accessories offered by BOB for the comfort of parents and children. Some of these accessories come with the stroller, while others can be bought separately.
Snack tray 
Stroller travel bag 
Weather protecting canopy 
Infant car seat adapter 
Handlebar console with air pump
In Conclusion
To wrap up, the BOB Revolution Flex 3.0 took everything the 2.0 had and elevated it with style and productivity in mind. It's comfortable and soothing to the baby while being accommodating and safe for the parents.