Best Value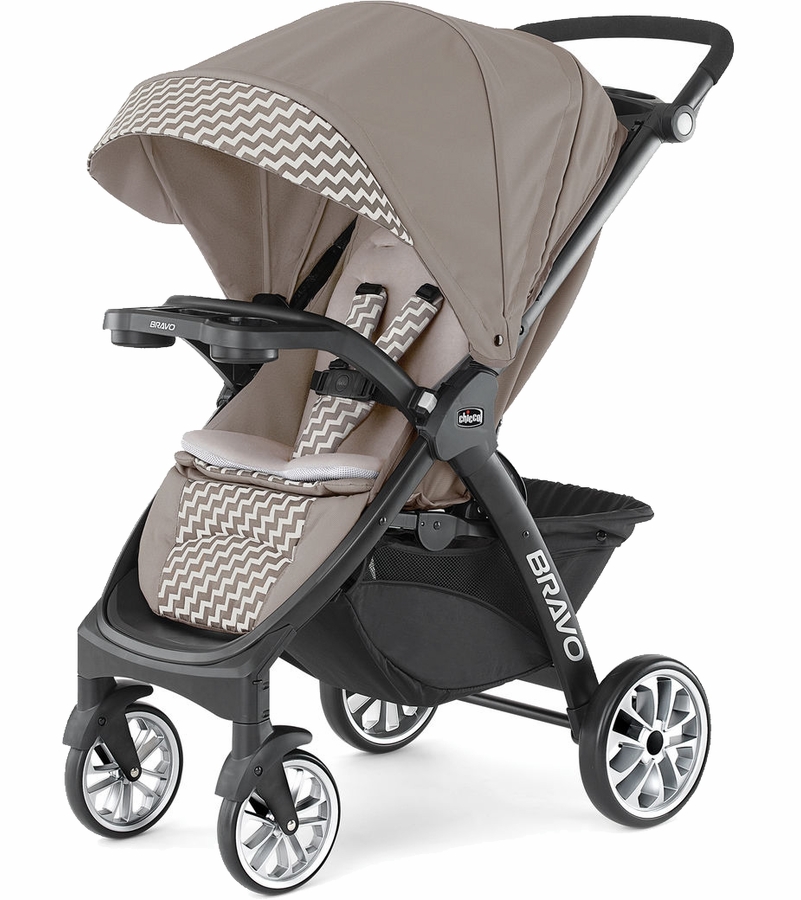 Chicco Bravo LE Quick-Fold Stroller, Coal
Handle Height (in): 36.5 to 42
Weight (lbs): 23
Dimensions (in): 35.5 x 21.8 x 43
Max. Capacity (lbs): 55
Our Choice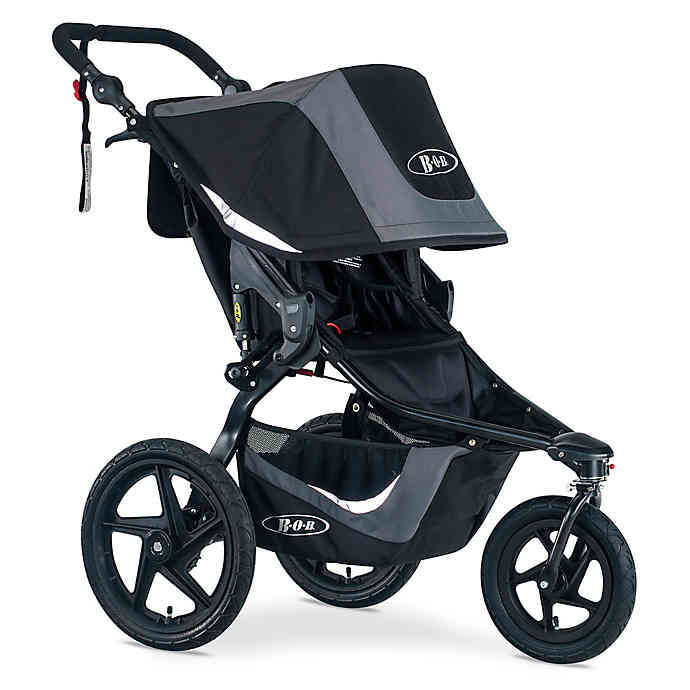 BOB Gear Revolution Flex 3.0 Jogging Stroller
Handle Height (in): 34.8 to 48
Weight (lbs): 28.5
Dimensions (in): 45 x 24.5 x 43
Max. Capacity (lbs): 75
Premium Choice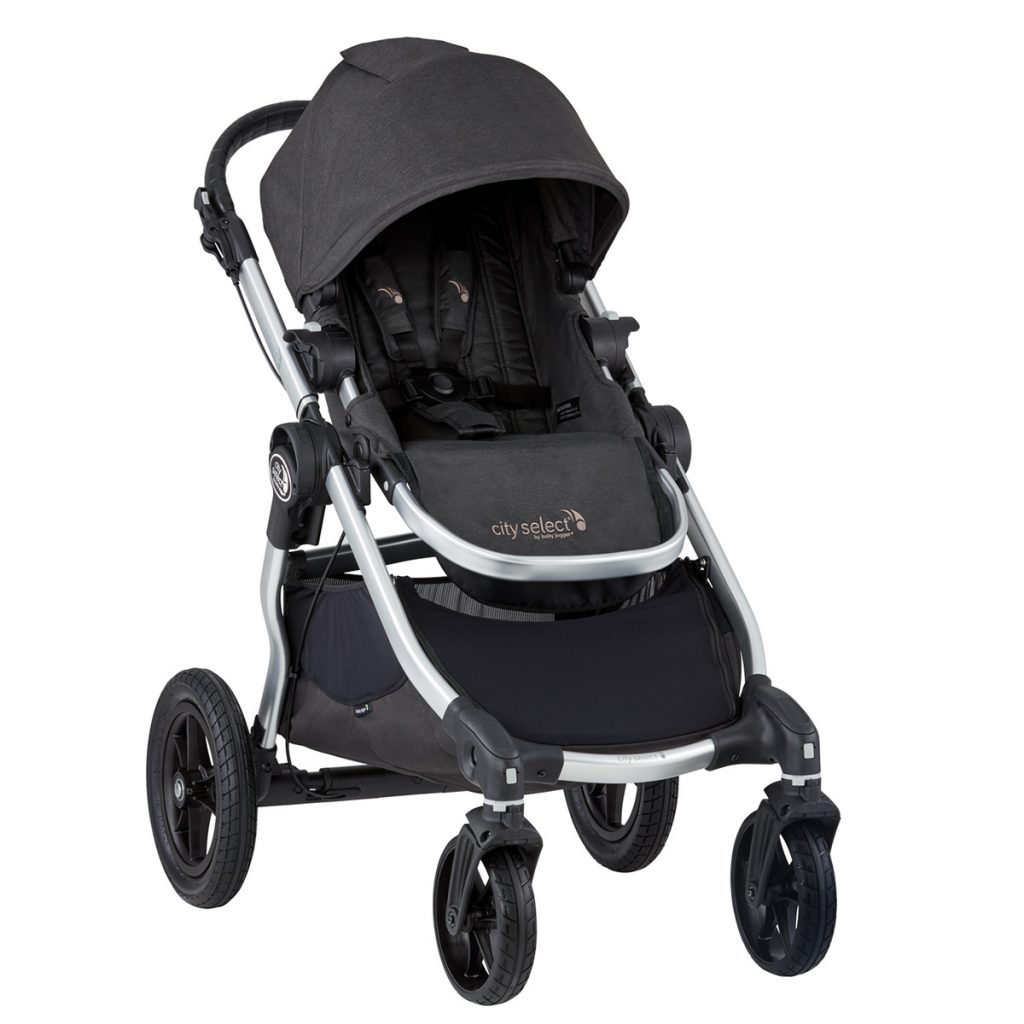 Baby Jogger City Select Stroller
Handle Height (in): 41.5
Weight (lbs): 34.06
Dimensions (in): 21.7 x 10.2 x 30.3
Max. Capacity (lbs): 45
Have you been blessed with a newborn child that will fill your days with happiness? Are you a tall parent on the hunt for a stroller? If the answer to these questions is yes, then you are definitely in the right place.
Having a stroller is a must for all parents; tall parents, however, might require some special features. You just cannot function without one. It will help you to walk with your newborn to get that much-needed vitamin D. Also, if you have chores to finish that require both your arms, you wouldn't want to leave your newborn alone and that where our top strollers for tall parents come into play.
A stroller for a tall parent must have a high adjustable handlebar alongside many other things that we will discuss further on. Therefore we have compiled a list of the 6 best strollers for all the tall parents out there to help you make a better purchase. So let's dive straight into these 6 strollers.
List of the 6 Best Strollers for Tall Parents:
Comparison Table:
The 6 Best Strollers for Tall Parents in 2022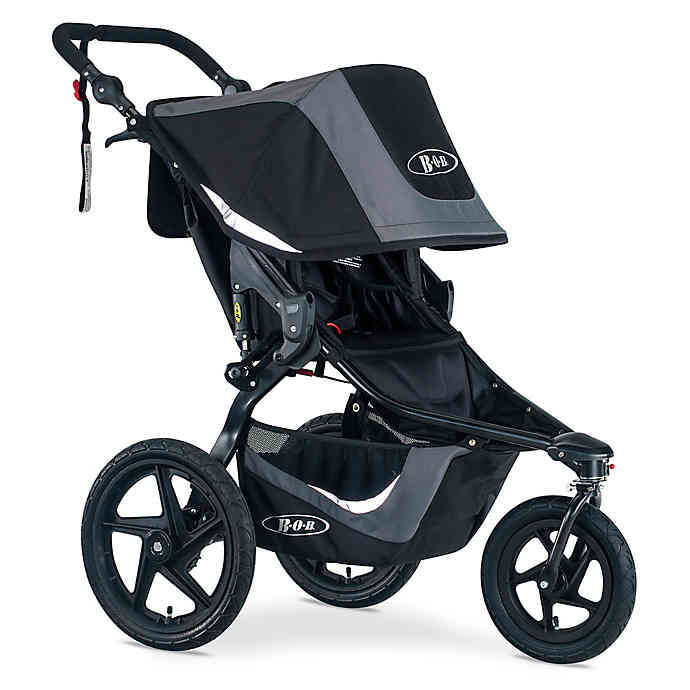 The BOB Revolution Flex 3.0 excels in every element, making it the best stroller for tall parents.
It has an adjustable handle height that ranges from 34.8-inches to 48-inches, making it the one with the most handle height on this list. Moreover, it weighs 28.50 pounds and has a maximum capacity of 75 pounds. It might not be the lightest stroller on this list however, it is still one of lightest. Also, its maximum capacity is superior to all the other 5 models that we will discuss.
Now, we move on to its features, starting with the brakes. The Flex 3.0 has a center plastic pedal near the rear axle that enables you to stop the stroller with the slightest touch. We cannot talk about the brakes without talking about this stroller's amazing and smooth maneuverability. You can easily control it single-handedly.
It can also be utilized as a jogger stroller as you can use it on almost any terrain due to the fact that its tires are quite large, and made from rubber. Plus, there is a swivel wheel that you can unlock at any time for roots or large pumps. Moreover, it has an amazing suspension system that is adjustable.
The Flex 3.0 has an extremely unique canopy that has mesh ventilation as well as magnet closure. It also contains a peek-a-boo window that will allow you to check on your child at any time.
It has a large storage bin that is fitted with many pockets. The bin also provides you with back and side access where you can store up to 10 pounds of items.
Finally, in terms of folding, the Flex 3.0 excels at some points. It can be folded by simply pulling two release levers and a rear pull loop. Folding it is very easy and straightforward. However, its only drawback is that there are not any carry handles to lift it from, which makes carrying it a hassle.
Final Verdict
The BOB Revolution Flex 3.0 is the pinnacle of strollers for tall parents. It has everything that you might need from high quality to durability to amazing off-road maneuverability and a lot more.
---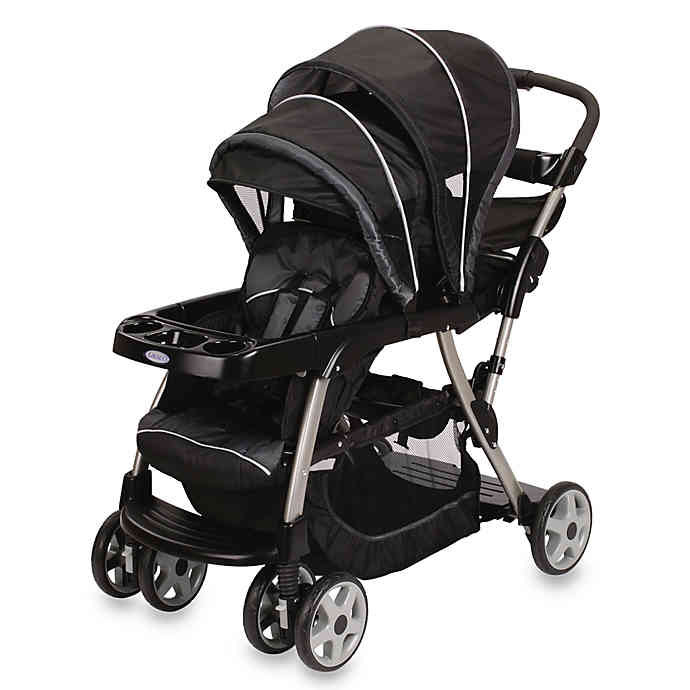 An excellent double stroller for tall parents and an amazing overall stroller. It is a strong competitor for the first place, so let's dive into it.
The Graco's handle has four different positions for you to choose from. These four positions suit all heights.
It is one of the best double strollers on the market for tall parents. It has a unique design that accommodates two Graco SnugRide Click Connect Infant Car Seats with a single click. Furthermore, it provides you with 12 different configurations so you can fully customize it to your liking.
The front seat is equipped with a padded 5 points locking security harness that is fitted with a quick-release hatch.
The rear seat is fully adjustable and can be removed and replaced by a standing platform for when your child grows. Also, the two seats can be fully reclined in case your child needs some sleep.
This stroller is packed with amazing features and accessories from adjustable sun canopies to a removable tray that will hold everything in its place like toys, cups and many more.
Folding it is very easy as it can be folded using just one hand. Plus, ithas been designed with maximum storage capacity for everything that you and your child might need on your walks.
Finally, the only downside to this model is that it only accepts Graco car seats.
Final Verdict
The Graco Ready2Grow LX Double Stroller is an amazing stroller for tall parents who have twins or children that are generally close in age. It handles like a dream and has everything that they might need. However, to add car seats, you will have to stick with Graco.
---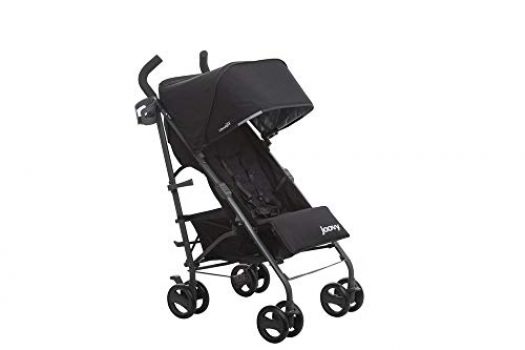 An amazing Umbrella stroller. The JOOVY New Groove is a lightweight stroller for tall parents.
The JOOVY's main focal point is its weight. It is the lightest on this list and one of the lightest strollers on the market. At only 15.70 pounds. This weight makes carrying it, whether folded or not as well as storing it very easily.
It has very high handles sitting at 42.50-inches. Which, despite not being adjustable are still considered perfect for tall parents.
It is on point for newborn babies as the seat reclines to an almost flat position, and is equipped with a built-in foot enclosure that will keep your child secure.
Folding it is easy and straightforward as you just pull the two levers at the stroller's base and push it forward. And it will stand on its own.
However, one thing that you should be wary of is that this stroller is not easy to clean, despite the fabric being stain and water-resistant. It still shows marks that are difficult to remove.
Final Verdict
The JOOVY New Groove is an amazing umbrella stroller for tall parents. It has everything that you will ever need packed neatly in a lightweight design that makes moving it and carrying it extremely easy.
---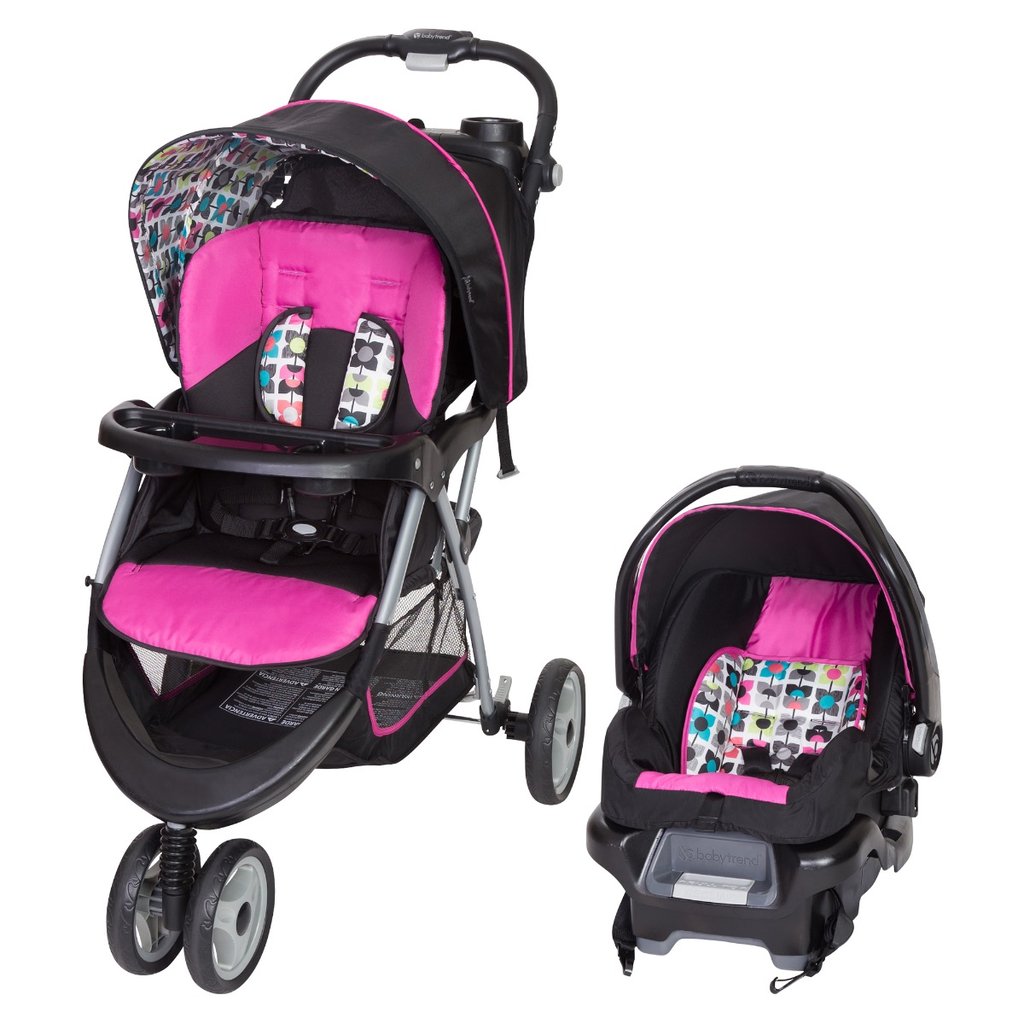 This stroller functions as an amazing travel system. Most of its features are directed towards the comfort of your child as well as your own comfort.
The handle is adjustable up to 42-in., all with the touch of a single button.
The infant car seat contains a five-point safety harness as well as a four-position adjustable base. Which also, operates with a single button.
You can fold the stroller using one hand by pulling the lever that is in the handle's center and pushing forward. Besides, it comes with a sun canopy that has multiple adjustments.
However, the stroller has a synthetic material that might make your baby sweat more than the usual.
The Ez Ride 35 provides you with a much-needed storage capacity for both you and your baby, you can store everything from diapers and toys to car keys and your phone. There are even zipped storage places for all your valuables.
Final Verdict
The Baby Trend Ez Ride 35 is a high-quality stroller that will fulfill all your demands. It functions as a great travel system and is very durable.
---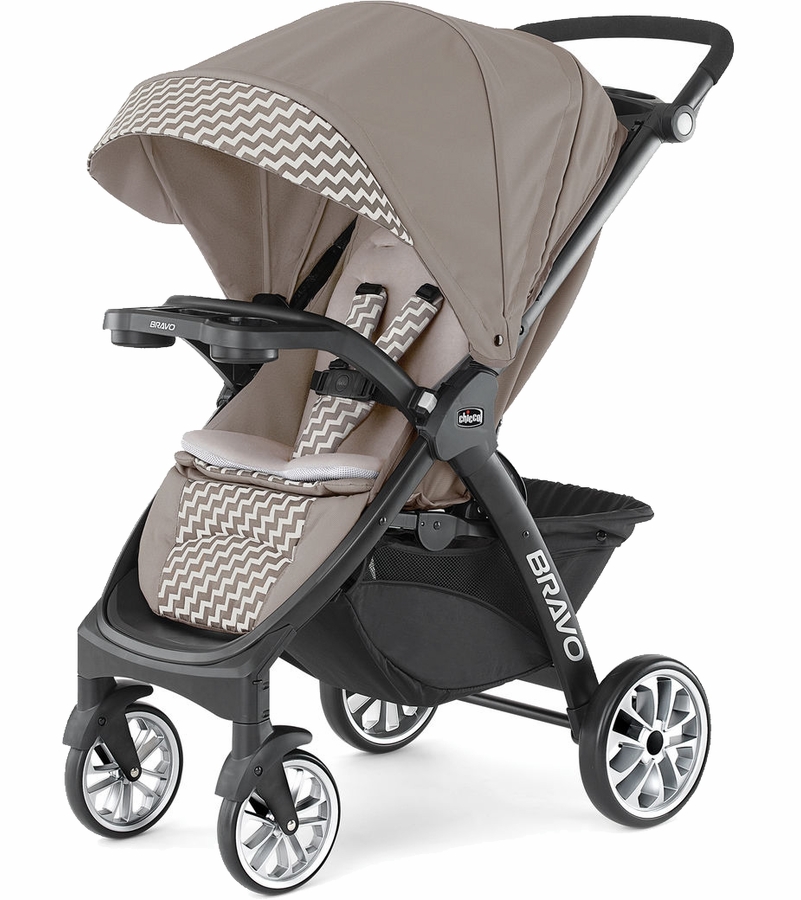 This is a stroller for parents on a budget. However, you do not need to fret as you will be getting amazing value for your money. As it is packed with amazing features and it is the cheapest stroller on this list.
The adjustable handle makes it perfect for tall parents. Also, it comes with plenty of storage capacity for all your and your child's belongings as well as zippered storage for all your valuables. There is even a detachable child tray for your precious one, so you can keep all of his or her belongings close at bay.
The child's seat can be reclined to different angles and positions to ensure the maximum comfort of your child.
Finally, folding it is very easy and straightforward. However, there is not a latch that will keep it folded. So if you are putting it inside your car trunk using one hand, it might unfold.
Final Verdict
The Chicco Bravo LE Quick-Fold Stroller is very budget-friendly and perfect for parents with a budget. It is an amazing blend of great features and a fantastic price. You cannot go wrong with this one.
---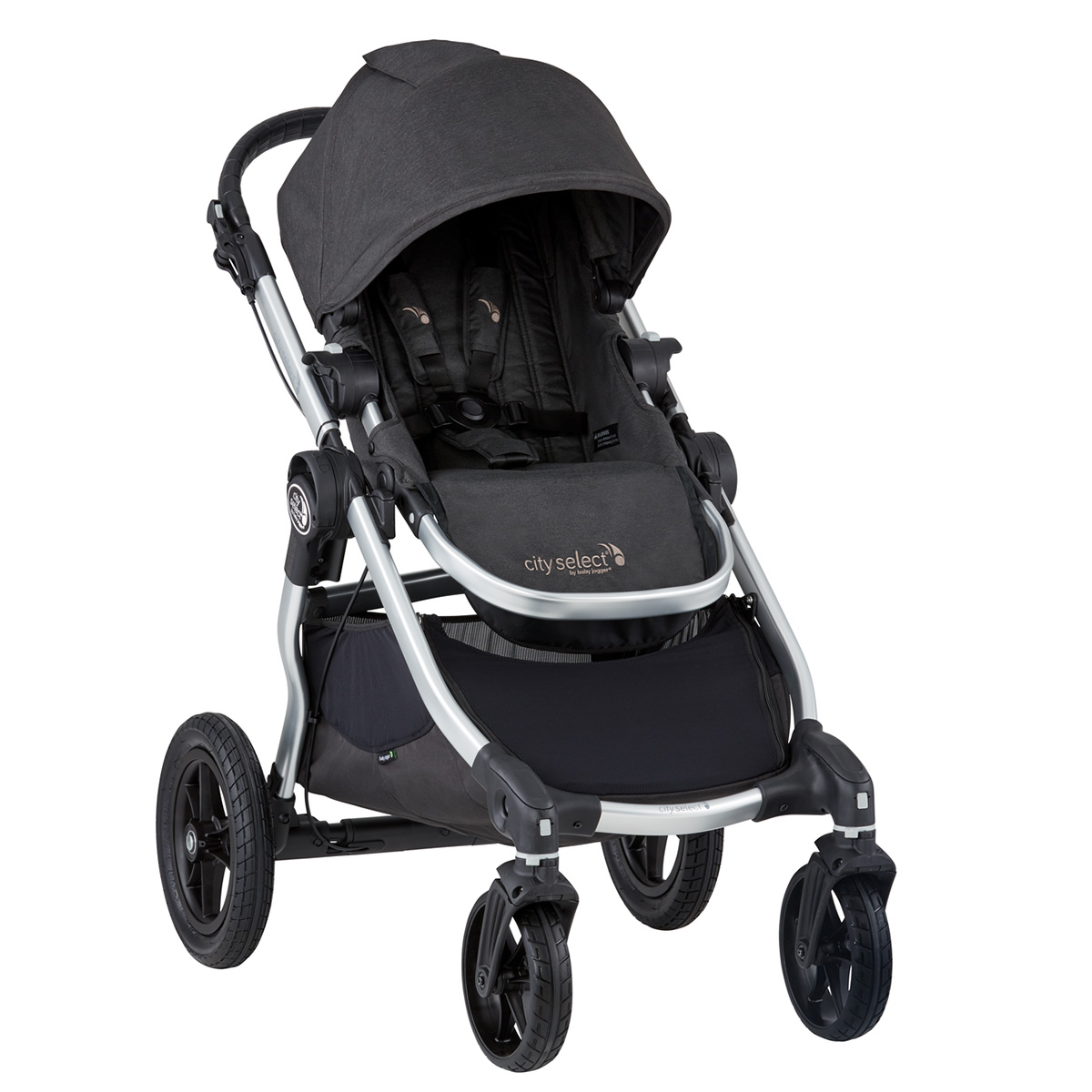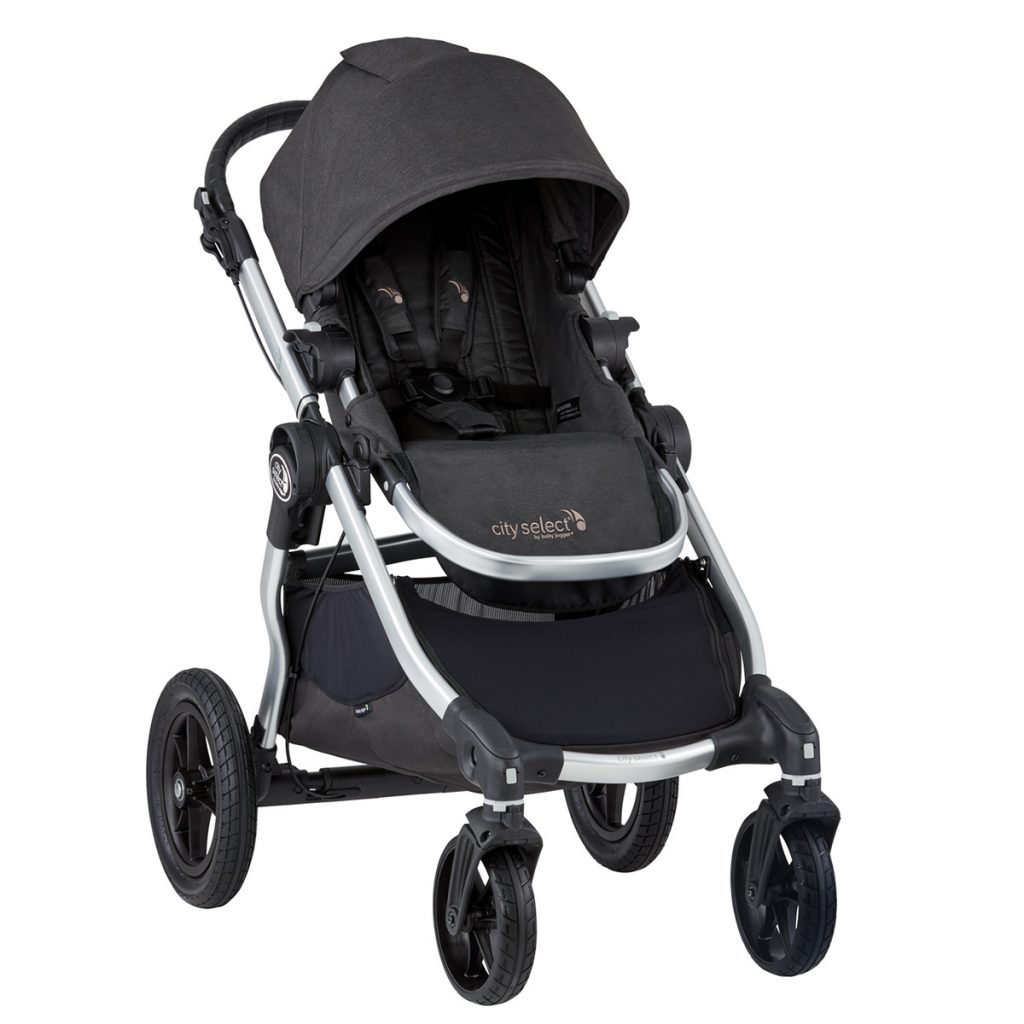 A good jogger stroller for tall parents. It can traverse all types of terrain with ease.
This stroller is suitable for parents who need just a stroller as almost all the accessories are sold separately. However, this does not impact this stroller's quality.
It has four wheels that will easily traverse any type of terrain, no matter the mud, sand, or concrete. The brakes are hand-operated, so you do not have to use your legs to brake.
This stroller is one of the most versatile ones out there. As it can be changed and customized according to your needs. You can convert it into a double stroller or even use it as a travel system.
Also, the seat can be reclined into multiple positions to ensure your child's comfortability. Moreover, it comes with a sun canopy that can be adjusted for different head heights.
However, as we said before, if you want to add any accessories to this stroller, you will have to buy them separately from cup holders to everything needed to change it into a double system. Everything is sold separately.
Final Verdict
The Baby Jogger City Select Stroller is one of the most versatile yet basic strollers. It is suitable for first-time parents who just need a basic stroller that will not let them down.
---
What Are the Different Types of Strollers for Tall Parents
The market is over-flooded with different types of strollers. All with various features and specifications. We will now cover the most prominent and convenient types for tall parents.
1. Travel Systems
They have adjustable handles that are perfectly suited for tall parents as they will save you the trouble and pain of hunching over.
Travel systems are great strollers for tall parents and short parents alike. They have everything that a parent might need. And always come equipped with all the extra accessories that a parent might need from sun canopies to parent and child trays to even cupholders.
Their main feature and probably the most practical one is that they come with an infant's car seat. This seat can be installed in your car for long drives, so you no longer have to worry about your child's safety. Also, the rear can be adjusted to multiple positions, reclined, and is cushioned to ensure your child's safety and comfortability.
However, the main drawback of this stroller is that it is heavier and bulkier than any other stroller. This makes maneuvering it not as easy and can be a somewhat hard task to do.
2. Umbrella Strollers
True to their names, umbrella strollers have handles shaped like those of an umbrella. Their handles are usually tall, making them suitable for tall parents.
They are extremely lightweight, and mostly foldable, which is always an amazing addition. This makes them very compact and easy to store almost anywhere around your house or even in your car's trunk. 
Moreover, they are also great when it comes to maneuverability as they can be easily led and can traverse almost any terrain.
However, they do not come with accessories consequently if you need extras like a cup holder or trays or even the sun canopy in some models. You will have to purchase them separately. Plus, the child's seat is not cushioned, which decreases comfortability.
3. Reversible Stroller
A reversible stroller is a great option for a newborn child. As you might want your child to face you instead of facing the other direction.
4. All-Terrain or Jogging Strollers
The strollers are designed for the active and sportif parents who need to keep in shape, while keeping their precious ones safe and secure.
These strollers have air-filled tires and an amazing suspension system. This allows them to traverse all-terrain, whether sand or concrete, they will never fail you. They are amazing for hikes and even even long walks. 
The handles are relatively long, making them perfect for tall parents, and they're designed with extraleg-room due to the handle's design making these strollers very comfortable to grip and stir.
Also, they are equipped with all the accessories that you might need from a sun canopy to a cupholder and many more.
However, the main drawback of this type of stroller is that they are not suitable for infants below the age of six months. Using an all-terrain or jogging stroller for a child below the age of six months might put his health at risk.
5. Double Strollers
Double strollers are not an entirely different type of strollers as you can purchase all-terrain, umbrella, reversible, and even travel system strollers are double strollers. They are perfect if you are blessed with twins or with two children that are close in age.
The accessories that come depend on the model that you will purchase. However, most models include sun canopies, cup holders, and storage baskets.
Nonetheless, despite most double strollers being heavy and bulky, they are very easy to move and have amazing maneuverability.
How to Pick a Stroller for Tall Parents
Picking a stroller, in general, is a daunting task. Let alone picking one for a tall parent. There are many points and elements that the parent has to consider for the sake of his/her health as well as the health of the child. This is why we have divided these elements into child-related ones and parent-related ones. So without further ado, let's dive into these points.
1. Child
Sun Canopy
There is no such thing as too much sun, right? Wrong, exposing your child or infant to the sun is definitely a good thing as he or she will get that much-needed vitamin D that will help them build their bones. However, having them exposed all the time to the sun is definitely a bad thing as it is not good for their skin and health.
Hence, having a sun canopy that shields your baby from the sun is a definite must. Also, if you can find a sun canopy with an integrated peek-a-boo window, it will be a great addition, as it is always preferred to get a look at your child during your walks.
Seat
This is, of course, the focal point of a stroller. It must have a comfortable and cushioned seat. If the child is not comfortable, then it will be a big hassle. Before buying a stroller, you need to make sure that the seat is cushioned, padded, and can recline freely. Stroller's seats recline differently; some of them can go fully flat while others recline at certain angles only.
Car Seat Compatible
Having a stroller that is car seat compatible will save you lots of money. As you will no longer need to purchase a separate infant car seat.
2. Parent
Seat Height
Tall parents need to buy strollers that have high child's seats. A high child seat will increase the overall height of the stroller itself. This is amazing for tall parents as they will no longer need to bend down to either tend to their child or pick him/her up. So this will definitely go the extra mile by relieving the parent's back and shoulder.
Handle Height and Adjustability
Having a stroller with a tall handle is a must for any tall parent. A short handle will be extremely tiresome and will only end up damaging your back and shoulder as you will constantly be hunched over to grab it. So, it goes without saying that a tall parent should look for a stroller with a handle that is at least 40-inches high.
Moreover, if you can adjust the handle's height, that would be amazing, especially if the two parents have different heights. Having adjustable handles will prove to be very beneficial, especially if you can customize and adjust the height using buttons. It will save you loads of effort and time.
Folding
This is a major point to consider. As you need to take care of how the stroller folds and its size when folded as well. Many strollers can be folded with one hand, which is convenient. As you can carry your child with one hand and fold with the other. Moreover, you need to know if your stroller can stand when it is folded and how compact it will be as that will affect how easily you'll be able to store it.
Weight and Size
These two are connected to the previous point. You might not think that knowing the size and dimensions of your stroller is important. However, if you have a small trunk or regularly walk through crowded streets, then having a small stroller is a must. Also, you need to know the stroller's size when it is folded and unfolded so you can determine how and where you will store it.
Knowing your stroller's weight is very important as it affects its maneuverability and the force that you exert to push it. Plus, having a bulky stroller will be tiresome when putting it into your car's trunk and when taking it out. So pay attention to the stroller's weight before purchasing it.
Storage Capacity
Having storage on a stroller is a must. You need to have a place for all your child's needs, whether it is diapers, lotion and even their toys. A good stroller must provide you with an adequate amount of space to store all of your baby's needs. Nevertheless, there needs to be some space for your belongings like your car keys, wallet, and phone. A stroller that has zipped pockets for the parents' belongings really goes the extra mile.
Furthermore, having a cup holder to put your water or any other beverage in it, is always a nice addition. Especially if you go on long walks with your child where both of you must remain hydrated. However, you do not need to worry if your stroller does not contain a cup holder, you can purchase one separately and install it onto your stroller.
Maneuverability
Your stroller must be easy to control and stir. Therefore, before choosing your stroller, you must know the types of terrain that you will be traversing and pick depending on them. Also, you must choose a stroller that has a sound suspension system and high-quality tires. Moreover, having to control a single handlebar is much easier than controlling two separate ones.
Frequently Asked Questions:
What are the Strollers with the Highest Handles?
Usually, all-terrain or jogging strollers, as well as umbrella strollers, tend to have higher handles than the other types. But, you should always know the fact that jogging strollers are not suitable for children whose age is less than 6 months.
How Much Do Strollers' Handles Adjust?
A stroller's handles might be adjusted a single inch, or it can be adjusted up to 10-inches or more. It all depends on the type of stroller itself and what are the adjustments that it will offer. Plus, some strollers' handles can be adjusted using buttons, while others will need to be adjusted manually using tools.
When to Buy more than One Strollers?
Buying more than one stroller occurs when the two parents have different heights where one of them is tall, and the other is short. However, first, you need to decide if the tall parent will be pushing the stroller regularly in which you need to buy a second stroller for the tall parent. There are cheap and good strollers that will do the job. But, if the tall parent will not be pushing the stroller on a regular basis, then the better option will be to stick with only one stroller.
What is a Stroller's Average Handle Height?
This all depends on the type and model of the stroller. However, the average handle height of a stroller is somewhere between 33 and 44-inches. But some strollers have handles that can go up to 50-inches high.
Final Thoughts
Now that we have reached the end of our article, and became familiar with everything there is to know about the 6 best strollers for tall parents. Let's get down to some recommendations.
If you need an ultimate, high end stroller, then the BOB Revolution Flex 3.0 is your best bet, and trust us, it will not disappoint you. Second to it is the Graco Ready2Grow Double Stroller which is a strong competitor for first place and has amazing features and quality.
However, if you are looking for something more budget-friendly, then you might want to go with the Chicco Bravo LE Quick-Fold Stroller.
You Can Also Check: