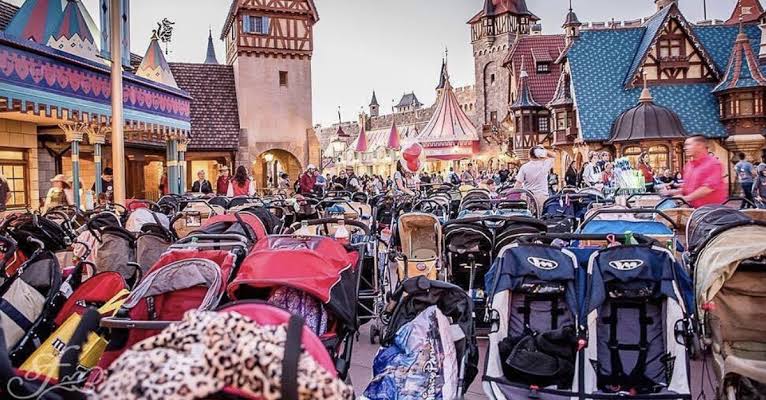 If you're going on any trip with kids, you'll have to bring a stroller along. And these are a hassle to move around and maneuver on a busy day, so let alone at Disney World!
So if you're going to a Disney World trip with your little ones, here are some tips that will make moving around with your stroller a lot easier.
1. Renting vs. Bringing Your Own Stroller
I would highly recommend bringing your own stroller.
The cost of rentals can add up pretty quickly –especially the lightweight umbrella ones that are still hard to push.
Moreover, you'd be more familiar with your own stroller. This means you'll have better control over it, identify it more easily, and have all the features you usually need with you.
Strollers with removable car seats would be the best option you can get. This is because strollers must be parked outside of the attractions, but a lot of shows and even some rides let you bring the car seat along.
According to the latest regulations of Disney World, your stroller shouldn't be larger than 31 inches wide and 52 inches long.
Unfortunately, if yours has bigger dimensions than that, you'd have to rent one. Moreover, if you have a traditional pull wagon, leave it behind as these are no longer allowed in Disney World.
2. Understand How You Can Move Around with Your Stroller
Disney provides its visitors with ways to get from Disney World to resorts, theme parks, Disney Springs, water parks, and even the airport. So, knowing how transportation works with your stroller will be very handy and save you a lot of hassle.
Prepare to Unfold and Fold Your Stroller Repeatedly
Disney Transportation that require you to fold the stroller and carry your child in your lap include the Magical Express (from and to the airport), the Tram (from parking lots to theme parks and vice versa), and the Bus (throughout Disney property).
So if you're going out of your car and heading for the tram, don't load your child into the stroller as you'd have to take them out again just a few moments after.
You Don't Have to Take Your Child Out of the Stroller
Disney's Monorail allows guests to keep their child in the stroller for the ride. You should consider folding your stroller for more people to come aboard if it's a tight squeeze, however.
Sometimes it Depends
Disney's ferry/boat rides don't have an absolute rule. Larger ferry boats such as the ones that go to and from the Transportation Ticket Center (TTC) to Magic Kingdom allow you to leave your child in the stroller. On the other hand, smaller resort boats such as the ones that travel from resorts to Disney Springs may ask you to fold the stroller and place it in a designated area on the boat.
A cast member will always inform you of what needs to be done with your stroller, so don't panic if you're not sure what to do.
Strollers in Restaurants
Most restaurants will ask you to park your stroller outside of the place in a stroller parking. However, they might allow you in if your child is sleeping, so don't be shy to ask.
3. Park the Stroller First
If you see the stroller parking area around an attraction, park your stroller first. It's there for a reason, so there's no need to waste time by going with your stroller just to find out you can't take it in.
4. Mark Your Stroller
There will be hundreds of strollers at Disney World, so you may want to mark yours somehow in order to be able to find it easily.
On top of that, sometimes cast members move the strollers around to make room for others.
Use bright duct tape, a flag, or a special helium balloon to make your stroller stand out from the rest.
5. Be Prepared for the Weather
There's nothing worse than wasting some time during the day because you weren't prepared for the weather. Whether it's an unexpected downfall or a day sunnier than you've expected, you'll be worrying about getting shelter and therefore wouldn't be able to enjoy your day.
Have an umbrella with you and a poncho to cover your stroller when it's parked. Moreover, you can buy a stroller fan to keep your child refreshed during warmer days.
6. Plan Ahead
Knowing the layout of parks, parking spaces, and other places will help you dodge crows and maneuver your stroller more easily.
Moreover, when it comes to parades, you should make time to roll your child up to the curb and leave them in the stroller to enjoy the show.
However, if that's not the cast, then it would be easier to leave your stroller behind and walk to parade instead.
7. Keep Distractions
Sometimes when you're waiting in lines or waiting for an event to begin, your child may get bored and fidgety. Having some toys, glow sticks, or plushies that you can present your child as a gift from Mickey would be both a good distraction and a good souvenir for your kids later on.
You Can Also Check: