Product
Seat
Handlebar
Handlebar
Adjustable
Reversable
Brakes
Brakes
Rear Wheel Brakes
Handbrakes
Weight (lbs)
Dimensions (in)
Dimensions (in)
35 x 21 x 13
35.4 x 23.2 x 11.8
Capacity (lbs)
Wheel Type
Wheel Type
Foam-filled
Rubber
Hello, parents! You are probably lost searching for a stroller that suits you best. Well, search no more! Bugaboo Buffalo and Bugaboo Cameleon are from the best strollers on the market. All you need to do is know the slight differences between them so that you can make your decision.
In this article, I will state their differences, similarities, pros, and cons.
Bugaboo Buffalo vs. Cameleon – Full Comparison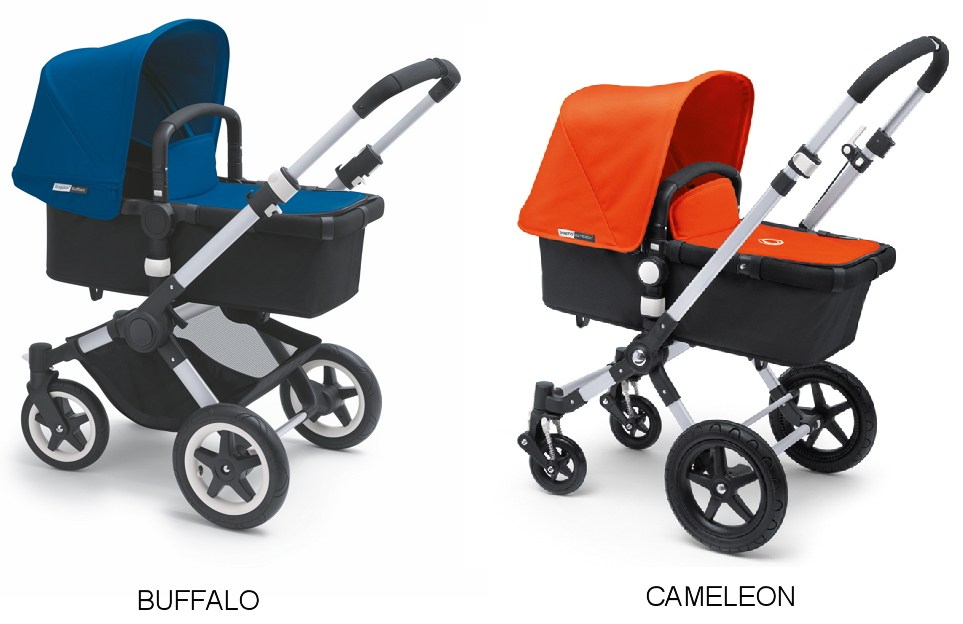 Seat:
The seat of Bugaboo Buffalo is enormous. Its back measures 47 cm, and the width at the narrowest part is 30 cm. This means that it can fit tall children, and that it grows with your children and can keep them comfortable for many years.
You do not need to worry about the seat getting dirty because Bugaboo Buffalo comes with a removable and washable seat.
Moreover, using just one hand, you can reverse the seat so that it faces face you or the world. Press in the white button on the seat, the seat will pop up, and you can reverse it right away. This is an excellent feature because it allows you to keep an eye on your child. Also, if your baby is crying because he/she is too scared of seeing all these strangers and not seeing you at all, you can turn the seat around and keep your baby calm.
Likewise, Cameleon's seat is extra comfy for your baby because it is padded. It also can be positioned forward or backward. That way, you can either let your baby explore the world while you enjoy your walk, or make him/her face you so that he/she does not freak out if he/she is still very young.
You can use the seat starting from day one thanks to its included bassinet. Then, when your baby grows up, you can put him/her in a full-size seat. The seat is suitable for children up to 37.5 lbs.
Recline:
In addition to the excellent features of Buffalo stated above, the seat can recline whether it is facing forward or backward. You can recline it to three positions: upright, 45 degrees, and flat. These three positions help your baby be as comfortable as possible. As for you, you can recline the seat using one hand by pressing the white handle at the top of the seat in the middle. The reclining operation is extra smooth.
Similarly, Cameleon's seat can be reclined to three positions ranging firm upright to lying flat. These positions will help your baby take a nap or sit upright and enjoy watching the world.
Canopy:
Bugaboo Buffalo has an extended canopy that has two positions. The first position covers the pushchair seat. If you unzip the back of the canopy, you will uncover an extra panel. This extra panel will turn the Buffalo seat into a cocoon. However, the canopy has no ventilation, which is a big deal in the summer.
Moreover, Buffalo has a rain cover that can be put all over the seat when it is raining. It has an access window in the front so that you can give your baby a snack or hold his/her hand, for example.
Bugaboo Cameleon has an extended sun canopy that comes in all rainbow colors. You can choose the color that suits you and your baby best. Sadly, it has no ventilation, as well.
Harness:
Buffalo's seat has a five-point harness that can be done up one side at a time. Moreover, the shoulder straps can be adjusted to the way you need them by sliding them up and down a piece of fabric attached to the back of the seat.
There is also a gate-opening bumper bar that offers you easy access to the seat when you are placing your babies in or removing them.
Similarly, Cameleon offers a five-point harness. The five-point harness is an excellent feature because it leaves you assured that your baby will not wiggle himself/herself out of it. So, if you are moving downhill, you don't need to worry about your baby falling.
Handlebars:
Both strollers come with an adjustable handlebar. This means that you can adjust the height of the handlebar until you reach the height that suits you best. This feature allows you to enjoy your walk with the minimum amount of fatigue.
Moreover, Cameleon handlebars can be reversed to put big wheels forward and take on rough terrain.
Brakes:
Buffalo's brakes are on the left-hand side on the inside of the rear wheel. They are easy to use as you can push down for ON, and pull up for OFF. You can use them even if you are wearing a flip flop because they don't require much pressure.
On the other hand, Chameleon has a hand brake. Hand brakes are usually easier to use.
Folding:
You can fold Bugaboo Buffalo with the seat parent-facing, world-facing, or with the carrycot installed. This is an absolutely attractive feature because it facilitates the folding process. Once you fold it with the carrycot in place, the stroller can be left freestanding.
Follow these steps when you want to fold it with the carrycot in place:
Put on the brakes, drop the canopy, move the front wheels to the forward-facing position and lock them in place, drop the handle to its lowest point, pullback the triggers up on the handles, drop the handle to the floor, and finally, pick up the center of the Pushchair to fold.
When you want to fold it with the seat parent-facing, you need to rotate the seat past horizontal and do the following:
Put on the brakes, turn the front wheels, so they are forward-facing and lock them, drop the handle to the lowest position, recline the seat past horizontal, operate and pull the trigger on the handle, lower the handle to the floor, and pick up the Buffalo with the center beam.
Unfolding it is a piece of cake as well. All you have to do is drop from wheels out from under the center of the chassis, lift the handle, adjust the seat recline position, and unlock the front wheels.
It is needless to say that you can remove the seat and the carrycot if you want the stroller to be in its most compact form when folded.
On the other hand, Cameleon's folding is not that easy. You must dismantle it into two pieces before you fold it. You must take off the carrycot or car seat first, and then the chassis can be folded down. So, to fold the Cameleon, you need to use both your hands, which is cumbersome given that you may be holding your child with the other hand, for example.
Maneuverability:
Buffalo feels light to push thanks to the position of the handlebar. The handle's proximity to the rear wheels gives you control when pushing because it helps with turning. You can easily push it on uneven terrains. Moreover, thanks to its built-in flex and the high sidewall on tires, the lack of true suspension is not noticeable.
Similarly, Cameleon can handle unpaved land. You can switch between the small swivel wheels at the front -that can be used in the city– or the larger foam-filled 12" wheels at the front – that should be used on uneven terrains- by merely switching the parent handle over.
Besides, Cameleon offers unusual two-wheel mode – you can push the buggy with just two wheels. This is an excellent option for coping with challenging terrains, like sand or snow.
Compatibility:
Buffalo is car seat compatible with select car seats (Maxi Cosi, Britax, Chico, and Peg Perego. The adapters are sold separately.
Cameleon is paired with separate adapters. It's compatible with many major car seat brands such as Maxi-Cosi Pebble, Cabriofix, and Citi, Britax Baby-Safe Plus II, and SHR II, Be Safe iZi Go, Cybex Aton and Bebe Confort Pebble.
Weight:
Bugaboo Buffalo: 27.9 pounds
Bugaboo Cameleon: 21.2 pounds
Dimensions:
Bugaboo Buffalo: 35 x 21 x 13 inches
Bugaboo Cameleon: 35.4 x 23.2 x 11.8 inches
Price:
Bugaboo Buffalo: CHECK CURRENT PRICE
Bugaboo Cameleon: CHECK CURRENT PRICE
Carrying Capacity:
Bugaboo Buffalo: 38lbs
Bugaboo Cameleon: 37Ibs
Front Wheel Size and Type:
Bugaboo Buffalo: 10" – Swivel and lockable
Bugaboo Cameleon: 6" – Swivel and lockable
Back Wheel Size:
Bugaboo Buffalo: 12"
Bugaboo Cameleon: 12"
Wheel Type:
Bugaboo Buffalo: Foam-filled
Bugaboo Cameleon: Rubber
What We Like And Do Not Like about Bugaboo Buffalo and Bugaboo Cameleon:
Bugaboo Buffalo: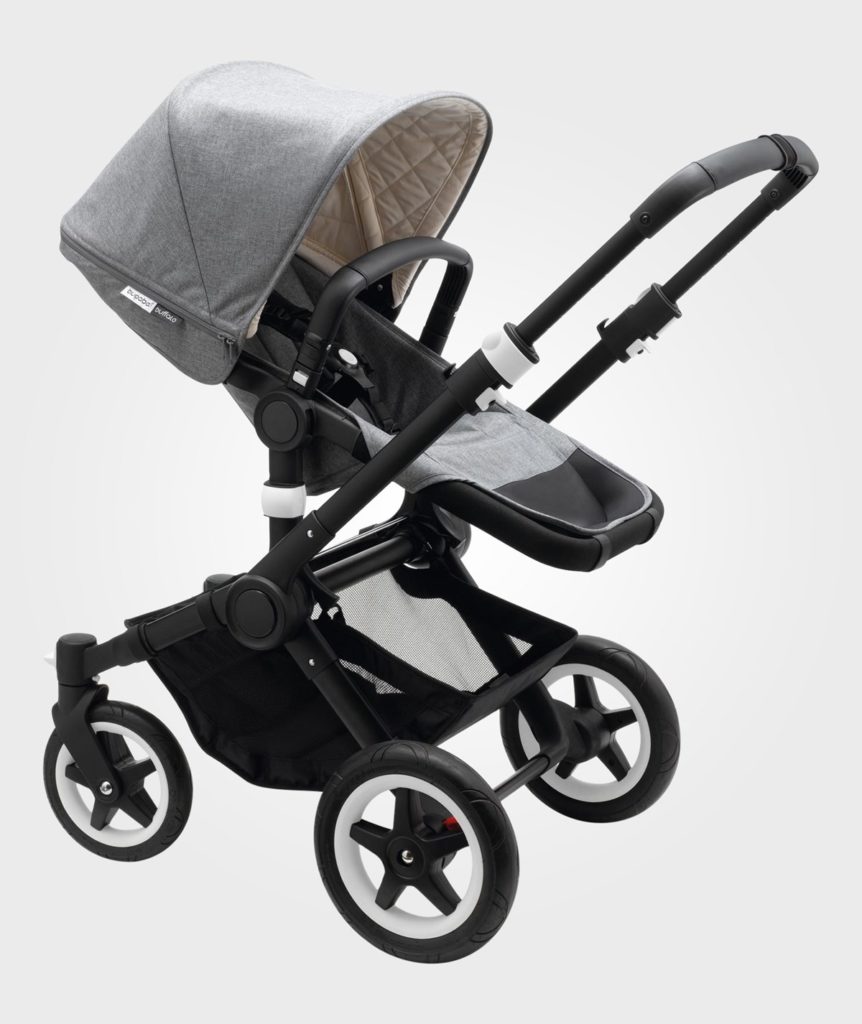 Bugaboo Cameleon: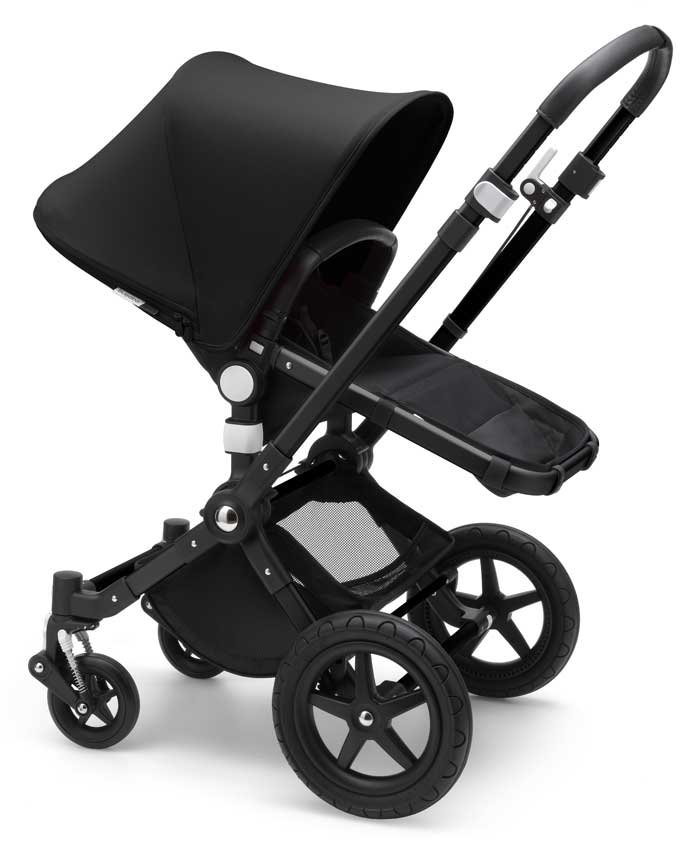 Questions and Answers:
Bugaboo Buffalo:
Q: What does it come with?
A: It comes with a rain cover, a basket, and a bassinet.
Q: Is the bassinet overnight safety rated?
A: Buffalo bassinet is overnight rated when used with the Bugaboo Stand.
Bugaboo Cameleon:
Q: Does it include a bassinet?
A: Yes. It includes one seat/bassinet frame. It also comes with the fabrics needed to use the seat as a bassinet or toddler seat.
Q: Is the fabric waterproof?
A: Yes.
Q: Is it okay to put two babies in it?
A: No. Its front wheels are small.
Parents' Reviews on Amazon:
This is a highly durable stroller. We have been using it for six months, and it still looks as good as new!
It is expensive but worth it. The baby can sleep comfortably!
I do not like its sand-like color.
It is easy to use, easy to fold, and has excellent features. However, they use a cheap plastic clip in the middle of the handle for holding the bassinet, so it is prone to falling.
Bugaboo Buffalo vs. Bugaboo Cameleon: Which One Is Better?
Bugaboo Buffalo seems to be the better choice here. It handles rough terrain, it can be folded with the carrycot attached, and its seat can grow with your babies. Moreover, its seat is durable and washable. It is even cheaper than Bugaboo Cameleon, even though it includes the same excellent features the same as Cameleon!
You Can Also Check: