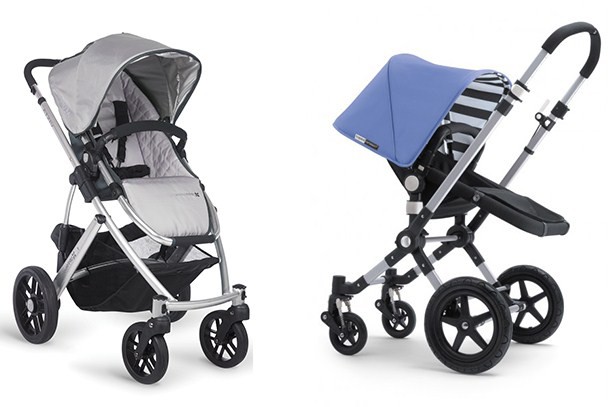 Parents are always trying to find what makes their babies comfortable to the extent that they usually neglect their own comfort. However, parents should always look for their own comfort as well.
In this article, I will state the features of each stroller, so that you can choose which one is more comfortable between Bugaboo Cameleon and UPPAbaby Vista for you and your baby.
Bugaboo Cameleon vs. UPPAbaby Vista – Full Comparison
| | | |
| --- | --- | --- |
| Stroller | Bugaboo Cameleon | UPPAbaby Vista |
| Seat | Reversible | Reversible |
| Age | From day one and up to 37.5 lbs | 3 Months up to 50 lbs |
| Maneuverability | Easy to push and very responsive | Easy to push and very responsive |
| Weight (lbs) | 21.2 | 50 |
| Dimensions (in) | 35.4 x 23.2 x 11.8 | 24 x 17 x 34 |
| Price | CHECK PRICE | CHECK PRICE |
Seat:
You can use Cameleon starting from day one thanks to its included bassinet. As your babies grow up, you can put them in the full-size seat. It is suitable for children up to 37.5lbs.
This stroller has a reversible seat so that your baby can either explore the world ahead of him/her, or face you to interact with you. Also, this feature is highly essential, especially for young babies, because they will most likely be afraid when you are out of their sight. So, it is always better to let them know that you are right there with them.
Moreover, the seat is extra comfy for your babies because it is padded.
Likewise, Uppababy Vista can be used from birth using a car seat, bassinet, or infant snug seat (sold separately). It can also suit babies from 3 months to 50 Lbs.
It also can be faced forwards or backwards, so that the baby can enjoy the view of the world, or enjoy talking to you. The seat's fabrics are removable and washable.
Comfort:
Cameleon's seat can be reclined to 3 positions. This feature allows your child to choose the suitable position for napping or sitting upright. The recline positions range from flat for napping to upright for exploring.
Speaking of handlebars, the handlebar can be reversed to put big wheels forward and take on rough terrain – find out more about this in Maneuverability section.
You can also raise them or lower them to a position that suits your height. This means that you and your husband can push the stroller without getting tired.
UPPAbaby Vista includes a one-handed, multi-position recline. This feature ensures that your baby will always find a position that is comfortable for him/her.
Folding:
Bugaboo Cameleon has to be dismantled into two pieces before it can be folded. You have to take off the carrycot or car seat first, and then the chassis can be folded down. Therefore, Cameleon folding is a two-handed job.
With UPPAbaby Vista, you have to remove the second seat from it pre-re folding. It is needless to say how much of a hassle this feature causes parents. Moreover, when it is folded, the handlebar rests on the floor, so if the floor is dirty or wet, it will get dirty and wet as well.
Maneuverability:
Both strollers are quite similar when it comes to their maneuverability. They are easy to push on flat surfaces, and they are very responsive. However, Vista's firm suspension and hard no-puncture tires make the rodes a bit bumpy.
On the other hand, Cameleon can handle uneven lands better. You can switch between the small swivel wheels at the front or the larger foam-filled 12" wheels at the front by merely switching the parent handle over. Use the swivel wheels when you use the stroller in the city, and use the big wheels that are on the front when you are pushing the stroller over uneven terrain.
Moreover, Cameleon offers unusual two-wheel mode – you can push the buggy with just two wheels. This is an excellent option for coping with challenging terrains, like sand or snow. If you want to take your child for a walk on the beach, this feature will prove to be very handy for both of you.
Baskets:
Chameleon's basket can take up to 24 liters, yet, it is hard to access. Also, the basket is almost impossible to reach when the carrycot is in place. However, you can buy an organizer that is excellent for parents on the go. You can attach it to the stroller and put your essentials in it. You do not need to get an extra bag for your mobile and keys, for example. You can also buy a snack tray that has a cup holder and a small serve compartment where you can put biscuits and yummy food.
On the other hand, UPPA baby's basket is exceptionally huge. Moreover, you can reach it from all sides even when the two seats are in place because they are too high on the chassis. It can accommodate coats and bags, so it is very suitable for shopping.
Compatibility:
Cameleon is paired with separate adapters. It's compatible with many major car seat brands such as Maxi-Cosi Pebble, Cabriofix, and Citi, Britax Baby-Safe Plus II, and SHR II, Be Safe iZi Go, Cybex Aton and Bebe Confort Pebble.
UPPAbaby Vista is compatible with MESA Infant Car Seat through direct attachment with no adapters. This feature makes both strollers travel-friendly.
The difference is that users of Cameleon have to pay extra money for the adaptors.
Suspension:
Cameleon offers adjustable suspension. You can adjust the stroller's swivel wheel suspension according to what most suits your baby or toddler's weight to get the best performance there is. It has hand brakes that are extremely easy to use.
UPPAbaby Vista offers front and rear suspension for a smooth ride.
Weight:
Bugaboo Cameleon: 21.2 pounds
UPPAbaby Vista: 50 pounds
Dimensions:
Bugaboo Cameleon: 35.4 x 23.2 x 11.8 inches
UPPAbaby Vista: 24 x 17 x 34 inches
Price:
Bugaboo Cameleon: CHECK CURRENT PRICE ON AMAZON
UPPAbaby Vista: CHECK CURRENT PRICE ON AMAZON
Accessories:
Bugaboo Cameleon:
Footmuff
Blanket
Seat line
Bag
Sun canopy
Cup holder
UPPABaby Vista:
2 raincovers
2 sunshades
Car seat adaptors
Travel bag
Parent organiser
Snack tray
Cup holder or baby Ganoosh.
Bugaboo Cameleon Vs. UPPababy Vista: What We Like And Do Not Like?
Bugaboo Cameleon: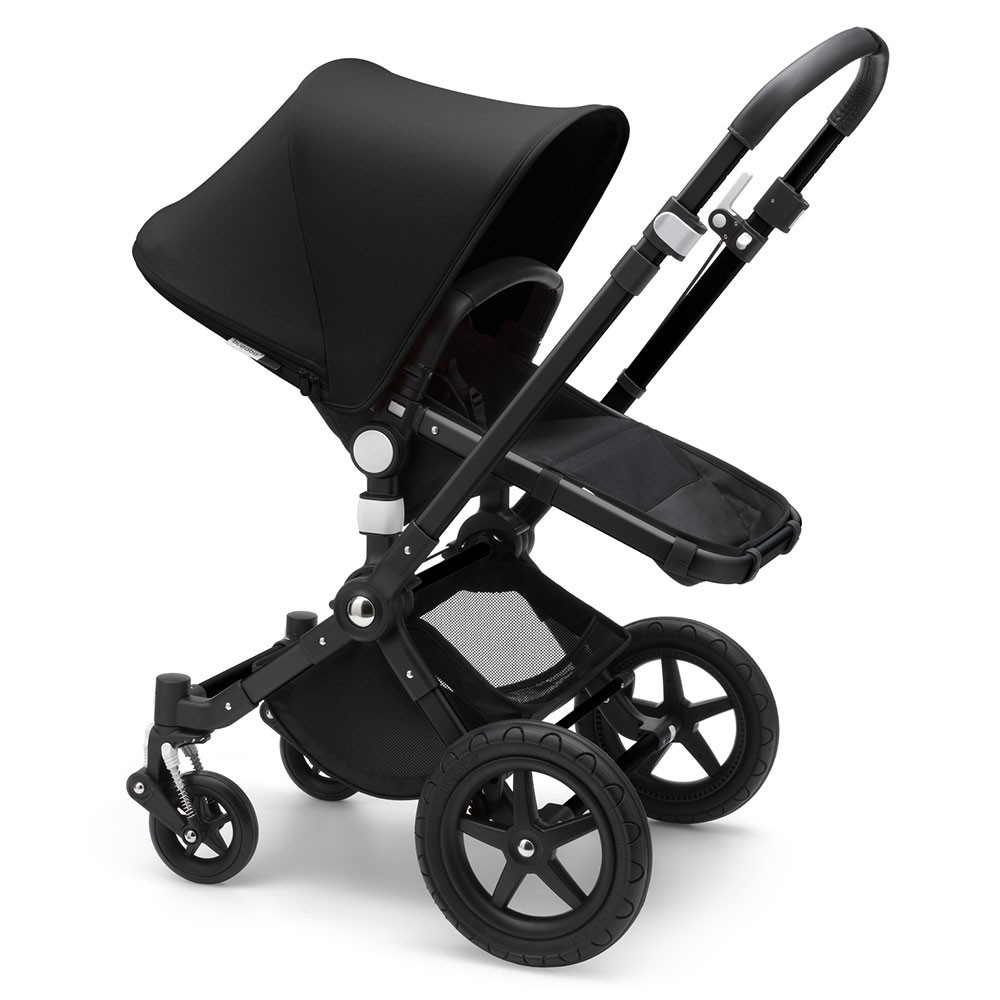 UPPAbaby vista: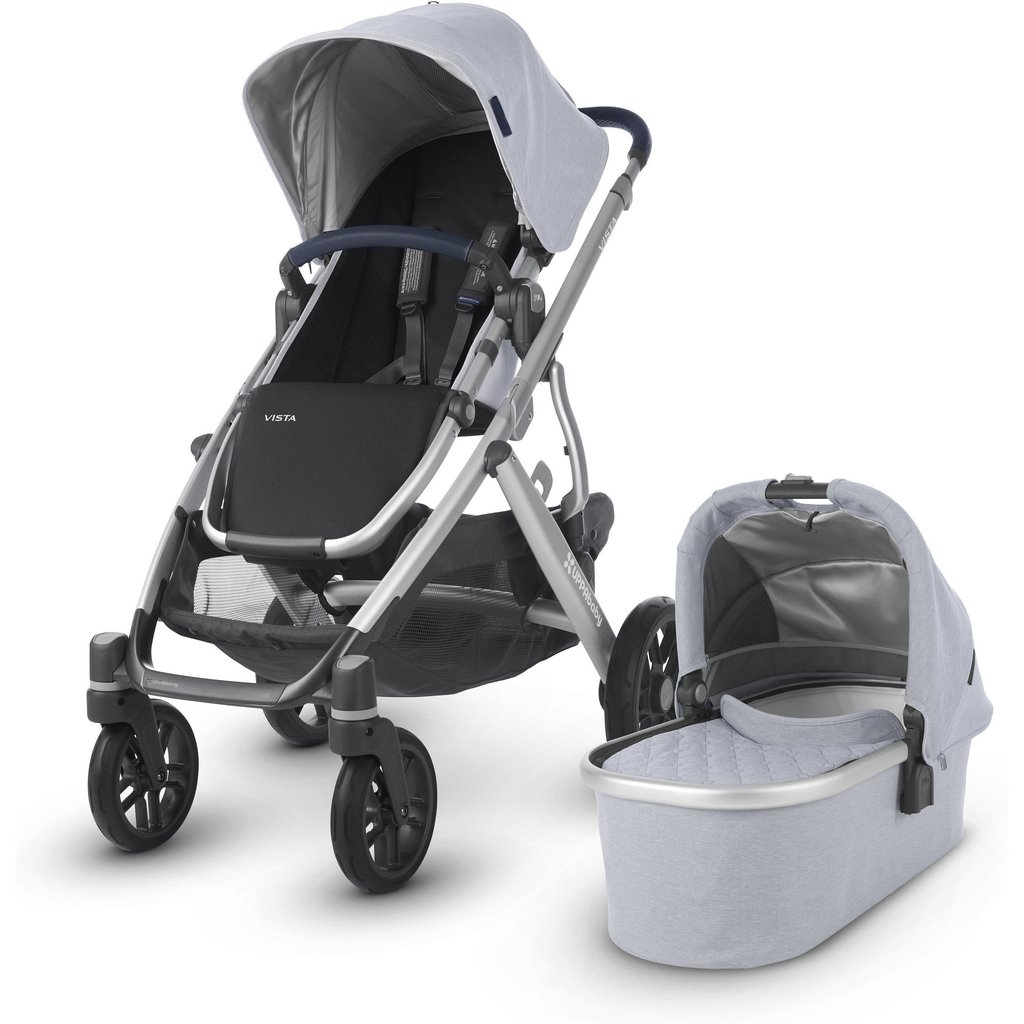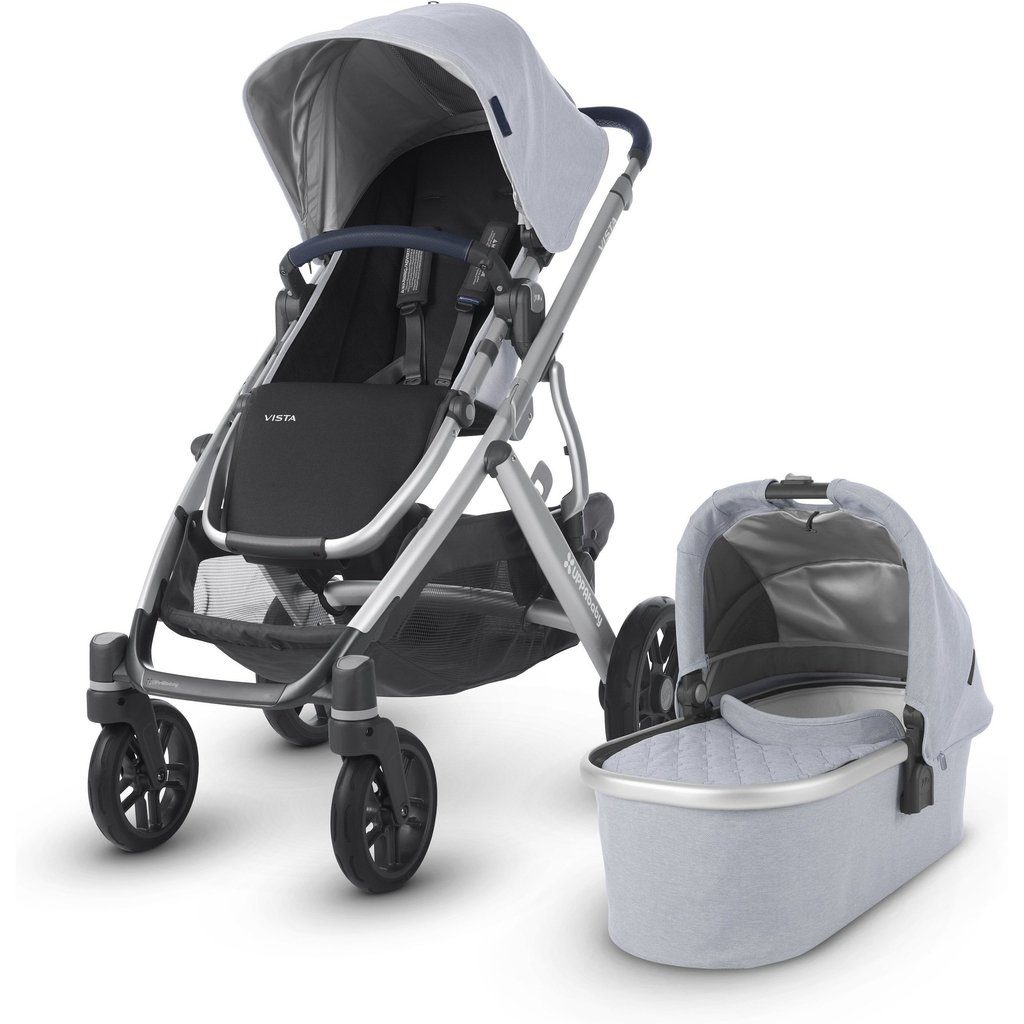 Questions and Answers:
Bugaboo Cameleon
Q: Does it include a bassinet?
A: Yes. It includes one seat/bassinet frame. It also comes with the fabrics needed to use the seat as a bassinet or toddler seat.
Q: Is the fabric waterproof?
A: Yes.
Q: Does it come in one box?
A: Yes.
UPPAbaby Vista
Q: Does the bassinet comes with the mattress cover?
A: Yes, you can zip off the outer cover and sides and throw in the washing machine.
Q: Should I remove the adapters to fold the stroller?
A: Yes. Not all adapters can be left on the stroller when t is attached.
Parents' Reviews on Amazon:
A great stroller, but its color is more sand-like than white.
You can use youtube to put it together.
Folding is not an easy process. Also, they use a cheap stroller plastic clip in the middle of the handle for holding the bassinet, so it is prone to falling.
There is no place to carry it from. Moreover, the silver frame gets easily scratched.
Easily folded with one hand, and thanks to its large basket, you can take it with you while you are shopping.
Bugaboo Cameleon Vs. UPPAbaby Vista: Which One Is Better?
Go for Bugaboo Cameleon if you want a long-lasting stroller, and if you do not have a problem with difficult folding.
However, if you need a stroller that can accommodate up to three children, easy folded and has a massive basket, then go for UPPAbaby Vista.
You Can Also Check: