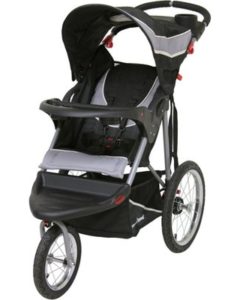 The reliable Baby Trend Expedition Jogger Stroller comes with a steel frame, flex at the hinge point, and plastic connectors at the folds.
And although it's quite durable, its fabric is a little rough and it doesn't have shock absorption. So it may not be as comfortable and smooth of a ride for your child as other options on the market.
Moreover, the metal-based wheels, the rubber bands with smooth treads, and the swiveling front wheel are great for navigation and making tight turns.
The front wheel can also be locked in place to keep the stroller moving in a straight line during long marathons and runs.
Although the handlebar is not adjustable, it's quite solid and makes the stroller responsive to pushing and turning.
At only 23.6 pounds, the Baby Trend Expedition is lighter than the average stroller on the market but can still fit a 50-pound child.
Its lightweight design allows you to store it easily. The folding system consists of the two-handed fold design and manual fold lock.
Your child's safety is ensured with the 5-point safety harness while your comfort is ensured with the cup-holders and storage compartment that can fit items up to 5 pounds.
The fact that the stroller fits a Baby Trend car seat means that your child can grow into it and consequently, you get extended durability and usability.
Pros
Good build quality
Superb maneuverability
Suits all terrains
5-point safety harness on the seat
Plenty of storage space
Cons
Can lose some stability with higher speeds
The front-wheel lock can come loose
Final Verdict
The Baby Trend Expedition is a budget-friendly stroller that will give you a great bang for your buck. However, it may not be the best-suited option for high-speed runners.