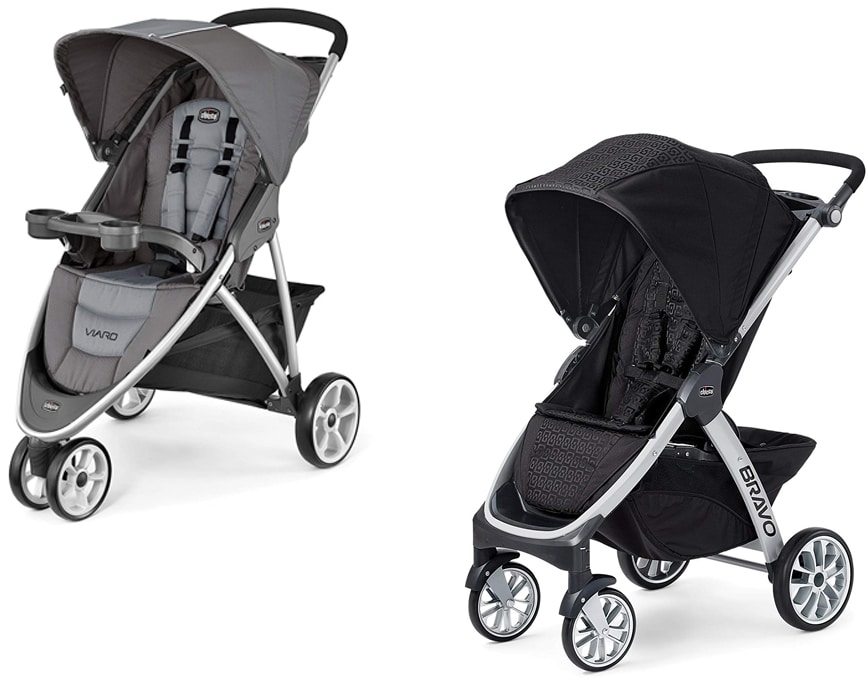 When you have a baby, you have to think about everything you can offer to make him/her happy and comfortable. One of these things is the stroller.
When you think about buying a stroller, you do not only have to think about what makes your baby comfortable, but also about what you feel comfortable, as well.
In this article, I will try to explain some points by which you can decide how to choose between Chicco Bravo Vs. Viaro.
Chicco Bravo Vs. Viaro – Full Comparison
| | | |
| --- | --- | --- |
| | Chicco Bravo | Chicco Viaro |
| Weight (lbs) | 20.8 | 18 |
| Dimensions (in) | 15 x 28.5 x 36 | 38 x 41.2 x 25.5 |
| Suspension | All-wheel suspension | Front-wheel suspension |
| Folding | Folded using just one hand | Folded using just one hand |
| Handles | Adjustable | Not Adjustable |
| Brakes | Linked brake system | Independent toe-tap locking brakes |
| Price | CHECK PRICE | CHECK PRICE |
Weight:
Chicco Bravo: 20.8 Pounds
Minimum weight recommendation: 5 pounds
Maximum weight recommendation: 50 Pounds
Chicco Viaro: 18 Pounds
Minimum weight recommendation: 4 Pounds
Maximum weight recommendation: 50 Pounds
Dimensions:
Chicco Bravo: 15 x 28.5 x 36 inches
Chicco Viaro: 38 x 41.2 x 25.5 inches
Folded Dimensions:
Chicco Bravo: 16 x 21.75 x 28 inches
Chicco Viaro: 13.5 x 25.5 x 33.25 inches
Suspension:
Chicco Bravo has an all-wheel suspension system. It provides your baby with extreme comfort even when you are moving over uneven terrain.
On the other hand, Chicco Viaro has a swivelling front wheel and a front-wheel suspension. Chicco Viaro does not provide suspension on all wheels, but it gives more maneuverability.
Comfort:
Canopy:
Canopies of both strollers will protect your baby from the sun. However, for extra protection, you might want to consider buying Chicco Bravo as its canopy has three panels that provide full coverage; whereas, Chicco Viaro's canopy has two panels.
Folding:
Both strollers can be folded using just one hand by pulling the lever. This is extra helpful for parents because you can fold the stroller with one hand while holding your child with the other one, for example. That way, the stroller helps you feel a little bit more comfortable and unbusy. The same goes for unfolding it as well.
However, Chicco Viaro does not lock in the fold position, which can make moving it around a bit awkward and cumbersome. Being unable to lock means that it can suddenly get unfolded while you are moving it around.
On the other hand, Chicco Bravo locks, and this is an extra point for Bravo. Moreover, it folds easily and takes up as smaller area than Viaro when it is folded.
Handles:
Chicco Viaro has a handle that is not height adjustable; whereas that of Chicco Bravo is. The handle of Chicco Viaro is set at 40", which means that it is going to be comfortable for most people because its height is appropriately in the middle range.
However, tall parents might prefer Chicco Bravo because of its adjustable handle. The handle has a range that goes from 36.5″ to 42″ and has three positions.
Basket:
Having a stroller with a large basket is such a heavenly thing, because, that way, you will not need to carry around some extra bags. Both strollers have a large basket underneath that can be easily accessed from the front or the back.
You can get the stuff out of it without needing to go at the back of the stroller; you will just easily lift the foot panel. Moreover, when your child is a bit older, he/she can grab their own stuff from it while they're safe in their seats.
Recline:
Chicco Viaro has a cord that enables you to recline the seat to many positions; on the other hand, Chicco Bravo can only be reclined to 3 fixed positions.
Having a stroller that can be reclined to 3 positions is excellent, yet having a stroller that you can recline its seat to whatever position that comforts your baby is such a blessing.
Brake System:
The brake system is not the best feature of either stroller; however, Chicco Bravo is the winner here.
The brakes of Chicco Viarro are "independent toe-tap locking brakes." They are not linked, which means that you have to press the brake for each wheel separately.
Conversely, Chicco Bravo uses a linked brake system, which means that when you push the brake pedal on one side, both brakes will simultaneously lock .
In either case, ensure that the brakes are engaged by trying to move the stroller.
Snack Tray:
Chicco Bravo does not include a child snack tray; however, you can purchase it separately. Before doing so, go over some parent reviews because some of the parents had a problem with it saying that is out of their child's reach.
Conversely, Chicco Viaro comes with a snack tray that has two cup holders for the child's drinks.
The snack tray feature is essential because you can put toys and snacks on it to help distract your child on long journeys and prevent him/her from getting bored.
Car Seat Carrying:
This is a different major feature between Chicco Viaro and Chicco Bravo. The Viaro does not disassemble at all. It is used as it is with a car seat when the baby is too young, and then when the baby grows up a bit, you can use it without the car seat.
Conversely, Chicco Bravo does disassemble in a neat way. You can take off the car seat and the canopy so that you are left with a lightweight aluminium frame that is perfect for wheeling around a car seat without having to carry any extra weight in vain.
If you are wheeling your baby on a sunny day in a car seat, you can reattach the canopy to give your baby the comfort he/she deserves. The seat can be easily reattached whenever you need to put it back on.
What We Like and Do Not Like About Chicco Viaro and Bravo:
Chicco Bravo: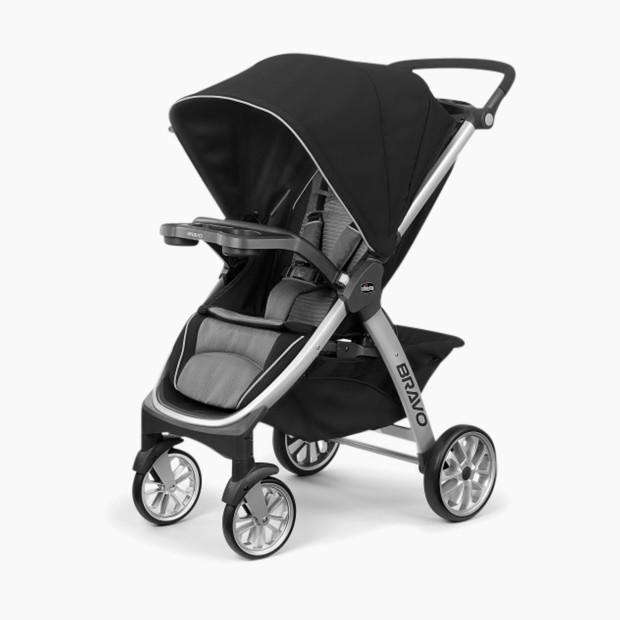 Chicco Viaro: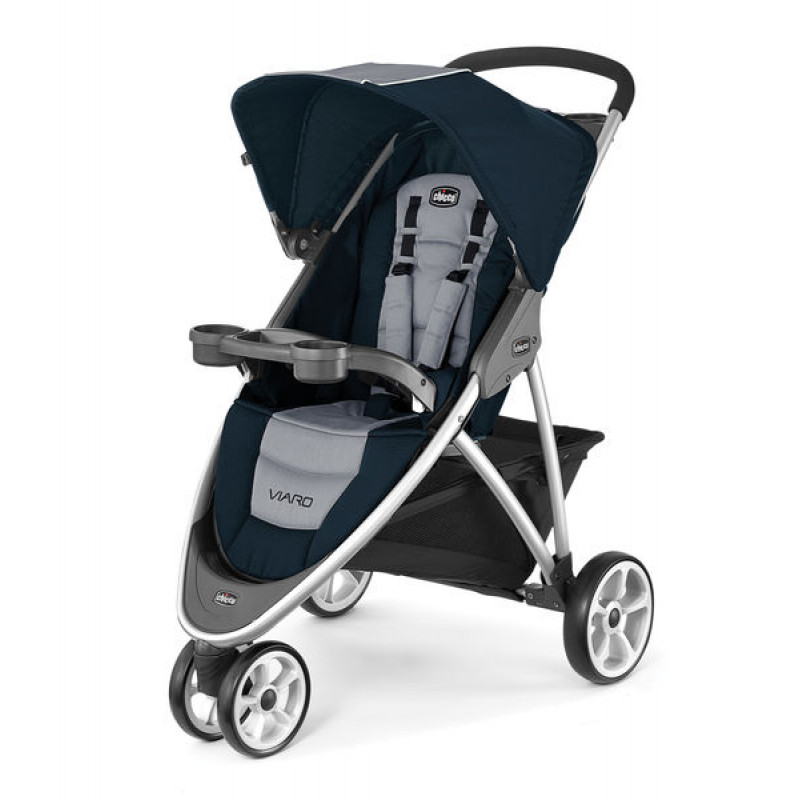 What Parents Say on Amazon:
Chicco Bravo:
The harness is difficult to adjust, the sides and back of the seat have no cushioning, and the baby bangs her head a lot when she falls asleep. However, It is easy to use, and the adjustable handle is a great feature for tall parents.
Chicco Viaro:
It has excellent maneuverability, and its big basket is excellent; however, the car seat does not lock with the stroller. So getting it in and out of the car is a very tiring process. It is too bulky, but its lightweight makes up for this.
Chicco Bravo Vs. Viaro: Which One Is Better?
Before deciding on which one to purchase, there are some matters you should consider first.
If you need a stroller that can accommodate a car seat, so that you would not need to wake your baby up to transfer him from the car seat onto the stroller, then both strollers are a right choice.
However, if you need a lightweight stroller that will not put any extra weight on you, then Chicco Bravo is a more excellent choice here. It lifts the weight of its seat so that you only handle the weight of the car seat itself and nothing more.
Both strollers have an easy-fold with one hand feature, yet the Chicco Viaro can be cumbersome as it does not lock when it is folded. So if you know that you are going to carry it around a lot, steer away from Chicco Viaro.
You Can Also Check: