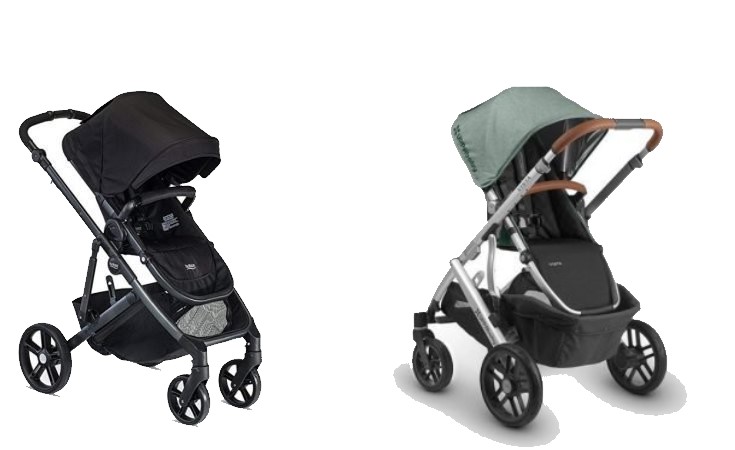 Buying a suitable stroller is one of the essential things that occupy parents' minds.
Get a bad stroller, and you are doomed, right?
To prevent this from happening, read this article where I will try to help you choose between Britax B-Ready Vs. UPPAbaby Vista.
See Also
Britax B-Ready Vs. UPPAbaby Vista – Full Comparison
| | | |
| --- | --- | --- |
| | Britax B-Ready | UPPAbaby Vista |
| Seat | Comfortable | Comfortable |
| Brakes | Foot brakes | Front and Rear Brakes |
| Weight (lbs) | 30 | 50 |
| Dimensions (in) | 44x24x43.2 | 24x17x34 |
| Price | CHECK PRICE | CHECK PRICE |
Seat:
Britax B-Ready can be used from birth with bassinet, car seat or second seat (sold separately) or from 6 months to 55 Ibs with the toddler seat. The seat provides 12 seating options when you pair it with with the B Ready Bassinet, Britax Infant Car Seats, or B Ready Second Seat (all sold separately). It can also be faced forwards or backwards, which is so lovely because it allows parents to keep an eye on their children and at the same time does not take away the fun of observing the world from the children.
Moreover, the seat can be reclined to four positions, which ensures that your child will find a comfortable position to sleep or relax and will not bother you so much. The seat does not recline to a flat position, so it can only be used with children older than six months so as not to hurt the backs of younger babies. You also will not have to worry about your child getting all sweaty because it has a canopy with a ventilation window.
Although the stroller can take two seats, the child in the second seat will be placed in a position that is below and behind the child in the first seat, which might be uncomfortable for that child.
Likewise, Uppababy Vista can be used from birth using a car seat, bassinet, or infant snug seat (sold separately), or from 3 months to 50 Lbs. The car seat can be faced towards the parents and the world, giving you and your child the freedom of choice. Moreover, the seat's fabrics are removable and washable. It also has a UPF 50+ canopy with a viewing window.
Unlike B-ready, the child in the second seat has an equal view of that in the first seat.
Compatibility:
Britax B-Ready is compatible with all Britax and BOB infant car seats; whereas UPPAbaby Vista is compatible with MESA Infant Car Seat through direct attachment with no adapters. This feature makes both strollers travel-friendly.
Ease of Use:
With Britax B-Ready, you do not need to remove the second seat to fold it. The stroller can be quickly folded into a standing position, which makes it very easy to handle if you are going to be getting in and out of the car a lot.
Moreover, you will not need to carry extra bags with you thanks to its large storage basket that can be accessed from the front, back and sides. I mean, this is every mom's dream, isn't it?
The thoughtfulness of the design does not stop at that; they have made its handle comfortable to hold. The handlebar is padded, and therefore, comfy. You can also move it up and down to suit your height till you adjust it in a comfortable angle for pushing.
On the other hand, you have to remove the second seat from UPPAbaby vista before folding it. It is needless to say how much of a hassle this feature causes parents. Moreover, some parents say that the second seat is crowded, and that makes their children grumpy and uncomfortable.
Furthermore, it offers a large storage basket that can be easily accessed from all sides, whether it is used with one or two seats. It has telescopic handles so that you can adjust them to your height.
Brakes:
B-Ready has foot brakes, so you do not need to use your hands to stop it. UPPAbaby Vista offers front and rear suspension for a smooth ride.
Accessories:
The accessories you can buy for B-ready are a bassinet, a rumble seat, and a snack tray. The rumble seat is an excellent option for newborns.
Whereas the accessories for UPPababy are infant snug seat, bassinet, bassinet stand and hamper attachment, roller board, rumble seat, handlebar covers, stroller blankets, snack trays, and car seat adapters for four major car seat brands. The rumble seat is a second seat that is suitable for babies from 3 months to 35 lbs or 36 inches.
Weight:
Britax B-Ready: 30 pounds
UPPAbaby Vista: 50 pounds
Dimensions:
Britax B-Ready: 44x24x43.2 inches
UPPAbaby Vista: 24x17x34 inches
Price:
Britax B-Ready: CHECK CURRENT PRICE ON AMAZON
UPPAbaby Vista: CHECK CURRENT PRICE ON AMAZON
What We Like And Do Not Like about Britax B-Ready and UPPababy Vista:
Britax B-Ready: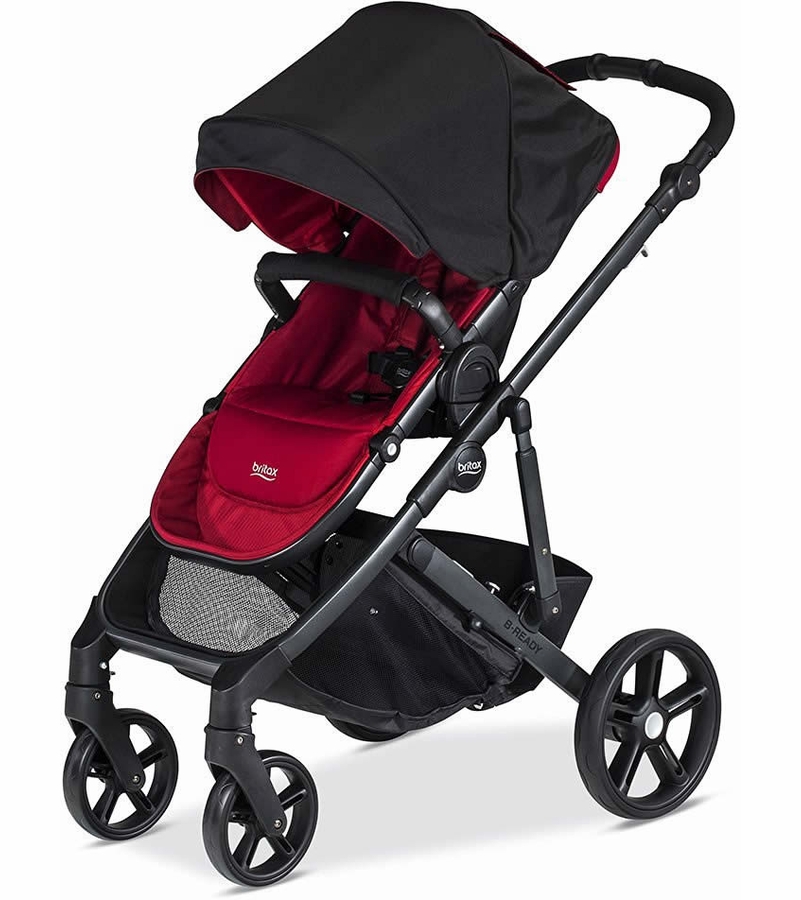 UPPAbaby Vista: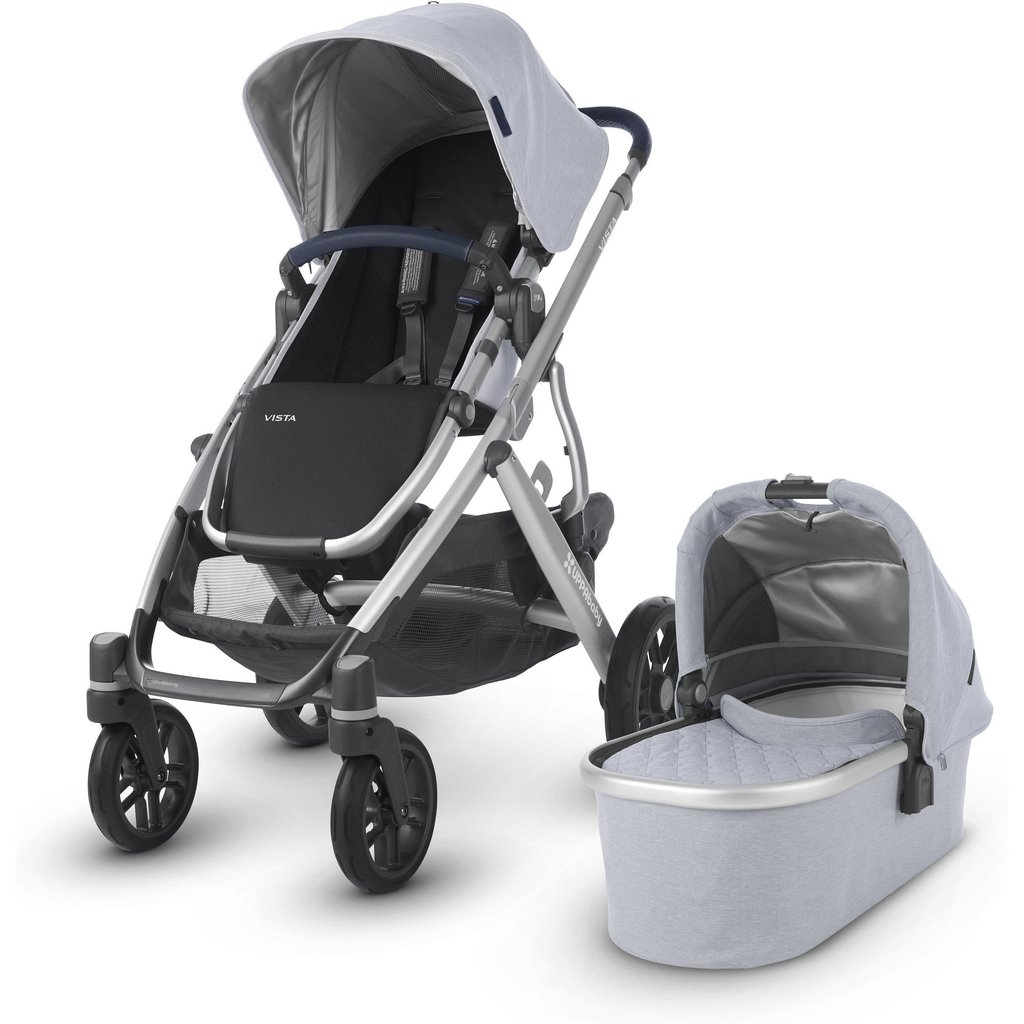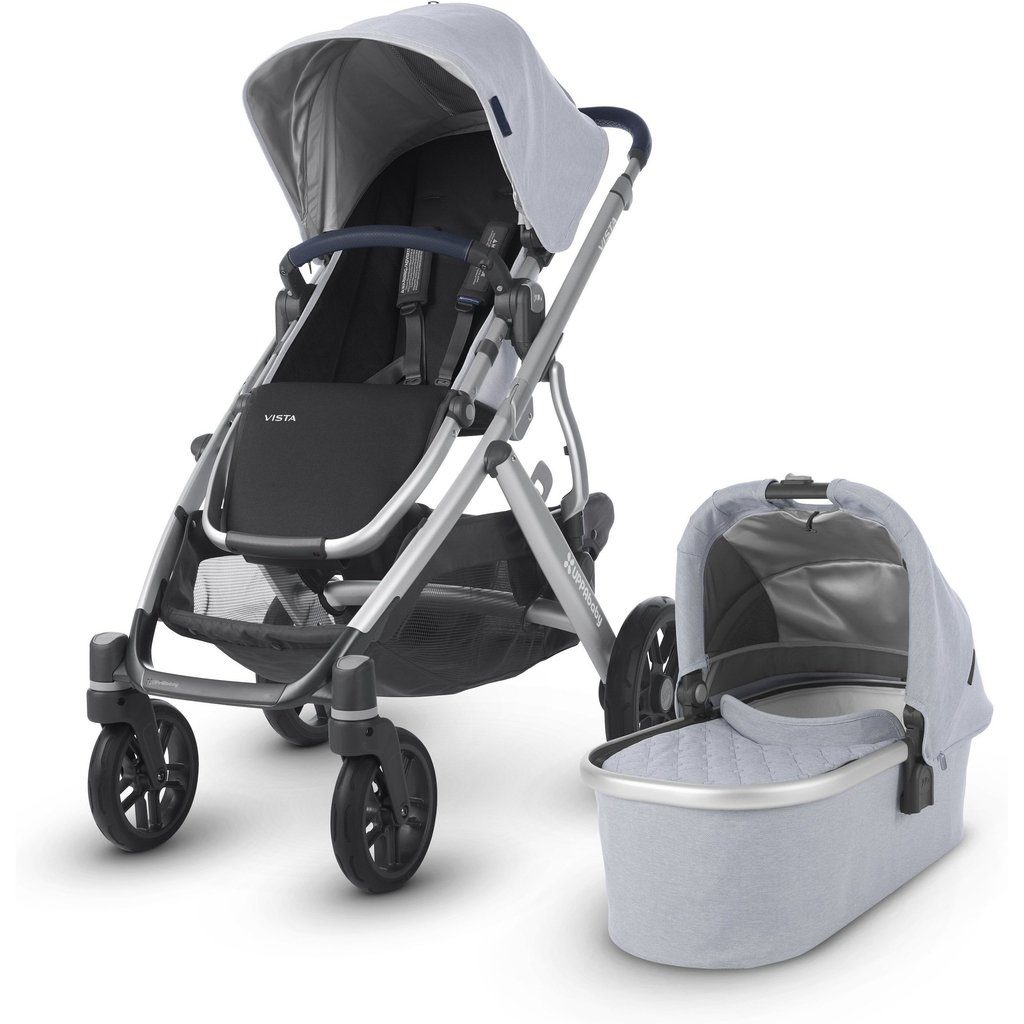 Questions and Answers:
Britax B-Ready:
Q: Does it have two actual seats for two toddlers?
A: You will have to buy a second seat. The second seat includes 4-position seat recline, built-in suspension, and padded 5-point harness system. It can also be folded with the two seats, and it has a ventilated canopy.
Q: Does the Cargo car seat work with this stroller?
A: Unfortunately, not. There are no adaptors that can be used with the Cargo car seats.
UPPAbaby Vista:
Q: Can I add the bassinet on top and the toddler seat at the bottom?
A: Yes, but you need to buy adapters to do that.
Q: Shall I get the white colour or will it get dirty?
A: It is better not to get a white colour for that matter.
Q: Is there a cup holder?
A: You can buy it separately; it does not come with the Vista.
Parents' Reviews on Amazon:
It is easy to be used, and you can push it on paved streets with smoothness. Moreover, its large basket and comfortable handlebar make it very appealing. Its downside is that it is cumbersome, but its safety makes up for this.
Not really great for travelling because it gets bulky when you fold it. Moreover, when I am unfolding, one of its front wheels keeps falling out; it is easy to be pushed back in, though.
It is worth every penny. It provides a lot of room for babies whose sizes are bigger than their age. It is also easy to maneuver and fold single-handedly. Its large basket makes it very easy for you to take your child with you to the market.
Britax B-Ready Vs. UPPAbaby Vista: Which One Is Better?
From my point of view, Britax B-ready low price, versatility, comfort, and ease of use make it your best choice. Indeed, UPPAbaby Vista has a lot of lovely features and offers great comfort as well, but these things do not make up for how pricey it is.
You Can Also Check: